Almost 4 months since the pandemic hit India, Swiggy and Zomato have resumed their operations. I've used both the services in the last few weeks and here's a blog post talking about Swiggy Covid 19 delivery and Zomato Covid 19 delivery. I have also written about Zomato vs Swiggy comparison earlier too, however this is an exclusive Covid 19 delivery service comparison between Swiggy and Zomato.
Our lives have changed right from the day Swiggy and Zomato started their food delivery operations. It was a boon for bachelors and families alike. Whenever you don't want to cook, just open Swiggy or Zomato and order your favorite food. However, ever since Covid 19 hit us, everything came to a standstill. Working from Office, Eating Out, Shopping, Traveling et all stopped.
Swiggy vs Zomato Covid 19 Delivery – Who's better ?
Being a business owner, especially in the hospitality sector is a worst thing that can happen to anyone at the moment. People aren't traveling or eating out, which has led to drastic loss of business to hotels and restaurants. Many small eateries have even shut shop. The bigger ones have started their operations with all safety measures. Most restaurants have started delivering food via Swiggy and Zomato.
It had been over 3 months that I hadn't had something from outside. And for a foodie that is a long time ! So to give some treat to my taste buds and help the restaurants, I ordered via Zomato and Swiggy both. I'll be talking about my experience with Swiggy Covid 19 delivery and Zomato Covid 19 delivery.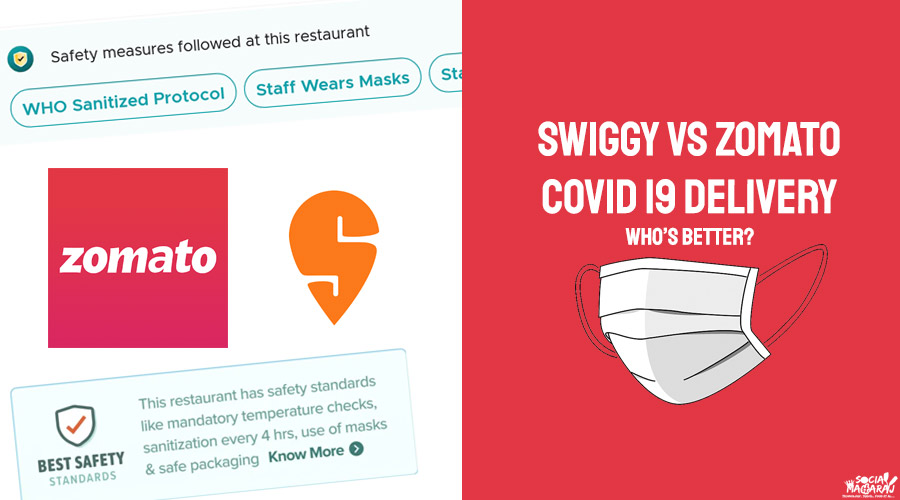 Covid 19 delivery review of Zomato and Swiggy
Both the platforms have taken full precautions (that's what they say) in terms of ensuring their delivery partners are safe. However, it's upon the restaurants to maintain hygiene and proper sanitization at their end. I'll be talking about 3 aspects regarding the Swiggy Covid 19 delivery and Zomato Covid 19 delivery review.
Restaurant Hygiene Check
Both Zomato and Swiggy have enabled Safety Check options for restaurants. This means that if you are ordering anything from the app, you will see a rating based on safety. However, both these are based on the data provided by the restaurant. I don't know if Swiggy or Zomato have physically verified the restaurant premises.
While ordering on Swiggy you will see a "Best Safety" badge on the restaurants with highest safety standards. On Zomato you will see a "Max Safety" badge on the restaurant.
Both Zomato and Swiggy have a detailed guidelines explaining the safety standards. Right from proper sanitization of the kitchen to chefs and helpers, hand wash and overall hygiene.
Based on my experience of Zomato Covid 19 delivery, I'd say many restaurants are Max Safety rated. Which means either the restaurants are actually maintaining the hygiene or Zomato has been plastering the badge to every restaurant.
Swiggy Covid 19 delivery services have only a handful restaurants with the Best Safety badge. This badge is basis self declaration by the restaurants. Apart from their own brands like Homely, Dominos, not many have this badge.
Hence, in terms of Restaurant Hygiene Check, both Zomato and Swiggy are doing a good job.
Restaurant Staff & Delivery Partner Temperature Check
One of the most common checks for Covid 19 is temperature checks. (Though one can take a paracetamol and get the temperatures down, this is still a screening criteria everywhere) And this is implemented in both Zomato and Swiggy app.
Swiggy doesn't show a log of delivery partner temperature check in the app (At least I didn't see that in my order) Also, it shows temperature logs for few restaurants which has the temperatures of restaurant staff logged. I guess this is again a self declaration done by the restaurant.
Zomato on the other hand shows the temperature of the delivery partner once he/she has arrived at the restaurant to pick up the order. Both the apps do mention that the delivery partner's temperature is checked as per their safety guidelines, however, only Zomato shows the temperature on the app.
Contact less Delivery Experience
Another change that Covid 19 has brought into our lives is contact less. From contact less payments, we've now come to contact less delivery and contact less dining. Zomato being a restaurant aggregator does provide contact less dining experience and many popular eateries in Hyderabad. But what about the Zomato Covid 19 delivery or Swiggy Covid 19 delivery ? Are they really contact less ?
Mask is common to both and every time I ordered, the delivery partner wore a mask. Both Swiggy and Zomato provide and option for the user to opt for a contact less delivery. As per the apps, the delivery partner will keep the package at a point and you need to pick it up from there. If we talk about Swiggy Covid 19 delivery, the delivery partner handed me the packet in my hand.
However, Zomato takes it to the next level. The delivery partner came to my house, put the package on a chair. Took a photo of the contact less delivery and completed the delivery. Immediately in the app, I got the delivery confirmation option and it had the photo the delivery partner took. That's a good feature.
So in terms of contact less delivery experience, I'll give it to Zomato for the safety and precautions followed.
Swiggy vs Zomato Covid 19 Delivery – Who's better ?
So coming back to the question Swiggy vs Zomato Covid 19 Delivery – Who's better ? Well, both Zomato and Swiggy are taking all the precautions required to ensure that both the ends – restaurants and consumers – meet. The ability to filter restaurants based on safety standards is good. And I'm sure, people would be willing to pay more for it. At least I did. If I had to choose one, then I would give it to Zomato purely for the contact less delivery experience that was delivered.
Have you ordered food on Zomato or Swiggy yet ? If yes, how was your Zomato Covid 19 Delivery experience or Swiggy Covid 19 Delivery experience ? Let me know in the comments below or tweet to me at @Atulmaharaj or DM me on Instagram.