In my earlier blog post I spoke about the importance of audio. Whether it's video or a podcast, having a good audio is a must. It holds everything together and eventually keeps the audience interested. And that is why when I started The Socialmaharaj Podcast, I wanted to get a good mic. Now I was hunting for the best budget microphone in India and stumbled upon the Fifine K670. After recording a couple episodes with the Fifine K670, here's my Fifine K670 review.
Initially, I purchased the Boya BY M1 mic and recorded few episodes with it. And as I mentioned in my review, that mic did have its own issues. I actually erased all the earlier episodes that I recorded with the Boya BY M1 microphone.
FiFine K670 Review
While I was hunting for the best budget microphone in India for the podcast, there were a couple of options that I came across. Most of the budget microphones come in a range of ₹3000 – ₹5000. And all of these are condenser type microphones. Read my earlier blog post to understand more about microphones. And before I mention anything more, do note that all the brands in this range are from Chinese companies.
There's Maono AU-A04 USB condenser microphone kit. This one was my first choice since it came it with the entire setup including the mic holder, pop filter and table clamps. A proper mini studio, you wouldn't need anything else. However, it has been out of stock for ages.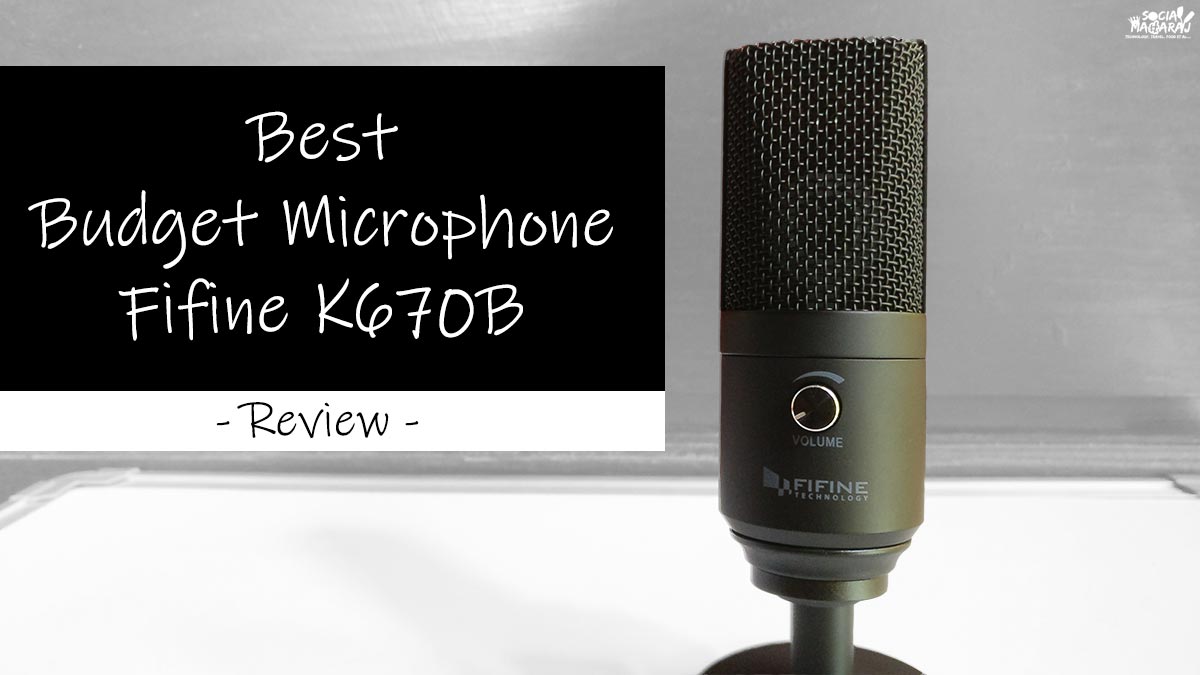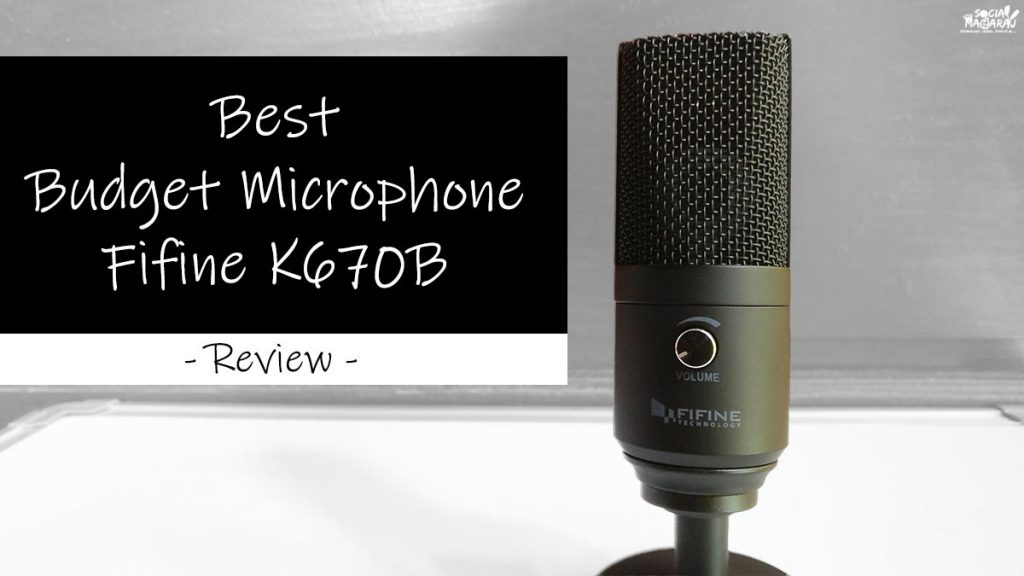 The next was the Fifine K670 – which I eventually purchased – costs about ₹4000. Currently Amazon shows the price as 12,000 ! You can try the K699 which is a complete set. There's also Blue Yeti that is famous among many pod casters and Youtubers. However that costs close to ₹12,000. So, which is the best budget microphone in India ? Continue reading my FiFine K670 review.
Packaging and build
This is probably the first time a box is sent by Amazon without an external packaging (the Amazon box) and due to that, the box had a lot of scratches. It was unpleasant, however I'm glad that the microphone was in perfect shape. The box is well cushioned to protect the mic. In the box, you have FiFine K670 mic, a 3-piece good quality mic stand, a USB cable along with a user manual.
Fifine K670 has an all metal build and feels premium. It has a volume gain control knob in the front and a 3.5mm jack at the back that serves the purpose of listening to your voice while talking. The stand is pretty good, however I expected it to a lot more taller. It's about 6 inches at it's tallest, good for desk recordings. The cable is decently long and is made of good quality. Overall, loved the build of Fifine K670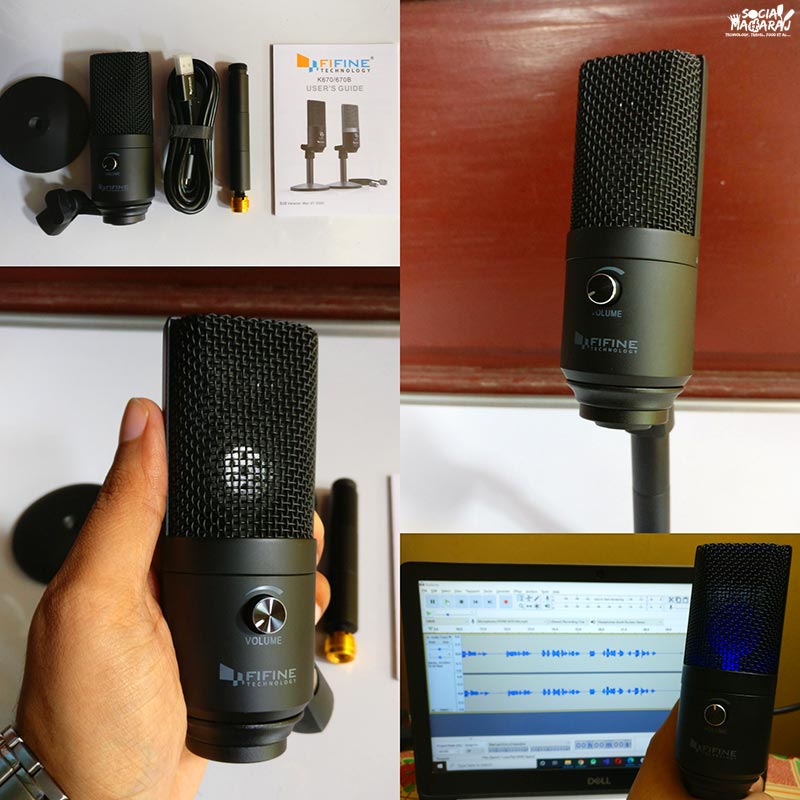 Fifine K670 Audio Review
The Fifine K670 is a condenser type cardioid microphone, which means that it picks up noises only from the front of the mic. This ensures that the noise captured is relatively low. Setting up the Fifine K670 was a breeze and my laptop was able to detect it and set it up. Once attached to a computer, the Fifine K670 lights up with a blue color which means you are ready to go.
Right out of the box, the microphone does capture some noise. Especially when you are in a room with a fan on. However, that's where the volume gain knob kicks in. Increase/decrease it based on your surroundings until you hit the sweet spot. For me it has been slightly more than 50% gain (1 O'clock position of the knob) The audio quality is really impressive for the price. At that gain levels, the background noise captured is low and the voice is loud and clear.
To understand what I'm talking about, below is the episode I recorded with my Boya BY M1 microphone.
The one below is recorded using the Fifine K670 microphone in same environment and you can clearly see the improvement in the audio quality. the audio is lot more punchier and has a good bass.
Final Verdict: Fifine K670 is what you need
Priced at around ₹4000, the Fifine K670 is surely one of the best budget microphone in India. Fifine does sell a lot of other variants of microphones in India, each as it's own pros and cons. The Fifine K670 is a great mic for anyone how is starting their podcasting or Youtube journey. The mic will surely not disappoint you. The only missing thing here is the pop filter. A pop filter is a must when recording with this. I don't have one yet though. Also, this doesn't work with mobile phones (at least with OnePlus 3T, used it with the Mivi USB to Type C adapter and it didn't work)
Nevertheless, I'm quite happy with this purchase. In fact, I feel that I shouldn't have actually bought the Boya BY M1 microphone in the first place. What are your thoughts on this ? If you are looking for a good quality budget microphone in India, Fifine K670 doesn't disappoint. Share your thoughts about this post, my podcast in the comments down below or tweet to me at @atulmaharaj or DM me on Instagram.