I've probably written around 20-30 blog posts during lock down and even though restaurants are opening up, I'm still not confident of moving out. In fact, I was invited to a couple of restaurants in the last few weeks, but I wasn't comfortable especially with the number of cases on the rise in Hyderabad.
I've started ordering from Zomato and Swiggy and the experience has been good. Further, one of the things that I've been doing religiously is focusing on my physical and mental health. I've talked about how I've been regular with Cult.Fit and today I'll be talking about my experience of a healthy breakfast with Eat Fit and this will be my Eat Fit review.
Making Eating healthy a habit
I'm a big fan of pizzas, pastas and desi Punjabi curries and I don't shy away relishing them. However, with the lock down in place for the past few months, eating out has stopped and I've started focusing more on healthy eating. Due to the fear of being address as "Mere pyaare haathiyon (elephants)" in Modiji's address to the nation.
So my breakfast moved from idli and poha to daliya, roti/subzi, besan chilla and mixed dal dosa. Lunches have been extremely light with something like corn flakes, nutri bar and dinner has been simple roti subzi along with dal/chole/rajma and paneer. All of this coupled with Cult Fit Live classes are few of the good things that have happened during this lock down. That's why I decided to try out breakfast at Eat Fit. Read on for my honest Eat Fit Review.
100% FitCash on order of meal above Rs 99
Healthy Breakfast Eat Fit Review
Cult fit has been adding a lot of credits to my account. Whether it is the refund for price difference for their live class or the surprise amount they gave after my group completed the weekly challenge. So, it was long due to try it. However, before I start with my Eat Fit Review, I would like to point out that many a time, their drivers are shown as busy and the app suggests to order from Swiggy/Zomato.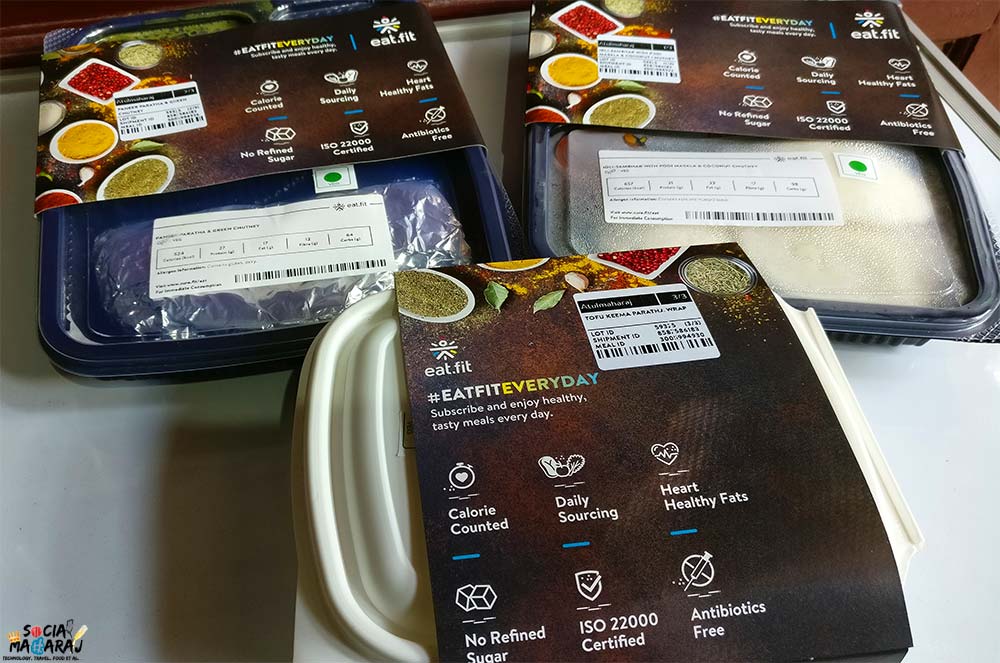 Another thing to note is that, these items are available on Zomato and Swiggy, however the prices are way too high there. For instance what is Rs 99 in Eat Fit, costs more that Rs 150 in Swiggy/Zomato and on top of it they have their delivery charges/taxes etc.
Also the first time I ordered, the tracking didn't quite work and their in app support still doesn't work (they replied to me saying that it works few months back) Keeping these aside, let's get into Eat Fit Review.
Packaging of Eat Fit
It was a random plan to order breakfast. Since I had FitCash here, I thought to give a try to Eat Fit instead of going to Swiggy or Zomato. Luckily, there were items in stock and the order went through too. I had ordered, Idli Sambar Chutney combo, Paneer Paratha Chutney and Tofu Kheema Paratha Wrap. All these items were priced at Rs 99 each and the total bill was Rs 317. (excl 75 Fitcash cashback which I didn't get and will check with them)
The order was delivered in time with proper safety measures in place. The packing was good. Each item was sealed in a plastic plate, which was inside a self sealing bag. Another unique thing I found about Eat Fit was that every item had the calorie value clearly displayed on it. Since Eat fit promotes healthy eating, they claim that their dishes don't use refined sugar, free of antibiotics etc. So you are guaranteed to good, healthy food.
Taste – Food Review of Eat Fit
Idli Sambhar Combo
The Idli Sambhar combo had 3 idlis with a small portion of fresh coconut chutney, a portion of sambhar and a little portion of podi. The coconut chutney was pure coconut and was delish. Salt was on the lower side, but I loved it. Sambhar was the highlight and was probably one of the best I've had. Loaded with veggies – eggplant, drumsticks, tomatoes – tasted perfect. Idlis however were too hard. Especially if you've eaten idlis at places like Govind ki Bandi, this is stone compared to it. I'm sure folks at Eat Fit can make better idlis.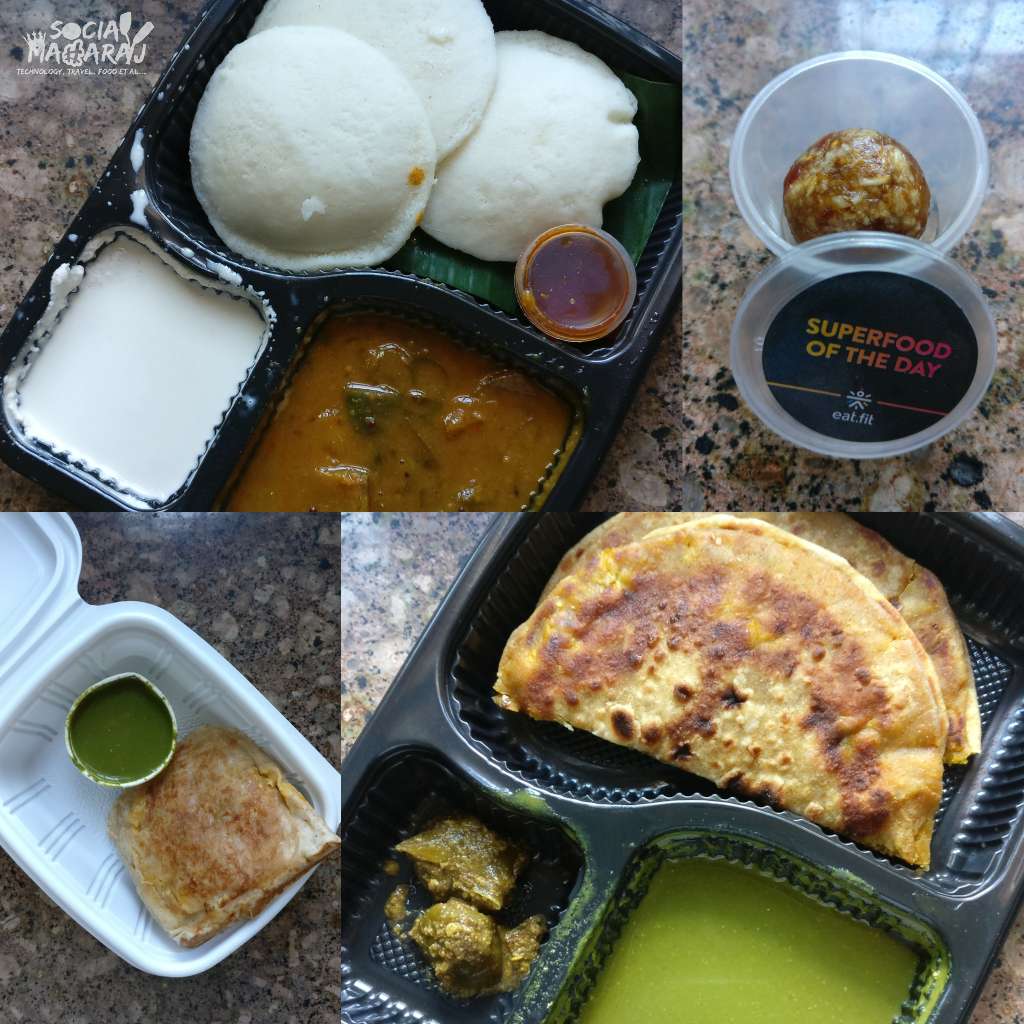 Paneer Paratha Combo
Paneer Paratha Combo is served with a green chutney instead or curd which is different. They also give some sort of aachar which looked homemade but tasted average. The combo had 2 parathas. The taste I would say was average and the stuffing could be improved. Especially, if I compare it with a place like Popular Paratha in Sindhi Colony, this wasn't upto the mark. They can improve on the taste for sure.
Tofu Kheema Wrap
This is what I had been wanting to order for a long time. I've eaten tofu many times and not many people can make it well. Most places it feels like rubber. Chef Ming at Zega, Sheraton surely makes amazing Tofu ! Coming to this, it was one piece of Tofu Kheema wrapped in paratha. Dimensions are like that of a bread slice. Coming to taste, I really liked it. Loaded with right amount of masala, it actually felt like Paneer Bhurji. Though, maybe because I had it a little late after the delivery, the paratha became soggy. Nonetheless, good item, must try.
Apart from the items,they also sent a small ladoo as "Superfood of the day" From what I could understand from the taste, it was made probably from dates, fig, peanuts and a few other nuts in a ladoo form. Taste was ok, if you like dates/fig, you'll like it.
Final Verdict: Healthy Food, Give Eat Fit a shot
Final words in my Eat Fit review – worth a shot. Since the entire cult community is all about health and fitness, Eat Fit focuses on the same. All the items on the menu are healthy and balanced. The prices on the app are pretty affordable compared to a lot of other restaurants, however the menu isn't quite expansive. Another thing, is the delivery isn't available at times and prices on Swiggy / Zomato are just double.
If something goes wrong with your order, you might have a tough time dealing with customer care. Nonetheless, if I had to talk only about the food, it is good. Great packaging and balanced taste. That's about it in my Eat Fit review. Have you tried it already ? What are things you like/dislike about it ? Mention in the comments below or tweet to me at @Atulmaharaj or DM me on Instagram.