Web Hosting and domain name are the two major cost items when it comes to self-hosting websites/blogs. You pay for the hosting service you use and for the domain name. Both these costs are yearly payments, usually. Apart from these, if someone is using extra services like emails, backups, support, etc. then that is added to the overall cost of hosting a website/blog. The only thing most webmasters and bloggers want is to save on renewals.
I recently moved out of Siteground due to their high renewal charges. I moved my site from Siteground to DigitalOcean. DigitalOcean is a cloud hosting provider and after using it for about 5 months I've found a genuine trick to save at least 15% on DigitalOcean Payments.
So if you are in India and using DigitalOcean services, this is a genuine trick to save at least 15% on DigitalOcean payments. No DigitalOcean coupon code required!
DigitalOcean Payment Terms
DigitalOcean if you don't know is a cloud infrastructure provider that provides compute instances (droplets), storage (spaces), Kubernetes, App hosting, to name a few. Their services are best for application developers and hobbyists as they are simple to set up and use and the fair DigitalOcean payment terms.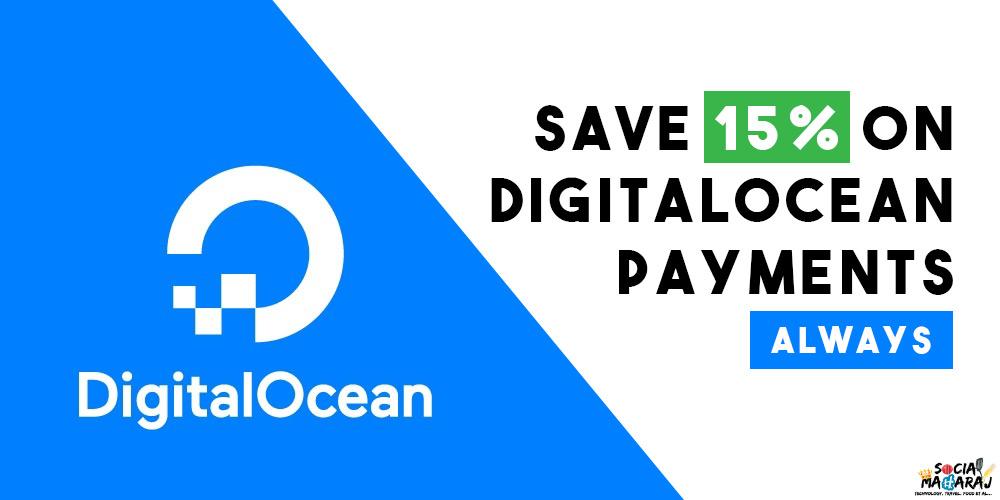 Talking about the DigitalOcean payment terms, all the entry-level services are priced nicely and worth the resources provided. For instance, their simplest of droplets start from $5/month for a 1GB RAM VPS to $80/month for a 16GB RAM VPS. Similarly, spaces is priced at $5/month for 250GB of storage. Having used some of their services for quite some time now, I can say that my experience has been good. The learning curve was steep and I'm learning new things almost every day. I've also written a post on Beginner's guide to VPS hosting.
DigitalOcean Payment Methods
DigitalOcean requires you to signup by registering a credit card. They give a $100 USD credit for new users to try their services. Talking about the DigitalOcean payment methods, it accepts Credit, Debit Cards, and PayPal as of date. If you are from India like me, then the following are the bank cards that work with DigitalOcean:
Citibank
HDFC Bank
ICICI Bank
Standard Chartered Bank
IndusInd Bank
RBL Bank
Axis Bank
Kotak Mahindra Bank
Credit and debit cards from India need to be enabled for international transactions and the ones mentioned above are less likely to be declined as mentioned by DigitalOcean.You can set up auto-debit payments on your credit/debit card for DigitalOcean payments. The payments are deducted on the 1st of every month. However, since the currency involved here is USD, there is a variety of charges deducted by banks.
Bank Charges for transactions towards DigitalOcean Payments
To make things easier, let us assume a DigitalOcean spaces object is priced at $5/month. Though this is the final cost mentioned, there is the GST component added to this. Internet services are charged at 18% GST in India. So for a bill of $5 USD, you will be charged 18% GST which is $0.90 USD making your total bill to be $5.90. When you have setup your credit/debit card with DigitalOcean, this amount will be deducted on the 1st of every month from your card.

However, do note that this transaction is happening in USD which means the bank will charge an additional markup conversion fee. Also, the exchange rate applied is not of the day the transaction happened but of the day when it actually happens, which means the actual amount will differ. Lastly, the exchange rate offered by your bank will be different. If you google, you'll get say Rs 430 for $5.90 while your bank may charge a higher rate as shown in the image above and you'd pay about Rs 468 for $5.90 USD
The trick to save 15% on DigitalOcean Payment
If you are from India, you know that even pricing of $5 can be quite high due to multiple bank charges on transactions towards DigitalOcean payment. So what is the trick to save 15% on DigitalOcean payment? Is there a DigitalOcean coupon code to save on payments? The answer is no. This is a straight forward trick that anyone can do and save at least 15% on DigitalOcean payments in India.
To do this, all you need to do is enable prepayment service in DigitalOcean billing section. By enabling the prepayment service, you will pre-pay the amount. It can be $5,$10,$25, or any custom value. Now you'd wonder how can this help you save 15% on DigitalOcean payment? Well, just the change in payment terms can help you save.

The prepayment service offered is by PayPal and PayPal has different currency conversion charges. Meaning the actual price your bank charges will be different from what PayPal will charge. Also, the most important thing here is that the transaction is happening in INR and not USD. With that, you will save the markup fee as well as GST. So that's close to Rs 100 savings! (can differ based on the amount you prepay) You can see from the image above that $5 USD was charged at Rs 394. That's it.
No GST, No currency conversion fee, and straight savings of at least 15% on DigitalOcean payments!
Start saving on DigitalOcean payments
Ever wondered that doing just a simple change in the payment options can help you save so much! If you are paying higher amounts that you can have significant yearly savings which can be employed to other good use. Though I've mentioned that this will work in India only, I guess that it could work in other countries as well considering each country will have a tax component added to it.
Further, there's only one caveat here and that is the prepayment. With a card configured, you pay after using the services, but with PayPal, you pay upfront. What do you prefer? Prepaid or Postpaid? Did you know about this DigitalOcean trick before? Mention your thoughts in the comments below, tweet to me @Atulmaharaj, DM me on Instagram or Get In Touch with me.