Hyderabad is gastronomical heaven. Whether you are a vegetarian or a meat-eater, the city never disappoints you with its offering. From the delicious meat dishes like the Biryani and Paya to the vegetarian treats like Qubani ka Meetha and Irani Chai. The wide gastronomical spectrum ranges from the rich cultural dishes to the newer, zesty preparations. Being a vegetarian is slightly tougher in the city, however, there are a few gems in the city.
From the famous Sunny Leonne burger at Shalimar Tiffins to the lip-smacking street food at Sindhi Colony, there's a lot for vegetarians too. And there are quite a few cloud kitchens with vegetarian food delivery in Hyderabad. One such place that I'm going to talk about today is Meri Rasoi in Hyderabad. I've had their set meal last weekend and this is going to my Meri Rasoi Hyderabad Review.
Vegetarian & Vegan food home delivered – Meri Rasoi Hyderabad
Meri Rasoi Hyderabad is a relatively new entrant in the Hyderabad food delivery space. With their central kitchen in Alwal, the team is delivering home food across the twin cities of Hyderabad and Secunderabad. They have rapid expansion plans to other parts of the city for faster vegetarian food delivery in Hyderabad. The brand has also operated in South Africa in the past under the brand Home Kitchen Johannesburg. After a good success there, they've opened a base in Hyderabad.
Meri Rasoi Hyderabad is a delivery-only service as of now and you can place your order via Instagram, Facebook, or WhatsApp to +919393794017 For lunch, you must inform them before 10 am, and for dinner, the cut off is 3 PM. You can give them my reference 😉 😛
Menu of Meri Rasoi Hyderabad
I was quite happy to learn that there's a pure vegetarian and vegan food delivery option in Hyderabad. Though I know a lot of vegetarian restaurants in Hyderabad where I'm regular, a pure vegetarian cloud kitchen is new. As for the menu, Meri Rasoi Hyderabad has a rotating menu and a new one every day. You can check out their Instagram page for daily menu updates.
They have set meal options only for now, but with the changing menu in place, you're sure to get something new always. Their standard meal contains one starter, 2 veg curries or 1 curry and 1 dal, Paratha/Poori, Rice/Biryani, Raita, and Dessert along with pickles and salad. Most of their dishes are priced at Rs 250 for regular meals and up to Rs 600 for special meals.
Meri Rasoi Hyderabad Review
I was approached by the team last weekend and the menu was shared. They were having a special month-end thali with a couple of variations and one of them was delivered. The delivery is taken care of in terms of sanitization. The team cooks in a sanitized area and the food is UV screened before being delivered. The packaging was quite nice with individual labels on each of the items. All their packaging containers are microwave safe, so you can heat them quickly and eat. Overall, in terms of packaging and handling, I was satisfied and I'm sure the delivery experience will improve over time.
Talking about the food, I was delivered Meri Rasoi month-end special meals. It included 2 samosas, 3 parathas, Kadhai Paneer, Mirchi ka Salan, Veg. Dum Biryani, Raita, and Fruit Custard along with pickle, salads, and cutlery.
Samosas were pretty good, small, and delicious. I guess they were baked as there wasn't much oil seen as we do at other places. Further, the stuffing was simple and not too tangy as served at many shops. The spices were balanced and it wasn't too hot. A good way to kick off things.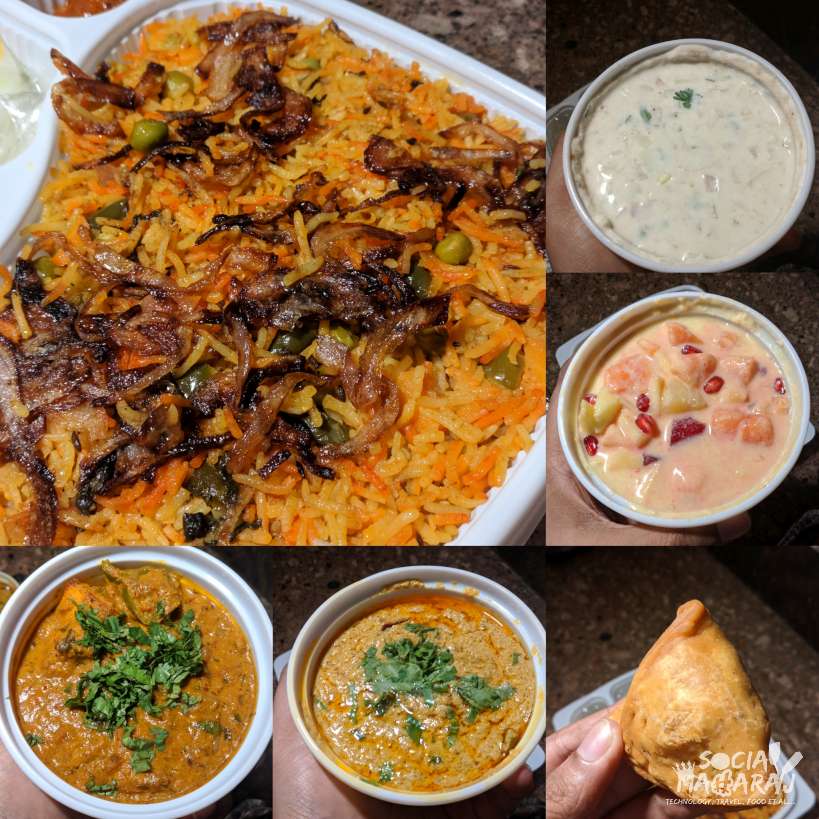 Kadhai Paneer was quite nicely done. The gravy was rough and the texture was perfect as the combination of spices tickled my tastebuds. Paneer was soft and coupled with large chunks of capsicums. I did feel that the cardamom or cinnamon used was slightly on the higher side. However, the masala wasn't too hot and was apt for my liking.
Mirchi ka Salan was just amazing. One large mirchi with a tangy gravy. The taste was just perfect, and like the Paneer, the paste was rough and the grounded masalas were outstanding.
Coming to the Veg Dum Biryani, the quantity was quite good. The taste was ok and the fried onions over it just transformed it. However, the Biryani was missing the biryani flavor as per my liking. This biryani by Meri Rasoi Hyderabad is good and was made in a different way with a different set of masalas. Based on this, I can vouch that their pulao preparations would be delish!
The mixed vegetable raita was sufficient for the Biryani and tasted good. Unlike a few instances of sour raitas, this was perfect. The fruit custard was a nice addition to the meal. The simple and subtle custard was laced with fruits like apples, bananas, pineapples, papayas, pomegranates, and even jelly! A great way to end the meal.
Final Verdict: Must try if you want to eat vegetarian
Being a pure vegetarian, I totally recommend Meri Rasoi Hyderabad. Everything from the packaging to the food is good. The service is nice the team at Meri Rasoi is quite responsive. You can even request to join their daily menu WhatsApp group to know what's cooking or follow them on social media. I'll surely give a try soon to their regular meals and share my views. The food has a balanced taste and not too spicy or hot and that's what I liked about Meri Rasoi Hyderabad.
So if you are a vegetarian or looking to eat vegetarian/vegan for a change, connect with Meri Rasoi for some lip-smacking food. If you've tried them, how was your experience? If you haven't, what are you looking forward to trying the most? Mention in the comments below or tweet to me at @Atulmaharaj, DM me on Instagram, or Get In Touch.