If you've been following my blog or on Instagram, you might be aware that a couple of weekends back, I was on a Hyderabad Heritage Tour organised by RuddBuddy. In case you missed it, read my experience of the Heritage Walk here. The starting point of the Heritage Walk was this small little cafe in front of the iconic Charminar. On a chilly morning when others are still setting up their shops, one needs to jostle for space at Nimrah Cafe and Bakery.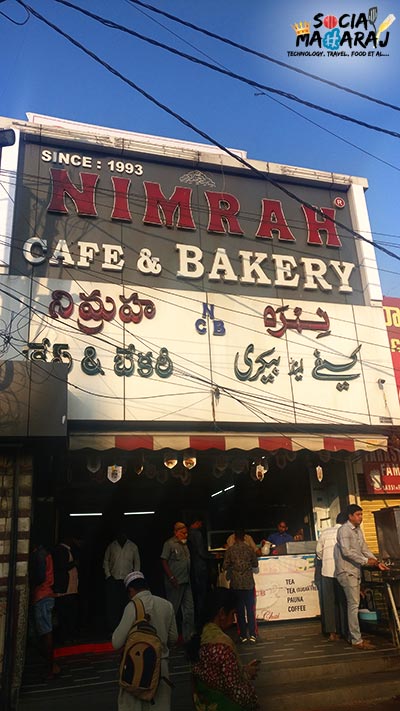 One thing you should be aware about Nimrah Cafe is that, you won't find filling food here. This cafe is known for it's fresh and tasty bakery biscuits and piping hot Irani Chai. Though I have been to the Charminar a couple of times, I always missed trying this place out. But this time, I had decided to have my first chai of the day at Nimrah Cafe.
Nimrah Cafe – Best Iranian Cafe in Hyderabad
What's the different between Tea and Chai ? This was the question asked at one of the food review sessions at Tea Trails, Hyderabad. Most of the jokingly said that Tea is Angrezi & Chai is Desi. Someone else added, Chai is served in Kulhad while Tea in sophisticated cups. Well the correct answer is that Chai is served with Milk and Tea with hot water. I bet you didn't know this ! Anyways, Hyderabad is famous for both of them – The Irani Chai and The Lemon Tea. However, the most loved is the Irani Chai.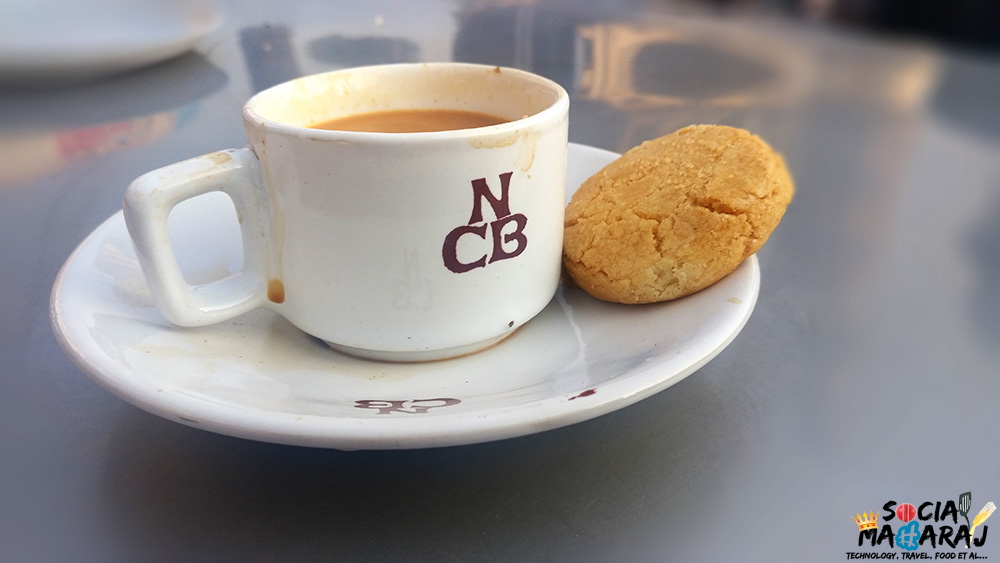 It was around 8:30 in the morning when I reached Charminar for the walk. Since I hadn't had breakfast, I decided to order an Irani Chai and a couple of Osmania Biscuits. Tea is priced at 12 Rs and 2 Osmania biscuits at 5 Rs. Pretty Cheap ! The Cafe also serves breads, muffins and a whole bunch of other bakery products. The famous ones include the Tie Biscuit and the Fine Biscuit, both of which were out of stock when I was there 🙁 The cafe is jam packed and there's literally no space to even stand inside. It's good that they have kept a couple of tables outside for people to enjoy their Chai with the iconic Charminar in the backdrop.
Irani Chai + Charminar = Bliss
Standing outside the Irani Chai as the sun rays hits the Charminar to bring it to life. Lots of hustle and bustle around as road side shops are being set up. You'll find a couple of couples filming their pre/post wedding shots running around with their crew to capture the perfect shot. All this with the Irani Chai is pure bliss. The chai is The Best Irani Chai I've had till date in Hyderabad. So the next time you are roaming around Charminar, make a point to stop by Nimrah Cafe to relish fresh baked biscuits, Irani Chai and revisit the glorious past of the City of Nizams.
Already been to Nimrah Cafe ? How was your experience ? Did I miss anything ? Please let me know in the comments below or tweet to me at
@atulmaharaj