For all of you who don't know, Bandi is basically a food cart and Hyderabad has a lot of them. Most of these Bandis serve what is called as Tiffins locally. Tiffin for most North Indians would mean the actual tiffin boxes. But locally tiffins include a range of items including the likes of Idlis, Dosas, Upma and so on. Tiffins are the most preferred breakfast items and are often priced low. As said earlier, Hyderabad is home to a lot of Bandis. The most famous one being the Ram ki Bandi in Nampally (still on my list) closely followed by the rival Govind ki Bandi. During my last week's Heritage Walk at Charminar, Govind ki Bandi was a stop too. So here's my review of breakfast at Govind ki Bandi.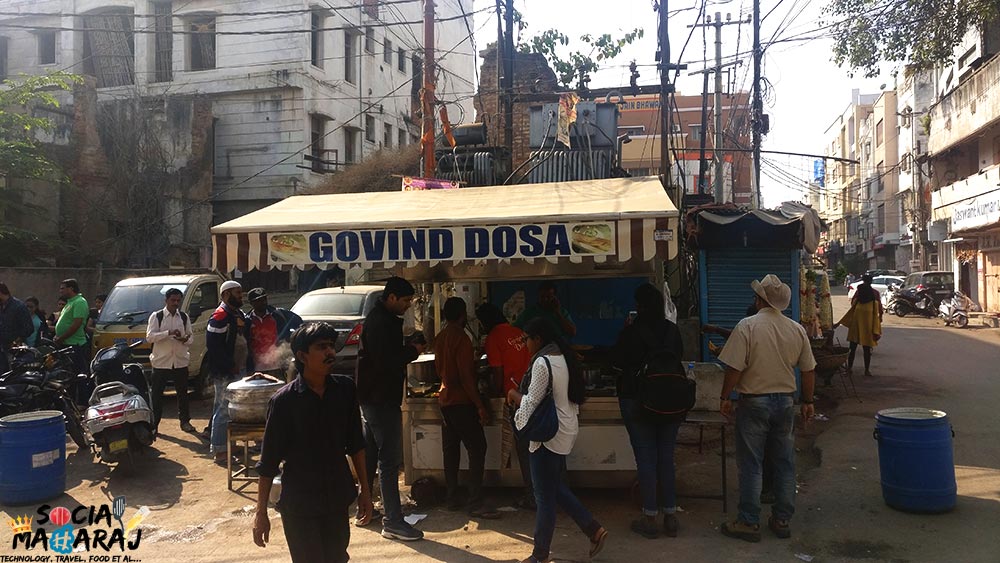 Govind ki Bandi – 40 years and running
Govind Dosa is located in Ghanzi Bazaar near Charminar. An easy way to get here it to first reach the Gulzar Hauz (the fountain), stand facing the Charminar and take a right. Keep walking until you cross the kaman (gate), take a right and keep walking till the dead end. Govind Dosa will be on the right. Like any other Bandi, Govind serves a variety of Dosas, Idli and Vadas. The guy was busy preparing dosas when I asked him how long has he been doing this. The reply was a loud 40 years ! That's close to being called a legacy. His tawa is a long piece of iron slab capable or processing and serving close to 8 dosas in one go !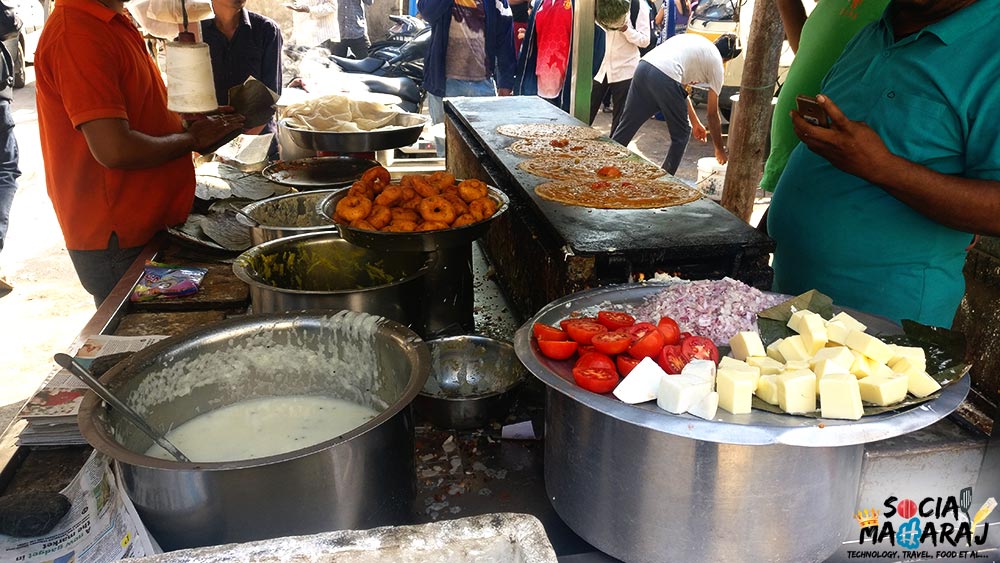 The service is quick as everyone around is waiting for their taste buds to be satisfied too. What we had for breakfast included the Masala Dosa and Masala Idli. The dosa was hot, spicy and loaded with butter. Forget your diet when you are at Govind ki Bandi. On the other hand, the Masala Idli was less spicy yet tasty. I loved the way he made the Masala Idli. First went in two cubes of butter, some chopped onions, coriander and a secret masala. When the entire thing turned liquid, he pushed in hot, fluffy idlis and coated them with the masala.
Good place for a quick breakfast
Don't be surprise if the cook yelled something suddenly, and some one appears instantly. It seems there's a code language between them. He yelled, some guy appeared out of no where ! Overall, the quality of food is pretty good. However I feel the bandi could have been keep a little clean.
There's no place to sit around and I advice you to carry a bottle of water. Overall Govind ki Bandi lived up to it's name and fame. If you are wandering on the streets of Charminar and around, make sure to drop by Govind ki Bandi. Let know your views by writing in the comments below or tweeting to me at @atulmaharaj