Being an engineering student, there are a lot of things taught to us especially in the first year. We learn the basics of almost all the other branches of engineering. From civil, mechanical, computers, and even automobile. Since I was in computer science, I got an insight into other fields as well. However, it was only in the 6th semester when we learned about microcontrollers. That's when I got interested and bought myself an Arduino UNO.
But over the last few years, I haven't spent much time with it. And due to its limited use cases, I bought a Raspberry Pi Combo Kit last month. So this post is going to be my Raspberry Pi Combo Kit Review.
What is Raspberry Pi?
I'm sure there are a lot of you who would be wondering as to what is this Raspberry Pi. So for all of you, Raspberry Pi is a mini-computer. (Experts, please ignore this) This is a small computer that is the size of your credit card. It comes in different configurations, but things like USB Ports, HDMI Ports, WiFi & Bluetooth are common for most of them. To know more about it in-depth, check out my earlier post on Raspberry Pi 4.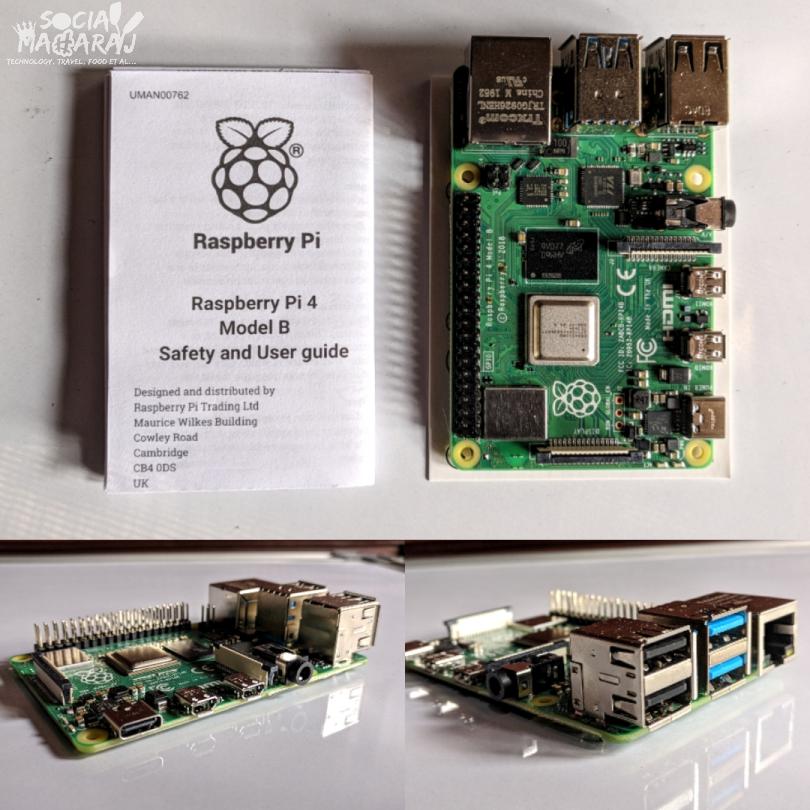 One of the things associated with purchasing such items is that you need to purchase a lot of accessories additionally. Accessories like power cables, case, memory cards, etc. While you can definitely use anything you already have, but I didn't have anything I could use for my Raspberry Pi. And hence bought the PiBox Raspberry Pi Combo Kit. So in case you have absolutely nothing, purchasing a Raspberry Pi Combo Kit is best (& cheaper also than buying individual components)
PiBox Raspberry Pi Combo Kit Review
To start with, there aren't many Raspberry Pi Combo Kits available online in India. There are a lot of companies that have made their own kits. However, based on my research the PiBox Raspberry Pi Combo Kit was one of the better choices out there. Plus it was available on Amazon as well.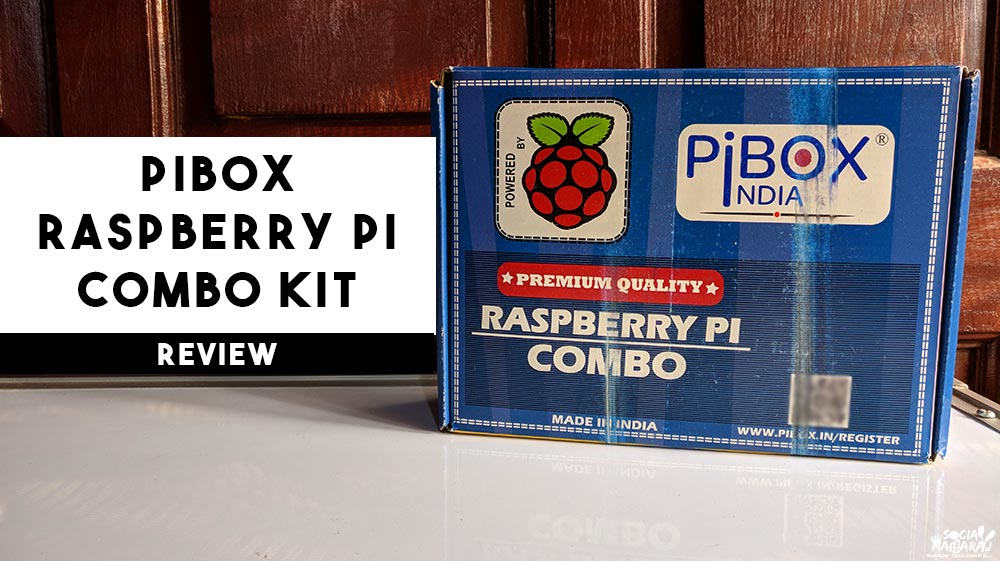 The PiBox Raspberry Pi combo kit that I got is with the 4GB RAM variant of the Raspberry Pi 4B – it is the latest version of the Pi. You can get it either with 2GB,4GB, or 8GB RAM variants. I chose the 4GB one as I felt that it's the sweet spot considering the price and performance.
What's inside the PiBox Raspberry Pi Combo Kit?
As mentioned earlier, the PiBox Raspberry Pi Combo kit comes with all the accessories that you need to operate your Raspberry Apart. Except a monitor/screen, mouse, and keyboard, the PiBox Raspberry Pi Combo kit contains the following items:
Raspberry Pi 4 board
Plastic Case
Case Fan (if you opt for a fan case combo kit)
Copper heat sinks
32GB micro SD card with Noobs installed – Amazon link mentions 16GB
SD Card reader
Ethernet Cable
Mini HDMI to HDMI cable
Power Adapter
On/Off Switch
User Manual
In terms of quality, all the items in the PiBox Raspberry Pi Combo Kit are of good quality. Everything from the case to the cables is in good condition. I didn't use the ethernet cable as I'm using WiFi. Even the booklet provided is quite easy to understand and simply following it will help you set up your Raspberry Pi too.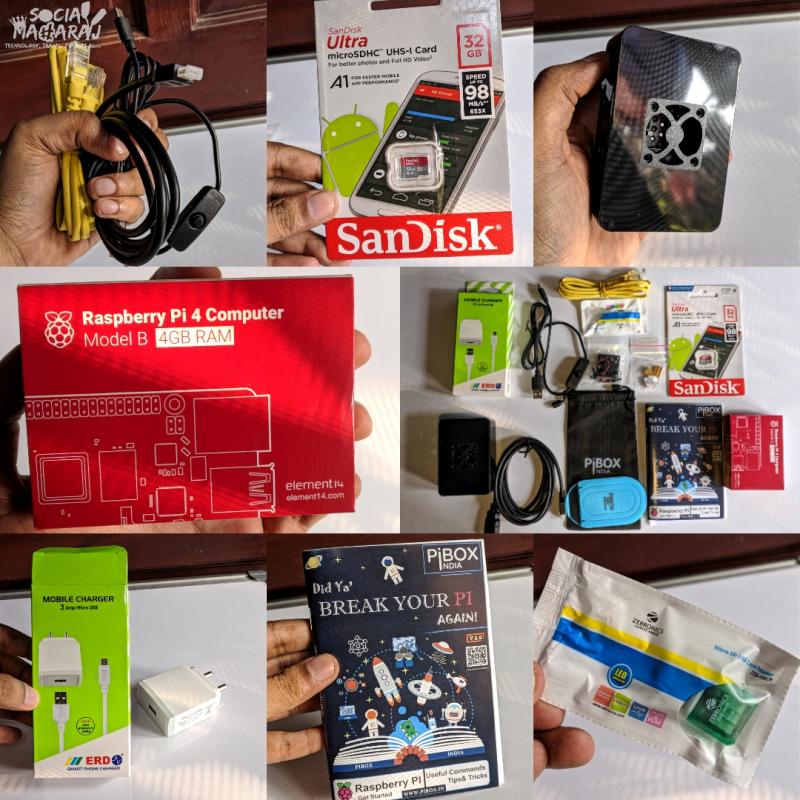 Cons of PiBox Raspberry Pi Combo Kit
While most of the things are good, below are a few issues/concerns with the Raspberry Pi Combo Kit which I should be addressed. Though these aren't major flaws when you use it, you'll realize that these are a concern.
Though the Raspberry Pi itself has LED indicators, those are not visible when used with the case. You need to remove the top of the case to see the status LEDs. Wish that part of the case was transparent for the status LEDs to be visible.
The case fan provided is pretty noisy. You can run it at 2 voltages – 3.3V and 5V, even running at 3.3V with a lower RPM, the fan makes considerable noise. Nonetheless, it does the job. The normal temperature I saw was around 56-58 degrees celsius without the fan. With the fan on, the temperature drops to about 40 which is great.
Further, the GPIO pins of the board aren't easily accessible with the case in place. You need to remove the lid of the case to access the pins. But if you are using the fan, you'll probably have to disconnect the fan to remove the lid and access the pins. They could have used some GPIO extensions and made the pins accessible from the lid itself.
The PiBox Raspberry Pi Combo Kit comes with 3 copper heat sinks as well for the Raspberry Pi as well. While the usage is as simple as peeling off the paper from the bottom of the shield and using it. However, which one fits where isn't mentioned anywhere. I had to refer to a YouTube video to fix them up.
Conclusion: The best Raspberry Pi Combo Kit to start with
Whether you are someone who wants to start with Raspberry Pi to learn and explore the use cases or an advanced user to use the Pi for your home surveillance, the PiBox Raspberry Pi Combo Kit is a good one to start with. Based on the variant you choose, the price of the Raspberry Pi Combo kit varies. For instance, I got mine for around ₹6000 from Amazon and was delivered in 2 days.
Having this kit opens a lot of doors for creativity and hack in the world of home automation and the Internet of Things. Would you want a kit like this? What projects you'd execute on your Raspberry Pi? Let me know in the comments below or tweet to me at @Atulmaharaj, DM on Instagram, or get in touch.