Over the last few years, Hyderabad has been expanding rapidly. The areas beyond Gachibowli that were barren once, today sport a skyline worth a view. Areas like Alwal, Shamirpet, Kompally were quite out of the city earlier. However, today they are easily reachable. With many housing settlements coming up in these areas, restaurants and pubs have also reached here.
And one of the latest pubs in Kompally is 10 Downing Street. 10 Downing Street is a well-known chain of pubs in the city with outlets in Gachibowli and Begumpet has recently opened an outlet in Kompally. This is going to be my review of 10 Downing Street Kompally.
10 Downing Street Kompally Ambiance
This outlet of 10 Downing Street is located across the Suchitra x roads. If you are coming from the Bowenpally side, you'll see a Westside outlet on your left. 10 Downing Street Kompally is situated on the 4th floor in the same building. With valet parking available, it makes your life much easier.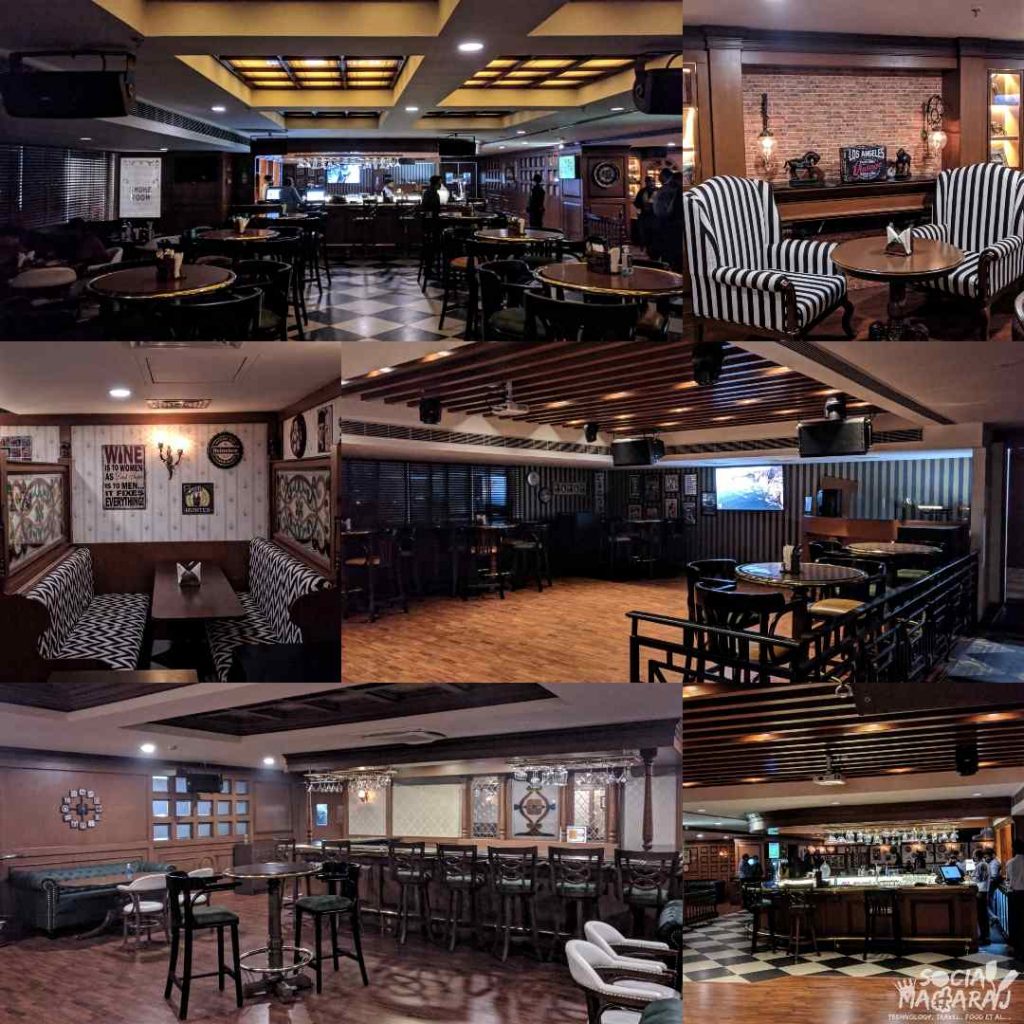 The entrance may not be as grand as other pubs in the city, however, the place has got a life to it. Upon entrance, you see a spacious seating area overlooking the highway. On one side you have a separate cozy sitting area that oversees the bar which is in the center. A relatively smaller dance floor is also there which has some live music performances.
There's another seating area which has got a good decor to it. Except for the bar, you cannot see anything else if you are seated here. They also have a huge private dining area with a dedicated bar which is perfect for parties. Overall, the ambiance is good and the upbeat music makes it a happening place.
Food & Drinks at 10 Downing Street Kompally
Being a teetotaler, I've always loved the mocktails at bars and 10 Downing Street Kompally was no different. They have a well-stocked bar which offers a variety of hard and soft drinks. When it comes to mocktails, the variety is less however, the drinks are pretty good. We tried the 10D special mocktail along with a Spicy Island Punch and the regular Pina Colada.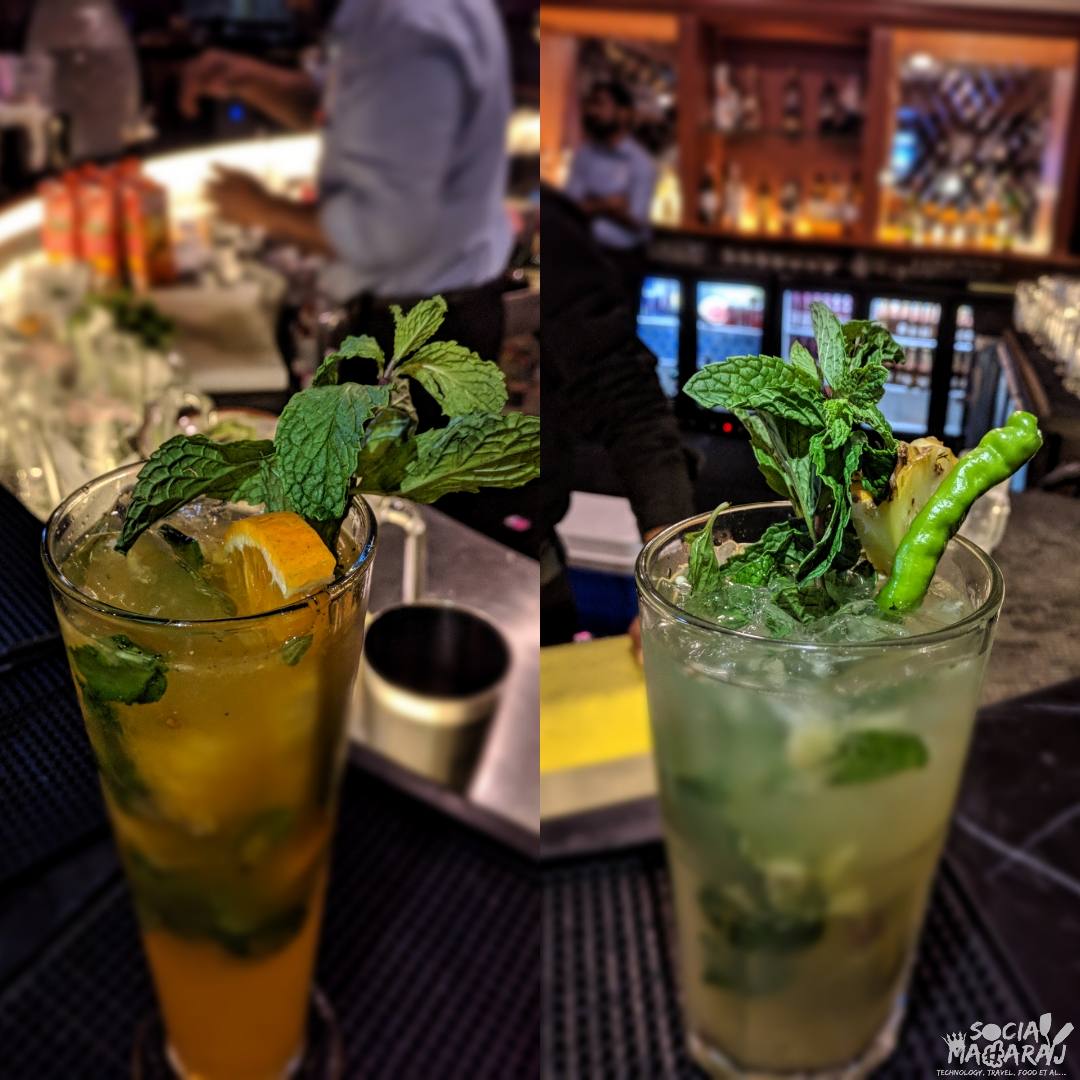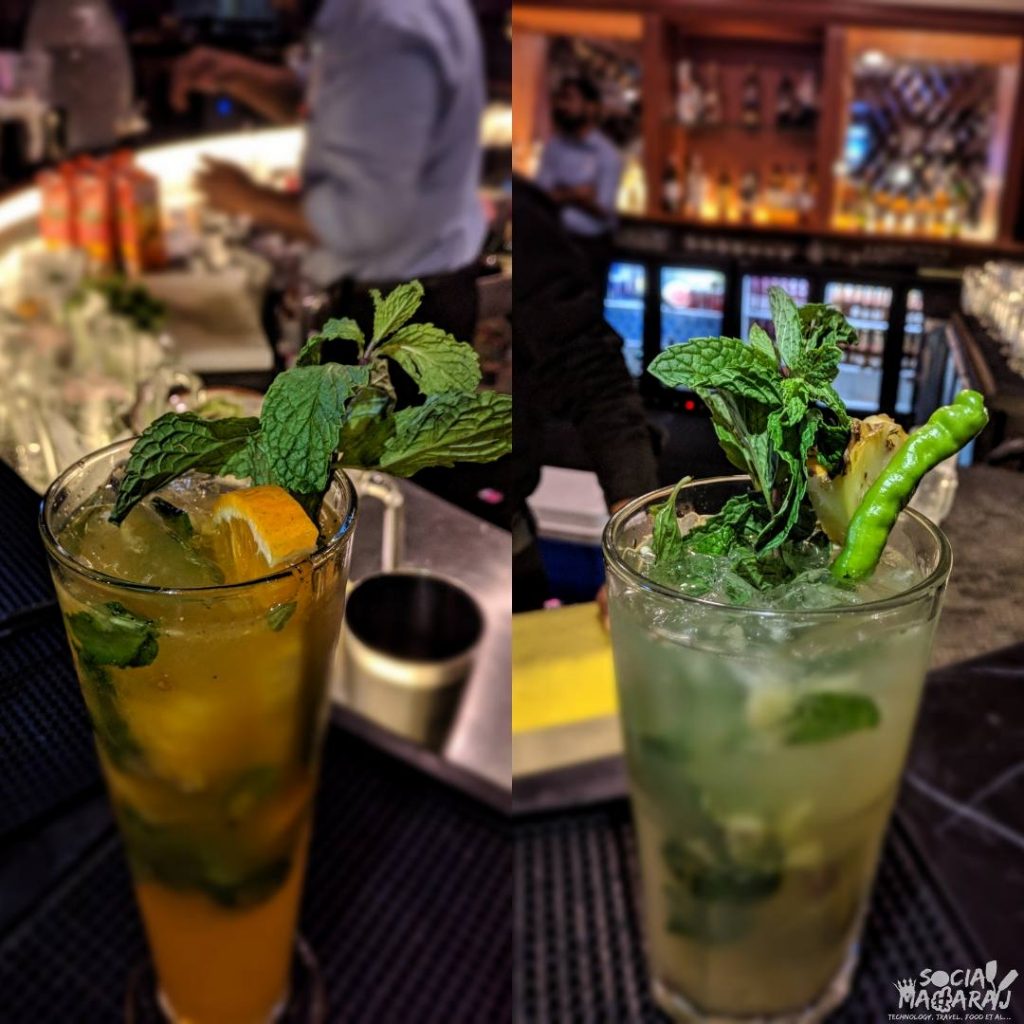 10D special was a pulpy orange-based drink with mint. It was refreshing and nicely done. However, the stand-out had to be the Spicy Island Punch. The drink had fresh green chilies, ginger, and mint in the right quantities. The aerated drink was zesty yet refreshing at the same time. Pinacolada was good like always. Overall, the drinks were pretty nicely done.
Coming to the food, I was surprised to know that they serve the main course as well. They have set combos that one can try. However, we went in with few rounds of starters and gave the main course a miss. We had Malai Paneer Kebab, Crispy Cheese Balls, Hara Bhara Kebab, Paneer 65, and Lasagne. Malai Paneer Kebab was a well-marinated slab of Paneer with a thing, sweet potato filling. Served with mint chutney, this was pretty good. Crispy Cheese balls have the best ones I've had in recent times and a must-try. Even the cheese balls at Roastery Coffee House are pretty good.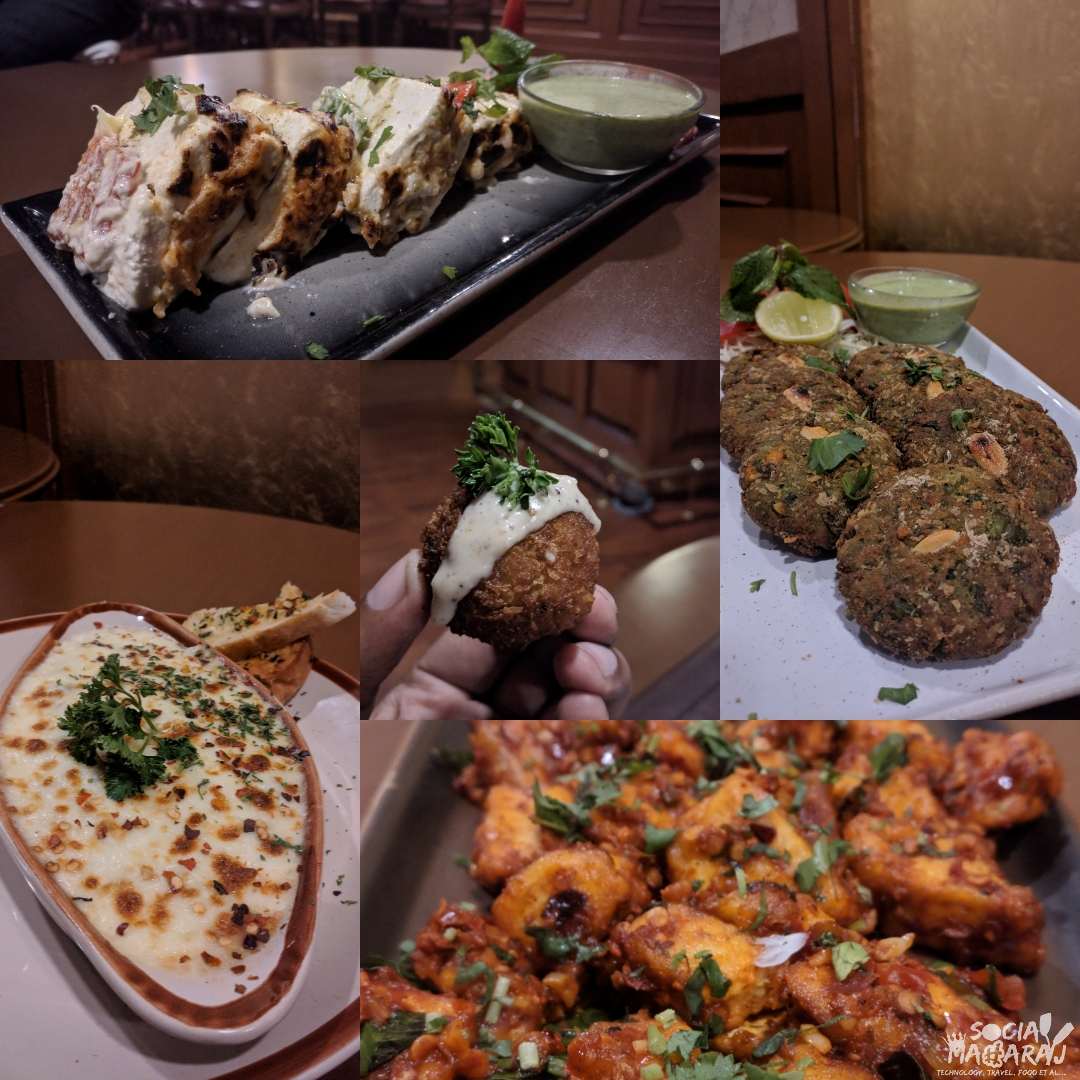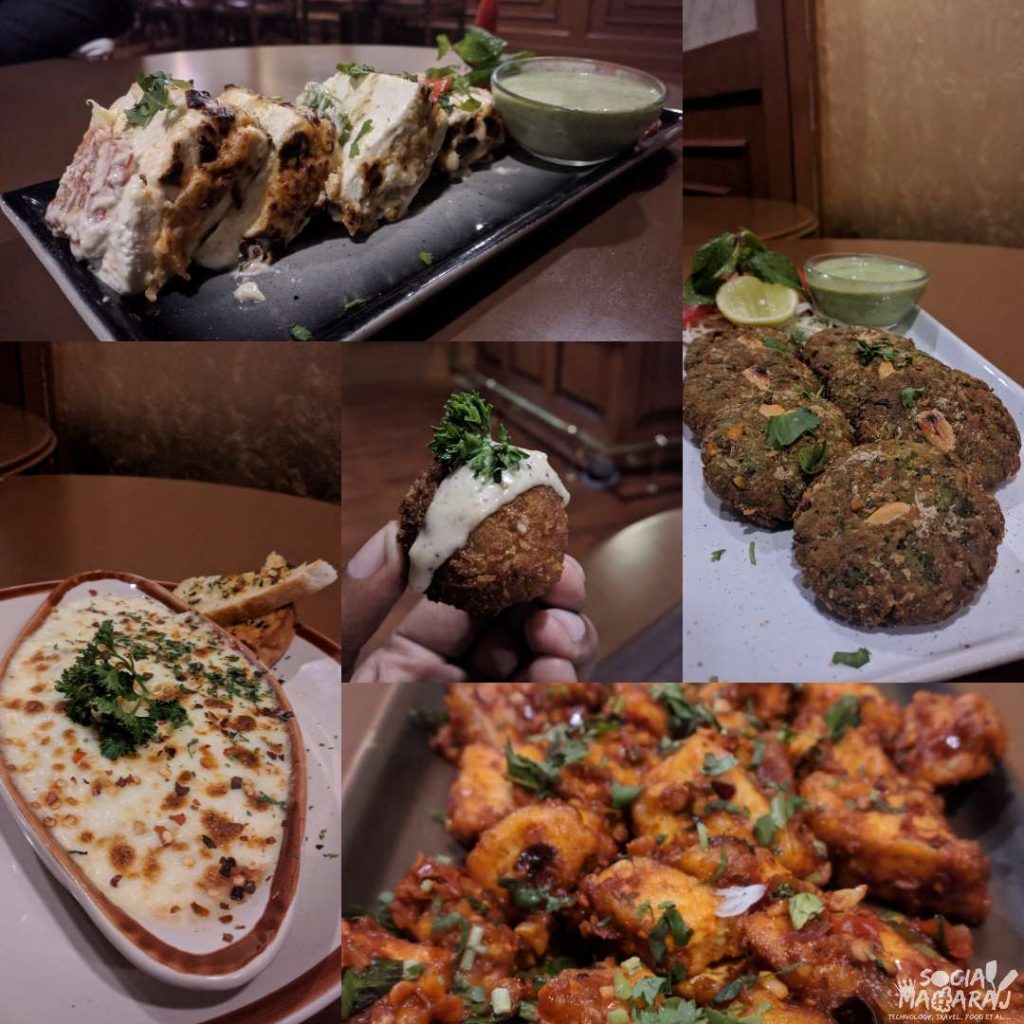 Hara Bhara Kebabs were nicely done and had minimal usage of artificial colors. It had the natural color and flavor of peas and greens. It wasn't too soft or too hard and just perfect. Paneer 65 is one of my favorite starters and I liked these two. It was flavor full and the Paneer was nicely coated. Lastly, the Lasagne – a signature dish – of 10 Downing Street, was pretty good. It was cheesy and baked to perfection served with garlic bread.
In terms of food especially for vegetarians, you won't be disappointed with the spread available at 10 Downing Street Kompally. Overall, loved the food and drinks at 10 Downing Street Kompally.
Kompally has a place to unwind – 10 Downing Street
It's good to see that a chain like 10 Downing Street is expanding its horizons and reaching places. Being one of the first pubs in the area, 10 Downing Street is surely going to be a hit. Everything right from the ambiance to the food and drinks are pretty good. The service too is quick and more importantly, all the safety precautions are followed. Overall, loved my dining experience there. Further, I was invited to the outlet and hence the food was on the house, but the review is honest.
Have you been to 10 downing street? What are your thoughts about this place or a pub in general? Let me know in the comments below, Tweet to me at @Atulmaharaj, DM me on Instagram. If you want your restaurant, pub, cloud kitchen featured here, please Get In Touch.