"Yeh hum hain, yeh humari drink hai, aur yeh humari Pawwwri ho rahi hai.." The pawwri ho rahi hai trend has caught everyone's attention. From youngsters to elders, everyone is crafting their own version. And though the COVID 19 scenes seem to be creeping back, that isn't holding back people from stepping out of their houses and unwinding after a tough day at work(home) I've been dining out for quite some time now and have been pleased with the arrangements at most places. So when something was brewing in Hyderabad, how could the Maharaj not be there?
Ironhill Brewery has set foot in Hyderabad and is starting its operations on March 6, 2021. With a city full of pubs, lounges, and breweries, will Ironhill be able to make a mark? Well, based on my exclusive launch party at Ironhill brewery Hyderabad, I'm sure they are going to be big! Read on to know more about Ironhill Brewery Hyderabad Review.
Ironhill Brewery comes to Hyderabad
Ironhill isn't a new name when it comes to brewery and coffee in India. In fact, I've been to IronHill Coffee some time back and totally loved the vibes at the place and also the food. Coming from the house of Prost, they have been operating breweries in Bangalore and Hyderabad since 2021. They already have Ironhill brewery in Vizag and Vijayawada, they are foraying into the City of Nizams with IronHill Brewery Hyderabad.
Located at KPHB, IronHill Brewery is at an important junction in the city. For all the folks residing in areas like Kukatpally, Kondapur, KPHB, Miyapur, et al, IronHill Brewery is the perfect destination for a fun evening. With most of the pubs and lounges located in Jubilee Hills, Banjara Hills, Gachibowli, and the other areas, IronHill Brewery Hyderabad has hit a masterstroke with an outlet here in KPHB. A stone's throw distance from the KHPB metro station, you don't even have to worry about the commute! For me, driving from office to home now has an amazing pitstop 😉
Extravagant and Plush ambiance at IronHill Brewery Hyderabad
Situated on the 5th floor of the PNR empire building, I wasn't expecting much from the place as I took the elevator to the 5th floor. The entrance grand entrance was definitely not what I had expected as I was welcomed and taken to the place. The place is lively and has a huge bar attended by talented bartenders. Quirky writings on the wall, plush decor, antique objects, and superb lights were some of the highlights of the place.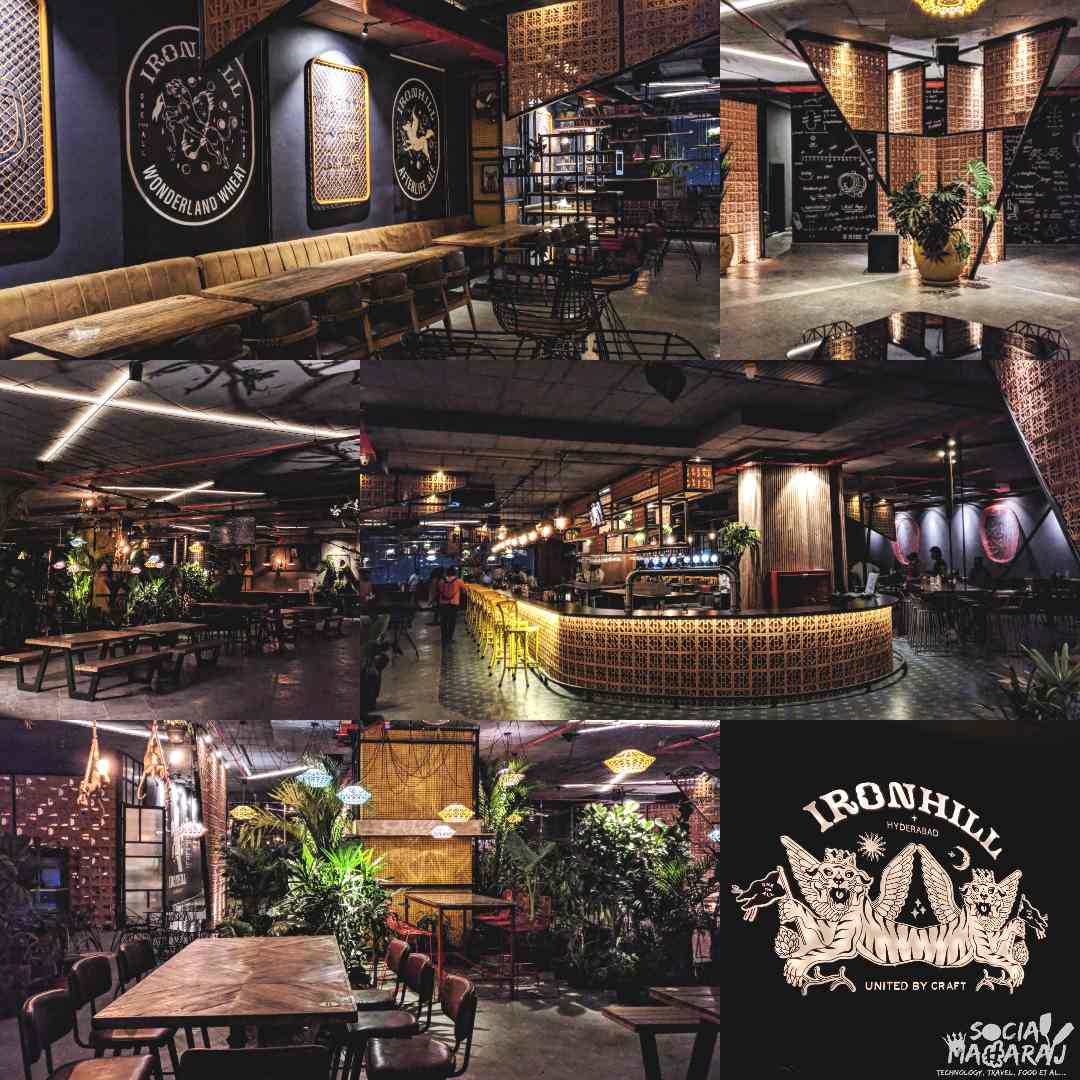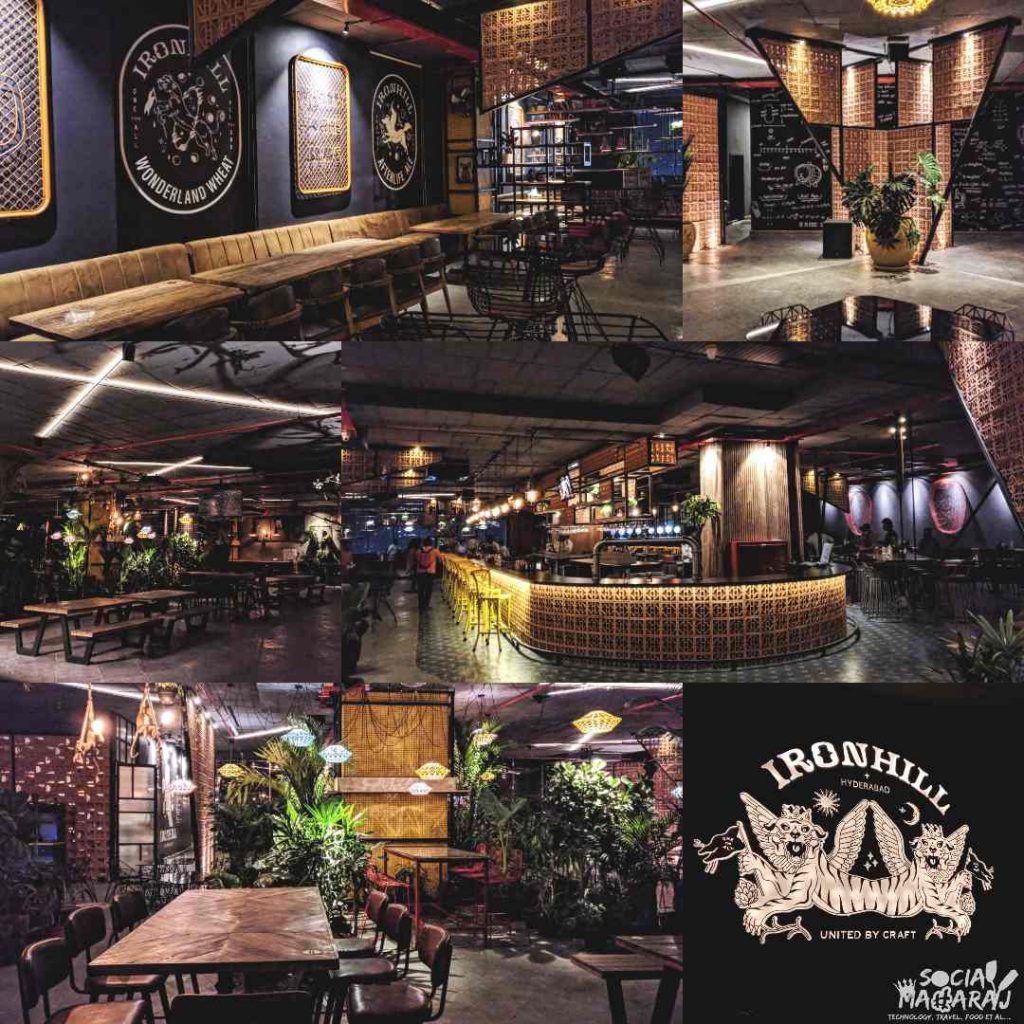 While I was awestruck with the ambiance, I was told that it's only 50%! There was an outside seating area that overlooks the city. The huge area has a lot of plants, decorated ceilings, and an amazing setup with pool tables. Makes for a perfect evening with your friends and loved ones. The whole vibe at the place is phenomenal. Like I said, I was stunned to see such a huge place in that building in that area. With the launch date close, IronHill Brewery Hyderabad is surely going to make it huge!
Pre-launch dinner at IronHill Brewery Hyderabad Review
As part of the pre-launch activities, I was invited along with a few other foodies from the city to taste their offerings. We had a set menu for the day and were served some of their iconic dishes right from the drinks to starters to the mains and desserts. While IronHill Brewery Hyderabad hasn't started the operations as yet, I don't know the prices of the items as we didn't have the menu. However, I feel it would be at par with the prevailing prices at other lounges and pubs.
Further, being a teetotaler & a vegetarian, I tried only the dishes and drinks that were for me 🙂 So let's get into the IronHill Brewery Hyderabad review.
Delicious salads and starters
The tables were set, people were ready and food was served. We started off with this unique Fig and Caramelized nuts salad. Though I'm not a huge fan of figs, I did try the salad. Must say that the caramelized nuts were the twist in the tale and quite different. We then had Onion Rings, Malai Broccoli, and Mushroom Ontario for starters. While you would have ad Onion Rings earlier as well, these were quite different. Not only these were sweet because of the onions, but they were also zesty, thanks to the paprika in them. The combination was loved by one and all.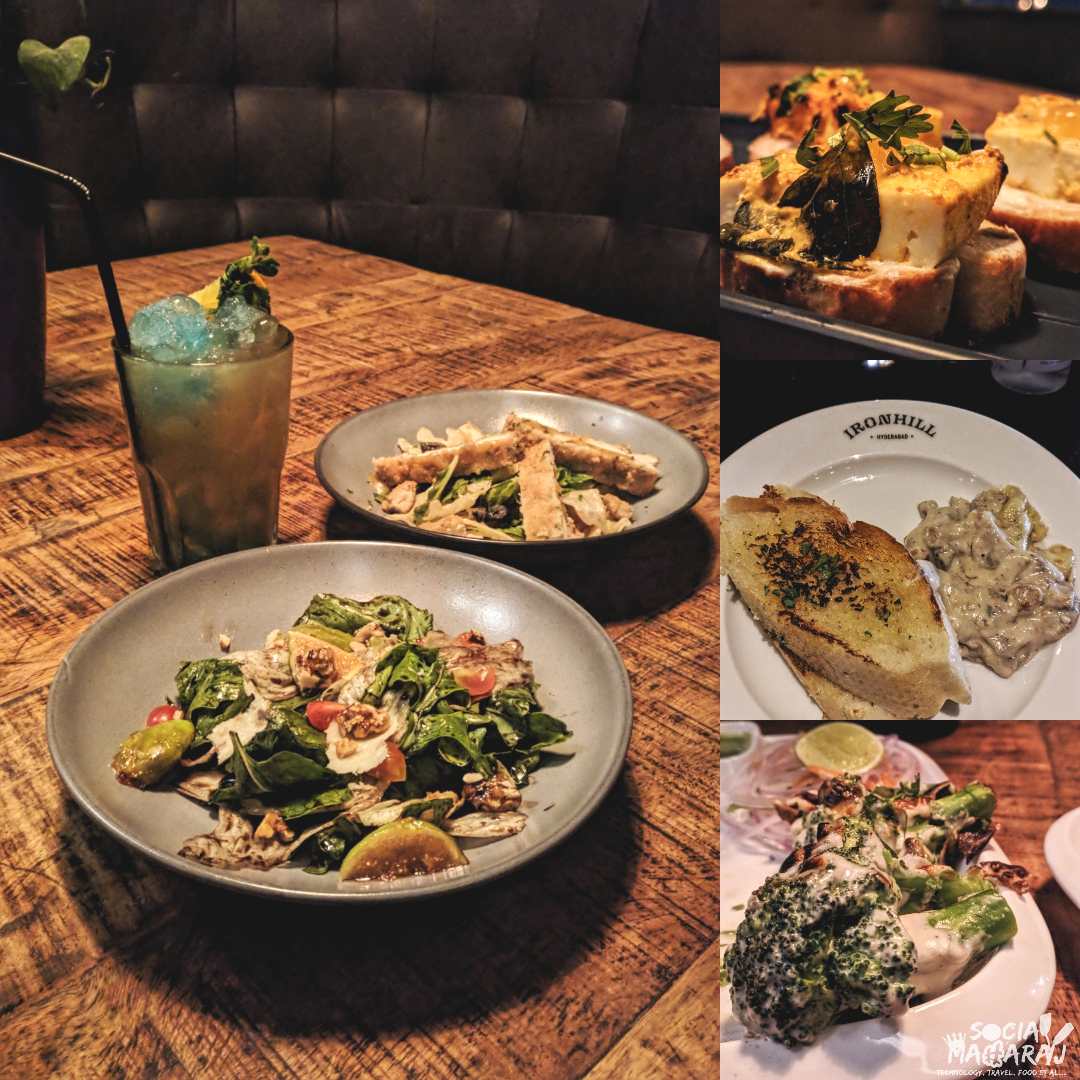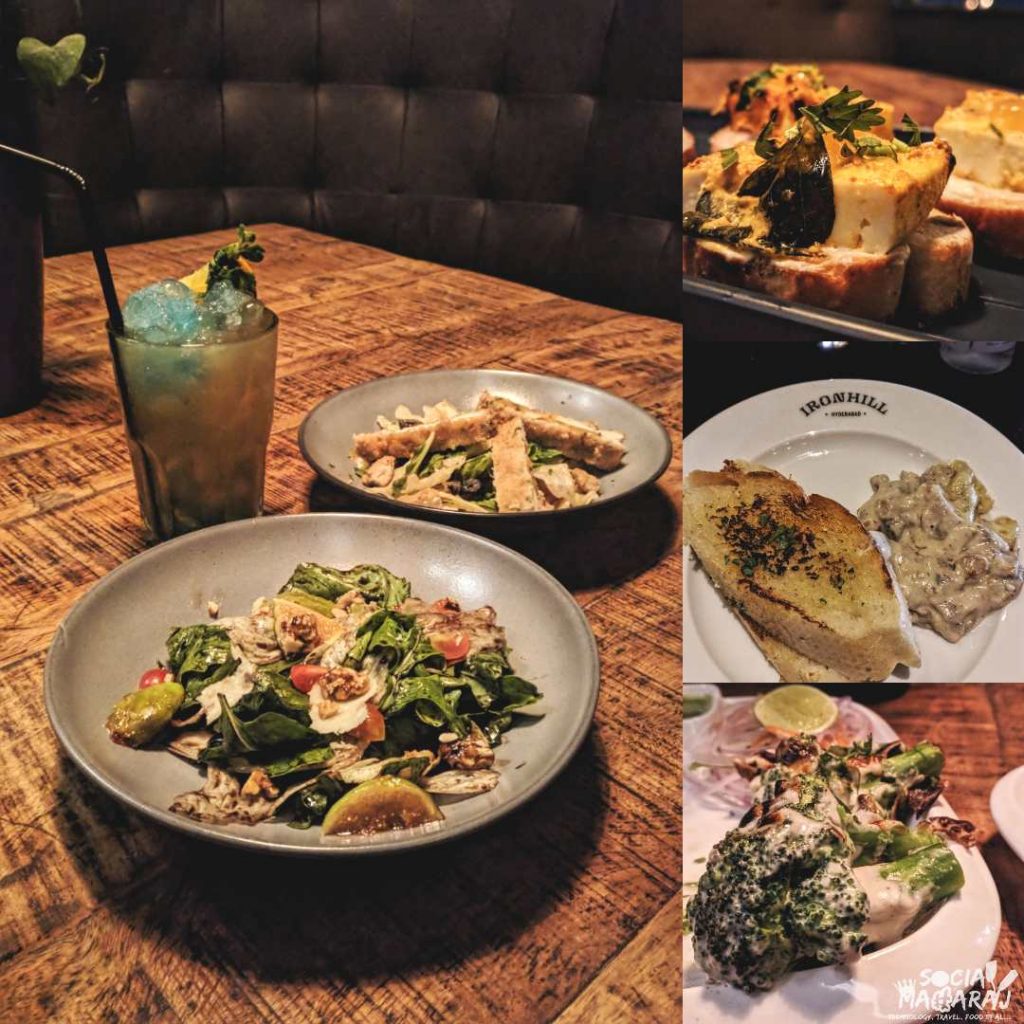 If there was one dish that stood out for me for the night, it was the Mushroom Ontario. It's simply the best dish at IronHill Brewery Hyderabad. Period. Perfectly cooked mushrooms in a creamy, cheesy sauce served with equally delicious garlic bread. It was heavenly. In fact, all of us resonated the same thoughts about this dish.
Apart from this, we also had Achari Paneer Canape with Orange Jam. It had a piece of Achari Paneer sitting on top of a bread slice with a ting of orange jam. Again, an extremely good starter. However, the bread here could have been softer for sure. Malai Broccoli was good too, nothing much to talk about it. Overall, in awe of the starters.
Fulfilling Mains
By the time we were done with starters, we were already running out of breath (and space in our tummies) so we decided to tone down a little on the mains. We first kicked off with a Fungi Olio Pizza – Mushroom Pizza. The thin crust pizza had the perfect texture and the right amount of toppings. We then had some Mushroom Baos. It was neatly done, however it was spicy for my taste.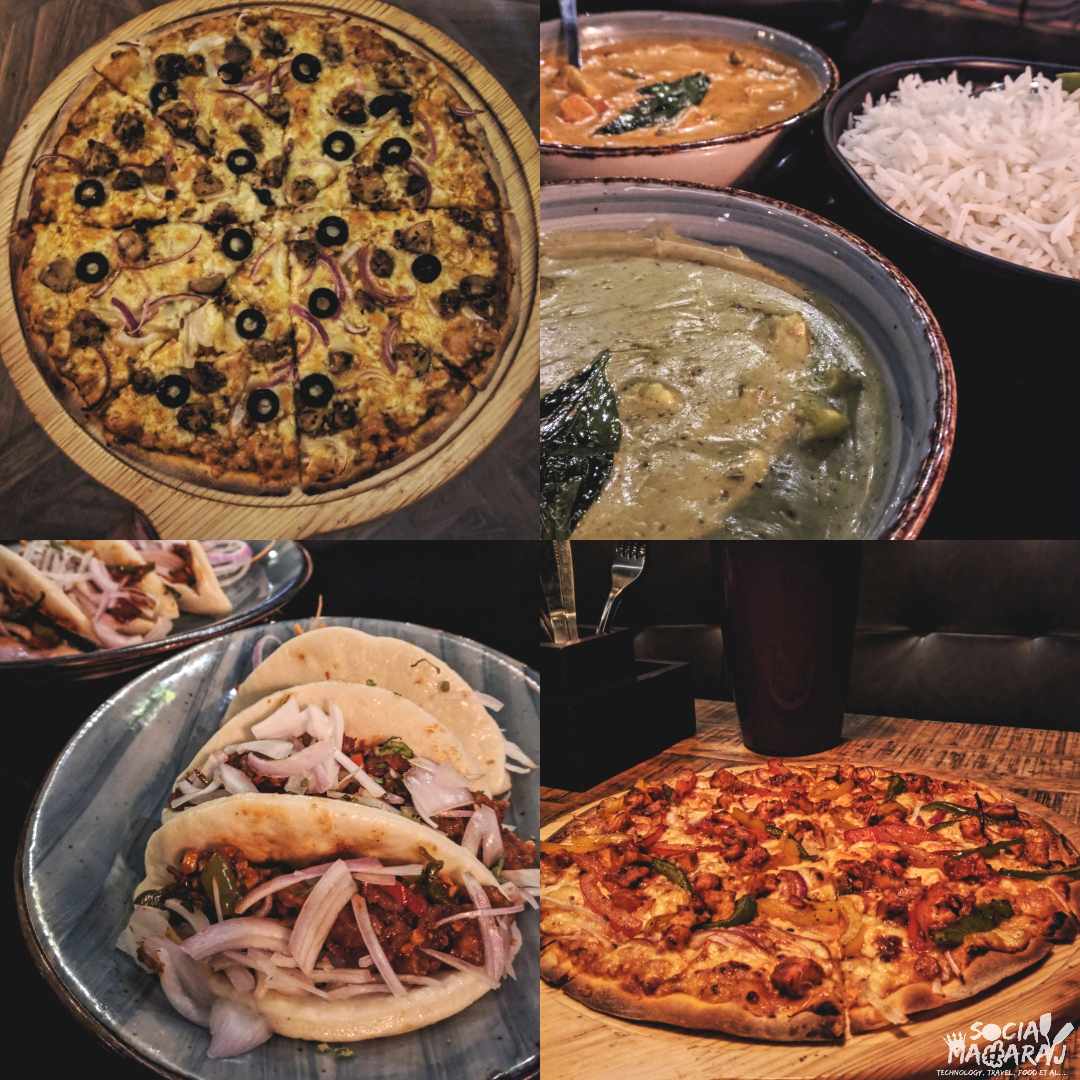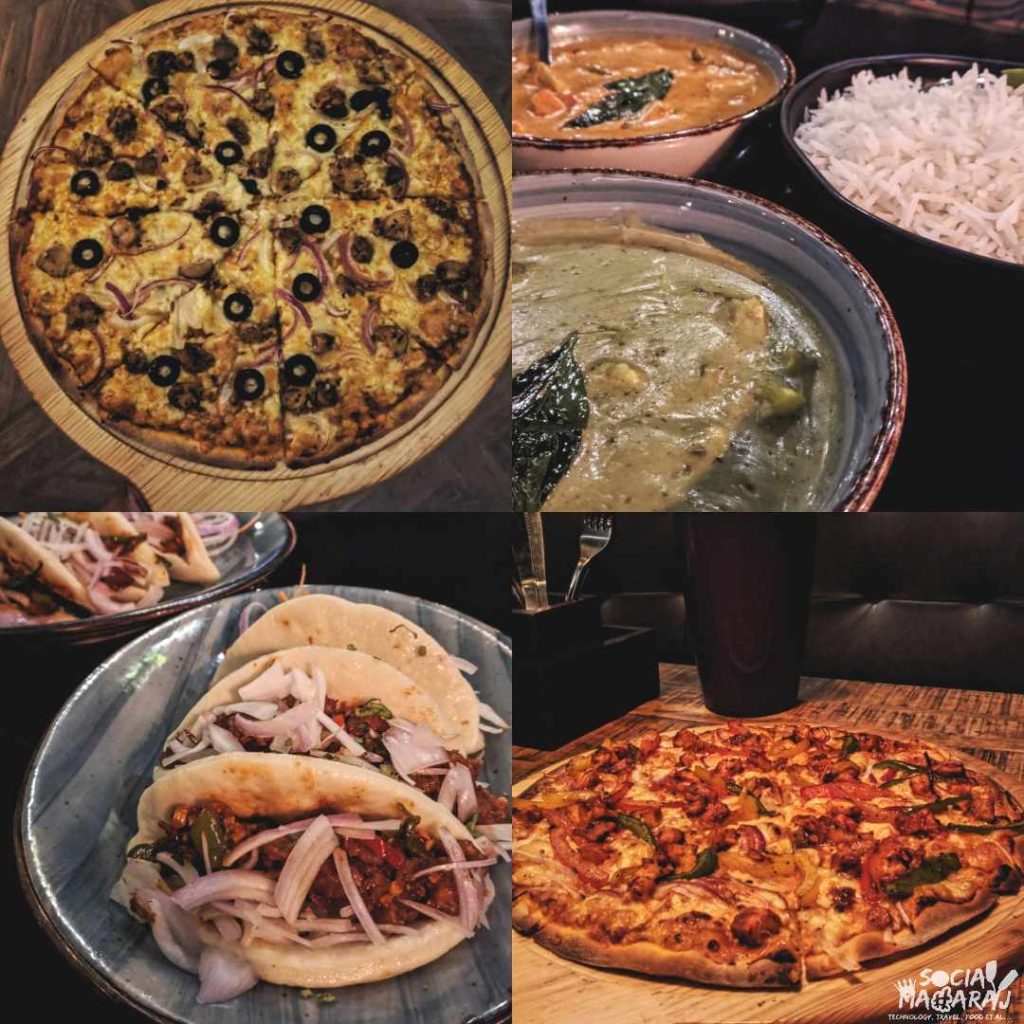 We then had their Red & Green Thai Curry that was served with steamed rice. The Green Thai Curry had nice a nice flavor with the coconut and the Kafir lime leaves. The red one was a tad spicy for my liking. That's all we had in the toned-down mains.
Luscious Desserts & Refreshing drinks
When you are at a brewery, you expect the drinks to be top-notch. Being a teetotaler, I was pretty happy with their mocktail offerings. Though we had just a few of them for the event, I'm 'assuming' there would be more on the actual menu.
We started off with my favorite Lemon & Peach Iced Tea. It was simply superb and refreshing. The flavor of the tea was imminent and not subdued by the sweetness. Just the way I like. I also tried the passion fruit Iced tea and loved it too. In fact, I liked the Iced teas so much that I guzzled a few glasses of those. Apart from that, we have a few syrup-based mocktails which were okayish. There was one called Drive South which was a sweeter version of Jaljeera. Didn't like it that much. But full marks for the Iced Tea.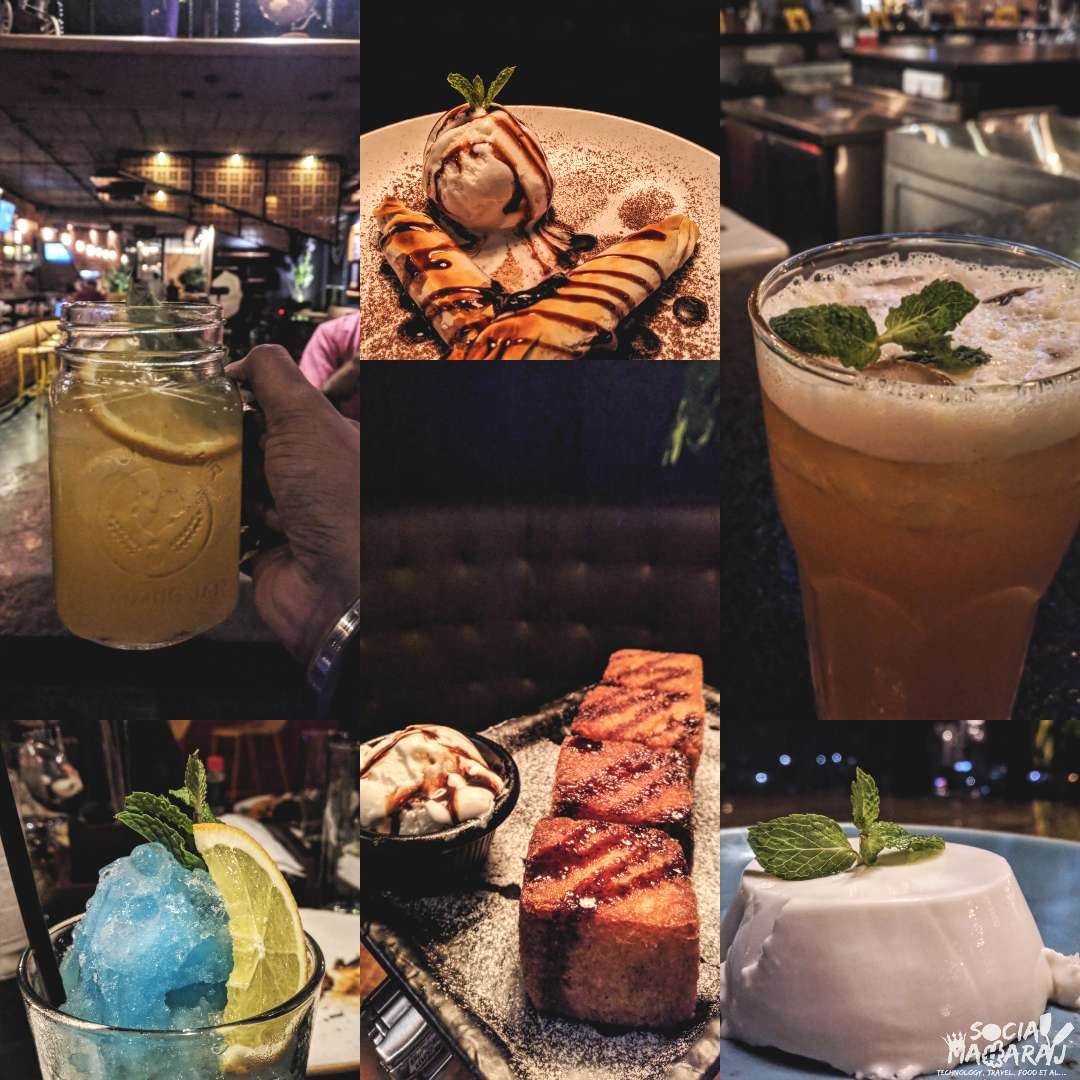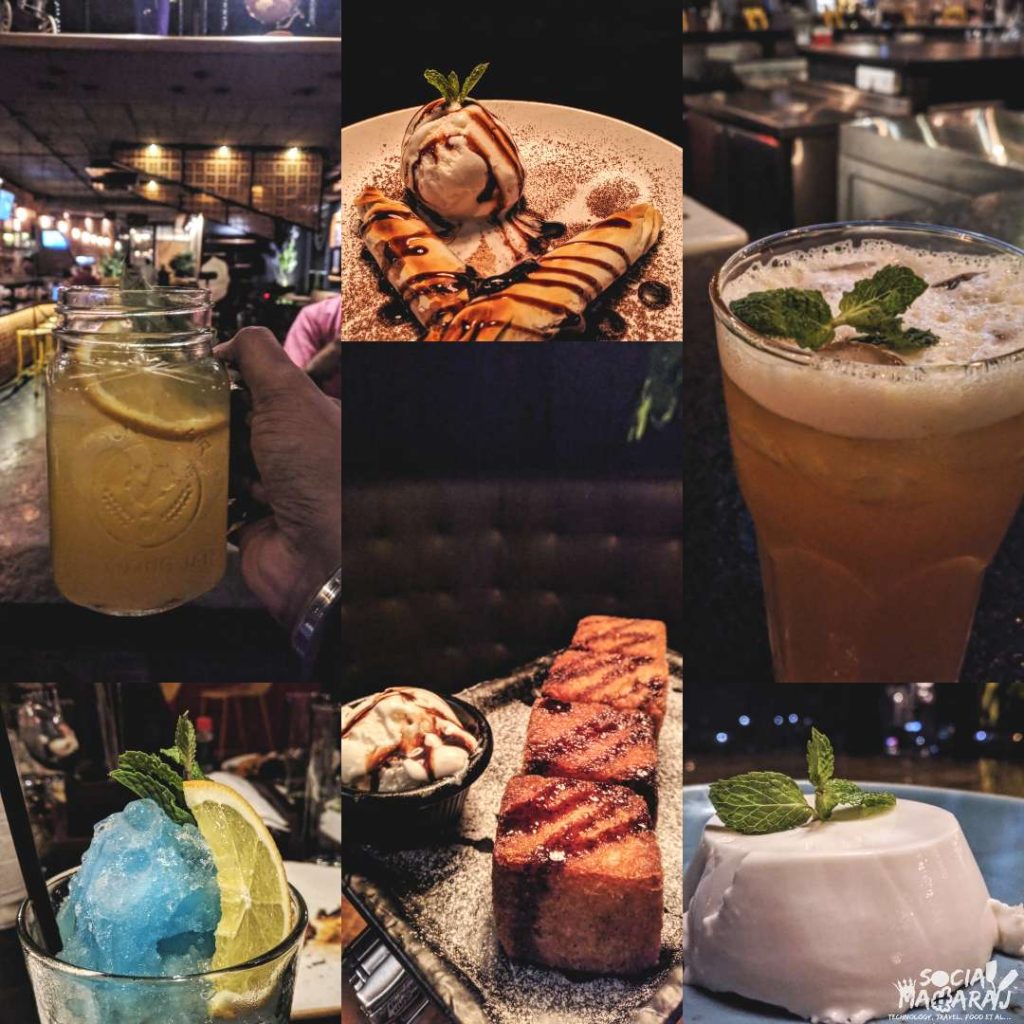 It was interesting to see the dessert varieties at Ironhill brewery Hyderabad. We were served a subtle Vanilla Panacotta, Chocolate Eclairs with Ice Cream, and also an improvised version of the double ka meetha. The pannacotta was pretty good, especially the strawberry sauce that was served was good.
Chocolate eclair was a blast of chocolate as there was chocolate oozing out of every corner of the breadstick. Served with ice cream and drizzled with cinnamon, this was good too. Lastly, the improvised version of the Double ka Meetha, was a nice take. Huge cubes of bread served with whipped cream and ice cream. Totally loved it.
Iron hill brewery is your neighborhood brewery worth checking out
Ironhill already is a famous place when it comes to coffee in Hyderabad. Their brewery is quite popular in Vizag too. With them foraying into Hyderabad with Ironhill brewery, they sure are going to be a great success. The ambiance is totally unexpected in that area and will leave you spellbound. In terms of service, the staff lead by Ravi and Karan are always around to ensure you get the best always. The drinks are served by amazing bartenders and the food is great. However, without the menu and prices, I can't quite comment more.
Nonetheless, Ironhill brewery is going to be a huge success considering they would be the first one in that area catering to a wide range of customers. Here's wishing the team the best of luck for the new beginnings and I'd surely be dropping around often.
That's about it from my visit to Ironhill brewery in Hyderabad. Let me know your thoughts in the comments below, tweet to me at @Atulmaharaj, DM me on Instagram or Get In Touch.