Having worked from home for over a year now, I feel that stepping out and spending quality time with your loved ones have become more important than ever. The schedules are tight and hectic and taking a break is much needed. And for that very reason, if you are following me on Instagram, you know that I've been dining out quite a bit lately. Dining out gives me a chance to meet new people, network, and build relationships – which I feel is the best gift Blogging has given me.
So when folks from Frat House invited me to drop by their place in Gachibowli, I readily agreed. In this blog post, I'll share my experience of a delightful evening at Frat House Hyderabad.
Trendy Ambiance at Frat House
Jubilee Hills has long been the area that houses some of the most loved eateries in Hyderabad. But over the last few years, I've seen a lot of new places come up in Gachibowli, Madhapur, and surrounding areas. Frat House is one such place located inside the SLN Terminus mall in Gachibowli.
While the entrance might not be grande, a stroll through the small door transports you to a trendy place inside. Frat House has got one the trendiest vibes in the city. The upbeat music, centrally located bar, and skilled bartenders add to the groove of the place.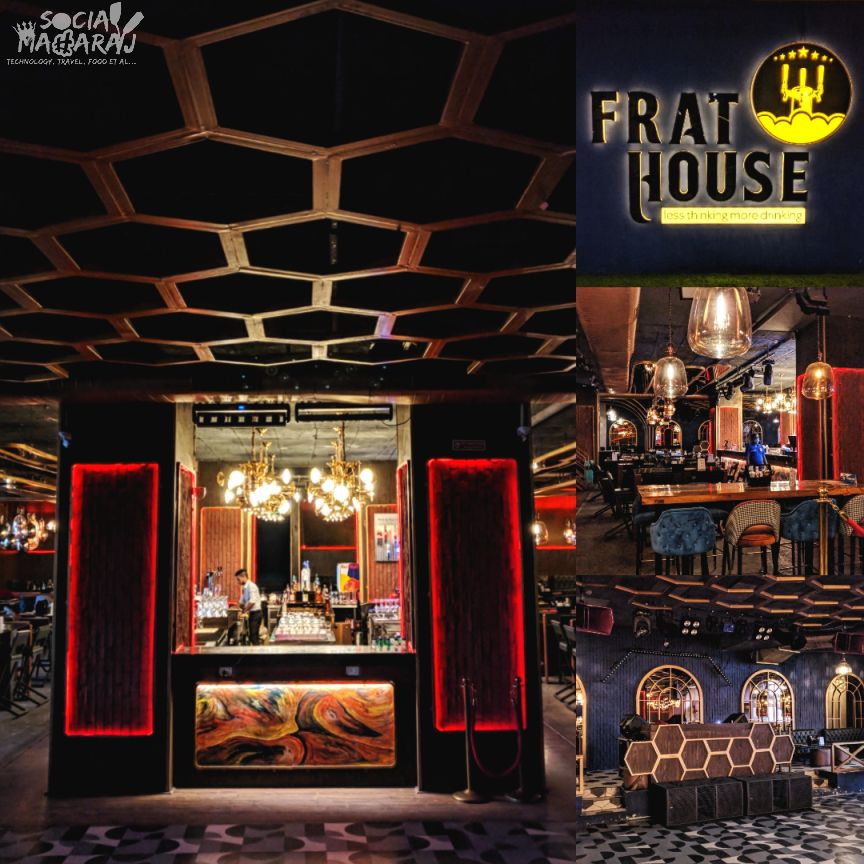 There are a lot of seating options from cozy sofas, private corners, outdoor areas to bar chairs. There's ample space and I'm sure as the sun goes down, you can let your hair down the sink into the weekend vibes. A separate smoking zone is something I liked, so kudos to that!
Food & Drinks at Frat House Review
Since I was invited to Frat House, we had a set menu which had a mix of starters, soups, vegetarian & non-vegetarian dishes, desserts, and a bunch of drinks. Being a vegetarian & a teetotaler, my review of Frat House would be around vegetarian & non-alcoholic offerings.
Pleasing Starters & Mains
We started off with a raw pumpkin soup that was served delicately. It was sweet and had the right amount of spices to it. It was followed by their famed Palak Patta Chat, which was my first time trying it. While the dish itself was good, the tangy chutney subdued the flavor of the palak patta. We also had Veg. Dimsums which were bright yellow in color stuffed with the regular stuffing.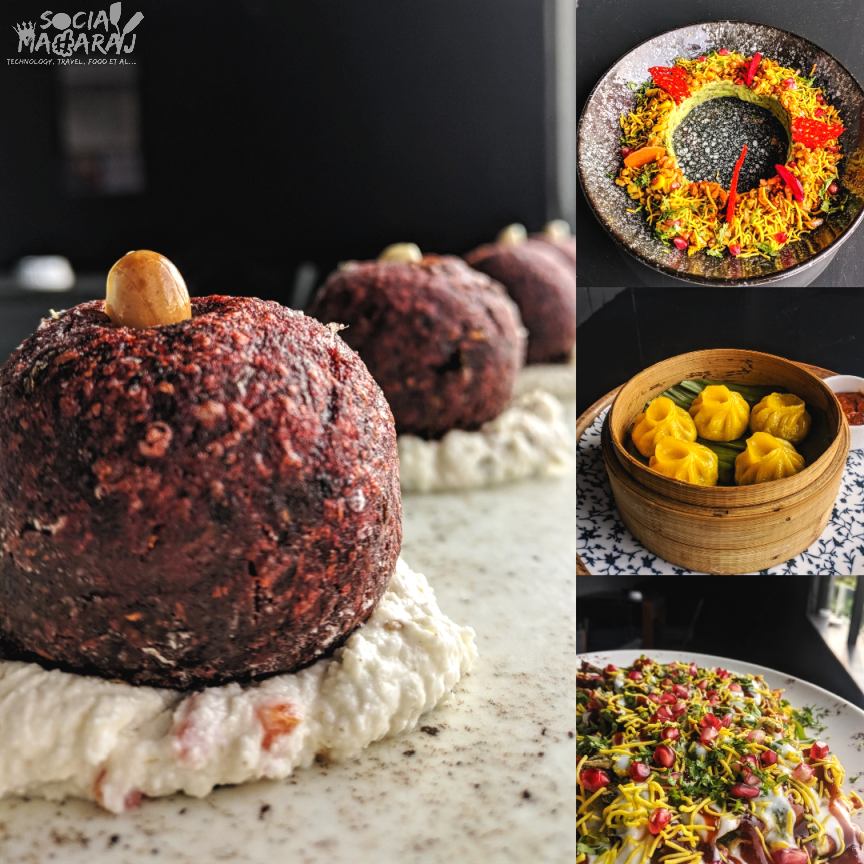 If I were to talk about the highlight of the day it has to be Avocado Bhel and Beetroot Peanut Butter Dumplings. While the Avocado bhel was too bhely (read sweet), the Beetroot dumplings were perfect. Each dumpling was filled with peanut butter, and placed on a spread of goat cheese. The sweetness of Beetroot coupled with the peanuty flavour of the peanut butter along with the goat cheese was simply fab. A must try!
Refreshing mocktails and desserts
When it comes to mocktails, I think that bars are the best place to have them. They have got not only the right ingredients but also the right people with the right tricks to mix something great. The three berry cooler was a great mix and so was my favorite Peach Iced Tea. The classic virgin mojito was nicely done too. They even served a pina colada twist which was quite refreshing. The drinks are great, however, I had to ask them to tone down the sweetness a little for my liking.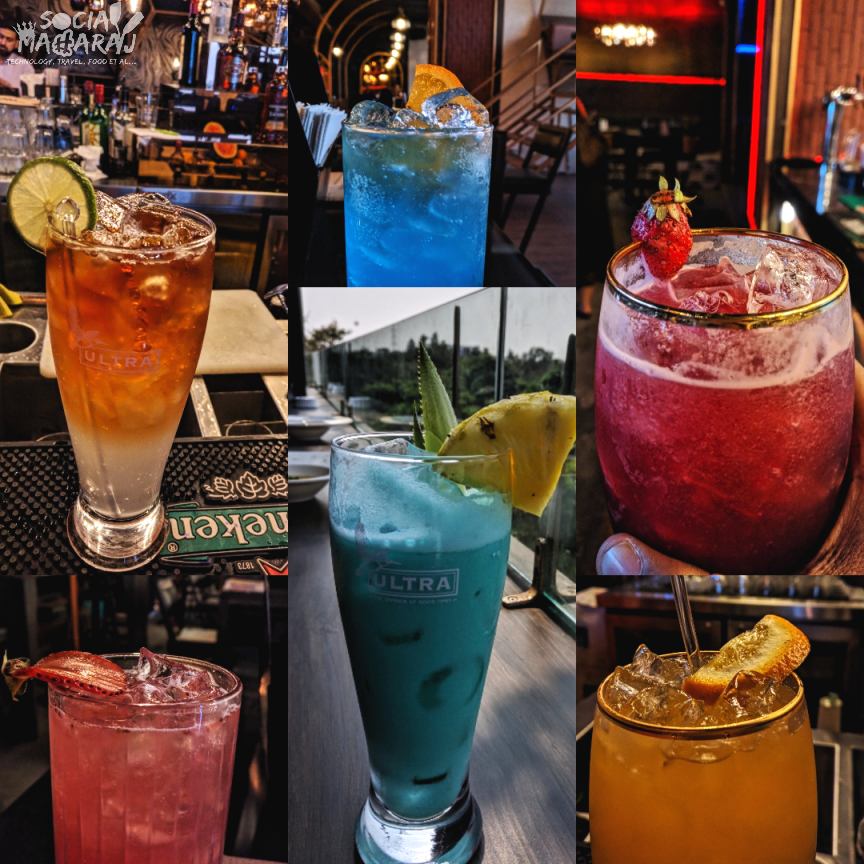 In desserts, we had Vanilla Ice Cream with Chocolate Brownie along with Tiramisu Cake. Both of them were good, however, I was busy gulping down the drinks 😉
Final Verdict: Frat House won't disappoint
One of the good things that I liked about Frat House is the ambiance, there are a lot of seating options to suit your needs. Also, they have a special set menu that is a bang for your buck. The regular food is also good, barring a few misses. We also had mains including Naan and Kadhai Paneer which was nicely done. The staff is ensuring all the safety measures are followed.
Overall, loved the place. It's a place to unwind after work with your colleagues, friends, and loved ones. In fact, one of my friends works in the same building! I envy him!
What are your thoughts about Frat House? Let me know in the comments below, Tweet to me at @Atulmaharaj, DM me on Instagram, or Get In Touch.