I've mentioned this a lot of times in the past but will again mention it now. Jubilee Hills is the hot spot in Hyderabad and a part goer's destination. It is the perfect place for some great restaurants, lounges, and other eateries. Amongst the places that I've been to in Hyderabad, most of them are located in Jubilee Hills and surrounding areas. Places like Carpe Diem, The White Rabbit, 36 DownTown, Smoky Pitara, MyFroyoLand, Tatva, Farzi Cafe, Rayalaseema Ruchulu are just walking distance from each other.
And today I'm going to add another place to this list – Repete Brewery. Yes, being a teetotaler & a vegetarian, I visited Repete Brewery a few weeks ago and this is going to be my Repete Brewery Review.
Rustic & Groovy Ambiance at Repete Brewery
Locating Repete Brewery isn't tough. It is located in the building next to Neeru's and Tonique. While you may not spot it immediately, the valet parking setup helps you. Repete Brewery is located on the 5th floor of the building and the lifts open almost inside the place.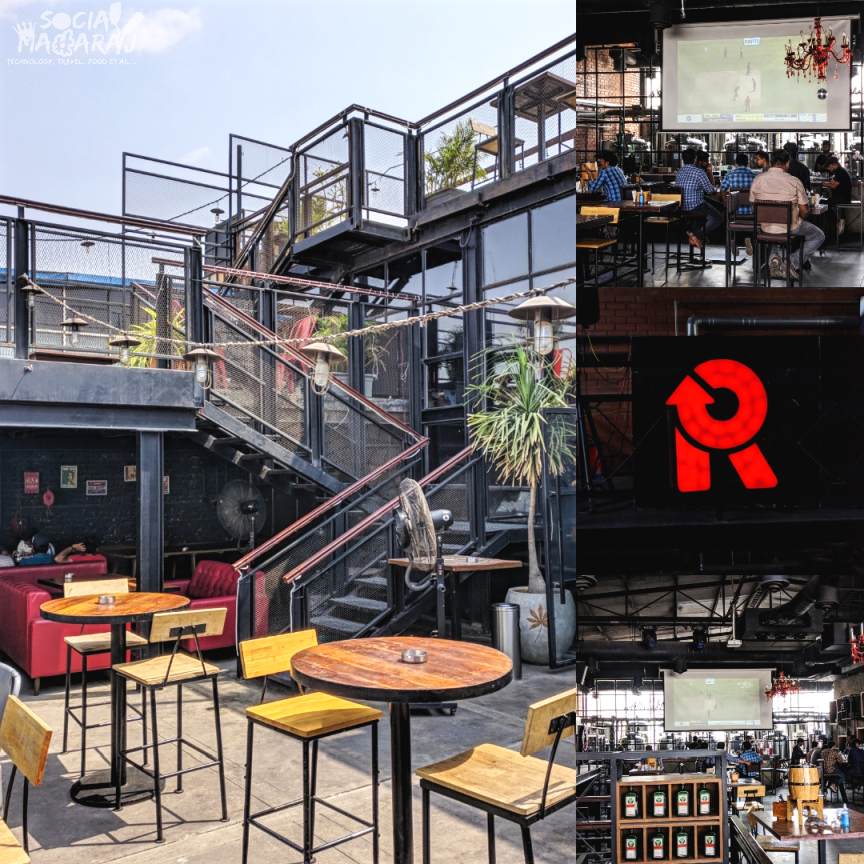 You are greeted with a rustic & groovy ambiance. There's a DJ playing all day, live match screenings, and a very busy bar counter. There are a lot of seating options to choose from. You can sit inside which is air-conditioned, there are a few private seating areas for large groups. There's seating outside and even terrace seating. Sitting out is best if you are visiting during the evenings. So in terms of ambiance, I quite liked the place.
Repete Brewery Review – Refreshing Drinks & Good Food
Repete Brewery is a well-known brewery in Hyderabad and is flocked by party animals from across the city. Being a teetotaler and a vegetarian, a lot of people were surprised me being there. Also, they have a revamped menu and I was invited to taste the same and share my inputs, hence the food was on the house. But like always, this is going to be an honest review.
Refreshing Drinks
From a teetotaler's perspective, I was amazed to see the mocktail options. There were a few drinks that you'd find at almost all the places but there were a few that were unique. We had a colorful collection of drinks namely: Mulled Apple, Tropical Punch, Lime Ricke, Thanksgiving Punch, Sweet Sunrise & Pinacolada, Green garden, and Sherly Temple. Apart from these, I did gulp down a few jars of Virgin Mojito 😉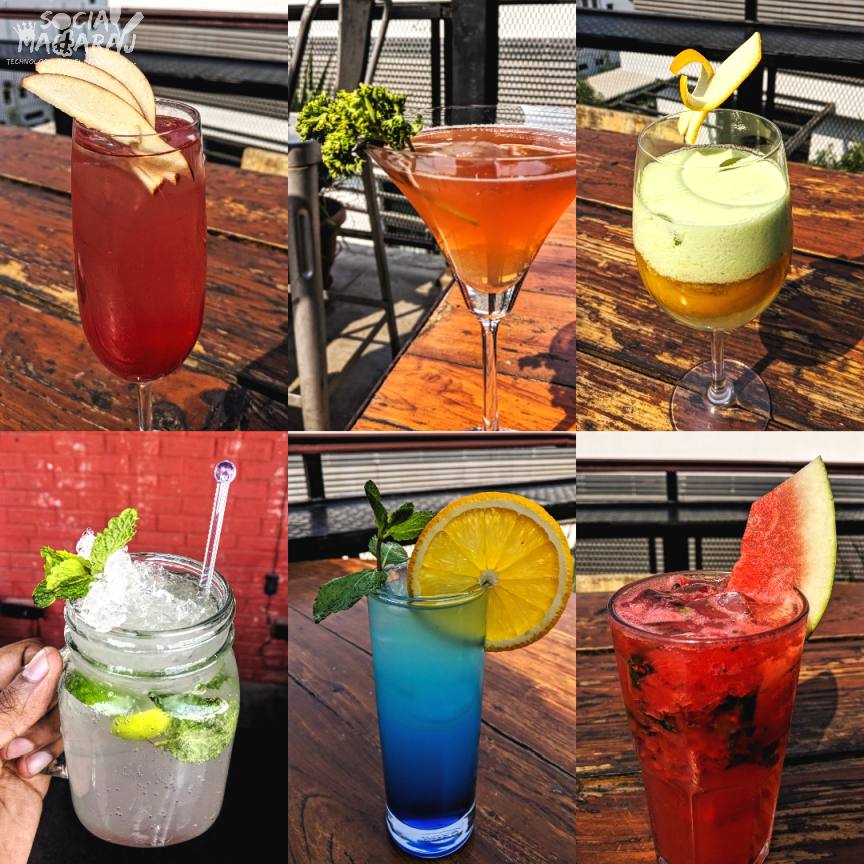 Of all these, Tropical Punch, Mulled Apple, Lime Ricket, and Sweet Sunrise were the ones I liked. Some of them were syrup & water-based while others were soda-based. Overall, quite happy with the variety of mocktails for teetotalers at Repete Brewery.
Good Food & a Happy Tummy
Coming to the food, Repete Brewery has a lot of options for vegetarians and non-vegetarians. We were served a variety of pancakes – Honey and Nutella. While they looked good, they contained eggs hence Maharaj gave a miss. Coming to starters, there was my favorite Chilly Paneer which was nicely done. Falafels along with Hummus was good too. The texture of Falafels had come out nice. While I haven't been a fan of Nachos, I've slowly started to like it. Cheesy Bean Nachos were pretty good as everyone polished the plates as soon as they arrived.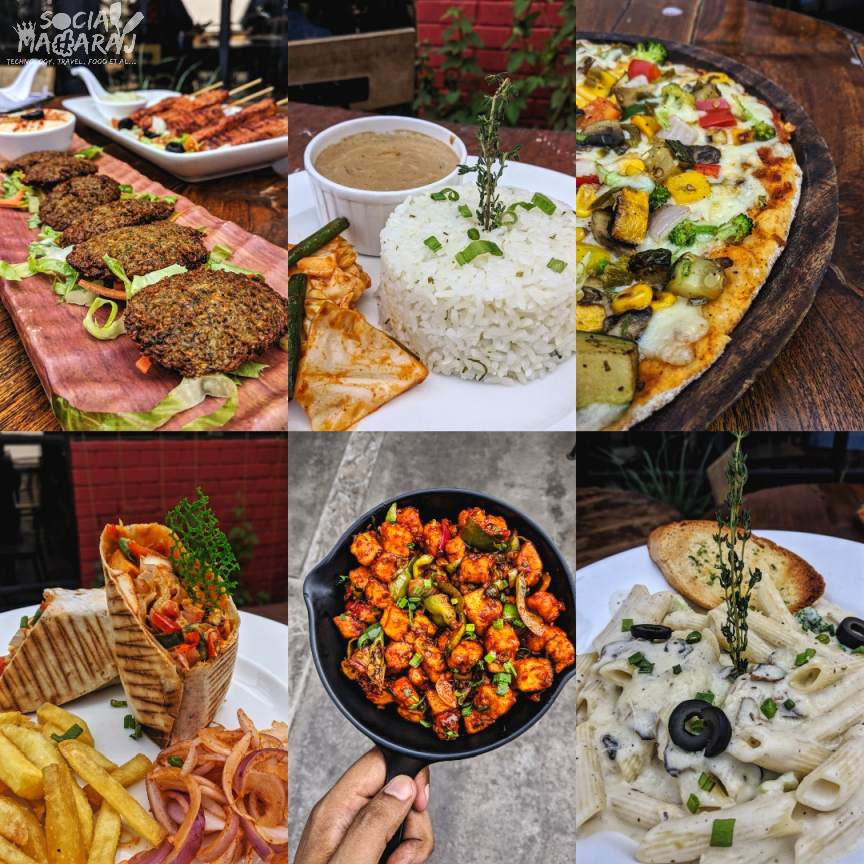 Talking about the mains, we had a Veg. Burrito which had Paneer with other veggies. While the presentation was nice, the taste was average. It was sweet & lacked flavors. Farmers Fresh Pizza was baked nicely with a thin crust and loaded with veggies. We also had White Sauce Pasta that was served with Garlic Bread. This too looked nice, but the flavors could have been enhanced a little. The next item that I did relish was Mushroom Stroganoff which was served with aromatic rice. It was a pretty good dish and I'd surely have it again the next time I'm there.
For desserts, we had a brownie with Ice Cream along with a blueberry cheesecake. Since I was stuffed with food and the drinks I had, I decided to skip these. Overall, for vegetarians the options are good. There are a few hits and misses with the food, but you won't be disappointed.
Final Verdict: Groovy Weekend at Repete Brewery
If you and your friends are looking for a place to hang out and party, Repete Brewery Hyderabad might as well be the perfect place. The rustic ambiance and the live DJ adds to the groove of the place. Evenings are the best time to visit and chill. As a teetotaler and a vegetarian, I liked the overall experience of dining at Repete Brewery. A variety of drinks, food, music & live match screenings – makes up for a perfect evening. For nonvegetarians and tipplers, I'm sure you will have a good time too.
Been to Repete Brewery already? What are your thoughts about it? Leave your thoughts in the comments below, Tweet to me at @Atulmaharaj, DM me on Instagram or Get In Touch.