Jubilee Hills Hyderabad is the destination you should be at if you are looking to unwind. The area has some of the finest clubs, lounges, bars and cafes – just what one needs to log off from work and say hi to the weekend. Every alley in the area has a bungalow-turned-cafe spread over a large area. Of all such cafes in Jubilee Hills, the one that had been on my list for a long time was Farzi Cafe. Long back, I was invited for a tasting session during their opening, but some how things didn't work out. And being a food blogger, doesn't mean free food always. Last Sunday I was at Farzi Cafe with my friends and this post is all about being Farzified at Farzi Cafe Hyderabad Review.
Upscale and Classy Ambiance at Farzi Cafe Hyderabad
Farzi Cafe Hyderabad is located at Road number 59, Jubilee Hills. In the lane right next to Tatva – one of the finest vegetarian restaurants in Hyderabad. It's not difficult to locate the cafe thanks to the thumping music and luxurious cars around. Seeing the Mercs, Audis and BMWs I wondered whether anyone there comes in a cab ! Kidding. It's huge bungalow turned into a cafe with chic interiors.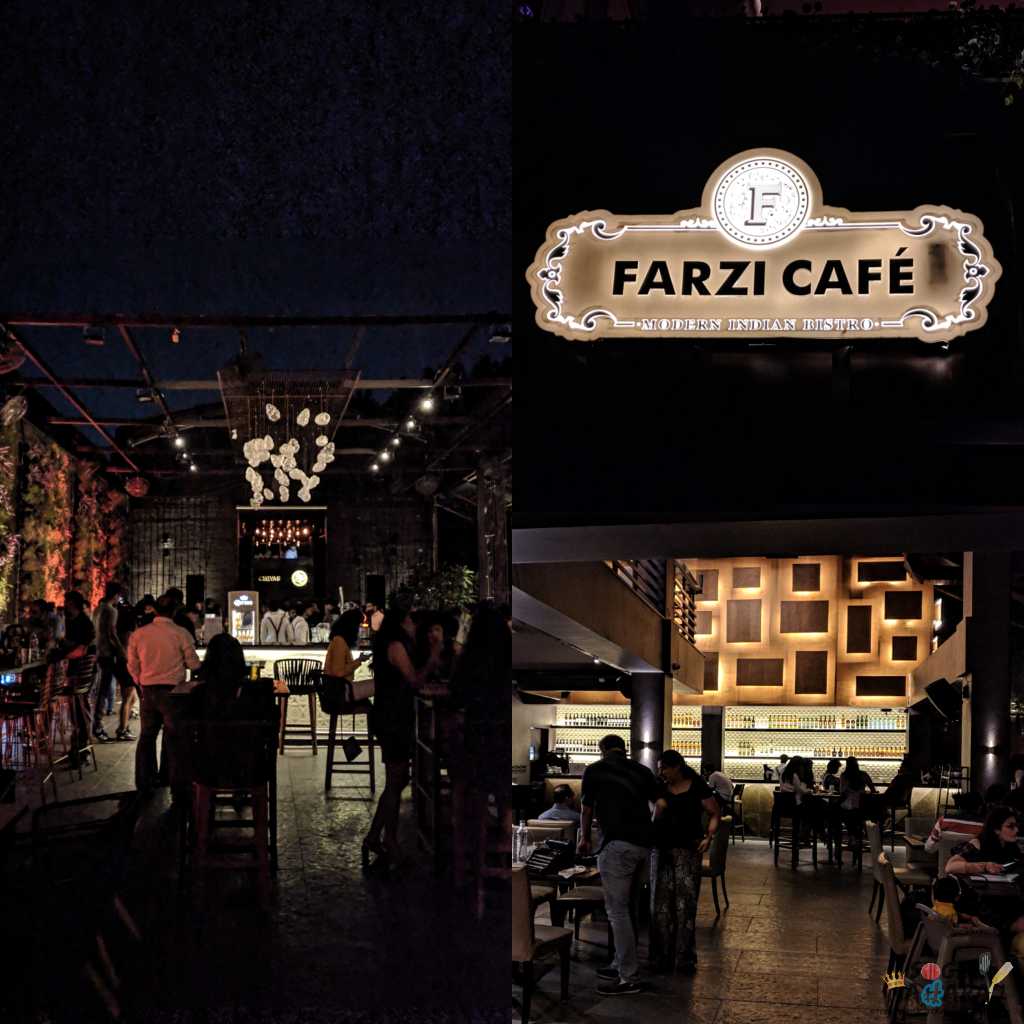 They have a multistory indoor seating area along with an outdoor area with live DJ. Most of their Sundowner events are held here. The vertical garden outside is pretty good. The cafe is quite spacious but blame the awkward pillars and stairs that make it unconventional. Overall, the ambiance is upscale and classy. If you love music and want to chill with your better half, friends and family, head to Farzi Cafe Hyderabad.
Food Extraordinarie at Farzi Cafe
The first time I heard of Farzi Cafe was during the MasterChef India show. Chef Zorawar Kalra showcased his intricate cooking styles and the superlative dishes that were served at Farzi. Here's the Food Review of Farzi Cafe Hyderabad.
Farzified Starters
One of the best things about Farzi Cafe is that their menu is refreshed often. That means you might not always get the same dish again. That's what I've learnt from my foodie friends. Since I was with my friends, they suggested a few things that I should try. So we ordered Dal Chawal Arancini, Tandoori Margherita Kulcha and Peshawari Paneer Tikka. Along with that we also ordered few drinks and there isn't much for teetotalers. There were just 5 options with one having egg white. Glad they provided me with Virgin Mojito later.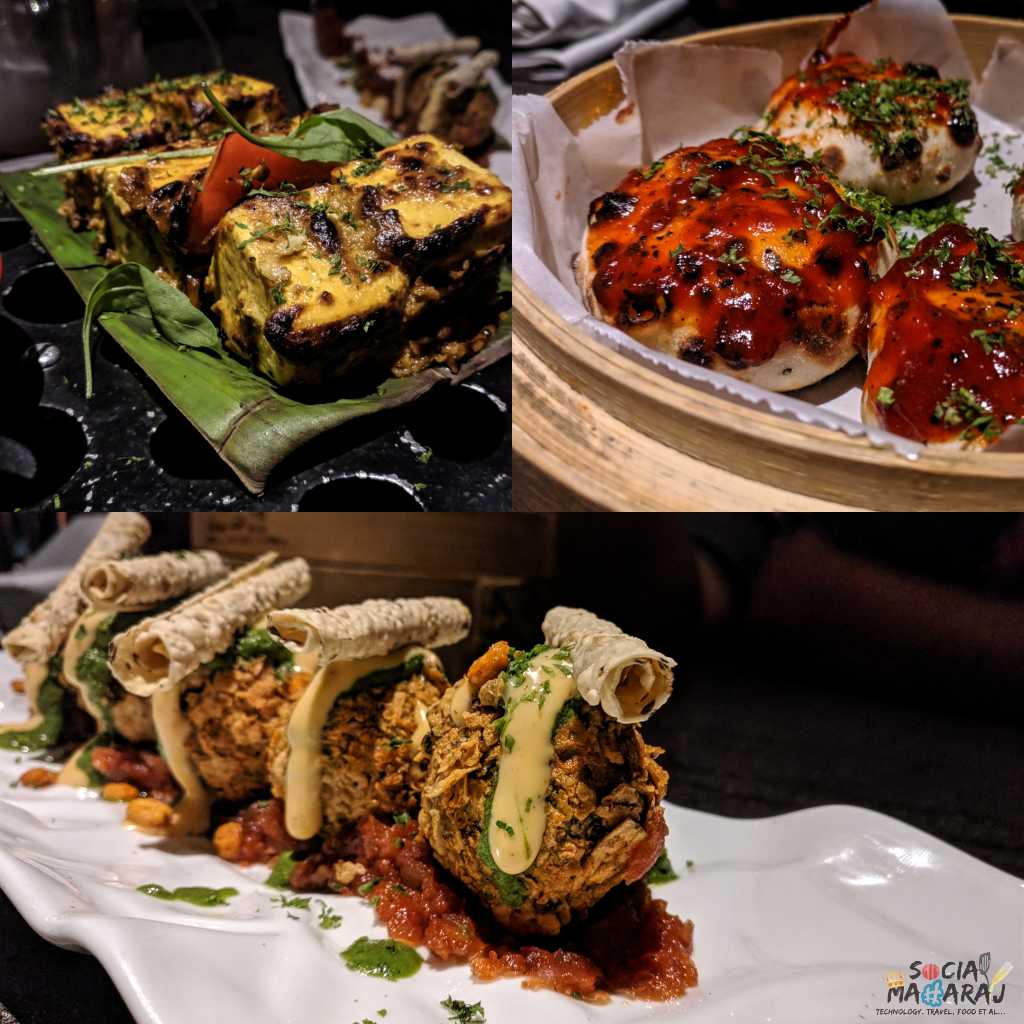 The Dal Chawal Arancini was a unique take on the classic dal-chawal. Arancini is basically an Italian dish of stuffed rice balls. Farzi Cafe gives a desi twist by using dal chawal wrapped inside crunchy papad balls. Loved the chutney served with it. The Tandoori Margherita Kulcha was too cheesey and I expected a better filling. Paneer Peshawari was served with smoking charcoal along with a dip. Paneer was soft and fresh however the marination wasn't that great. Irrespective of everything, full marks to Farzi Cafe Hyderabad for the presentation.
Desi Main Course – Farzi Way
By the time we ordered main course we were almost fill. Since we were only three of us, couldn't order a variety of dishes. For main course we ordered Dal Makhni with Brown Garlic Naan and Farzified Pav Bhaji Bunny Chow. The dishes didn't take much time to arrive. Dal Makhni was topped with Makhni froth and served in a large bowl. The combo looked good. Dal Makhni was good, I've had better, Makhnier & Punchier Dal Makhnis. So this wasn't there. But it was good.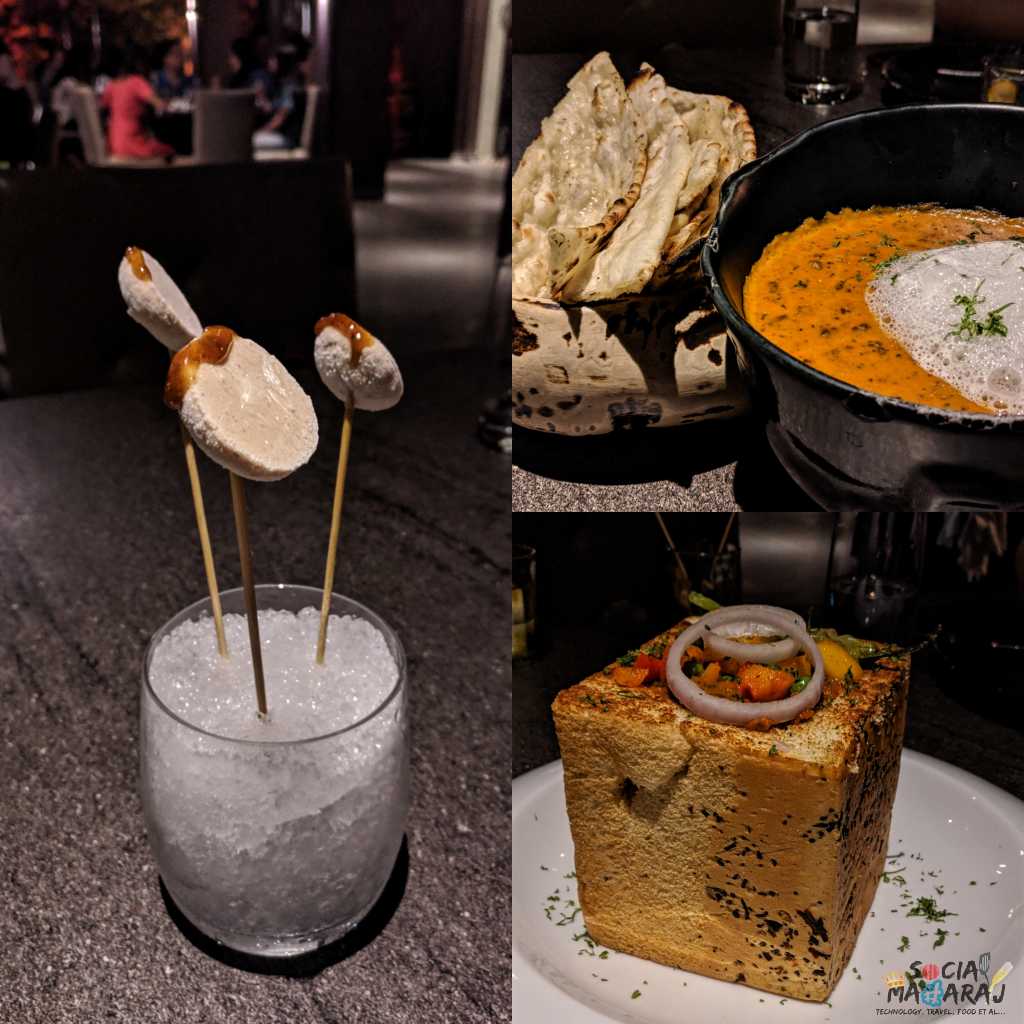 Farzified Pav Bhaji was a hatke take on the pav bhaji. It was a half loaf of bread, scooped from the center and filled with bhaji. The Bhaji had lot of veggies and aloo bhujia. However it was spicy for all of us. We were discussing about the small portion size of the starters. Well the main course covered for it.
Kuch Meetha Hojaaye
We were replete with delicious food and had absolutely no space left for the desserts. But with Rasmalai on the menu, how could I not try it ! Went for the Ras Malai Tres Leches with Carrot Cream and rose petals. We thought this would take some time,but it was right there in not time. Expected a small plate like the starters, but this was huge for a dessert. Before anything, doesn't it look luscious ?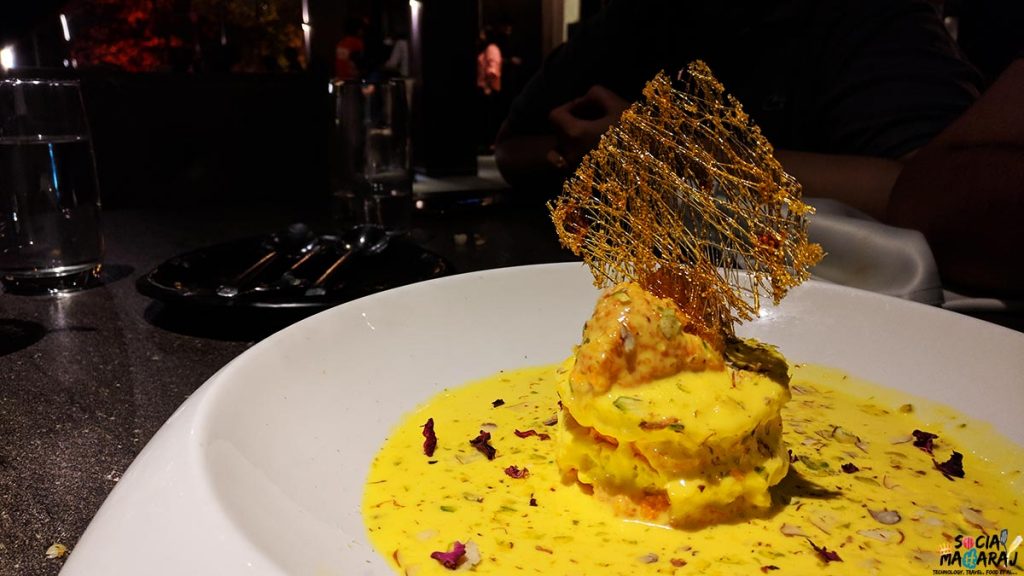 Three pieces of Ras Malai with carrot cream in between immersed in rich creamy ras. (That's how Food Bloggers describe food :P) The taste of the ras was perfect and rich. The rose petals and pista added great flavor to the dish. The combination of Ras Malai with Carrot Cream was great. The dessert was too sweet and would have preferred a toned down version. Now I can say that I've had Ras Malai worth Rs 15 a piece and Rs 400 too. A must try when at Farzi Cafe Hyderabad.
Final Verdict: Get Farzified at Farzi Cafe Hyderabad
All the hype leading up to my visit to Farzi Cafe Hyderabad was justified. The place is perfect to spend time with friends and family and just relax. The ambiance is classy and so is the crowd. The food is good. Farzi Cafe is known for their unconventional dishes and presentation. Aracini was great and so was the Ras Malai. Rest everything was in good taste. Overall for Rs 4200 for 3 people it was a good experience. You might think about the price and the portion size at times, but the overall experience covers up for it. Thanks a lot to Ryan for his extremely warm service. How has your experience at Farzi Cafe been ? Mention in the comments below or tweet to me at @Atulmaharaj