I spent a lot of time figuring out a title for this blog post. In the end, decided to settle for this – Beergasm at Tilt Bar. For all of you know who don't know, I'm a teetotaler. And for those who know me, would be wondering why I chose this title. Well, that was the aptest title I could come up for Tilt Bar Hyderabad. Further, as I had mentioned earlier, I've been brewery hopping a lot off late and this was another one that I visited recently. A great place for tipplers but how is it for teetotalers? Read on for my Tilt Bar review.
Small & Chic Place – Tilt Bar Hyderabad
It's been almost 7 years since I moved to Hyderabad and if someone asks me to name an area that has changed a lot, my answer would be biodiversity junction. There was absolutely nothing when I had moved, barren lands with a lot of construction going on. A few years later, Ikea came in, a flyover, the majestic SkyView, and My Home Bhooja apartments adorn the skyline here.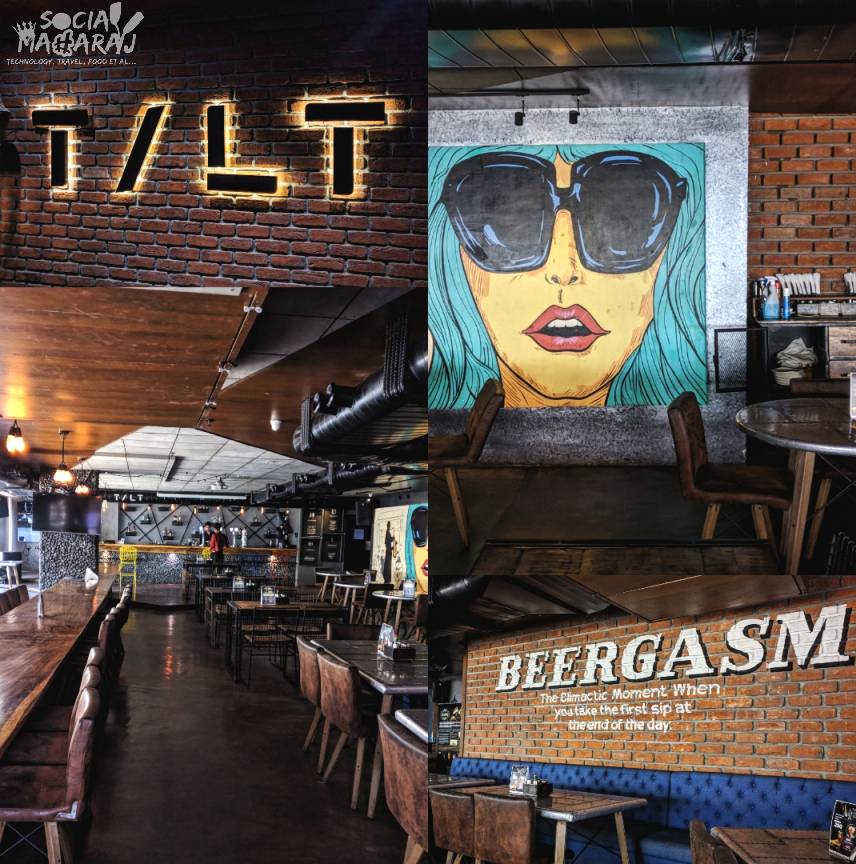 Right across the junction is the building where Tilt Bar is located. Situated on the 2nd floor, the entrance is quite interesting. Coming to the place itself, this isn't as huge as the other breweries or lounges that I've been to. Nonetheless, the plush and chich interiors compensate for it. Quirky writings across the wall with a view of the biodiversity junction skyline are just perfect. The playlist is also quite good and they do have live match screenings as well. Overall, it's a good place to hang out with a small ground of friends.
Food & Drinks at Tilt Bar Review
Before I talk about my dining experience at Tilt, let me also mention that Tilt is the only place in Hyderabad (as told to me by the owners) that imports and serves Belgium beers. And apparently, Belgium beers are one of the finest in the world and no match for the locally brewed craft beers. Even the glasses for every beer are different and imported too. So if you are a beer guzzler, do try out Tilt Bar and experience the taste of some of the finest beers in the world.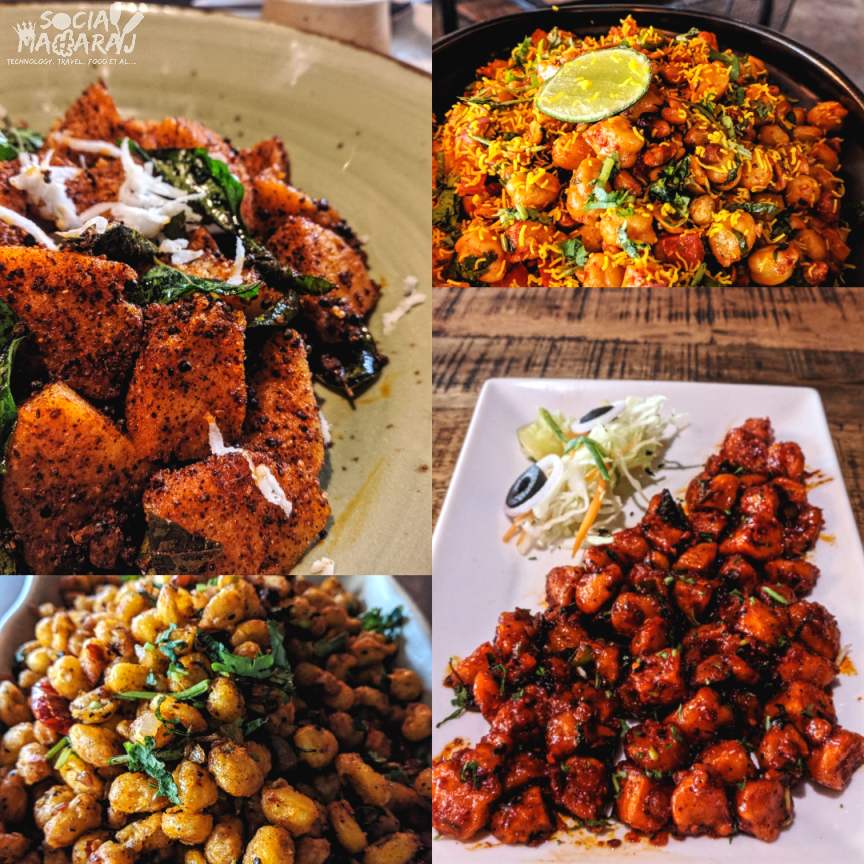 Moving on to the food and drinks for teetotalers. I went with a group where 3 of us were vegetarians but only I was a teetotaler. So coming to the drinks, they have a pretty standard set of mocktails that you'd find at most other places. The list consists of watermelon, berries mojitos to some iced teas, and other refreshing drinks. I tried two of them and both were refreshing is all that I can say, nothing too exciting about them
Coming to the food, they have quite a few options for vegetarians. The first and foremost item that you must try is the Idli Fry. It is one of their most popular accompaniments with alcohol. The chaptpata Chana Chat is another item that I found to be really nicely done. It retained the crunch and had the right amount of spices.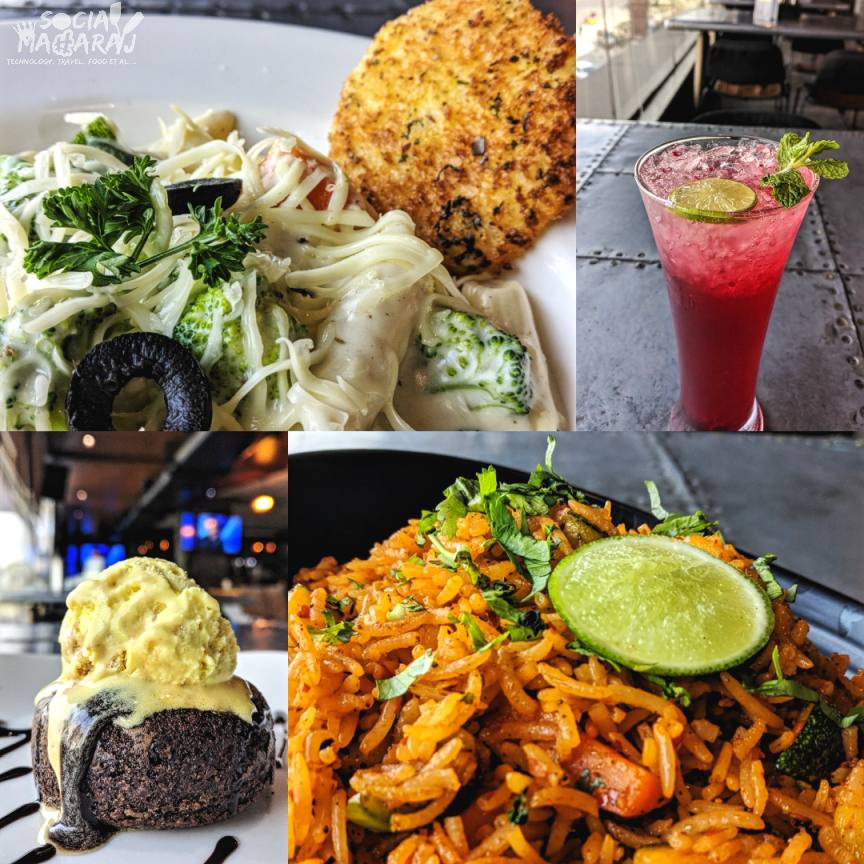 The honey glazed water chestnuts were good and retained the crunch. We also tasted the white sauce pasta which I feel could have been done in a better way. The grated cheese on top somehow didn't go well with it. Coming to the Mongolian Rice we had, it was different from the regular fried rice I had. Loaded with crunchy veggies.
Tilt Bar Hyderabad: Perfect for Tipplers
Tilt Bar Hyderabad is a place for tipplers. Their beers are quite popular amongst tipplers and loved too. However, being a teetotaler and a vegetarian, there isn't a lot of cheer about it. The regular mocktails are just like others that you've had. They are refreshing and nicely done, but nothing new. Coming to the food, their starters (Chakhna) are nice and something I feel vegetarians like me and enjoy while having a good time with your friends. Overall, a decent place if you have nice company.
That's about it in my review of Tilt Hyderabad. Not too much that I could talk about here as we didn't actually eat much. Since they also have a branch in Bangalore, do let me know if you've tried Tilt? Mention your thoughts in the comments below, Tweet to me at @Atulmaharaj, DM me on Instagram or Get In Touch.