For those of you who don't know, I spend a lot of time thinking and prototyping innovative solutions at work. Be it small IoT, Bluetooth beacon-based solutions to more complex drone and Augmented Reality prototypes, I'm involved at some stage or the other. The end goal is always to ensure that the consumer benefits. Some time back one of the teams showcased was an automated parcel pickup box.
While we all loved the idea, somewhere down in our minds, we were like it might not work well in India at least. Fast forward to 4 years since then, I experienced the exact same innovation at a bank in Hyderabad. Yes, ICICI bank has come up with an ICICI Bank iBox facility which is completely new.
While you may think that this is a sponsored post, it is not. I'm an ICICI bank customer for quite some time and recently got a chance to experience the ICICI Bank iBox facility.
What is ICICI Bank iBox?
ICICI iBox is a smart parcel pickup – self-delivery – box that is placed outside some of the important bank branches across India. It's the size of around 3 ATM machines kept side by side and slightly taller. The iBox contains roughly 70 small compartments along with a large touch screen.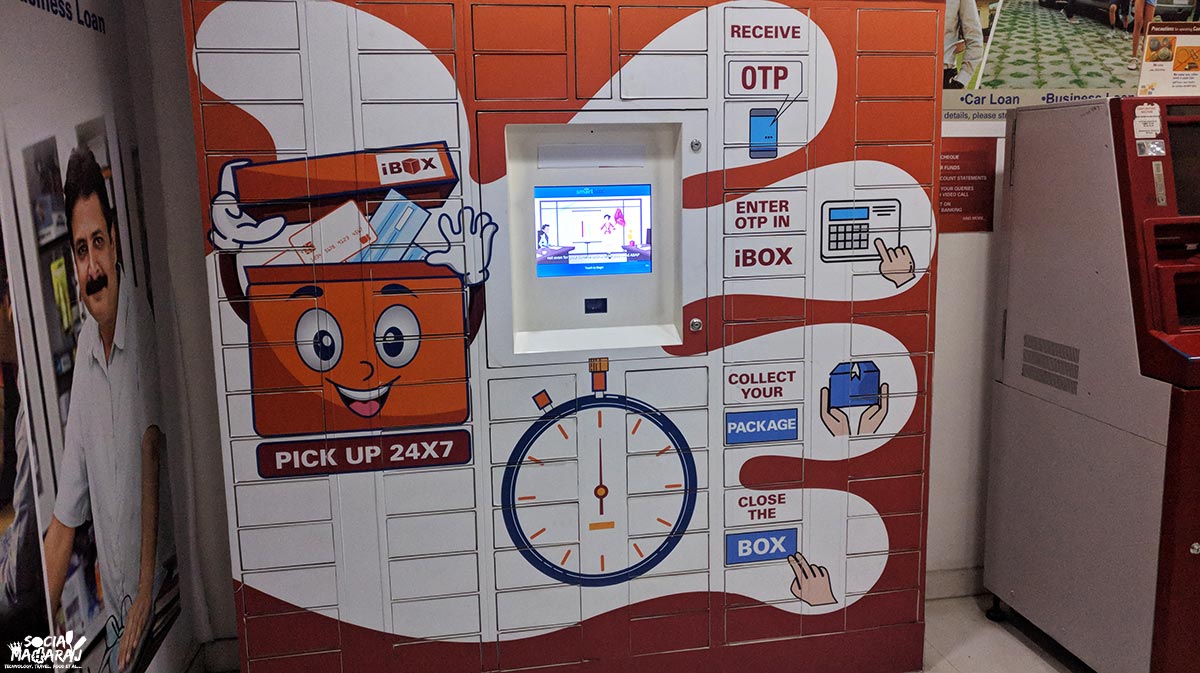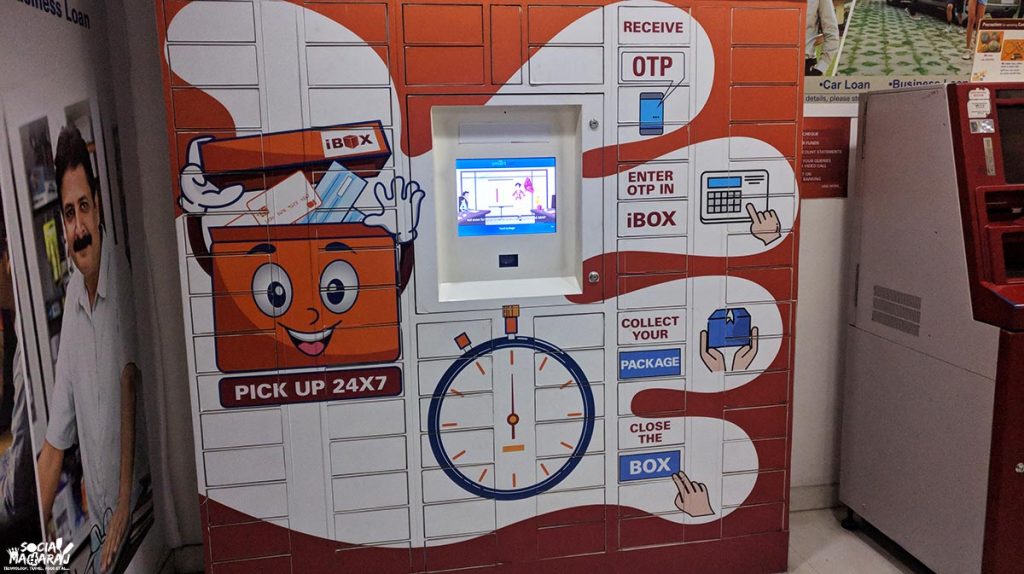 The idea behind ICICI iBox is to allow the customers to pick up their undelivered items like checkbooks, debit, and credit cards without going to the actual branch. The ICICI iBox is a 24 x 7 functioning smart parcel pickup box which means you can walk into the bank even on a Sunday and collect it.
The innovation behind ICICI Bank iBox
It's quite a unique and innovative solution that a large bank like ICICI has done for its personal banking customers. The whole idea was to give the consumers more flexibility to pick up their undelivered items from the bank. For me, it has happened in the past that I had to take a half-day break from my work just to go to the bank to collect the package because it was undelivered.
The entire iBox is made of solid metal and is just like a regular almirah at home, but with a lot of small compartments – about 70 of them. Each of these compartments is locked with the help of the central display screen. So there are no physical locks in any of these compartments.
As a user, you will receive an OTP and a QR code on your mobile and email address if you have to pick up a package from the ICICI Bank iBox. You simply have to use that detail to unlock the compartment and collect your package. It's a smart, IoT solution where the key to the lock is the unique OTP that is sent to you. By no other means, the lock can be opened.
This innovative solution is by SmartBox which provides hardware and software solutions to various sectors.
How the ICICI Bank iBox works?
I"m sure many of you request new checkbooks, debit, or credit cards. And there are times wherein you aren't available at your home to collect the package. What happens next is that it will be sent back to the central branch from where it was delivered.
You connect with customer care and request them to send it to your bank branch. In my case, it was a debit card renewal and the branch was ICICI Bank in Financial District Hyderabad. The ICICI Bank iBox is quite a recent innovation and I had not seen it in 2019 when I was at the branch from the very same work.
How to use the ICICI Bank iBox?
How to use the ICICI Bank iBox to pick up the undelivered checkbook, debit, and credit cards. It is a 24×7 working innovative solution that allows you to pick up your package at any time. Here are the steps to use the ICICI iBox.
Receive the details for iBox

If you are receiving a package at the ICICI iBox, you will receive an SMS/Email with the details like the location of the box, OTP and QR code to unlock the compartment.

Locate the ICICI iBox

Reach the bank branch and located the ICICI iBox. Usually most banks have a dedicated area with ATM kiosks. The iBox would usually be placed there.

Enter your mobile number

On the ICICI iBox, the first step is to enter your registered mobile number with the bank

Unlock the ICICI iBox

On the next screen, enter the OTP received via SMS or scan the generated QR code at the ICICI iBox to unlock the ICICI iBox

Collect your package

Once you confirm, a compartment on the iBox will unlock and you can collect the package and close the compartment. Provide the feedback and leave. It's as simple as that!
Innovation at its best
I had seen/read about such parcel pick-up boxes in the US predominantly used by shipping companies like UPS, FedEx, etc. However, I was surprised to see this in India. I was expecting to collect it from the bank but this was quite an experience. It indeed is one of the finest innovative solutions that I've come across of late especially something that one can see and use.
Though the ICICI iBox is currently limited only to certain branches in the country, I'm sure this can be expanded to a lot more in the future. I completely vouch for this as it makes banking easier and consumer-friendly. Great job ICICI bank!
Also, I don't know if any other bank in India has such a facility in place. If you have used such a smart box anytime, do let me know in the comments below. Tweet to me at @Atulmaharaj, DM me on Instagram, or Get In Touch.