My eyes lit up when I learned about a new pure vegetarian restaurant in Hyderabad *insert Itni Khushi meme*. While there are a handful of pure vegetarian restaurants in Hyderabad that I absolutely love – Ohri's Jiva, Tatva, A'la liberty, Smoky Pitara, and other vegetarian restaurants in Hyderabad. But the joy of finding a new pure vegetarian restaurant is unmatchable.
A few weeks ago, I was invited to Mumbai Masalaa pure vegetarian restaurant in Hyderabad for lunch. And you guessed it right, this is going to be the Mumbai Masalaa review blog post.
Mumbai Masalaa – newest vegetarian restaurant
Those of you who have been following my blog from my initial years, would know that one of the first vegetarian restaurants in Hyderabad that I was invited to was Invitation Restaurant in Kacheguda (5 years ago!). It's still one of the most affordable and good vegetarian restaurants in the city. But why am I mentioning that?
Well, Mumbai Masalaa is from the same group – Nimantran. Mumbai Masalaa is located in Narayanguda, very close to the crossroads. The multicuisine pure vegetarian restaurant is one of the many pure vegetarian outlets in the vicinity.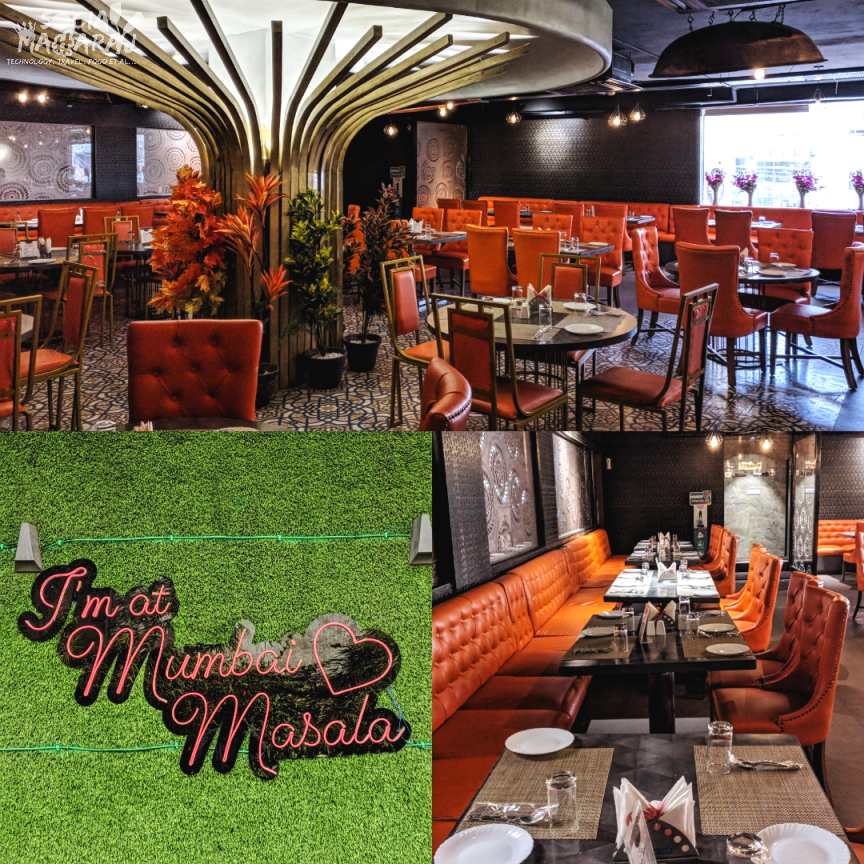 Located on the first floor, Mumbai Masalaa is quite spacious. The interiors are nicely done with bright orange accents and ample light. One of the good-lit restaurants that I've seen recently. The vibe at the restaurant is pleasing and welcoming and so is the staff. They have taken all the safety measures right from sanitisers on the entrance to masks worn by servers. It somehow did remind me of Tatva on a few occasions with the lighting & the color scheme.
Vegetarian Food at Mumbai Masalaa
Mumbai Masalaa has quite an expansive menu with a range of starters, main courses, pastas, pizzas, beverages, and desserts. While anyone would have an assumption that this would have a lot of Mumbai/Maharashtra dishes, well that's not quite the case. They have a truckload of typical North Indian gravies and Dal along with an equal number of Chinese and continental options. Nonetheless, we tried all of them.
Average Starters & beverages
We kicked off the lunch with some starters. Our order included Italian Paniharam, Gold Coin, Tandoori Broccoli, Crunchy Manchurian, Paneer Tikka Achari, Garlic Bread, Mumbai Masala Pizza, and Corn Val-e-vonts. If I were to pick my favourite one from the list, it has to be Corn Val-e-vonts. While it wasn't great, the uniqueness was in the way it was served. Our beloved khaari getting a videsi twist. Most of the other dishes were quite ok, some of them saltier for my linking. Paneer Tikka was nicely marinated and had good flavors. Pizza could have been more flavorful in my opinion.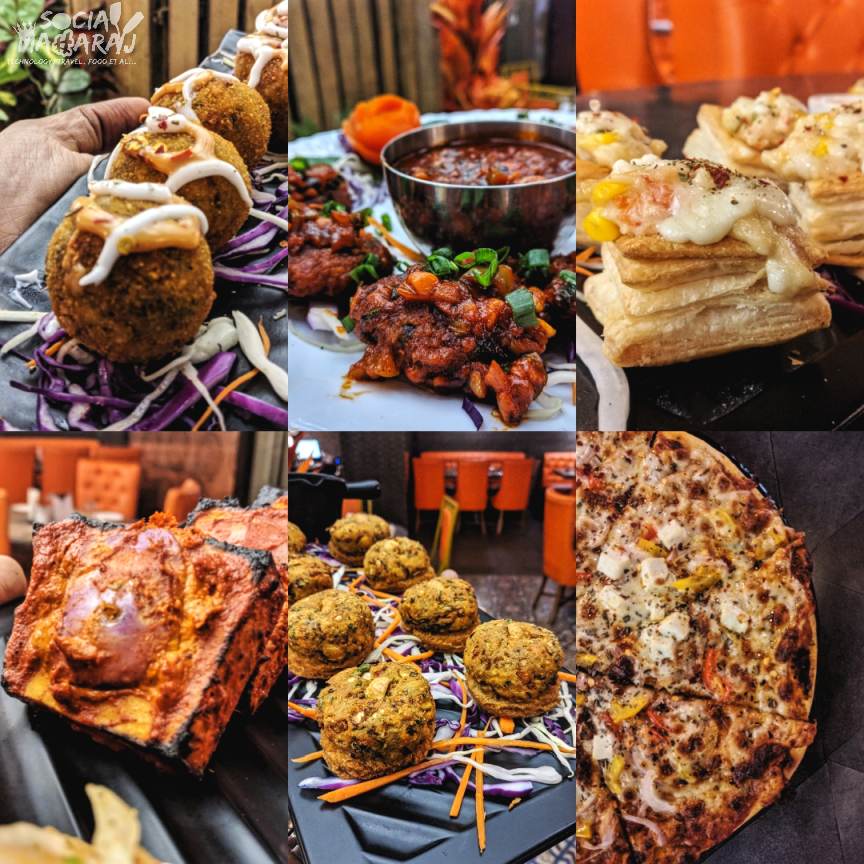 Coming to beverages, they had quite a colourful spectrum of drinks to choose from. Aerated, non-aerated, milkshakes, and lassis. We tried all of them and I personally settled with the classic Lime Soda. However, the lassi was pretty good and you could give it a try whenever you are here.
Delicious Chat & Main Course
There aren't a lot of Mumbai specialities but the iconic ones did find a place in their menu. Dishes like Vada Pav, Dabeli, Pav Bhaji, Bhel, and Pani Puri are the highlights at Mumbai Masalaa. The Vada Pav and Dabeli were pretty good, one of the good ones in Hyderabad for sure. Chachaji in the Sindhi colony still the best, but these weren't bad. Full of authentic flavours, these are something you must try. Similarly, the Pav Bhaji was pretty good and the masalas were bang on.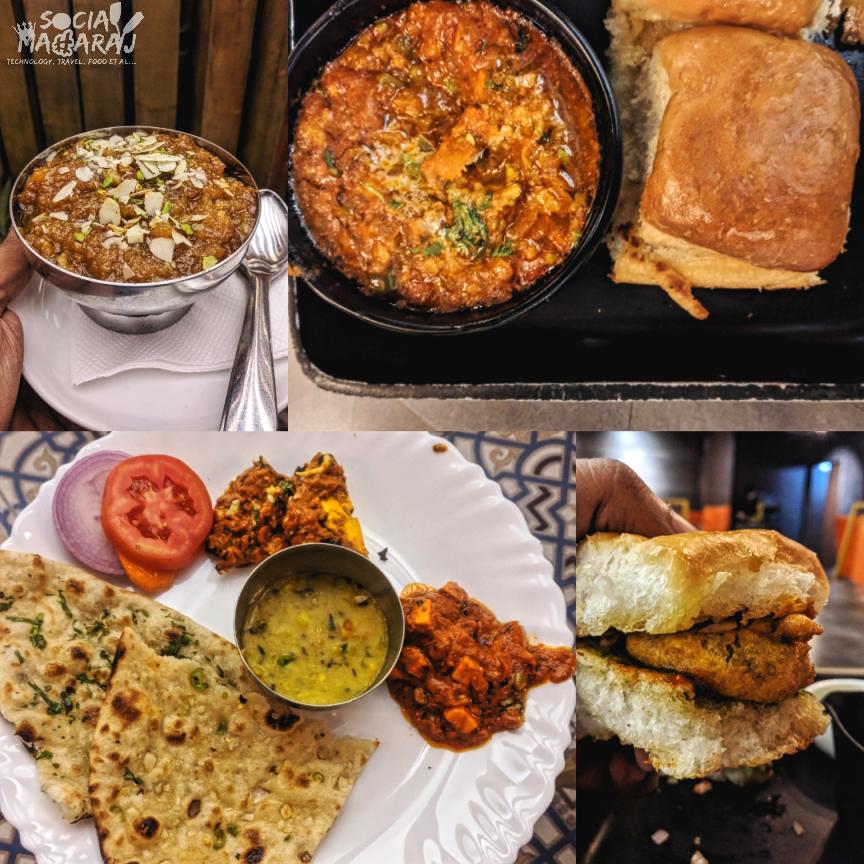 Coming to the main course, I was frankly surprised by the taste. Didn't have pretty high expectations, but they totally proved me wrong. The main course dishes at Mumbai Masalaa are pretty good. We tried Paneer Chatpat, Pahadi Paneer and Dal Tadka along with a suit of rotis, naans and kulchas. Both the Paneer dishes had a distinct flavour unlike most places in Hyderabad that have a similar gravy across. The Dal Tadka was just like it should have been.
Rotis and Naans were nicely made and loaded with ghee/butter wherever applicable. While many argue that Santosh Dhaba is still one of the best affordable vegetarian restaurants in Hyderabad, I would add that Mumbai Masalaa also does a decent job. While I understand that this was my only meal here, I'd try to visit them sometime later and update my review accordingly.
Update, April 2022: New Outlet in Sindhi Colony
Recently, I was the new outlet of Mumbai Masalaa in Sindhi Colony. It is located on the road right opposite Mamta Sweet House. Situated on the 4th floor, the place is quite spacious and has a characteristic ambience to it. There's also a banquet hall for those special occasions. In terms of food, the food is nice and the restaurant stays true to its name.
The chaat dishes are quite good, especially Pav Bhaji. The menu has a good variety and their north Indian food is delicious. The typical dal, Paneer and roti/rice are nicely done. Overall, good to see the restaurant expanding. Since this one is closer to my house, will surely try to drop in some time with my family.
Final Verdict: Mumbai Masalaa deserves a visit
In the land of haleem and Biryani, having a vegetarian restaurant isn't an easy task. While there are only handful of names that have stood the test of time, Mumbai Masalaa is the newest entrant – at least for me. The restaurant doesn't quite have a lot of Maharashtrian dishes, but their main course and the chat items are pretty good. The ambiance and service are pretty good making it a good place for a family dinner.
It was good to visit a new pure vegetarian outlet in a long time. I did have a good time. Thanks to the team for having me over. Since this was by invite, the food was on the house, however, the review is honest and based on my experience.
Let me know your thoughts on Mumbai Masalaa in the comments below. If you know of any other pure vegetarian restaurant in Hyderabad that I must try do let me know too. Tweet to me at @Atulmaharaj, DM on Instagram, or get in touch.