Twin Cities is how Hyderabad and Secunderabad are often called. However, when you stay here you know there's virtually no difference between the two cities. The Hussain Sagar is the place that is said to be separating the two cities. While Hyderabad is generally referred to as the old city with the area around Charminar, Secunderabad is the newer one. Nonetheless, there's a very strong force that has held these two cities together. And it is the bond of food.
From the uber rooftop lounges in Cyberabad to the more rustic outlets in old Hyderabad, people (including me) travel back and forth for food. While Hyderabad has its specialty dishes along with the iconic eateries, there are other places that aren't quite popular but offer some of the best street food in Hyderabad. I'm talking about Sindhi Colony or PG Road in Secunderabad which is home to THE best street food in Hyderabad.
Well, there are some other famous places like Gokul Chat, Maharaja Chat, Ram ki Bandi, etc. which are in other parts of the city. But Sindhi colony is the amalgamation of the best street food in Hyderabad. Though Hyderabad as such doesn't have unique Hyderabadi street food dishes, Sindhi Colony brings you the best from India all in this one lane. Sindhi Colony food walk is a must whenever you are here. The food is not only cheap but delicious and hygienic as well.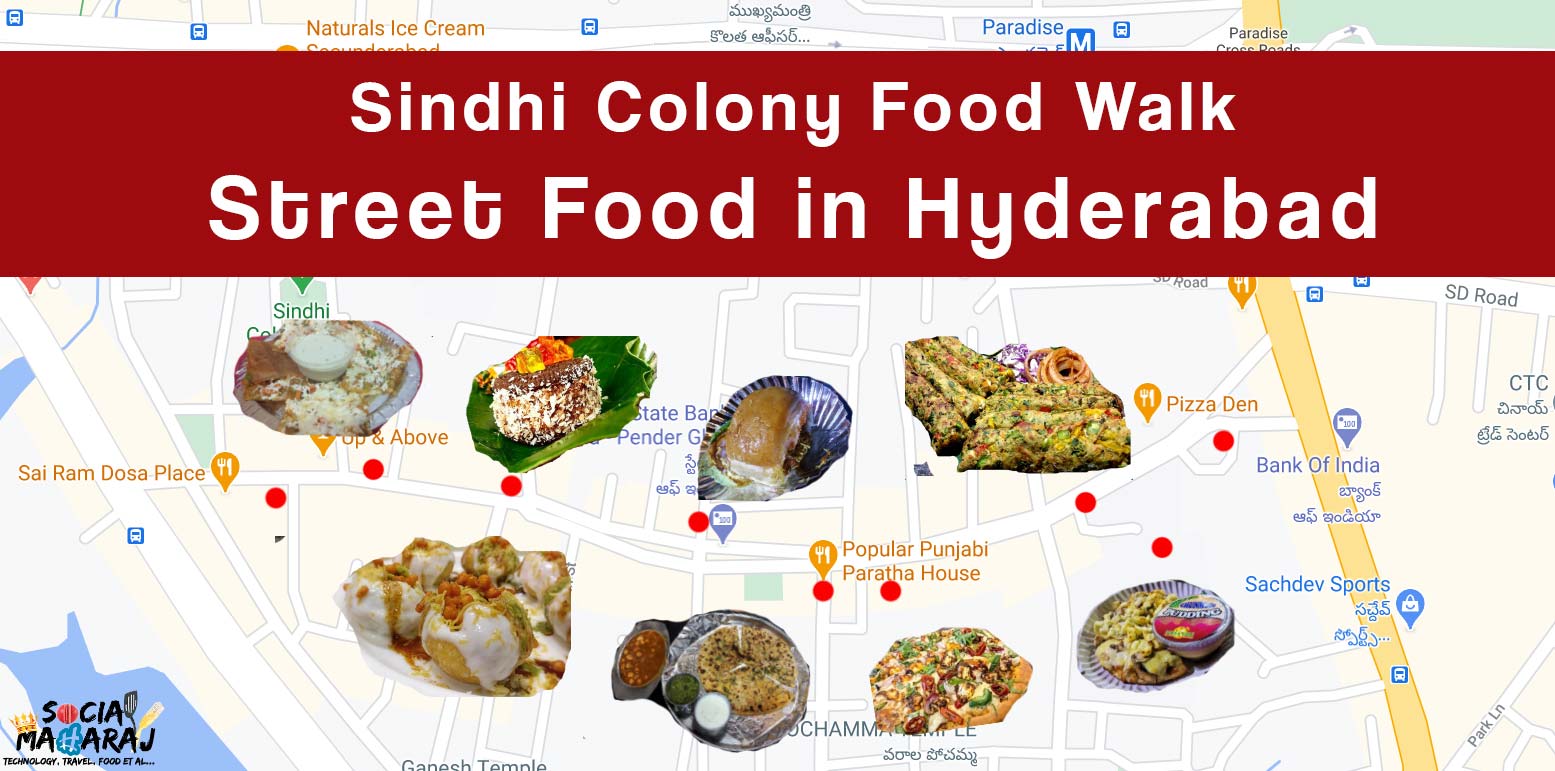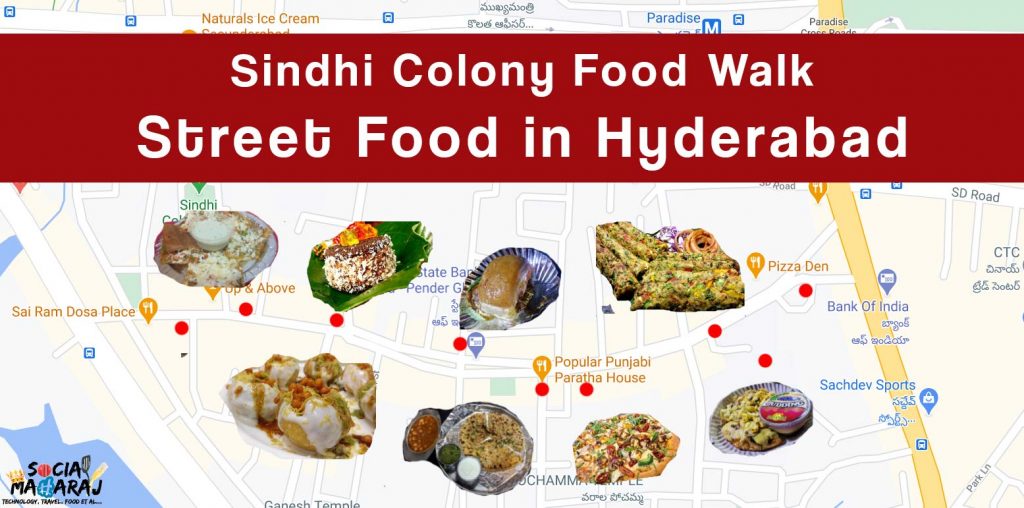 However, there's one challenge – Sindhi Colony is pure vegetarian. In fact, even the franchise restaurants in the Sindhi colony serve only vegetarian variants of their dishes.
How to reach Sindhi Colony
If you are visiting Hyderabad for the first time, then this is for you. Sindhi Colony, PG road is close to the famous Hussain Sagar lake in Hyderabad. To reach Sindhi Colony there are multiple means:
Booking a cab is the best and easiest option to reach Sindhi Colony, you can enter Heritage Fresh, Sindhi Colony as the drop location. Depending on where you are coming from, the price will vary.
Another option is to take a ride in the Hyderabad Metro. You need to reach the Rasoolpura Metro station or Paradise Metro Station, this is the closest metro station to Sindhi Colony. Get down from the metro station on the Bowl 'o China (from Rasoolpura) side and walk for 700 mts.
This is how you can reach Sindhi Colony. Once you are at Sindhi Colony, there are so many places to eat street food in Hyderabad, it can be overwhelming to figure out where to start from. My last visit to the Sindhi colony was before lockdown, so the places mentioned are according to that. Also if you do plan to do a Sindhi colony food walk, do get in touch with me. I'd be happy to join you and take you along 🙂

Sindhi Colony, PG Road, Secunderabad
Sindhi Colony Food Walk for Best Street Food in Hyderabad
Chachaji Vada Pav
This is the first place that I start my Sindhi colony food walk whenever I'm at Sindhi Colony. It's a small cart that sells one of the best Vada Pav and Dabeli I've had in Hyderabad. When I first visited the place, it costs Rs 20 but now it is Rs 30. And for that price, it is still worth it. Run by an aunty, the food cart is heavily crowded during evenings as she and her team fry piping hot vadas.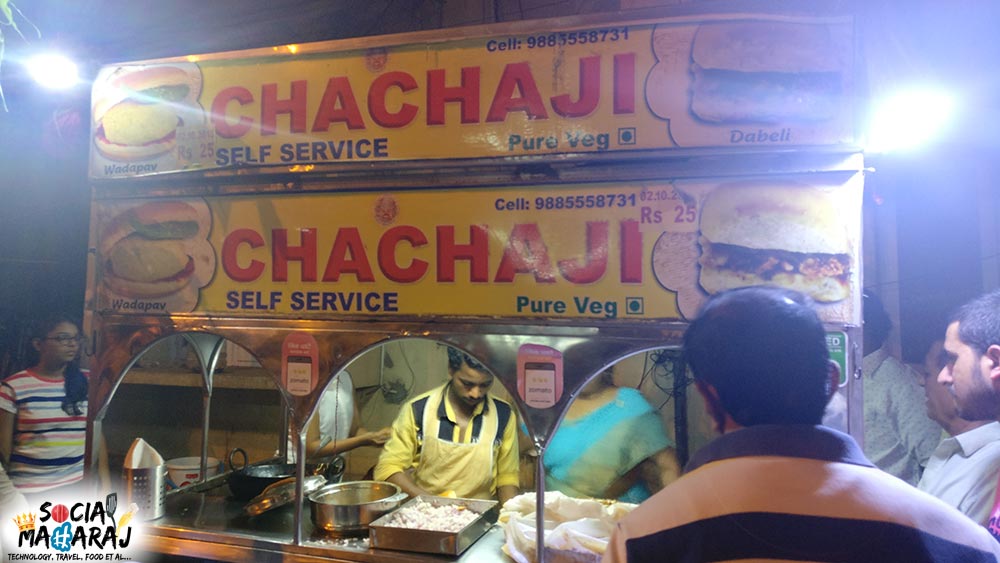 These are the closest Vada Pav and Dabeli you can get in Hyderabad to the original taste in my opinion. In fact, street food in Hyderabad is incomplete without this (at least for me). Read more about Chachaji Vada Pav
Sharma Chat House
Right opposite to Chachaji Vada Pav is Sharma Chat house. As the name suggests, they serve various chat items starting from the famous pani puri to pav bhaji and ice golas. They have one of the finest Pav Bhajis in Sindhi colony. The soft pavs and delicious bhaji laced with spices, onions, and coriander. Their Samosa Chat and Ragda pattice are worth trying too. You must end the meal (here) with their iconic ice gola. There are multiple flavors and each one of them is top-notch.
Popular Punjabi Paratha House
Right across the lane on the right of Shamar Chat house is Popular Punjabi Paratha House. Run by a father-son duo, the small eatery can barely fit 15 people at once hence the waiting time is on the higher side. Nonetheless, the wait is totally worth it. While most of their menu is fixed, few curries and dal change every day.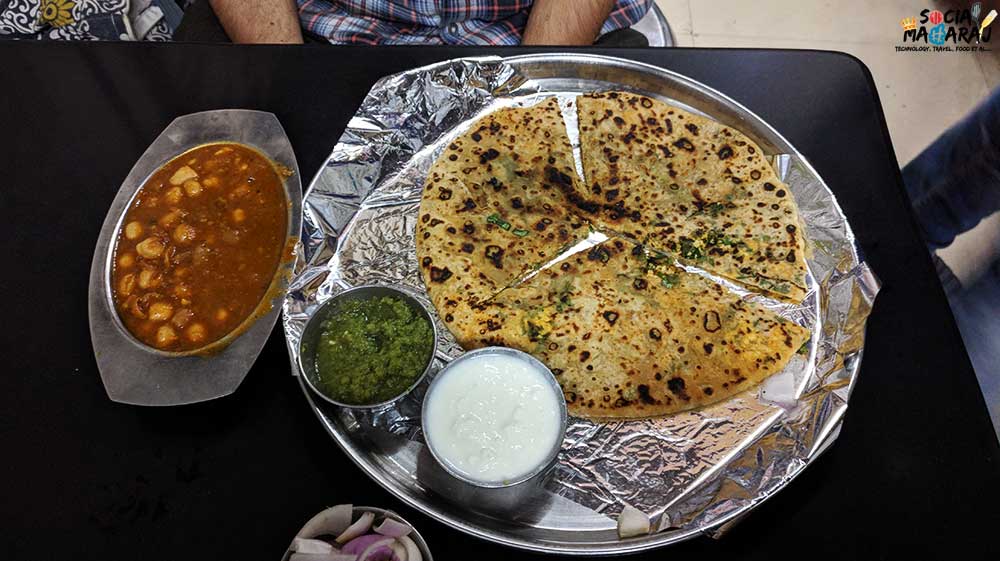 They have a list of parathas available and all of them are delish. My favorite is the Gobhi Paratha and the Special Paratha is a mixed paratha. Also, order a plate of chole/Rajma with it and you're done. Have more place in your tummy? Try their pulao and even the lassi. Read more about Popular Punjabi Paratha House
Amritsarwala
This is a recent addition to the list of street food in Hyderabad. It has opened recently and has made quite a name, thanks to its delicious Kulchas and soya chap. They have a large menu of Amritsari Kulchas that is served with authentic chole and iconic pyaz imili chutney. I've tried their Paneer and mix Kulcha and they are quite good, pretty close to the original and possibly among the best in Hyderabad. They also offer Soya chap which wasn't quite available in Hyderabad widely back then. A congested place to eat, but worth it.
Pro Tip: Choose between Paratha (Popular Punjabi Paratha House) or Kulcha(Amritsarwala), trying out both of them in one Sindhi food walk would turn out to be heavy.
Pizza Den
A food walk in Sindhi Colony for the best street food in Hyderabad can't end without having pizzas at Pizza Den. This is right at the end of PG road (near Sunshine hospital) Pizza den offers no place to sit, so you need to take your order, stand outside the shop or on your bike and eat. They do deliver it to your car parked on the road.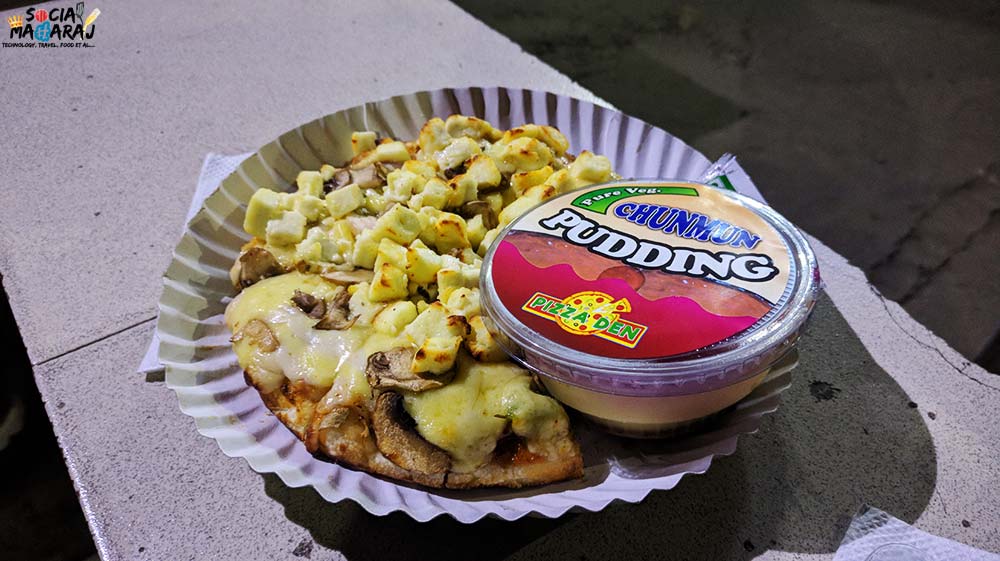 The menu is simple and pure veg and offers some of the most basic yet delicious pizzas. The pizzas are typically the Indianized versions but are unique in their own style. Priced nicely, the pizzas are a must-try here. Not to miss is the Chunmun Pudding, I won't tell you what it is, but you'll love it. Read more details about Pizza Den.
Dimmy Pan House
While you are almost ending your meal by now, a pan is a great way to end it. And what better place than Dimmy Pan house. It is located right next to the Sharma Chat house and is a known place for one of the best pan in Hyderabad. They have an array of pan on offer from the traditional Kalkatta Pan to the more novel Chocolate pan. It's quite popular amongst the locals and hence deserves a place in the street food in Hyderabad food walk.
Famous Soda
I'm pretty sure that by now you would have filled your tummy to the fullest (overflowing maybe) so to end things on a fizzy note, you can end your Sindhi colony food walk for street food in Hyderabad by a visit to the Famous Soda. A small food cart parked in front of the Samsung Store/SBI bank can be missed if not alert.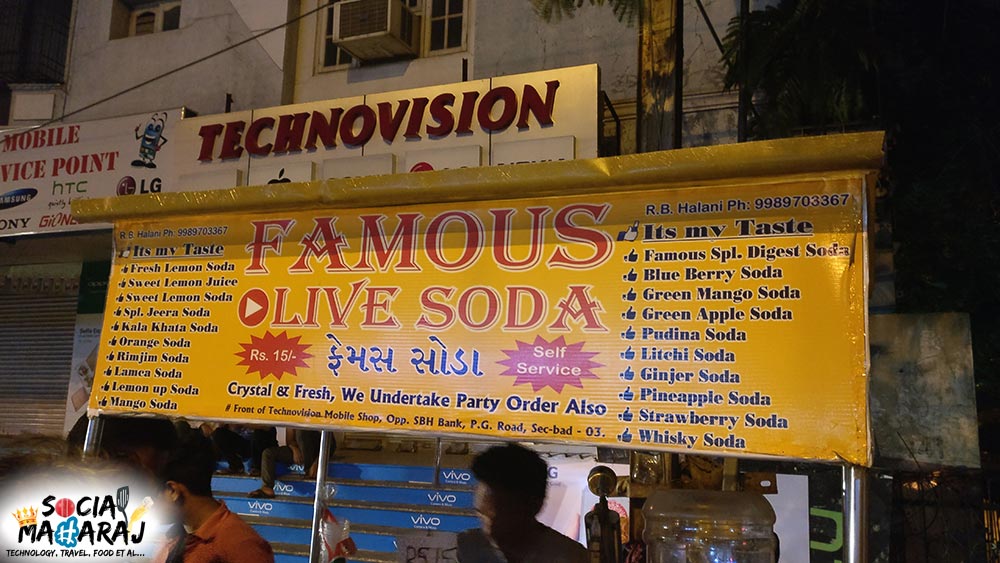 From surat, the man serves soda like they do in Gujarat. A variety of sodas to choose from, however, I always choose the Masala or lemon soda. Priced at 20 Rs per glass, this is the best way to end the meal. Read more about Famous Soda.
Other Places Worth Mentioning – Street food in Hyderabad
These places were just the tip of the iceberg if I may say. Sindhi colony in Hyderabad is filled with hidden gems that serve some of the best street food in Hyderabad. Below are the few other places that you have on your list and visit them either with the places mentioned above or separately.
Cheesiano Pizza
This is another pizza outlet that recently opened in Sindhi Colony, unlike Pizza Den they serve Pizza and Pastas. Their Pizzas are mostly fusion pizzas giving a desi touch to the videsi pizza. Read more about Cheesiano Pizza.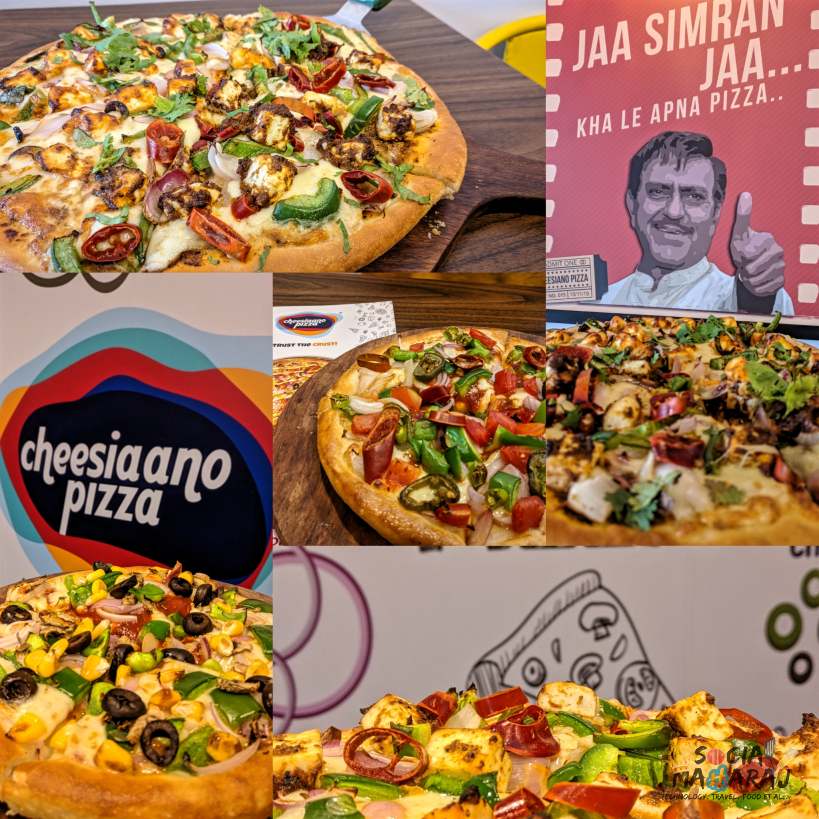 Ram's Dosa
If you're in for a different take on the homely dosa, Ram's dosa is where you should be. They serve dosas that probably not many offer. Their dosas are buttery, laden with spicy and delicious. From Masala dosa to pizza and chocolate dosa, you'll find everything at Ram's Dosa.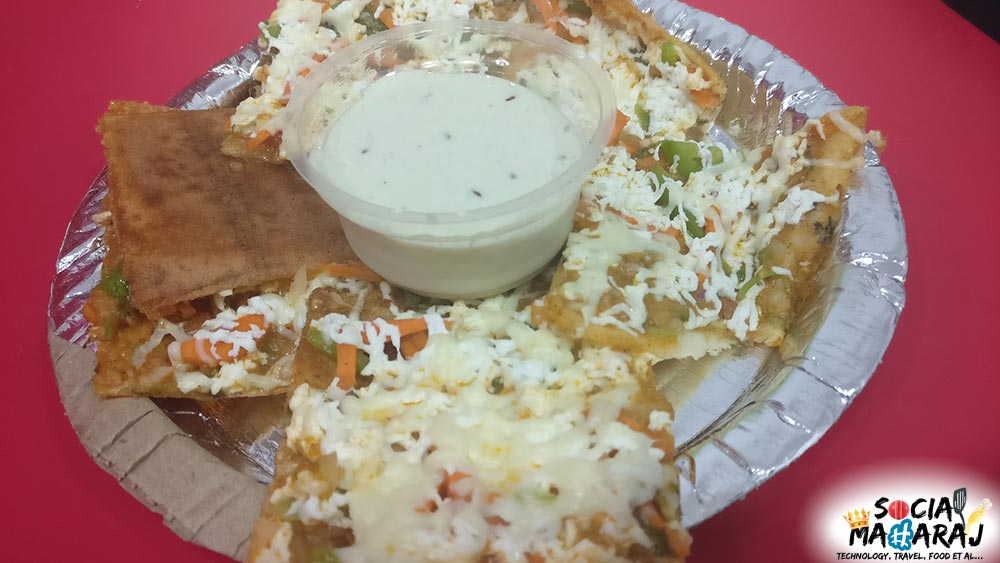 Up & Above
Looking for a drink with friends with some music in the Sindhi colony? If the answer is yes, this is where you should be. With rooftop and indoor seating with live match screening, it has a good ambiance. In terms of food, they do serve non-vegetarian too. Further, some of their starters are quite good and the mocktails too.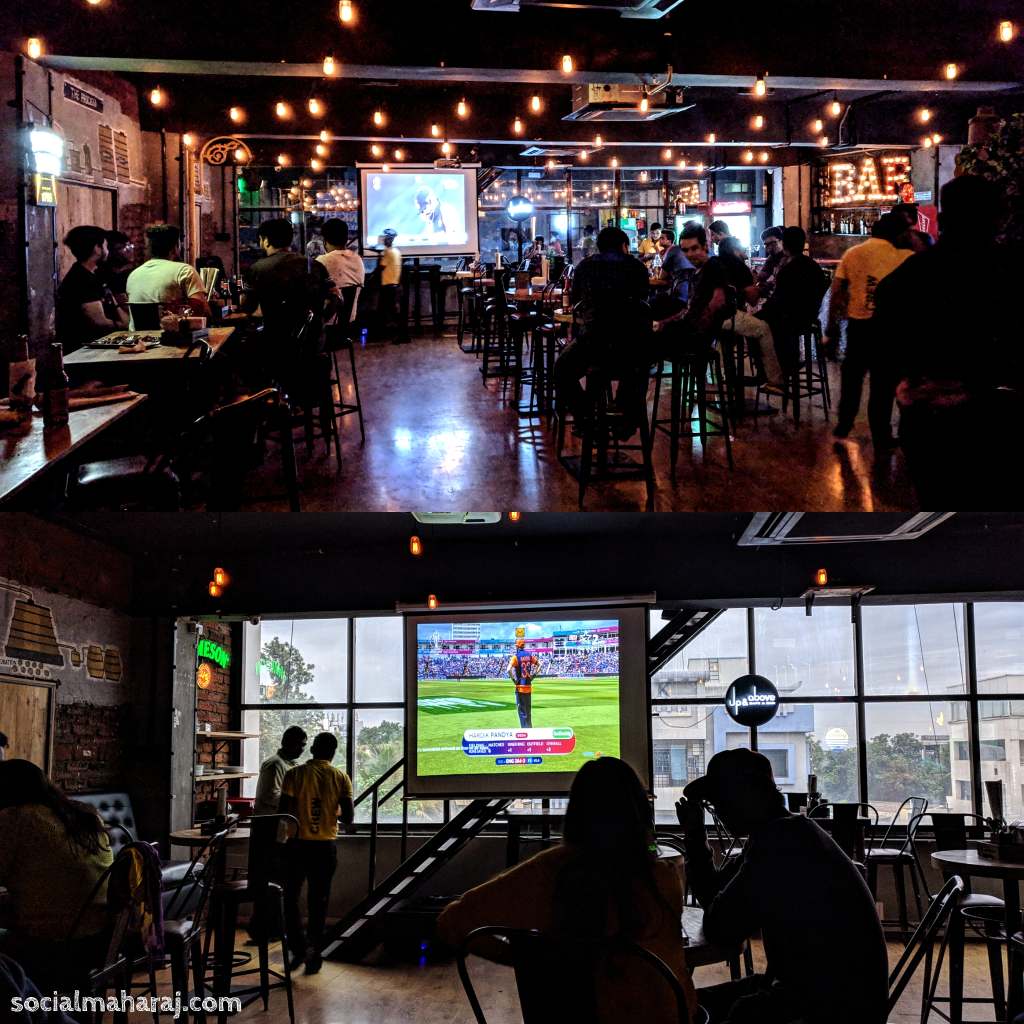 Must try Street food in Hyderabad
So that was all about the best street food in Hyderabad. While it would be wrong to compare Khau Gali in Mumbai or Manek Chowk in Ahmedabad with Sindhi Colony in Hyderabad, there's no denying that Sindhi Colony does have some of the best street food in Hyderabad. It's a vegetarian's paradise in Hyderabad it I were to say. The food is so food and affordable that even meat eaters won't mind binging on street food at Sindhi colony.
Also, parking can be an issue many times and hence I advise to either come by cab or metro or come in early and park your vehicle in front of some shop. If you are visiting Hyderabad, make sure to spend an evening trying street food in Hyderabad by taking the Sindhi colony food walk. And like I said, I'd be glad to take you around. Do get in touch with me either via comments, or tweet to @Atulmaharaj or DM on Instagram or get in touch with me.