Irrespective of the city or town you are living in, I'm sure there would be some famous names known for their food. And one thing that happens with such big names is that there are a lot of unrelated outlets that crop up using similar names. Like we have a restaurant called Santosh Dhaba here in Hyderabad which is known for its pure vegetarian food. While it's unclear which is the original Santosh Dhaba, there are outlets like Salasar Santosh Dhaba, Balaji Santosh Dhaba, and other Santosh Dhabas that are found across the city.
I'm sure there would be many such names in your city too. Let me know in the comments below of such names in your city. With so many Santosh Dhabas in the city, it's tough to know which is the original Santosh Dhaba. I was invited by the folks at Santosh Dhaba Exclusive in Koti last weekend for lunch. They have a registered trademark for their logo so I assume that the original Santosh Dhaba is Santosh Dhaba Exclusive in Koti.
Santosh Dhaba Exclusive – Ambiance
Santosh Dhaba Exclusive is located in Hanuman Tekdi near Koti. I had walked past it the last time I was exploring Hyderabad Bazaars 5 years ago. The restaurant is off the main road and is surrounded by a lot of spectacle shops. It is one of the bigger restaurants in the area. It is easy to locate, thanks to its distinctive yellow board.
The restaurant is a multistorey one. On the ground floor, you have a regular restaurant while there an air-conditioned one on the first floor. While the narrow stairs up the restaurant aren't promising, once you're inside the place is clean and tidy. Santosh Dhaba Exclusive is spacious and can accommodate a sizeable crowd.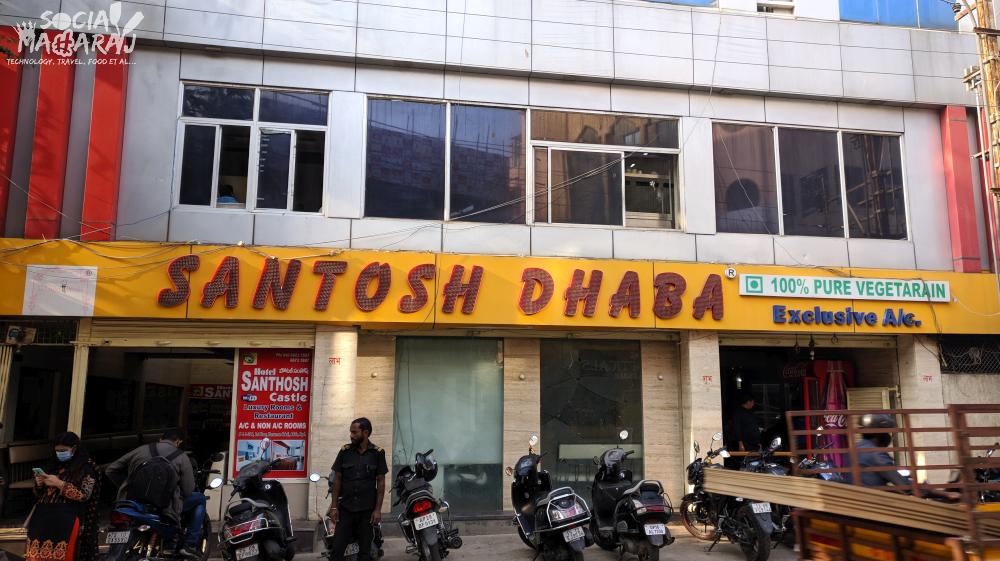 Further, considering the pandemic situation, the restaurant is taking all the safety measures like sanitizers, face masks for all the employees, etc. Overall, the ambiance is pretty good and it does get crowded at peak hours, so plan and visit!
Santosh Dhaba Exclusive Review
I've always spoken about the limited options when it comes to pure vegetarian restaurants in Hyderabad. Chutneys, Ohris Jiva, Tatva, Rajdhani are a few names that immediately come to my mind. Santosh Dhaba is another one on the list of pure vegetarian restaurants in Hyderabad. It's known for its North Indian offerings which are quite nicely done.
During my visit, we had a rather different meal than one would usually have when at Santosh Dhaba. It was the Italian and Chinese dishes that took the center stage while their star north Indian meal took a back seat.
Italian Starters
We started off our meal with Nachos which is quite unlike Santosh Dhaba as we'd normally start with a kebab or paneer starters. Anyways, the Nachos that came is were loaded with yellow liquid cheese. Even the Nacho chips seemed like they were prepared in house. Next, we had was garlic bread which was average. Considering the numerous places I've had this, it could be better here at Santosh Dhaba Exclusive.
Then, we had the Santosh Special Pizza which was loaded with veggies and paneer. It was almost a thin crust pizza and I'd say it was better than the garlic bread. We also had a round of stone grill sizzler which had a strong desi Chinese taste.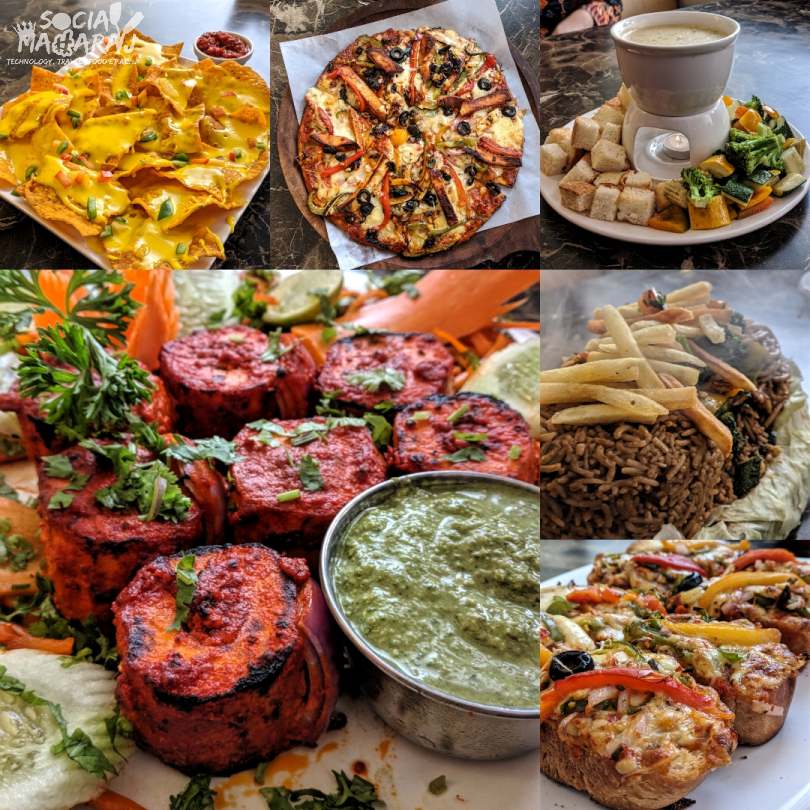 While most of the above-mentioned items were average, the Sonali Kebab and the Cheese Fondue were quite good. The fondue had some exotic veggies like bell peppers & broccoli along with bread cubes which were served with a cheesy sauce. The sauce was pretty nice and had good flavor. Sonali Kebab was the best of the lot. Huge Paneer pieces stuffed a trademark Santosh Dhaba masala straight out of a tandoor. It was and quite flavorful to my liking. If I'm there anytime, this is surely going to be on my order.
Desi Main Course
While we had a lot of starters already, the main course which was a North Indian meal was a rather muted affair. We were served Santosh Special Paneer, Hyderabad Biryani, and Dal Tadka along with a bread basket consisting of Pudina, Masala & Garlic Naan. The Dal Tadka was delicious and cooked to perfection. The dal blended perfectly with the masala with had a rich aroma and taste.
Santosh Special paneer was a decorated dish with lots of cut veggies and was served on a plate rather than a serving bowl. It was good on taste and flavourful, just what you expect from an original Santosh Dhaba Exclusive restaurant.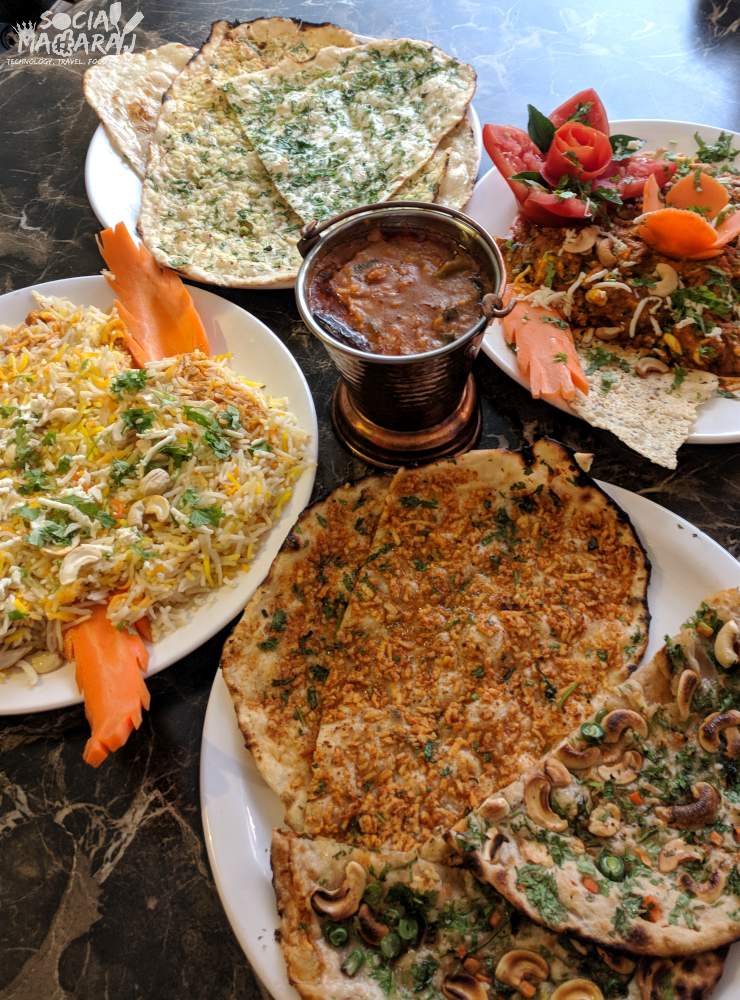 The bread basket was like any other which had a variety of naan. The masala naan with kajus was the best of the lot. It was soft, tasty & crunchy at the same time. The other naans were nice, garlic naan being my favorite. The Hyderabad biryani was decent I'd say, as I had a few spoons of it. It was served with the peanut salan and raita which could definitely be done better.
Global Desserts
Just like we encountered the global cuisine as part of our starters at the original Santosh Dhaba exclusive, the desserts too were videsi ones. We had a variety of cheesecakes – Blueberry, Mango, and Chocolate – Caramel custard, brownie with ice cream, and milkshakes. Starting with the milkshakes, I quite enjoyed the strawberry one. Coming to the brownie with ice cream, it was hot, cold, and tasty.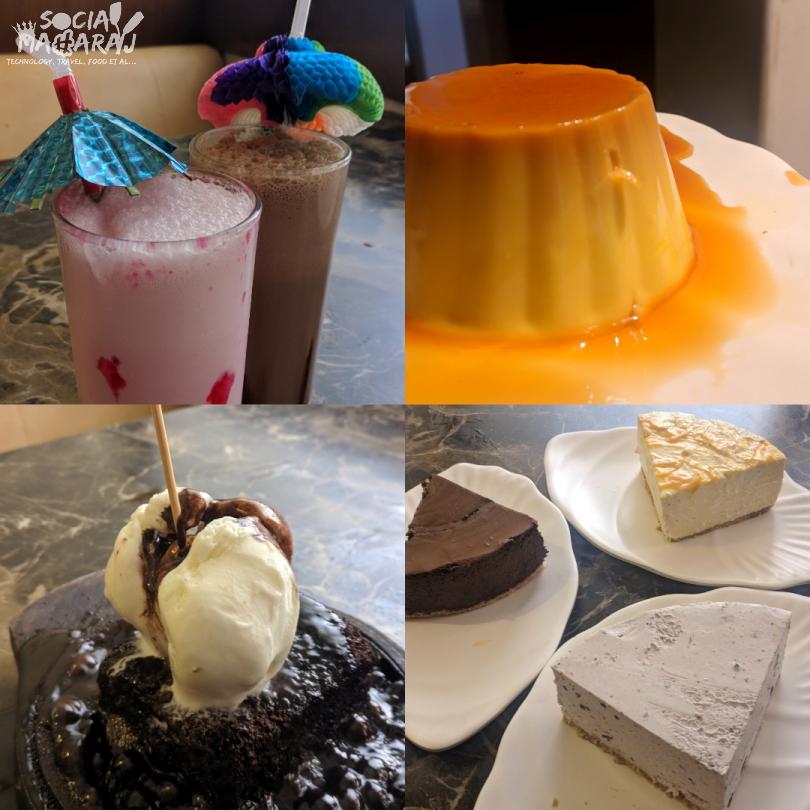 The cheesecakes could have been better The Mango and Blueberry ones were average while the chocolate one was the best of the lot. The biscuit could have been thicker though. Lastly, the caramel custard was a good try which turned out to be decent. While these desserts were good, I'm sure their desi desserts are much better.
Must visit for a vegetarian north Indian meal
Whenever I open Swiggy or Zomato to order food and search for Santosh Dhaba, I get a list of Santosh Dhabas around my place, however, none of them can be considered as the original Santosh Dhaba. The one in Hanuman Tekdi, Koti is one of the oldest Santosh Dhaba in the city. The fact they have a trademark makes me assume that they are the original Santosh Dhaba in Hyderabad.
That said, you'll be Santosh after having a meal at Santosh Dhaba Exclusive. The food is pretty balanced and the preparation is quite north Indian too. While their dishes that we had didn't match the desi food they serve, the cheese fondue and the pizza can be tried. But for anything north Indian or even Mughlai, just close your eyes and order, you won't be disappointed.
That's about my review of Santosh Dhaba Exclusive which also happened to be my first dine out in 2021 – and also my first post in 2021. Let me know if you too wanted to know which is the original Santosh Dhaba in Hyderabad. Or if you have dined here, what would you recommend? Let me know in the comments below or tweet to me at @Atulmaharaj, DM on Instagram, or Get in touch.