While I do love my Rasmalai and Gulab Jamun, I do gorge on videsi desserts whenever I get a chance. The only question I ask before having is "Is this eggless?" Most of the time the response has been negative. Finding eggless desserts was a task, but not anymore. Most dessert outlets have eggless variants of their offerings which is sweet. However not many are like House of Desserts which serve only eggless desserts in Hyderabad. Being a vegetarian, my eyes lit up when I learned about them.
So this blog post is going to be my House of Desserts Hyderabad review of eggless desserts in Hyderabad. I had ordered a few of their items over the new year's and this is going to be around that.
Only eggless desserts at House of Desserts
Like I said earlier, a dedicated store for vegetarian desserts is rare and House of Desserts is one of them. They are relatively new in the Hyderabad dessert space but definitely different due to their 100% eggless offerings. They do have a small outlet in Banjara Hills which has everything that they have to offer. While there's no seating/dining space there, you can surely have a cookie there!
In case you are not able to visit their store, you can always get these desserts home-delivered as I did. However, you will have to pay for the delivery if you approach them directly and not order via Zomato.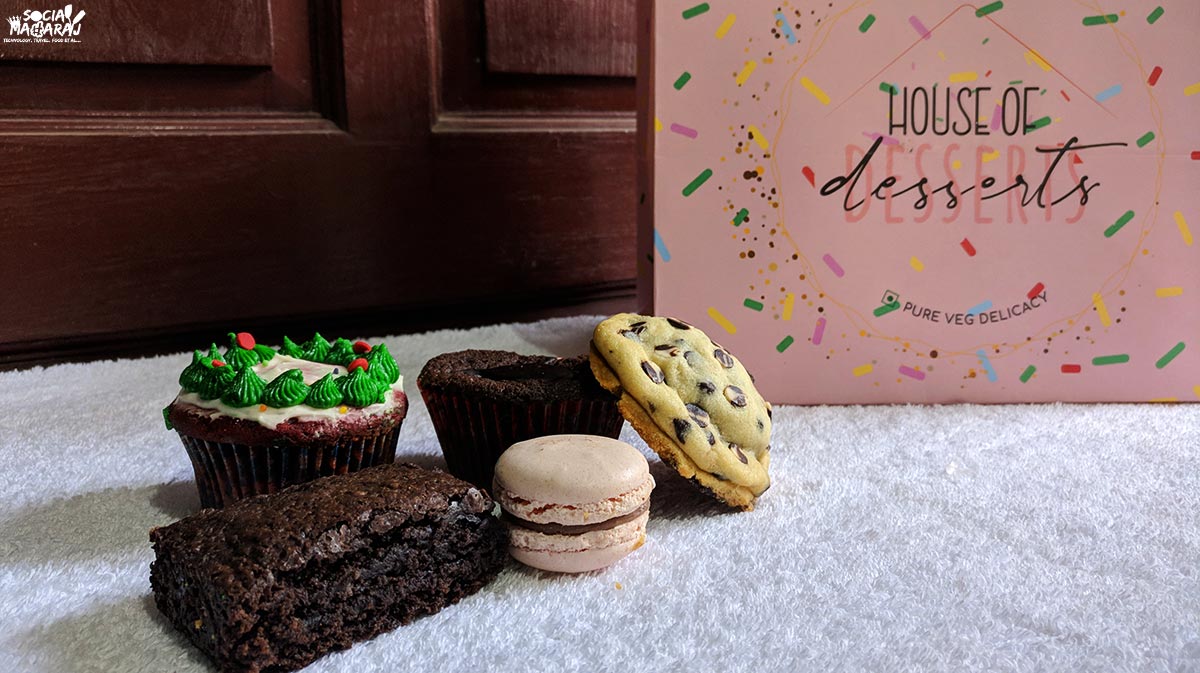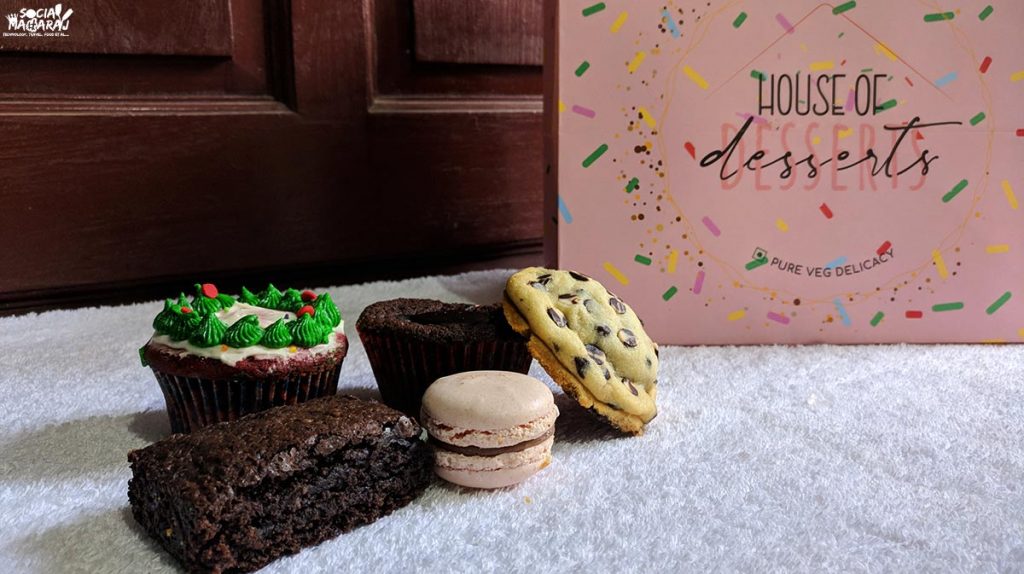 House of Desserts Hyderabad – Review
I had come across the House of Desserts through Instagram. While I was invited for a review there, I couldn't go back then. Fast forward, it was New Year's and since we ditched our family dinner plan, decided to give House of Desserts a try for only eggless desserts.
Though a large part of their menu remains the same, they do come up with special items for special occasions and festivals. I reached out to them over Instagram directly for the menu. I initially ordered choco-chip brownies, but that had to be a minimum of 10pcs. So crossed that out.
Instead got a few Nutella Chocochip Cookies, A chocolate brownie, a red velvet cup cake, and a slice of Blueberry cheesecake. They even sell cake slices which is perfect for small families like mine as the 1kg ones are too much.
Delish Eggless Desserts
"Yummylicious" is the word for House of Desserts. The package was delivered in a chic box with a lot of extra Christmas goodies as well. (Thank you team for that) The first thing that I dug into was the Nutella Choccochip Cookie and it was out of the world. One of the best I've had in Hyderabad. If there are any other cookies that equally good is at Sofrehh (but you need to ask for an eggless version there) It's loaded with choco chips and Nutella and has the perfect texture. Totally recommended.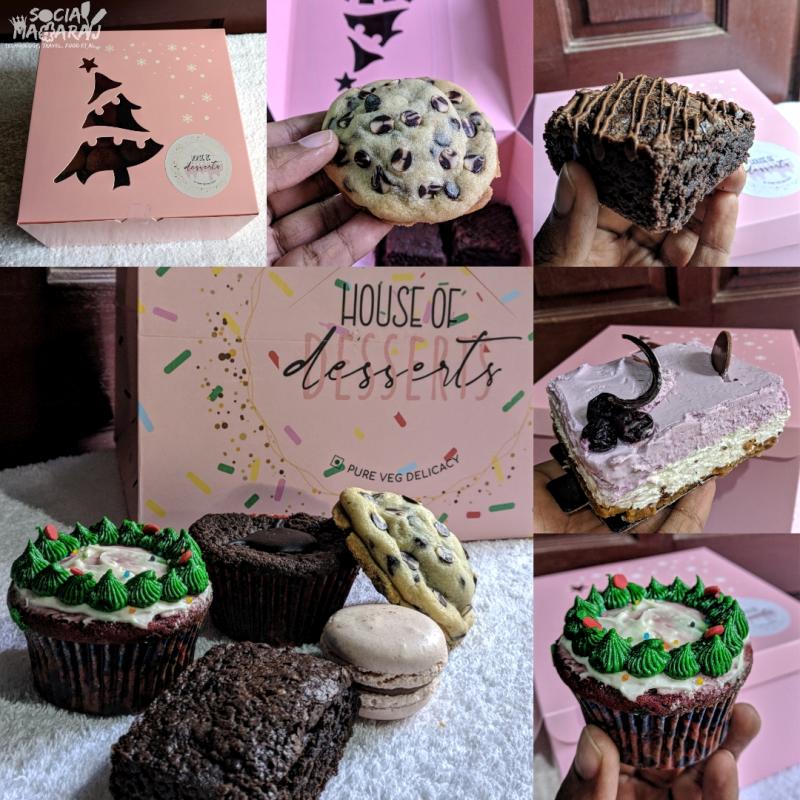 The next item that I'd highly recommend is the Blueberry Cheesecake. While this wasn't on my order initially, I'm glad that I got it. I'm not a big fan of cheesecakes may be because I hadn't eaten good ones earlier. This one from House of Desserts was absolutely amazing. The biscuit was crisp and thick while the cheese was fluffy and flavorful.
All the other items including the brownies, cupcakes were nice too. These weren't too sweet and perfect to my liking. There were macaroons too, but I'm not a fan of them so I don't have much to comment on those. Overall, it was a total paisa vasool dessert that I ordered from House of Desserts.
Final Verdict – Must try
Like I mentioned earlier, for vegetarians, especially Jains, finding a pure vegetarian restaurant is easier than finding a pure vegetarian dessert bar. House of Desserts in Hyderabad is catering to those people. They serve only eggless desserts which is their USP and the desserts taste pretty good. In terms of pricing as well, the prices are quite reasonable considering the quality. I paid RS 650 for 3 Nutella Chocochip Cookies, 1 Chocolate Brownie, 1 Red Velvet cupcake, and 1 slice of Blueberry Cheesecake.
The only thing that could be better would be packaging. I got all these items in a single box. It would have been if each item was individually packed as well. Well, that's not a complaint anyway. Overall, I highly recommend you to give House of Desserts a try and do have their Nutella Chocochip cookies and the blueberry cheesecake. Also, connect with them directly on Instagram. Thank me later!
What are your thoughts on eggless only desserts outlet? Is there any in your city? Let me know in the comments below, tweet to me at @Atulmaharaj, DM me on Instagram, or get in touch.