On a typical weekday, you'll find me hustling to work, attending meetings, wrapping up presentations and driving back home. Weekday evenings are all about ghar-ka-khaana with a doze of Bhakarwadi on Sab TV. Most of the people who've met me are aware of my this schedule. So last week when I posted Instagram stories at Carpe Diem, many of my friends were surprised. What the hell is Maharaj doing at a nightclub ? In this post I'll talk about my first time at a nightclub at Carpe Diem Review.
I don't belong to nightclubs and parties. I'm more of a desi foodie with ghazals than DJ. So when I was invited to Carpe Diem Hyderabad, I agreed because well it was my first time at a Nightclub ! Yeah, at 28 this was my first time at a Night Club. I kind-of knew what to expect, but here's how it was.
Euphoric Ambiance at Carpe Diem
Located at a prime location in Jubilee Hills, Carpe Diem is quite easy to locate. Right opposite to Loft Cafe. On the outside you are greeted by a well lit entrance. This followed by a dark alleyway leading to the nightclub. Carpe Diem Hyderabad offers various seating options. The one on the outside is a little toned down with a bar and live screening. So If you aren't a party animal, this probably will suit you.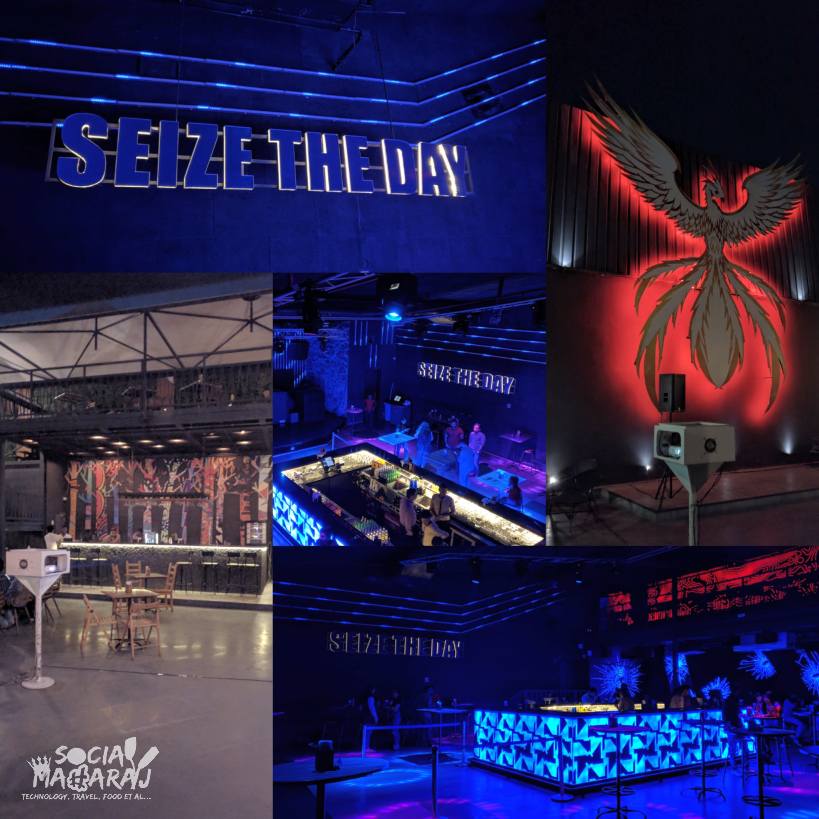 Post that, you pass an even darker room which leads you to the happening place. The completely blue surroundings with groovy music sets the tone. With a huge bar in the center, a DJ stage at one end and a seating up the upper deck, the ambiance at Carpe Diem Hyderabad is LIT. Though there are chairs to sit, as the night gets darker, the chairs give way to the dance floor where the revelers groove to the beats of the DJ.
Quite a different experience for me and I must say totally loved it. Though the lights were dizzying after a point of time and the fact that people were allowed to smoke inside did bother me. Overall, euphoric ambiance.
Food and Drinks at Carpe Diem Review
I mean who walks into a nightclub and eat ! Most people prefer finger food along with their alcohol. Hence they have their menu crafted accordingly. We were served the best of Carpe Diem and below is more about the Carpe Diem review.
Peachy Finger Food and Starters
We were in quite early for a nightclub. Without waiting much, we ordered the best available items on the menu. For vegetarians, we had Stuffed Mushrooms, Burmese Parcels, Crispy Maggi Balls, Crispy Water-chestnuts, Alfredo Pasta and Veg Pizza. The last time I had Stuffed Mushrooms was at Diner's Pavilion. Totally loved it then, totally loved it now too. Cooked to perfection, the spinach filling was rather welcoming. Also, the last I had Burmese parcel was at Over The Moon, and these ones at Carpe Diem were better. Ideally crisped, and the cheesy filling was nice.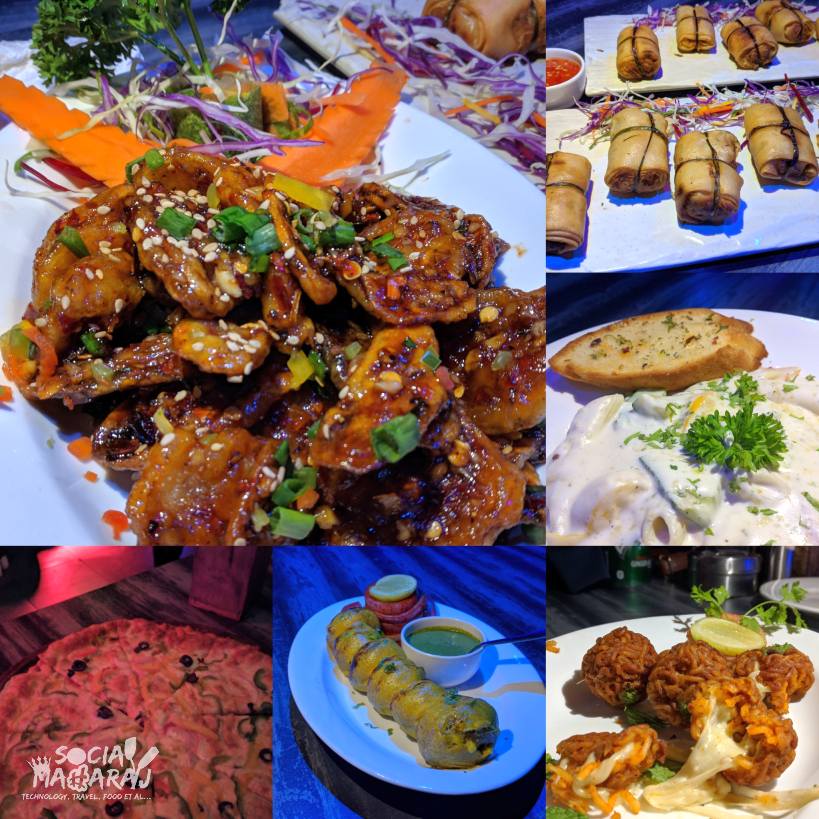 Had a lot of expectations from the crispy Maggi balls, but it was a let down. Had absolutely no taste of maggi and was loaded with cheese. However the crispy water-chestnut and lotus stem was pretty nicely done. Have had them earlier, but this wasn't too saucy and tasted pretty nice. The white sauce pasta too was average but the Pizza was surely better than that. By the time we ate our Pizzas, the music was full on and the dance floor was full. On the whole, there are a few hits and misses, but overall the food is good at Carpe Diem Hyderabad.
Teetotaler's drinks at Carpe Diem
Like any other Lounge, Carpe Diem Hyderabad has a separate menu for drinks. And thankfully that menu has some space for non-alcoholic beverages for teetotalers like me. Since we went in quite early, we started with our favorite Virgin Mojito. It was pretty nicely done expect that it was on the sweeter side. As my other friends tried their alcoholic drinks, I ordered a Meerut ki Jaan and Fall Alert.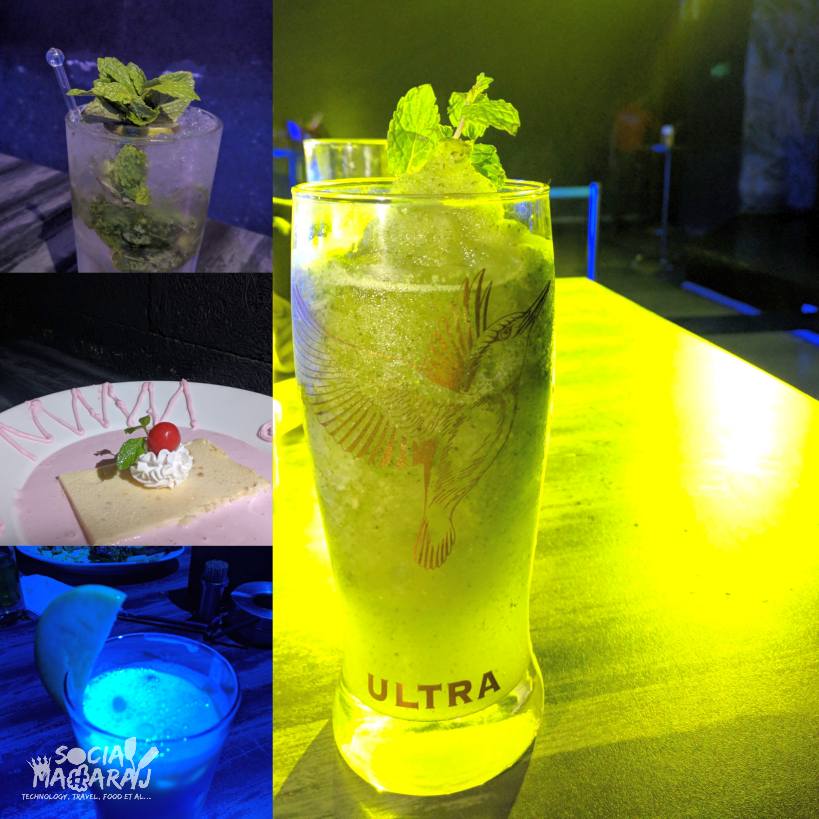 Meerut ki Kaan is a typical mock tail with cream mixed to perfection. It was quite refreshing and had the punch. It was aerated so good option for those who don't have aerated drinks. Fall alert was actually a hatke drink. It was made from soda with lots of mint and laced with ginger. Not everyone would like it, but I kind-of found it to be good. If the sweetness was toned down, I'd love it. Apart from the drink, we were also served the Karachi Biscuit cheesecake which was utterly delicious. If I go back here, I'll surely have this cheesecake.
Final Verdict: Seize The Day at Carpe Diem Review
So my first time at a Nightclub in Carpe Diem Hyderabad was pretty good. Though the lights and smoke did make me uncomfortable at times, I wouldn't mind going to Carpe Diem again. Loved the ambiance, the music, the LIT groove the place has to offer. The food too is good with a few misses here and there. The drinks are nice and so is the service. Kudos to team Carpe Diem Hyderabad for a wonderful evening. Looking forward to visiting it soon. And that's the end of my Carpe Diem Review. How was your first time to a Nightclub ? Mention in the comments below or tweet to me at @Atulmaharaj or DM me on Instagram.