Gachibowli, Madhapur, Kondapur are a handful of places in Hyderabad that are seeing a boom in number of new restaurants. From cafes to lounges, breweries to find dining restaurants, there have been many that have come up in the last one year. Rated as an expert in Gachibowli by Zomato, I feel there are so many more restaurants that I haven't been able to visit. One of them that came up quite a while back is Over The Moon. For those of you who know me know that I don't drink alcohol so OTM was out of my foodie radar. However, last weekend it so happened, that I visited Over The Moon for a small get together. So like I do always, here's a review of Over The Moon, Gachibowli.
Ambience at OTM
The restaurant is located opposite to the Gachibowli flyover and next to Mathura Vilas. (I guess) there are 2 floors at Over The Moon, ground plus 1. What I've learnt is that the ground floor is barred for stags and families and open only to couples and women. The first floor is for everyone else and has space for big gatherings. (There was a team of 20+ members when I went there) One thing that I noticed is that the atmosphere of the ground and first floor is poles apart. The ground floor has a dance floor and is a lot more happening that the dull and boring other half. The lighting is too dim on the first floor and dampens the dining experience. Further since this is a brewery, you are welcomed by huge tanks at the entrance. No prize for guessing what's in it 😛 To conclude, I'll suggest visit Over The Moon with your girlfriend or spouse to experience this restaurant to the fullest.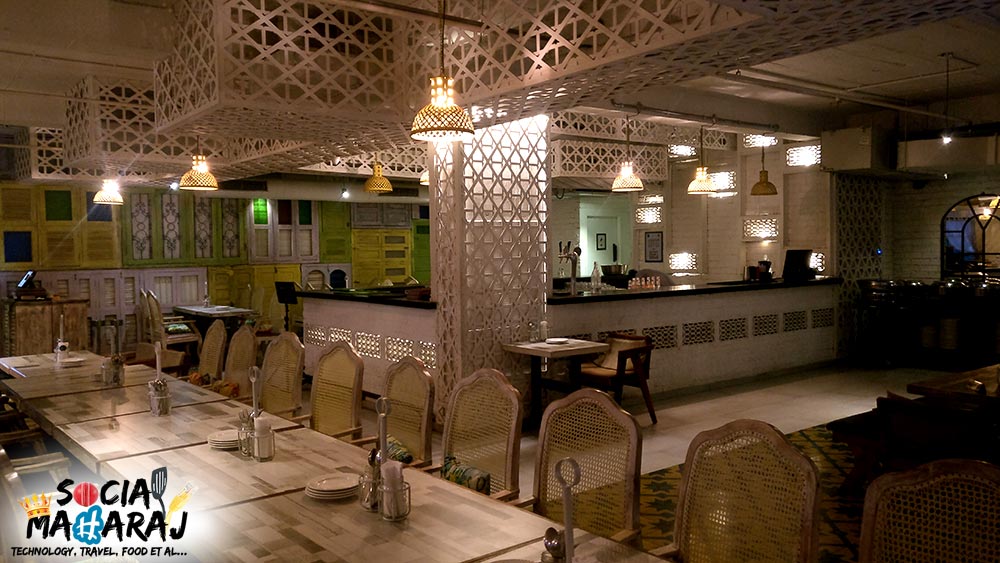 Food and Drinks – Review of Over The Moon
Starters
Being a brewery, OTM has a variety of alcohol based drinks available on the menu. From the standard margaritas and beers to exotic drinks based on vodka, whiskey and others. The restaurant does send you 'over the moon' after you've gulped few glasses of their offerings. Of the 3 menus that were handed out, only one was the food menu. There were few unique items along with the regulars. Since we were a group of vegetarians and non vegetarians, we ordered a mix of both world. For starters we had Burmese Parcels, Veg Platter, Cheese Rolls, Prawn & Chicken starters. The Burmese parcel was a beautified version of regular spring roll but loaded with cheese. I totally loved this one and will surely recommend you to try. The other vegetarian starters were pretty good too. We also ordered a Veg Pizza and a Ricotta Cheese Burger. The pizza was ordinary and so was the Ricotta Cheese Burger. The burger when compared to the one I had at Heart Cup Coffee was a let down. It lacked the taste and I felt the portion size was small too.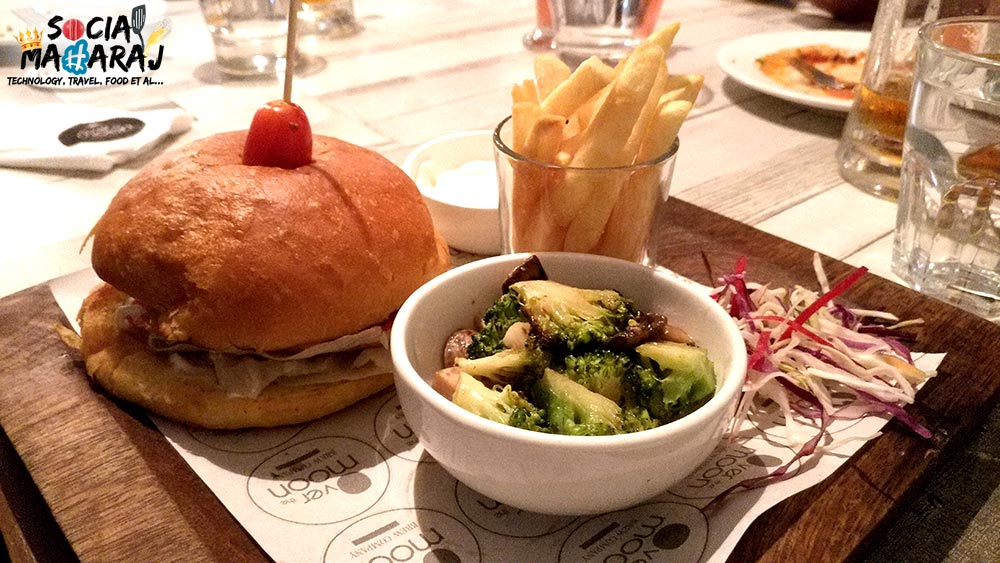 Main Course
Most of us were full after having these, but I did go ahead and order few main course dishes. The biggest let down here is that they have set options and you cannot customise it. If you are expecting a lavish menu to choose from, please be ready for a setback. Further the items are served like they are done in any other restaurant (bowls of curries along with basket of rotis) You get one plate with rotis and curry. Period. We ordered Paneer Butter Masala with Roti and Rajma Chawal. Of all, Paneer Butter Masala was pretty good and frankly I didn't expect it to be that good. The rotis were the size of pooris and I'd recommend to order extra before hand. Rajma Chawal too was a let down and was on the spicier side. Thus for main course – especially vegetarian – I'd say this isn't the place you should visit if you don't drink. One last thing, i did order a Virgin Mojito (like always) and that was good. I've always believed that 'only' the places that serve alcohol make the best mojitos. (Comments welcomed !)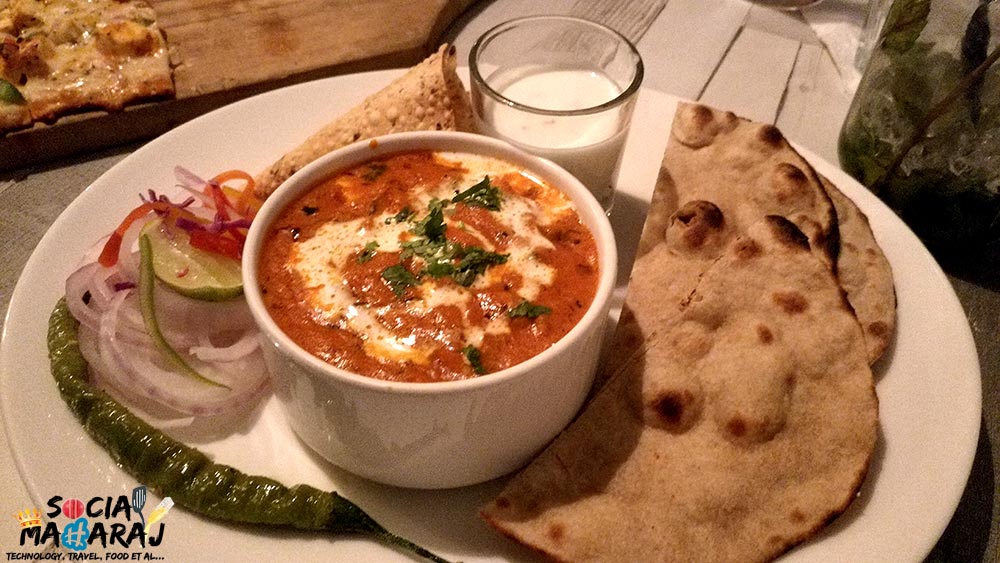 Final Verdict: Good place for drinks, Not for Food
Like I mentioned earlier there is a world of difference between the two areas of Over The Moon Gachibowli. And I'd suggest you to visit the ground floor for a better experience. If you drink alcohol, then you might enjoy some of the drinks they have to offer. The starters are pretty good – both veg and non veg – but the main course is average. We were a group of 8 people and we shed out almost Rs 11,000 which is surely on the higher side. The restaurant is a Zomato Gold [Use Code AtulMa for 1 month free] partner hence you can redeem your coupon here for a better deal. Overall it was a pretty average experience with the ambience and food. The staff is courteous and service is fast. Dipen who was waiting our table, is from Darjeeling and is a very cheerful guy ! Kudos to him.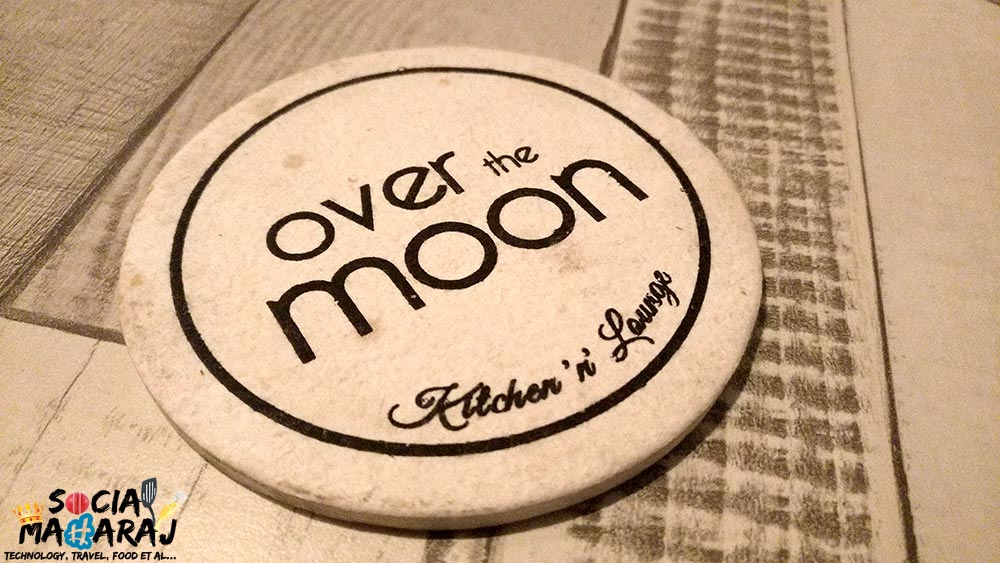 To conclude, if you are a vegetarian and don't drink alcohol, I'd suggest you to give a miss to this place and put your money at some other better restaurants – AB's, The Grand Trunk Road, Ohri's Jiva Imperia, Ohri's De Thali to name a few. But if you drink alcohol and don't mind shelling out few extra bucks, I'd surely recommend you to visit this place once. That's about it for this post. Stay tuned for more. If you feel that I've missed out on any aspect, or you have anything to say, please mention in the comments or tweet to me at @Atulmaharaj