"Ice cream season goes from age one until death" – can it get any truer than this? I'm sure you all love Ice Cream. There's hardly anyone I've met to date who doesn't love ice creams. The choice of flavors and types of ice cream varies, but Ice cream is ice cream. While that is true, it's also an extremely rich food that not many prefer due to its high sweetness and calorie content.
So when people started to look for healthier alternatives to Ice Cream, they found Frozen Yogurt as a wonderful alternative. With live and active cultures that are good for your health and immunity and easier on your waistline with 1/3rd the calories of ice-cream.
MyFroyoLand is one such outlet that serves heavenly frozen yogurt. I was invited to the first MyFroyoLand outlet in Hyderabad and this is going to be my MyFroyoLand review.
MyFroyoLand – Self Service Frozen Yogurt
A Made in India brand of frozen yogurt, MyFroyoland is redefining the way we look at desserts. With a strong presence in Mumbai and Pune along with a few outlets in Bangalore, MyFroyoLand finally opens their first store in Hyderabad. And I'm glad that I was invited to experience their offerings.
They have an assortment of flavors, over a hundred. While few flavors are available all around the year, there are others that are seasonal. Alphonso Mango, Banana Bread, Blueberry, Bubblegum, Cake Batter, Tarts are just some of their flavors. MyFroyoLand uses high-quality imported frozen yogurt prepared with skimmed milk.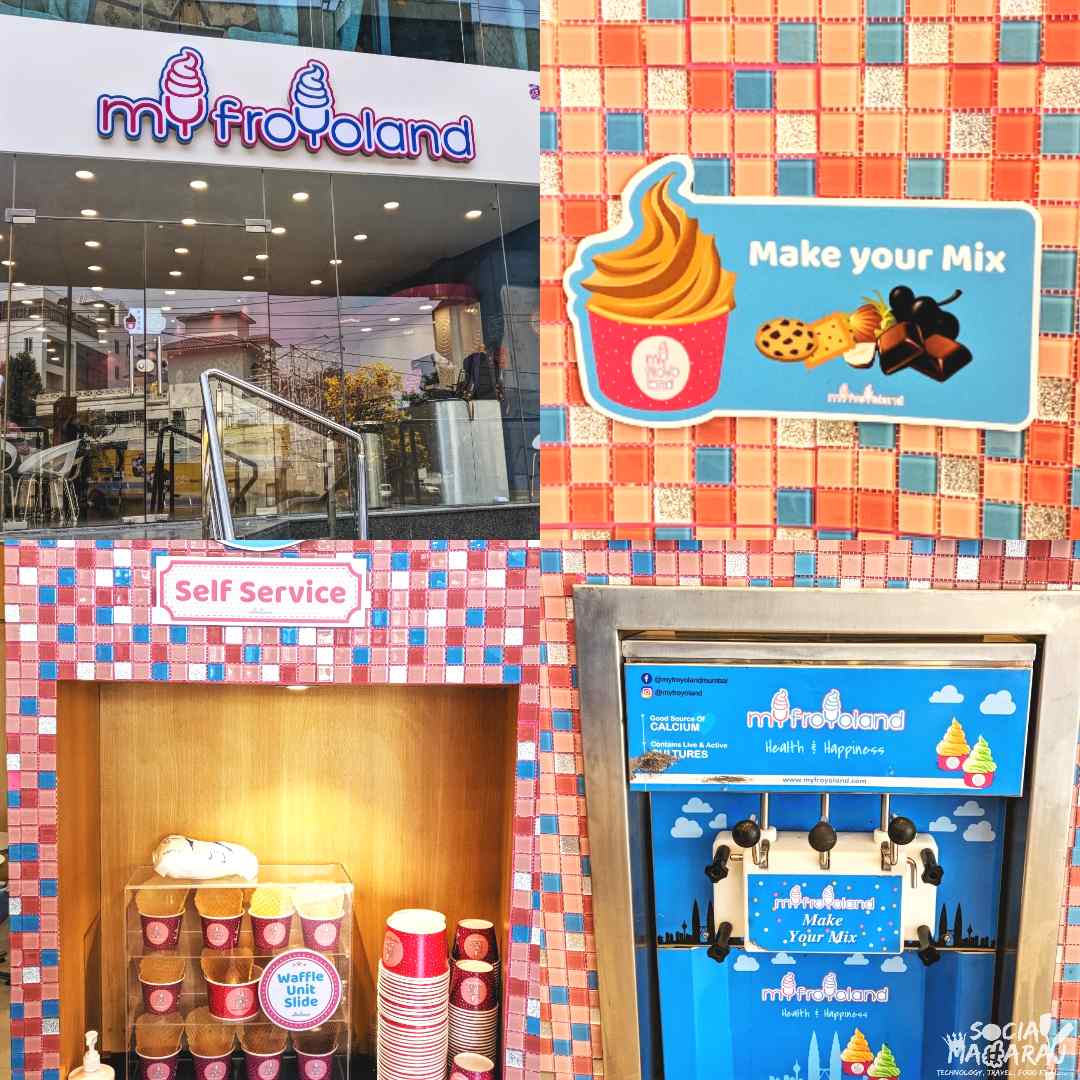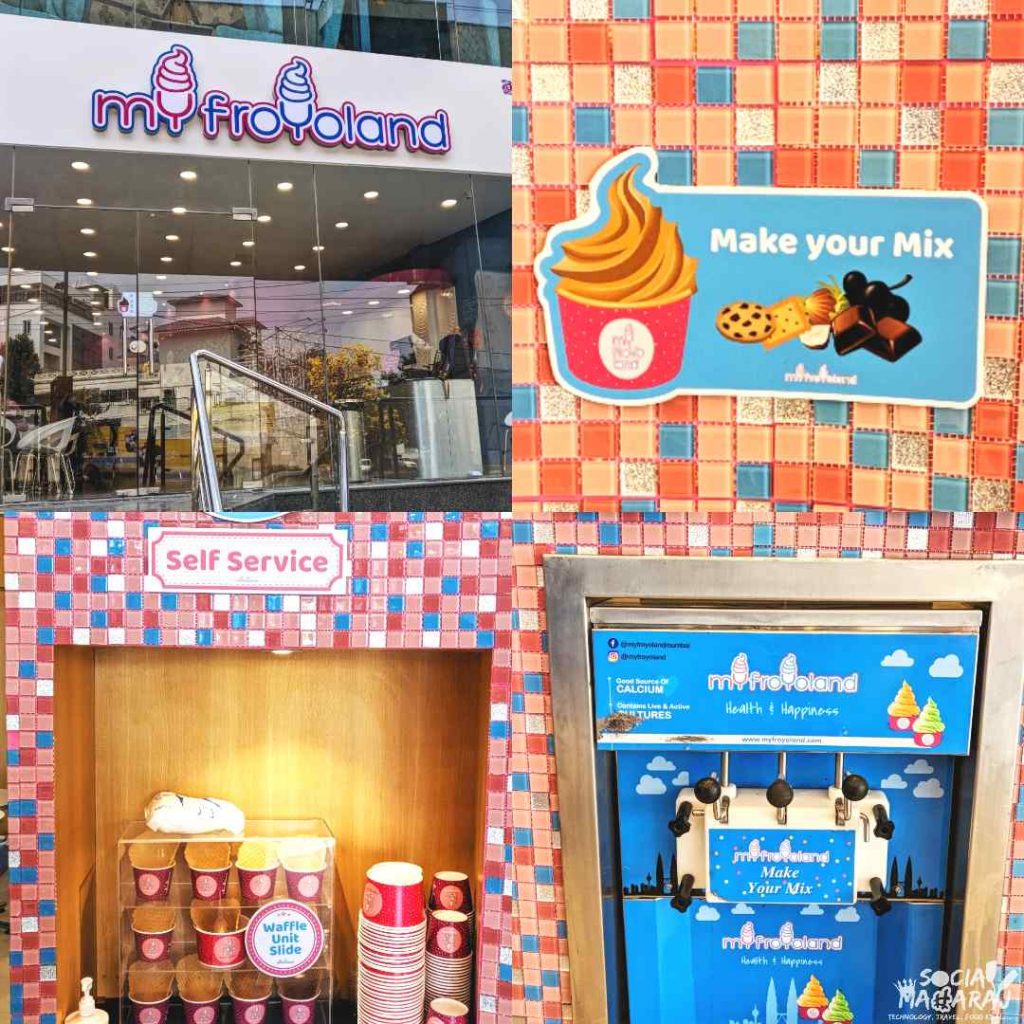 The best part about MyFroyoLand is that it's completely self-service. The pricing is quite unique too. It's priced at Re 1.25 per gram. Yes. So you choose an empty cup, load it with the flavors of frozen yogurt that you like, top with the toppings, and weigh it. Whatever is the weight x Rs 1.25 is your final bill. It's as simple as that!
MyFroyoLand Hyderabad – Indulge in Heavenly Frozen Yogurt
MyFroyoLand is located at Road No. 36 Jubilee Hills. It's in the building right next to Smoky Pitara. Spotting the restaurant isn't tough, thanks to the new and refreshing branding. The ambiance is bright and chic with pop colors. It actually gives you a feel of a frozen yogurt land!
There are about 6 self-service softie machines. Each machine serves two different flavors of frozen yogurt. There's a label above each machine that denotes the flavor and its type – Gluten-Free, Fat-Free, No Added Sugar, etc. Also, since this is the first outlet, as a customer you can try each flavor before you actually buy one. So choosing becomes easy for you.
In terms of toppings, they have an assortment of them. The dry toppings include items like choco chips, granola, cashew nuts, marshmallow, gems, sprinklers, oreo cookies, and much more. Apart from these, you can also choose fresh and canned fruits like dragon fruit, strawberries, kiwi, litchee along with a dose of caramel sauces.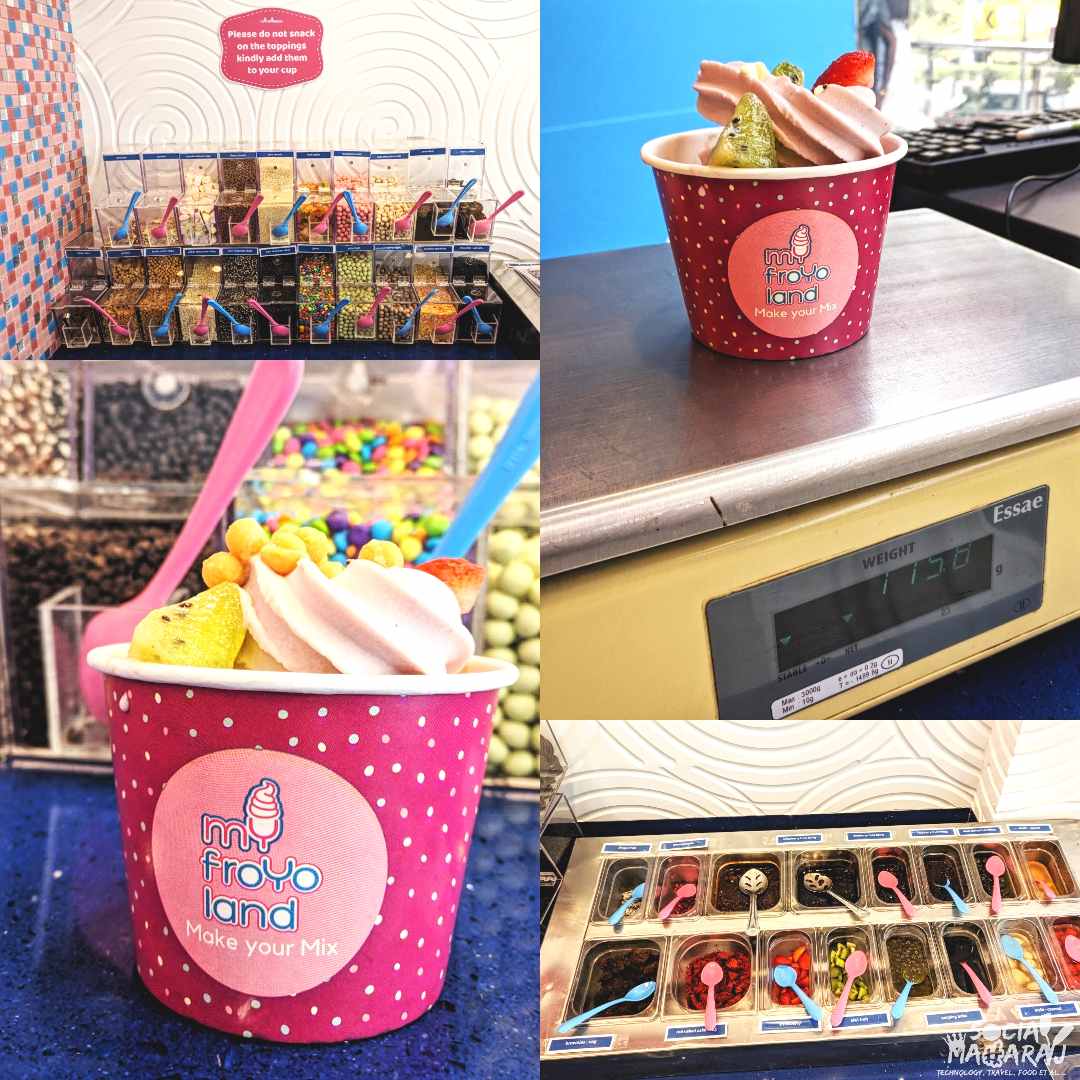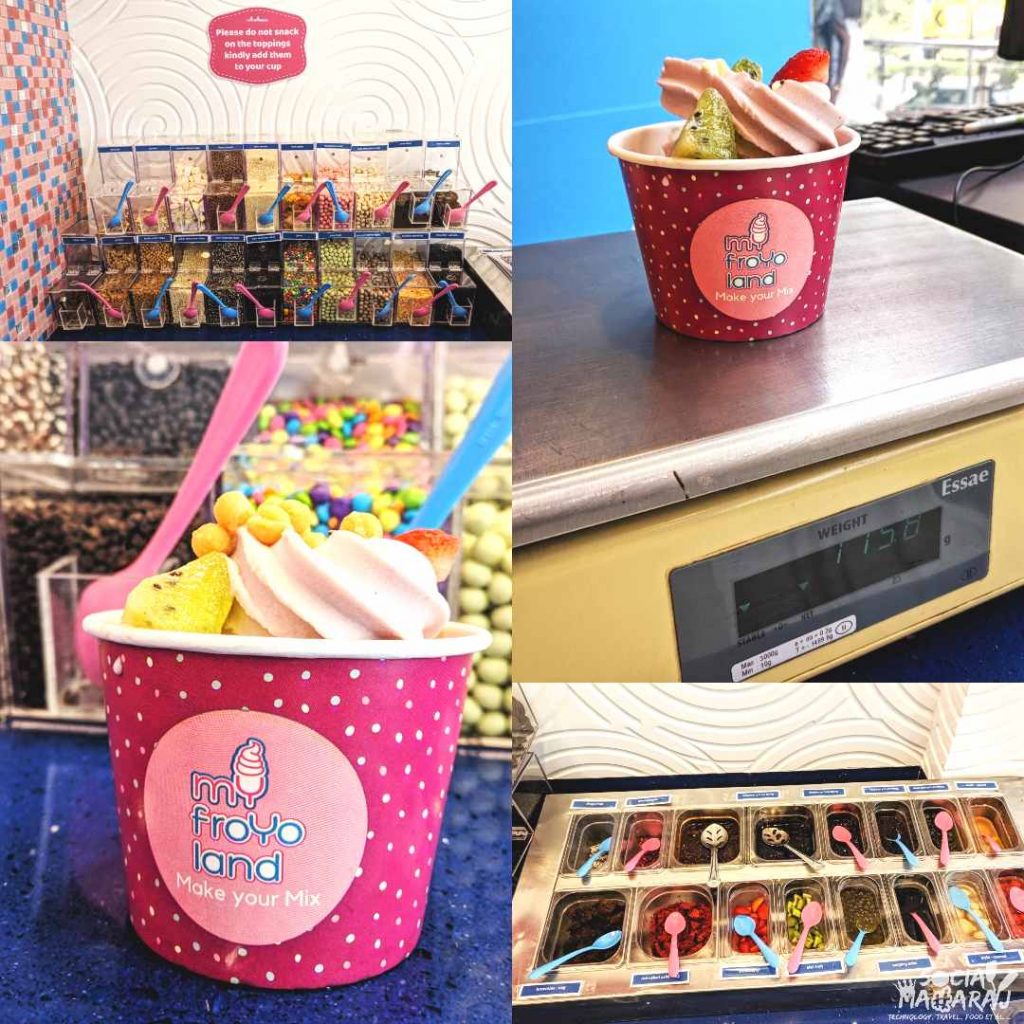 My experience of tasting frozen yogurt
So this wasn't the first time I was eating frozen yogurt, but the first time at a dedicated place for frozen yogurt. I was amazed to see the flavors and try each one of them before I zeroed in on the ones that I wanted to try. I also loved the fact that it's completely self-service and you can do whatever you want. They don't have a menu or a rate card as such and it's completely DIY. They can even help you choose the best combination in case you find yourself confused.
In terms of flavors, I loved the Greek Yogurt which is a sugar-free variant. I also loved the Oreo Cookies and Cream and Blueberry Cheesecake (Must Try). I tried both of them with various dry and fruity toppings. I was also told that you can mix the frozen yogurt variety as well. The frozen yogurt is nicely done and the texture was bang on. In fact, many of you might not be able to differentiate between and ice cream and frozen yogurt. The variety of toppings is more than enough for you to indulge guilt-free.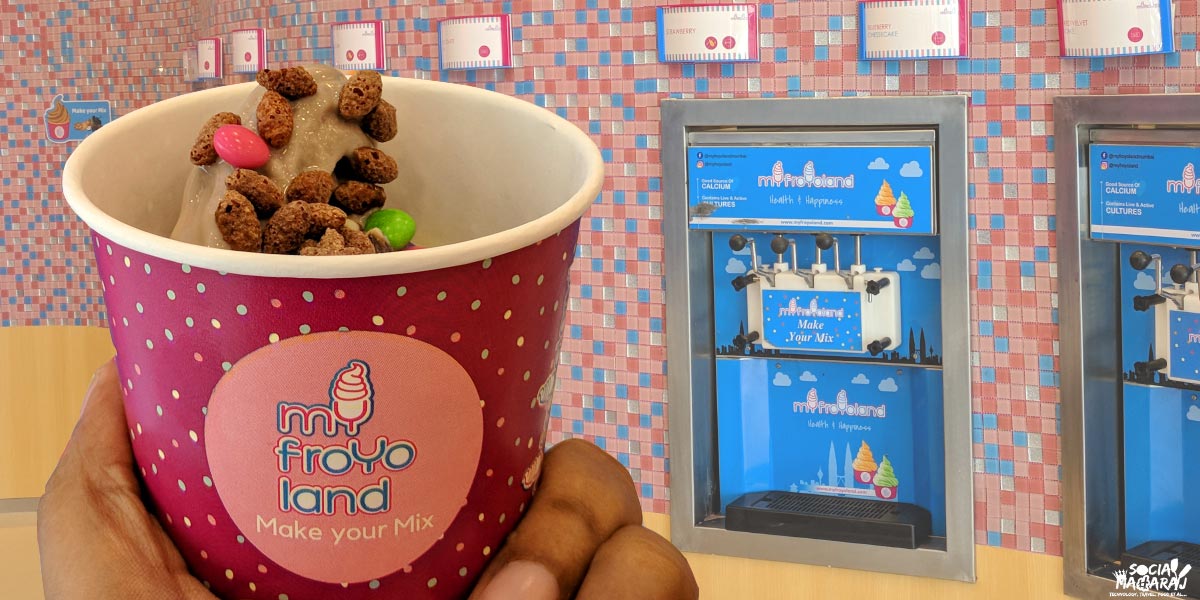 How to Make your Frozen Yogurt at MyFroyoLand
Choose a cup size

Choose an empty cup – medium or large. You can also choose to have one with waffle as well

Choose Frozen Yogurt Flavor

Pick a flavor or multiple flavors and fill your cup accordingly

Load it with your favorite toppings

Add the toppings that you want – dry ones like Choco chips, Oreo cookies or fresh fruits like dragon fruit, litchi etc.

Weigh, Pay & Enjoy!

Weigh it at the counter, Pay and relish your frozen yogurt. It's as simple as that!
Your search for Frozen Yogurt ends at MyFroyoLand
MyForyoLand is Hyderabad's only dedicated frozen yogurt outlet. It's a unique service model which is all self-service and also the pricing is different. The ones that I tried, weighed around 120 gms and the bill would have been around Rs 220-240. So that's the average bill you can expect, but again it depends on how much take.
Overall, I loved the flavors and the fact that the menu changes every Monday. Also, the seasonal flavors are there too. Hence if you are looking forward to some healthier alternatives to ice cream, try frozen yogurts. It's healthy and tasty too. And ay Myforyoland, you'll find heavenly frozen yogurts for which you'll surely come back. What are your thoughts on MyForyoland? How amazed are you with the concept? Let me know in the comments below, tweet to me at @Atulmaharaj, DM on Instagram or Get In Touch.