By now you already know that I've finally gotten my new smartphone, the Samsung Galaxy S20 FE 5G. While I 'broke' the news only a few days back, I actually got this phone via Croma Store Pickup a few weeks ago. As Marques Brownlee says, "I've been using this phone for a few weeks now, and here are my views on it" this will be my honest and complete Samsung Galaxy S20 FE 5G review. For those interested in a one-line Samsung Galaxy S20 FE 5G review, this is a bang for your buck (at the moment)
Now that I've used the Samsung Galaxy S20 FE 5G for close to two weeks now, here is my honest Samsung Galaxy S20 FE 5G review for you.
Samsung Galaxy S20 FE 5G Review
I'm sure many of you would have already seen a lot of unboxing and review videos of your favorite YouTubers, hence I'll not be talking about any of those in my S20 FE 5G review. I'll get straight to the point.
Decent Overall Build Quality
The Samsung Galaxy S20 FE 5G comes with a plastic back (glastic as the company calls it) and not an all-metal body. In fact, not many phones out there have an all-metal body today. My OnePlus 3T had an all-metal body and one of the best builds.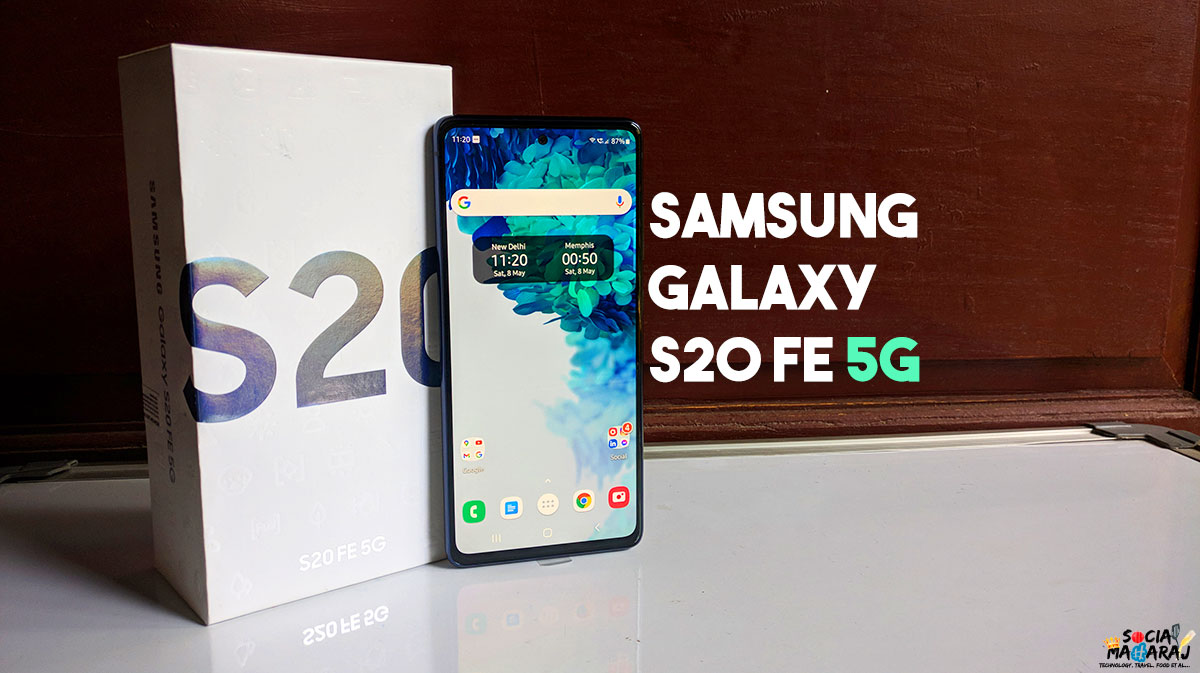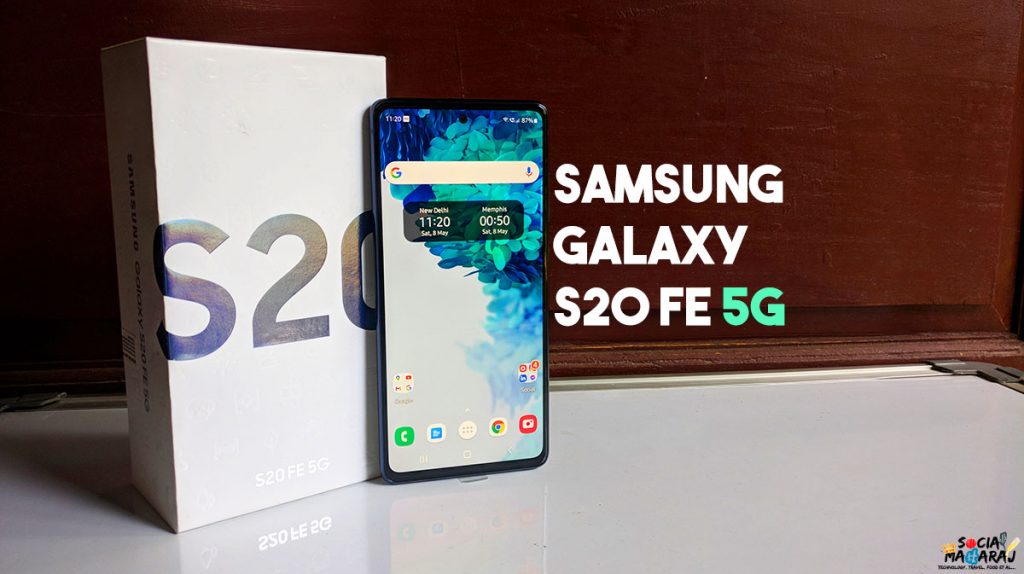 The Galaxy S20 FE 5G feels light and the glastic back does give a premium look. It resists fingerprints but is quite slippery. Thanks to the Aluminum frame that enhances the overall looks of the phone and the feel. Though, at the price, one wouldn't expect a plastic back. Technically it is plastic, practically it doesn't feel or look. I like it. Also, I miss my slider button from OnePlus! 🙁
Bright and Responsive Screen
Samsung is known for its display panels, in fact, many other smartphone manufacturers make use of the Samsung display panels. The 120Hz, AMOLED display on the Samsung Galaxy S20 FE 5G is one of the best I've seen. It's vibrant and provides punchy colors.
The 120Hz makes things extremely smooth. I have watched a lot of YouTube phone reviews where people were in awe of the 120Hz screen and high touch sampling rate. But now that I've used it, I know why they were. You will absolutely hate going back to 60Hz. PS: Turning on the adaptive battery feature will push it to 60Hz at times, and you'll clearly notice it.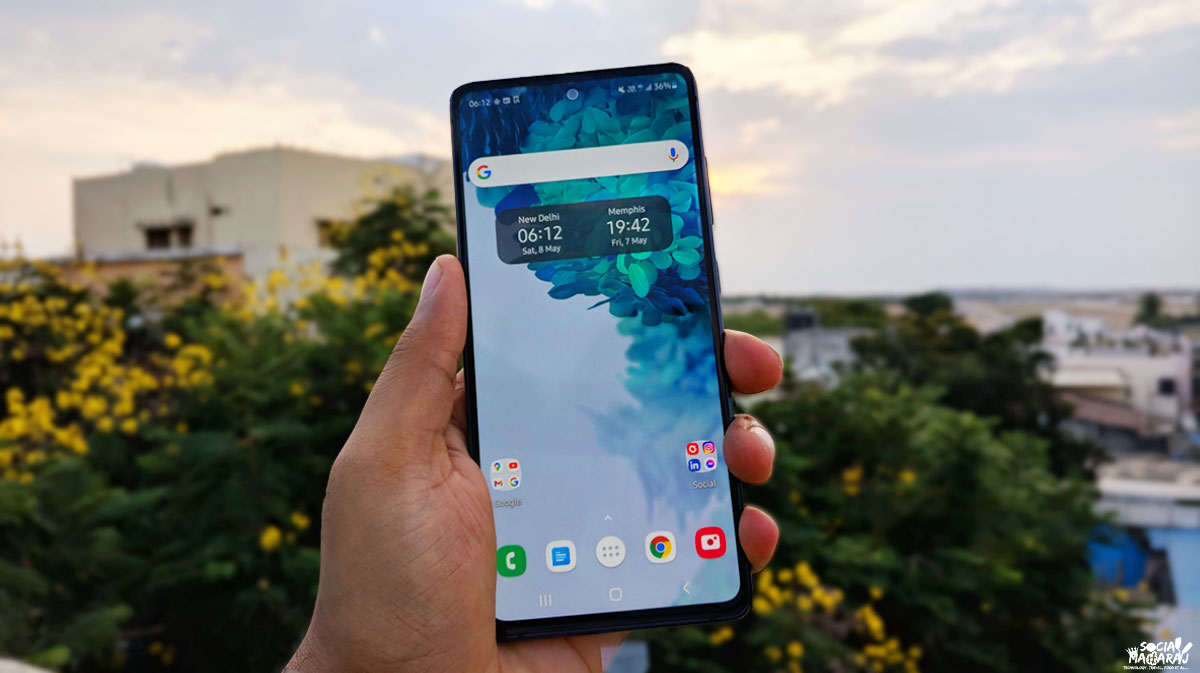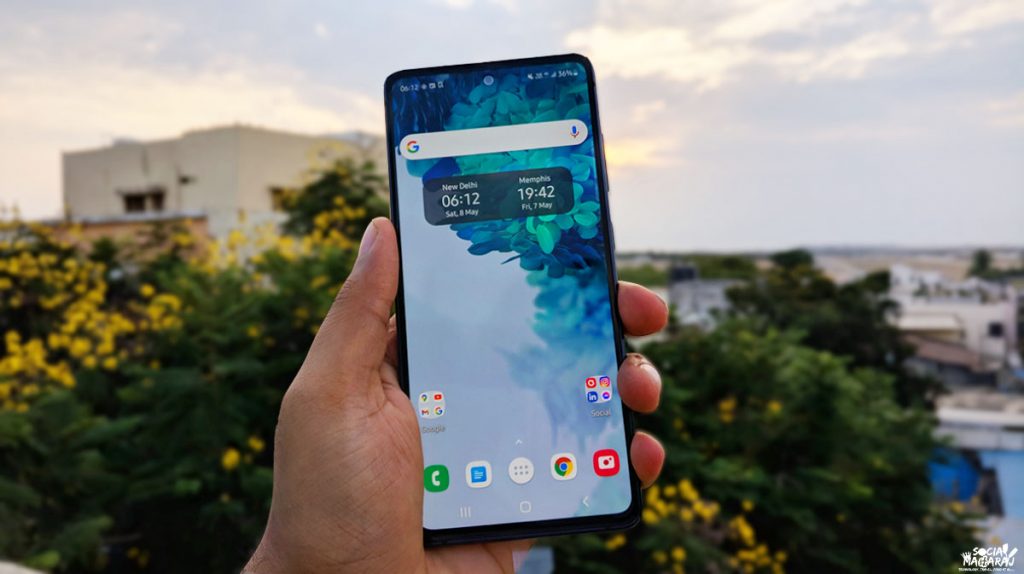 Though it's a bright panel, I somehow felt the overall brightness is low for outdoor viewing compared to the flagships. I mean I could see my own reflection on the screen on a sunny afternoon at full brightness. So that's something concerning. Not the brightest of the panels for sure, but certainly the best for normal indoor usage.
Lag-free Performance
This is the first phone from Samsung with the Snapdragon 865 processor in India. They have been notorious to be pushing their Exynos-based processor in the Indian market. Exynos-based devices provide less raw power and hog more battery and heat up often when compared to the Snapdragon counterparts. Though the newer Exynos 2100 is a much-improved version from the earlier Exynos 990, there's a lot more ground to cover for the Exynos to match the Snapdragon.
Further, the SD 865 is the flagship processor of 2020, and 888 is the latest flagship. Many of you may argue why I went in for an older processor than a flagship one. Well, the answer is simple, the SD 865 is one of the most stable 5G processors currently on the market and is extremely powerful. While gaming is not something I will use the S20 FE 5G for, the raw power that SD 865 gives me is more than enough. Paired with an 8GB RAM, switching between the apps is smooth and apps stay for longer in the memory.
Also, heavy tasks like video editing, AR apps are handled pretty easily by the Snapdragon. Prolonged usage of AR or Cameras does make the device warm, but at least it doesn't give a warning that your device is hot and stops you from using the camera!
Practical Set Of Cameras
While the world out there has reached 108 megapixels and will soon become a standard, the reality is different. Most people have a misconception that higher megapixels mean better image quality. No! Higher megapixels mean that you will be able to print the image in a large size or view it on a large TV, etc. and/or crop in without losing details. It doesn't translate to good quality.
Secondly, most smartphones today use a process called Pixel Binning. The process basically collects information from 4 pixels and represents it in one single superpixel. Hence a 48-megapixel camera will give a 12-megapixel output all the time. Unless you specifically switch to the 48-megapixel view. Read more about Pixel Binning.
An S20 FE 5G review is incomplete without talking about the cameras. Coming to the cameras on the Samsung Galaxy S20 FE 5G, it has a 12 MP main shooter, a 12 MP ultra-wide, and an 8 MP telephoto giving up to 30x zoom. If you see, these all are quite practical which you will use. No depth/macro/ monochrome camera. Being a 12 MP shooter, I'll admit it doesn't capture much detail that a 48 megapixel would have done. However, the main camera is the same one that is also used on the Galaxy S21.
However, since I'll be using all the photos mostly for social media and this blog, I'm extremely satisfied with it. The cameras – all of them – provide crisp and vibrant images. The HDR is always on point the details in the shadows aren't lost. Close-up shots are pretty good and quite detailed as well. The large sensor does generate a good natural bokeh effect.
The shooter is snappy and the accompanying software complements it perfectly. The Samsung Galaxy S20 FE 5G borrows the app from the flagship S20 and S21 which means it has all the features of the flagship. The single-take feature is amazing however I loved the pro mode. The pro mode with the focus peek feature provides a great way for me to take close-up shots and keep only those things in focus that I want. The live focus is again a great feature with good edge detection. The food mode, however, isn't something that I'll use, it brightens the image way too much.
Coming to the video, the Samsung Galaxy S20 FE 5G allows you to take 4K 60fps videos without any limit. I mostly use 1080p 60fps and the quality is pretty good. With both main and ultra-wide having OIS, the videos turn out pretty good. I'd also mention that the mic here is pretty good and captures the sounds perfectly.
The super steady mode however is available only in 30fps. Live focus is available in the video mode as well. Lastly, 1080p 60fps isn't available on the wide-angle lens. Even the front camera allows video recording up to 4K 60fps.
Software Experience – OneUI 3.1 – it's good
While Oxygen OS still remains one of my favorite OS for its simplicity and features, the OneUI 3.1 would isn't bad either. Running on top of Android 11, OneUI wears the typical Samsung skin which is present on the Samsung M21 as well. The OS has quite a number of features that are unique to it, however, I do miss some of it from the Oxygen OS world.
The OS is pretty neat and clean and more importantly doesn't have ads. I suggest you be logged out of the Samsung account for a better experience. In terms of updates, I've received the May security patch in the first week itself which is commendable. Plus the software updates keep enhancing few nitty-gritty features here and there.
Battery Life & Charing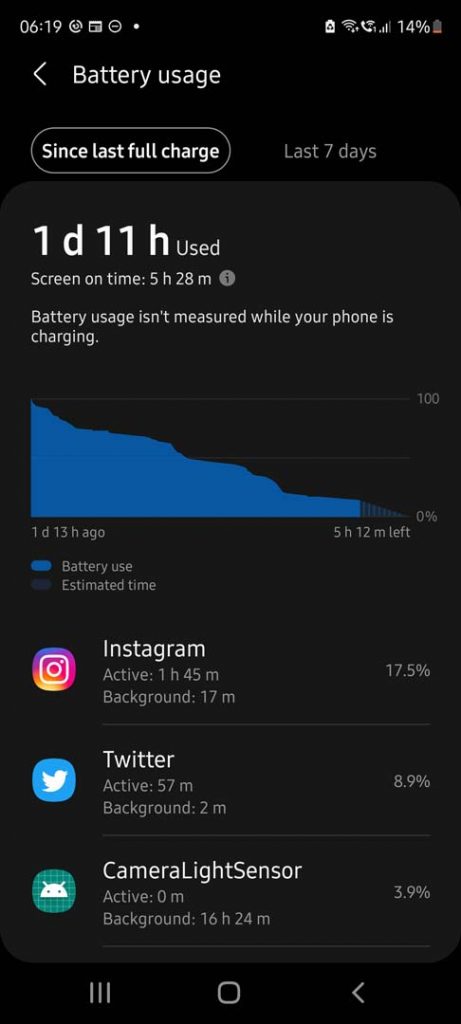 Coming with a 4500mAh battery the Samsung Galaxy S20 FE has enough juice to last a day and a half. Over the past few weeks that I've used the phone, I end the day with 30% with mostly Instagram, Twitter, and camera usage with 120Hz on. On average, it's giving a screen on time or 5-6 hours which is pretty solid.
Coming to charging, while the phone does support fast charging at 25W, the folks at Samsung provided a rather slow 15W charger in the box. It takes forever to charge the Galaxy S20 FE – around 2.5 hours from 0 to 100%. So if you are getting this phone, please buy a 25W charger separately. Either a third-party one or a Samsung 25W/45W one, but I haven't been able to find it in stock on Samsung's website and neither on Amazon yet.
Addon Features That I Liked
While these were the most prominent features of the Samsung Galaxy S20 FE 5G, I couldn't complete my S20 FE 5G review without mentioning the add ons that you get with the phone. To start with the S20 FE 5G comes with Dolby Atmos stereo speakers and the sound quality is pretty good. It also comes with wireless charging and reverse wireless charging (yet to try).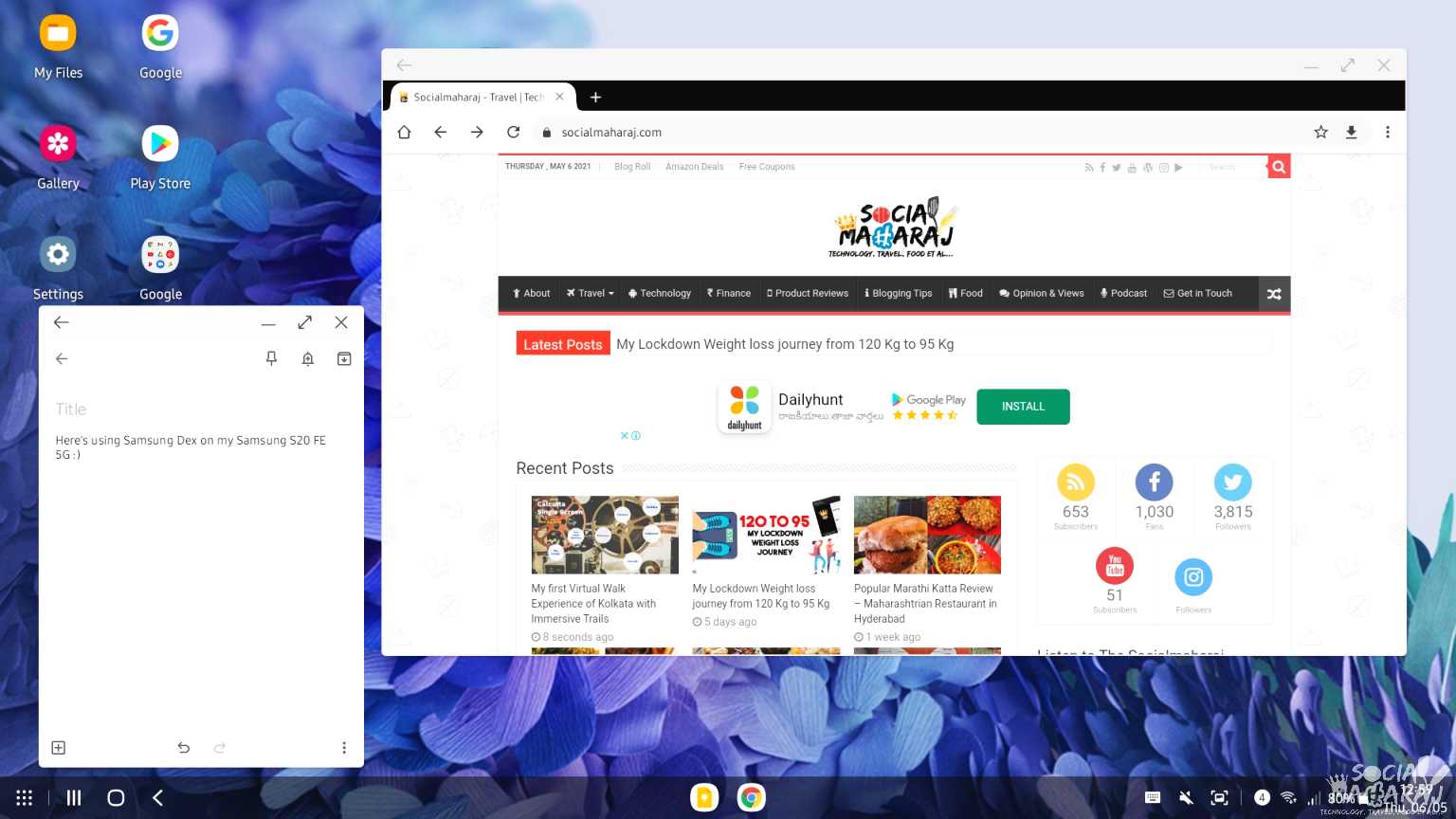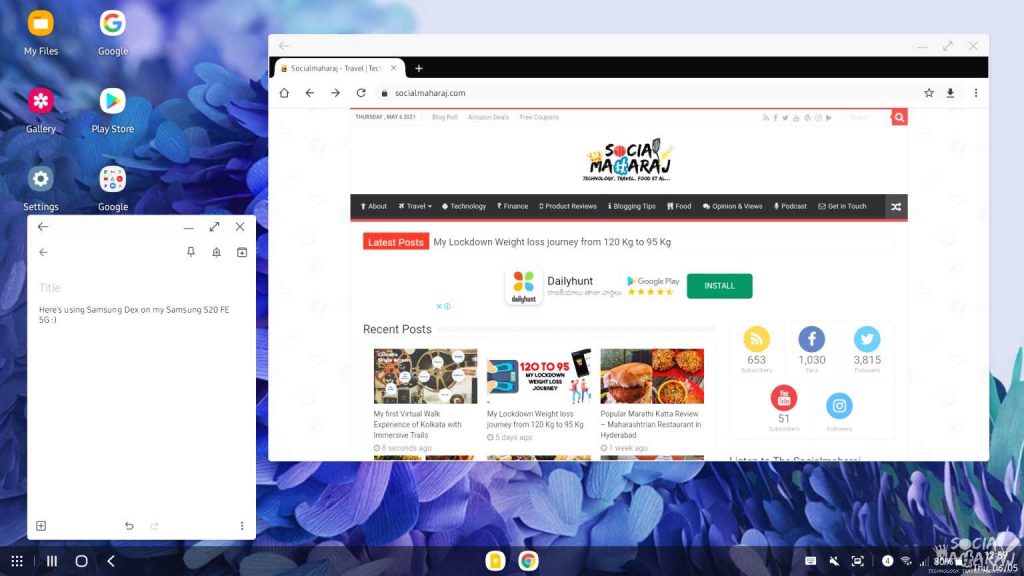 Samsung Dex is one of the standout features of the Galaxy S20 FE 5G that provides a complete desktop experience when connected to a TV or laptop. I used it both wired and wirless and it's a pretty handy especially if travel a lot.
The S20 FE 5G also allows you to ditch one SIM and use it with an SD card to expand the storage up to 1TB. The phone comes with the best in class Samsung Knox security to protect your files and apps but still missed out on the per-app lock which OP3T had out of the box.
Final Verdict: Go For It!
Coming at a price of Rs 47,999 (you can get it for much lesser with various offers) the Samsung Galaxy S20 FE 5G is surely one of the best smartphones in the market. Samsung has indeed cut corners in terms of the plastic build and slow charger, but apart from that, you get all the flagship features borrowed straight from the S20 and the S21s. While you do have other options like the OnePlus 8Pro, 8T, 9R which are priced at almost a similar price, the Samsung S20 FE 5G stands out as the most value-for-money phone for the features it provides.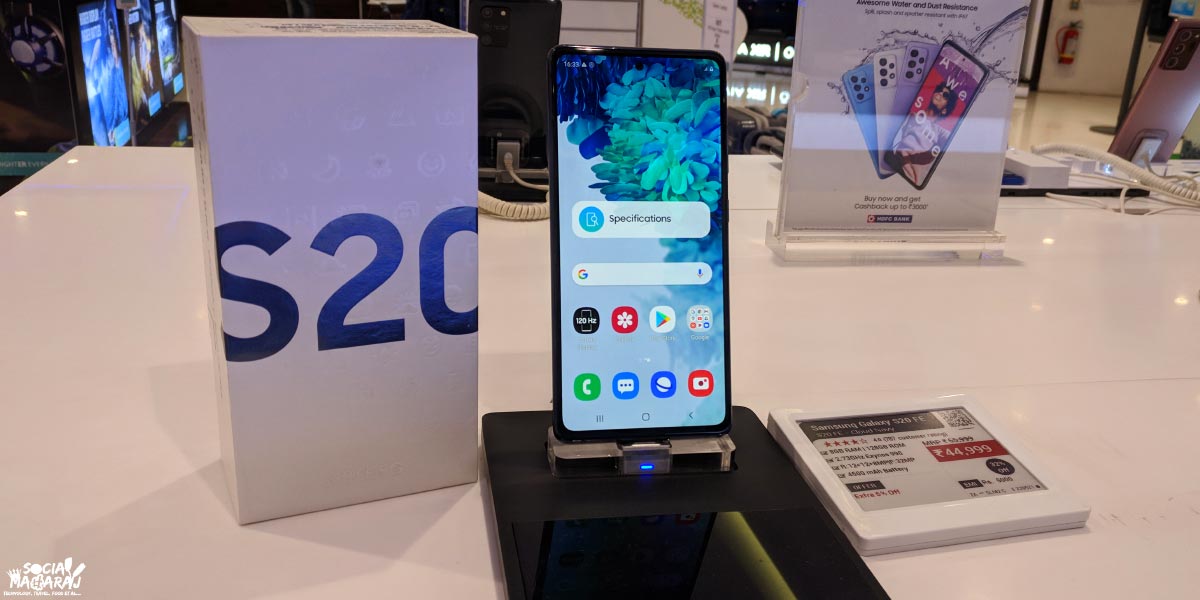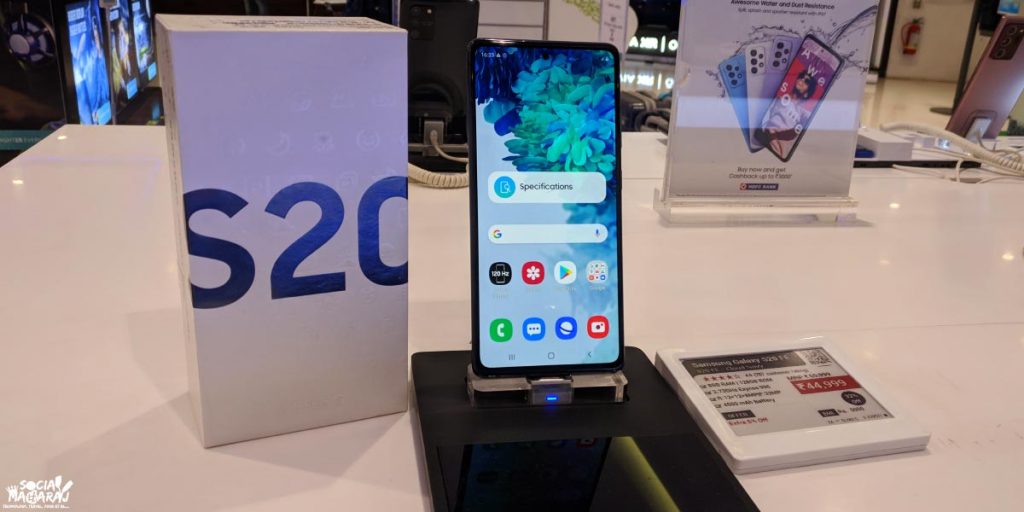 That's about it from my honest Samsung Galaxy S20 FE 5G review. I could have delayed the purchase, but then again, due to a swollen battery on my OnePlus 3T, I had to get one at the earliest.
What are your thoughts about my purchase and my S20 FE 5G review? Do you have any questions related to the Samsung S20 FE 5G? Let me know in the comments below, Tweet to me at @Atulmaharaj, DM on Instagram or Get In Touch.