How many has it happened that you are due for an important assignment in college or have an exam coming and you suddenly discover this awesome video game and aren't able to keep your hands off it? For me, it has been the case always. Be it my love for Fruit Ninja or Doodle Jump right before the college exams. Keeping the past aside, I've discovered a new game in Geoguessr and haven't been able to keep my hands off it for the last few days. If you think you have traveled the world and/or love to travel, play Geoguessr and challenge yourself!
What is GeoGuessr?
If you are wondering that this is the latest game in the market, well no. It's been there for almost 7 years now. However, thanks to the pandemic and the lockdown, I was able to find and play Geoguessr.
Geoguessr is a web-based geographic discovery game. And what does that mean? You'll be thrown at a random place in the world and you need to guess where you are. The game is based on Google Street View and you get to move around and find clues to guess where you are. Doesn't it sound interesting? Do you want to play Geoguessr?
The idea of this came up to Wallen – the developer – who loved to explore places on Google Street View. He decided to gamify that. Developed using Javascript, Geoguessr has gained popularity off late as many YouTubers have been streaming the game live to their audience.
How to play Geoguessr?
One of the best things that I like about Geoguessr is that it doesn't require you to have an expensive, beast of a PC. Any PC/laptop with a web browser and a good internet connection will suffice. When you have all of it in place, you can head to Geoguessr.com and signup for an account.
An important thing to note is that Geoguessr is not a free game. Since it uses Google's Street View libraries, it needs to pay a fee to Google and hence the users are charged. The subscription fee for Geoguessr is $2.99/month. And also DinersClub cards are not accepted – at least mine didn't work.
However, you can play Geoguessr for free as well. But it is restricted to only one game in a day. Trust me, you'll get hooked to it that you'd want to play more. If you are fine playing one game a day, you can go ahead and play Geoguessr for free.
Geoguessr Games Modes
Like I said earlier, the basics of the game is to guess the place you are at. It can be by moving around the place, reading the road signs, the vegetation, billboards, and a whole bunch of other clues that will help you. Once you have guessed the place, you need to place the pin on the map. If the answer is correct, you move on to the next round, else you restart. While that's the standard scoring options, the scoring system changes with the game modes. Do note that only paid subscribers can play these game modes.
Standard
You start by choosing a theme from a list of categories. It may be country-specific, like India, UK, etc., or theme-specific – famous places, urban cities, etc. In a standard game, you'll have 5 rounds. You'll be placed at a random place, you need to guess where you are. The interesting part about this one is that the more closer you guess to the actual place, the higher you score. The highest being 5000 points for one round. (PS: I've scored this multiple times in the India map) – Here's my Geoguessr profile.
Country Streak (My favorite)
This is by far the most addictive and challenging mode of Geoguessr for me. You need to guess only the country rather than a specific location within the country. Since the scoring here is based on a streak, a single wrong answer and you're out of the game. My highest has been 10. And I always love playing this mode, except the times when it throws me in the middle of a forest, a desert, or a highway!
Battle Royale
The mode has been popularized by various MMO games and the same concept is here as well. When you play Geoguessr in the battle royale mode, you place with a bunch of other players around the globe. It is a timed mode and you need to guess the correct place to qualify for the next round. It even has a 50/50 option to help players narrow down and make it a little easy to guess the country.
Daily Challenge
The last mode is the daily challenge. It's a timed mode with 5 rounds. It's not restricted to a country, so you can be placed anywhere in the world and you need to guess where you are. The score counts towards a daily leaderboard with other players around the globe. My highest in this mode has been 20,000 (max 5000 points per round)
My experience of playing Geoguessr
It's been close to two weeks that I've been playing Geoguessr and I'm in love with it. If you are a traveler or love to travel, this game will surely challenge you. If you think only people who have traveled the world or are good at Geography are good at this, then you are wrong. I haven't traveled outside of India yet (unless Kartarpur Sahib in Pakistan is considered) A lot of common sense, knowledge of languages, cultures can help you be good at this game.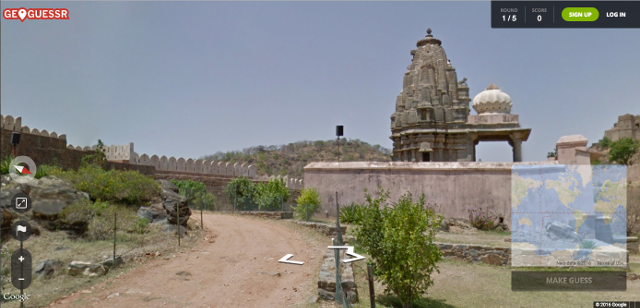 For instance, when playing an India map, I was thrown inside a random mall. I explored the place and found a billboard inside the mall that was in Tamil. Well, I don't know Tamil. But I can surely differentiate the scripts of Tamil, Telugu, Kannada, and Malayalam. And with that fact on hand, I guessed Chennai and it was in fact Vijaya mall in Chennai!
Also, this is probably the first game/service for which I've paid. I know I won't be playing this for a year, but for a few months for sure. In fact over the last few weeks, I've been playing this with my friends a lot and they love it too. We schedule a Google Meet call and play this. While the original meeting is scheduled for an hour, we easily stretch it for 3 hours! That's the level of addiction you get when you play Geoguessr.
Who should play Geoguessr?
Geoguessr is a game for everyone. You need not be a geek to play Geoguessr. If you know how to use Google Street View, you can play this game. If you love to travel and explore places, you'll definitely love this game. It's a good, challenging exercise for your brain. A good hour of playing Geoguessr can surely refresh your brain. I'm totally loving my experience of playing Geoguessr.
Did you know about Geoguessr before reading this? Have you played this? Would you want to play this? Let me know your thoughts in the comments below, Tweet to me at @Atulmaharaj, DM me on Instagram or Get In Touch.