(Long Post Alert!) The morning of February 7 was exciting, in fact I didn't sleep well last night due to the excitement. One of the items on my bucket list to cross the India Pakistan border on foot was soon going to be a reality. In this post I'll share my experience of crossing the India Pakistan border and visiting Kartarpur Corridor. Like I mentioned in my previous post, I visited Dera Baba Nanak by bus and this post will be a continuation to that.
Bus journey from Amritsar to Dera Baba Nanak
I reached Amritsar on February 6th and spent time exploring the known places. Had lunch at Kesar Da Dhaba and visited the holy shrine of Sikhs – Golden Temple. In the evening I inquired about the bus and eventually decided to ditch the train (due to timings from Amritsar) The plan was to leave Amritsar by 6 since it was going to be a 1:30hrs long ride. But thanks to the cold weather, the sun wasn't up till 8 and I didn't start by 10am.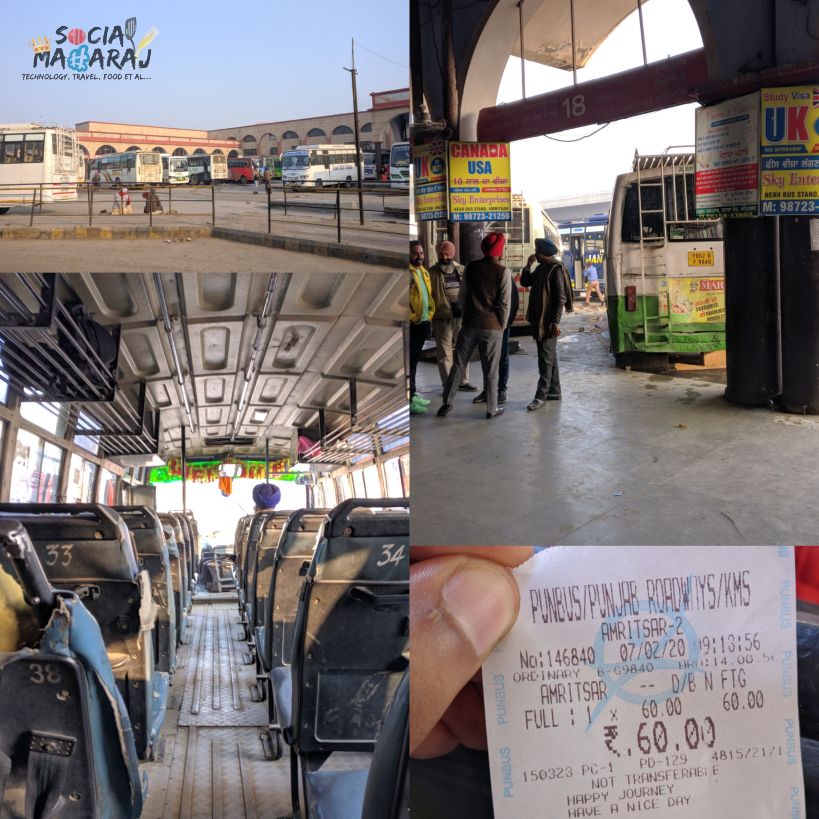 Reached the bus station, the chants of "Dera Dera Dera..." were calling me. This was from the shorter route and hence paid ₹60. The bus stops when anyone asks it to. Soon we were out of the chaotic Amritsar and entered the highway. The sight of lush green fields on both sides of the road was a bliss. It was around 11:15 when I reached Dera Baba Nanak. I checked google maps and saw that the terminal was just 2.5 kms, so decided to walk to Kartarpur Corridor. Further since I was already late, didn't visit Dera Nanak Gurudwara 🙁
Walk to the Kartarpur Corridor terminal – India
The walk to the terminal goes through all the narrow lanes in Dera Baba Nanak. I was walking with my earphones and phone in had with a huge backpack as many stared at me. Soon I joined the Kartarpur Corridor road via the service lane. That's when I got the sight of the Indian flag and the first glimpse of the Pakistan flag at a distance. My excitement had no bounds as I was visiting Kartarpur Corridor !
I casually walked past few BSF establishments and reached a check post of Punjab Police. Since I was on foot, the office inquired "Beta aapne kidnar jaana hai ?" (Where you want to go kid?) "Kartarpur jaana hai", (want to go to Kartarpur) "Bina application ke nahi ja sakta" (You can't go without the documents) *Handed him my passport and ETA copy* " Very good ! Seedhe jao yahan se"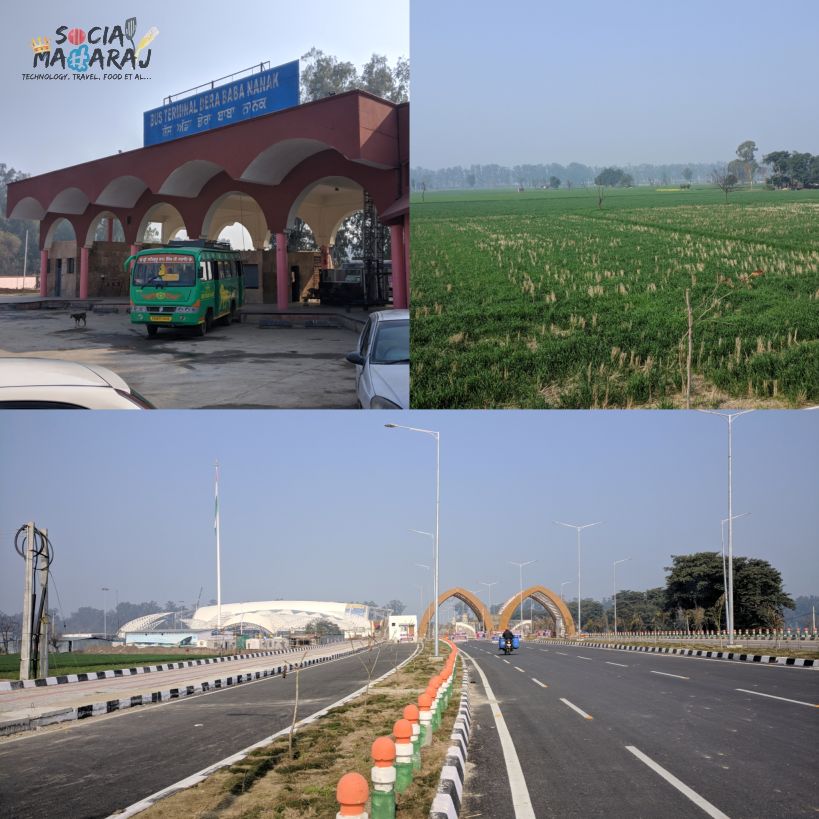 There were tri-colored road dividers and it felt different. Soon I reached the entrance of the border terminal and was stopped by the BSF jawans. The asked for my passport and ETA and guided me to the terminal building.
Kartarpur Corridor Terminal – India
The first thing you see here is the flag, it's possibly taller than the one in Connaught Place in Delhi. The next thing you see is a huge parking area. Then you see some art installations. One thing that you cannot miss out is the construction work. There's a lot of construction happening there and I thought it was all complete. You head to one of the 2 departure terminals and show your passport and ETA.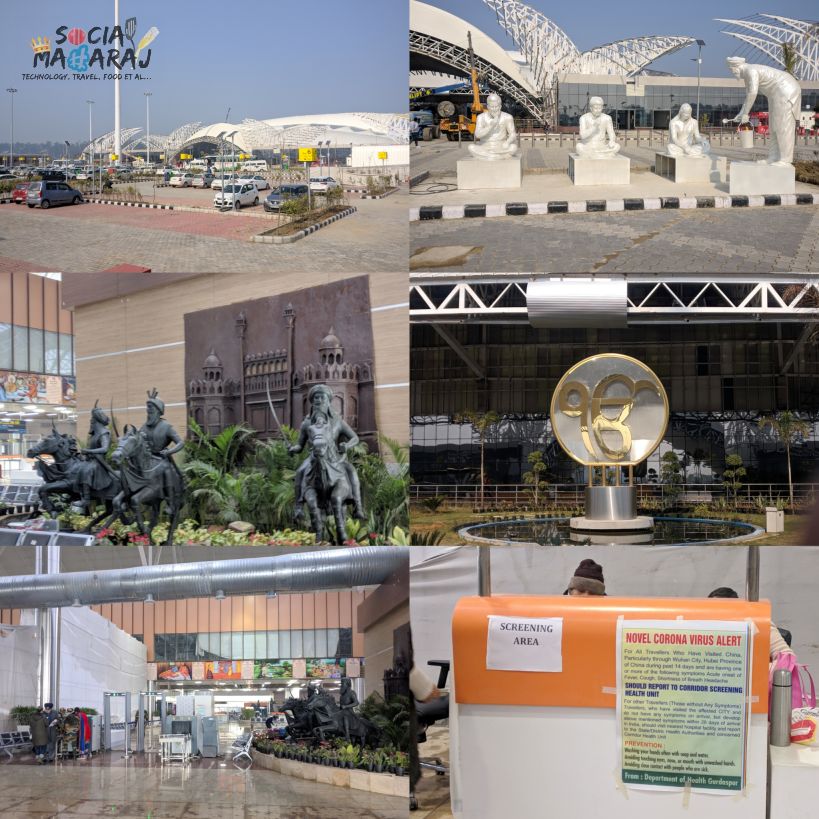 Once inside, it's exactly like an Airport sans the lounge, shops and flights. It isn't crowded and the process is smooth. Once inside gave my bag for screening and then stopped at a screening area. It's a medical screening area and everyone going from India is administered do boondh zindagi ke aka Polio drops. (It tastes Yuck !) Yes, everyone, not only kids. The reason is that Polio is eradicated from India, so they want to ensure you don't get it once you return from Pakistan. Also most of the security personnel were wearing masks due to the Corona Virus outbreak.
Quick Immigration at Kartarpur Corridor – India
Next is the immigration where they check your passport and ETA form. Make sure that every detail on the form matches the passport. There was a lady who had applied using an expired passport and the authorities didn't allow her to visit. This was my first immigration ever and was possibly the shortest and easiest. Once done, fill the declaration form detailing all that you are carrying. Another round of baggage screening before you are at the departure.
Golf cars are waiting to ferry you to the border. The drive is a few seconds to the zero line but it's a completely different feeling as you are surrounded with tall trees with BSF jawans keeping an eye. At the border, your passport and ETA checked again. I realized that I was so excited that I forgot to take photos of the border !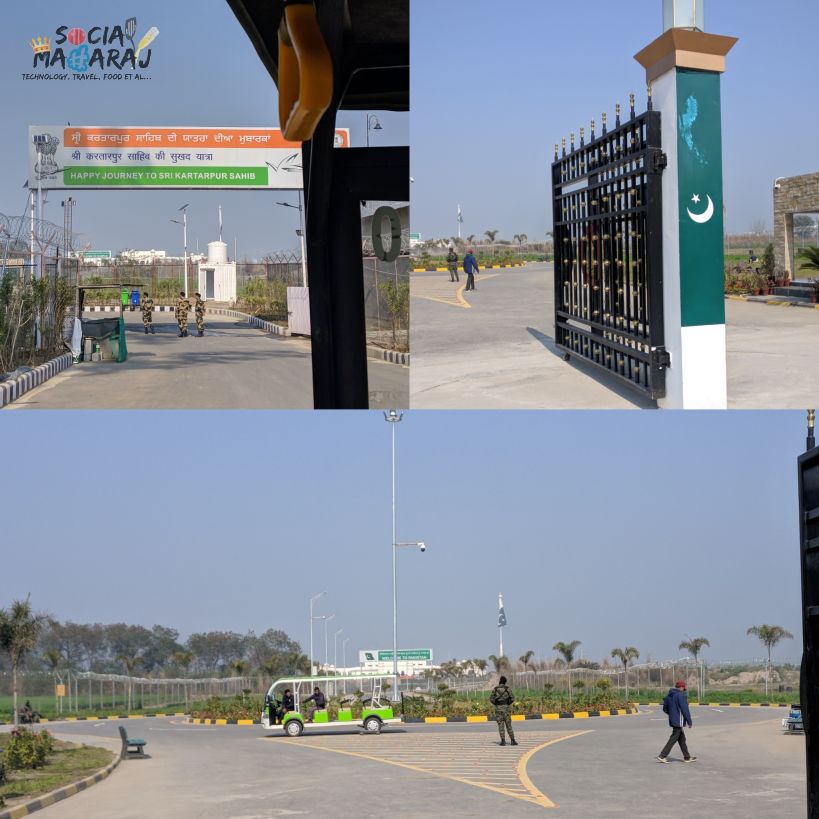 Entering Pakistan via Kartarpur Corridor
The first sight you get of the Pakistan side of the border is at the final checkpoint where you are facing the border. You get off the golf car and are told to walk to Pakistan. Ticked off my bucket list – Cross India Pakistan Border on foot ! Few Pakistani guards present there are still as rock. Once you cross over and enter into Pakistan, you are greeted by a Pakistani Jawan. "Humare Mulq mein aapka swagat hai." is what I was told and I shook my hands with a warm hug before I proceeded to another golf car to the immigration. The website mentions that you can walk to the immigration, but while going they didn't allow me to walk. A quick drive and you reach the Pakistan Immigration terminal.
Kartarpur Corridor Terminal – Pakistan
The building on Pakistan side is no less than an architecture marvel. First things first, you have two counters there. One for the money exchange and other for entry fee. Like I mentioned earlier, there's an entry fee of $20 per head which needs to be paid in USD ONLY. Due to lack of time I couldn't arrange for the cash and had to get it exchanged here. The rate was pretty bad, 1USD=79Rs, so paid ₹@1790. They don't accept card and you need to pay in cash only. Plus they don't have change and want exact amount. So I gave them ₹2500 for $20 entry fee and remaining for Pakistani Rupee. Got about 1400 PKR. At the next counter, you pay the entry fee and get a receipt. You take this receipt and enter the Pakistan Immigration. (Keep this receipt safe)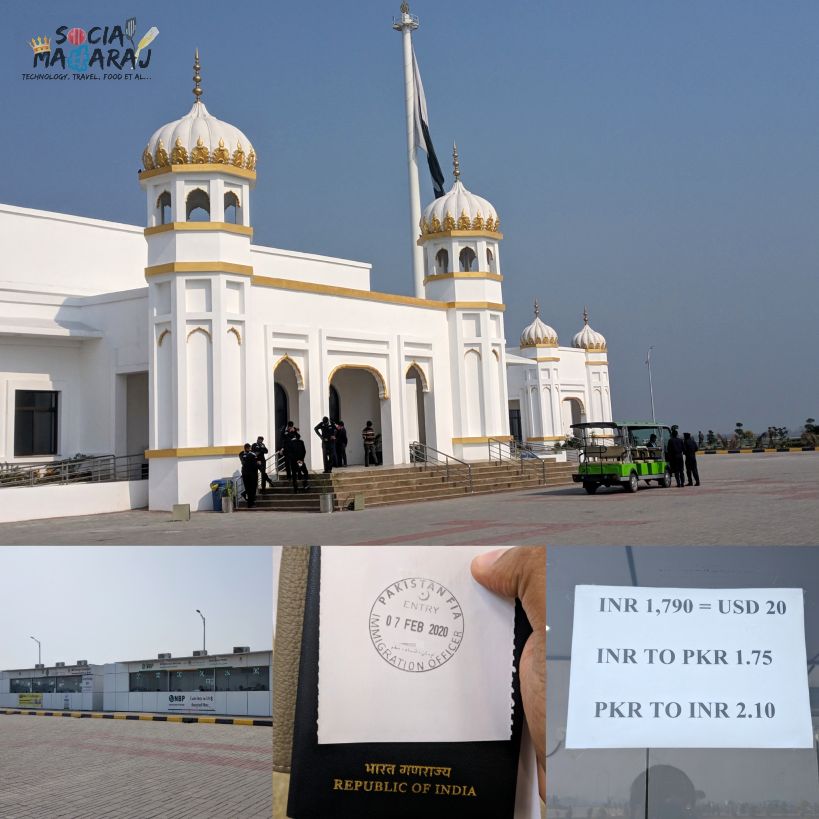 Quick Immigration at Kartarpur Corridor – Pakistan
Once you are in Pakistan you don't need the ETA form. It's only your passport that is required. However, keep the ETA form safe as you need to deposit it once you return to India. At every step you are greeted by the Pakistani forces which makes you feel welcomed. I made a conscious effort to use Salaam–Alaikum instead of Namaste, Shukriya instead of Thank You and Janab instead of Sir. The process is quite similar to that of the one in India. Passport is scanned, photo and fingerprint is recorded. And a small talk at almost every step 🙂 Here's the one I had:
He: Welcome ji, welcome to Pakistan.
Me: Shukriya janab, kaise hain aap ?
He: Sab Khariyat, aap sunaien
Me: Dua hai rab ki
He: Aap Sharma hai, Hindu hai ?
Me: Ji janab
He: Hum bhi ek Sharma ko jaante hain, Rohit Sharma, aap unke rishtedaar ?
And all of us had a great laugh and the entire building echoed with our laughter ! They stamped "Entry" behind the payment receipt I got earlier. Next they verify your passport and this receipt before giving you a yellow Yatree Tag. Again a baggage screening. Their scanners caught my Haldiram Peanuts and I offered the pack to them. On the other side, an AC bus was waiting to ferry us to the Gurudwara.
Bus ride to Gurudwara Darbar Sahib
Based on the timing and availability, you may be the only one in the bus. And that was my case. It was almost 12 when I reached and most people told me you are late as many go back by this time. The entire stretch is surrounded by lush green fields and barbed fences along side Pakistan Watch towers with the Pakistan flag. I don't know why they have the flag everywhere. Anyways, the road is amazing as you zoom towards the Gurudwara. Crossing over the Ravi river and getting the first proper glimpse of Darbar Sahib amidst the fog.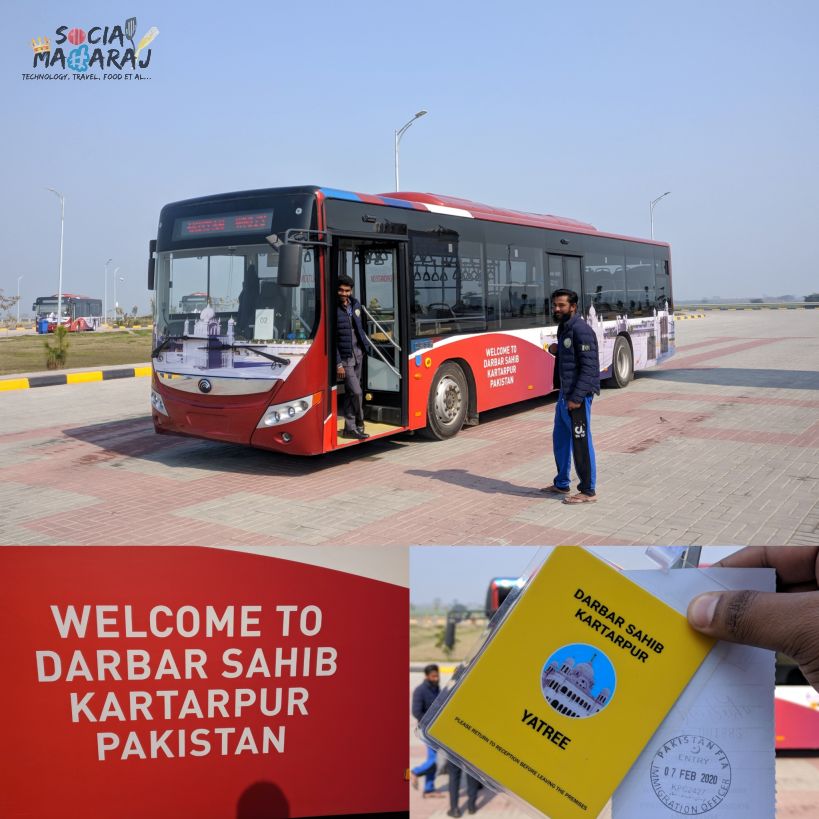 During the journey, chatted with the driver, security personnel and another officer about education, employment and everything else. Upon reaching the Gurudwara, you are greeted again and your passport and entry stamp verified again. That's the last point when your documents are verified until you return. And there I was, at the Gurudwara Darbar Sahib in Kartarpur, Narowal, Pakistan !
Kartarpur Sahib Gurudwara
The Gurudwara has two separate entries for Indians and Pakistanis before they meet inside the premise. The main Gurudwara is in the center and the whole complex surrounding it, terminal buildings, roads were made within 10 months by Imran Khan and team. And that's why I felt $20 is justified. Kudos to them for such a beautiful facility. The complex is huge and extremely well maintained. The Gurudwara and the complex stand tall in white and shine bright.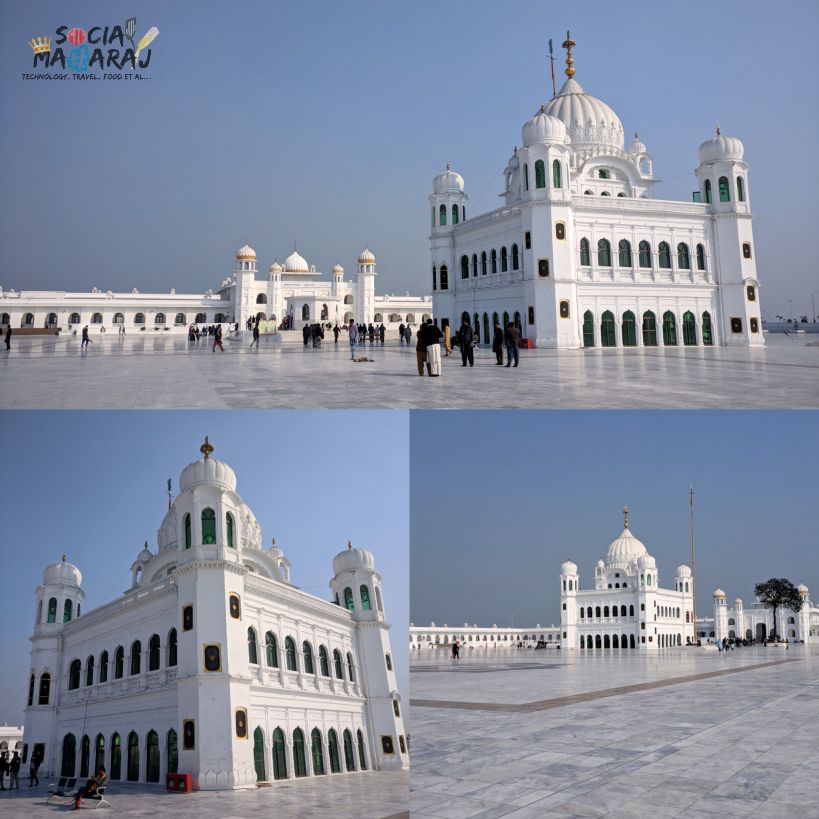 It's a huge open area where people walk, talk and relax with the main shrine in the middle. Though it mentions to cover your head inside the premise, it's not strictly followed. Also the whole religious feel of the place is subdued due to the location and the fact that Indians and Pakistanis visiting the area. Nonetheless, the main shrine is extremely well maintained and it's must to cover your head when going inside. The hymns are played on the first floor, and you have place to sit in there. First things first, I headed to the main shrine for darshan and spent some time soaking in the atmosphere.
The facilities are top notch. There's locker facility where you can keep your bags. Ample public convenience and drinking water setups. There's also one Religious Discussion room where there are art installations by Pakistani artists showcasing Sikhism from their point of view. There were some really nice installations there !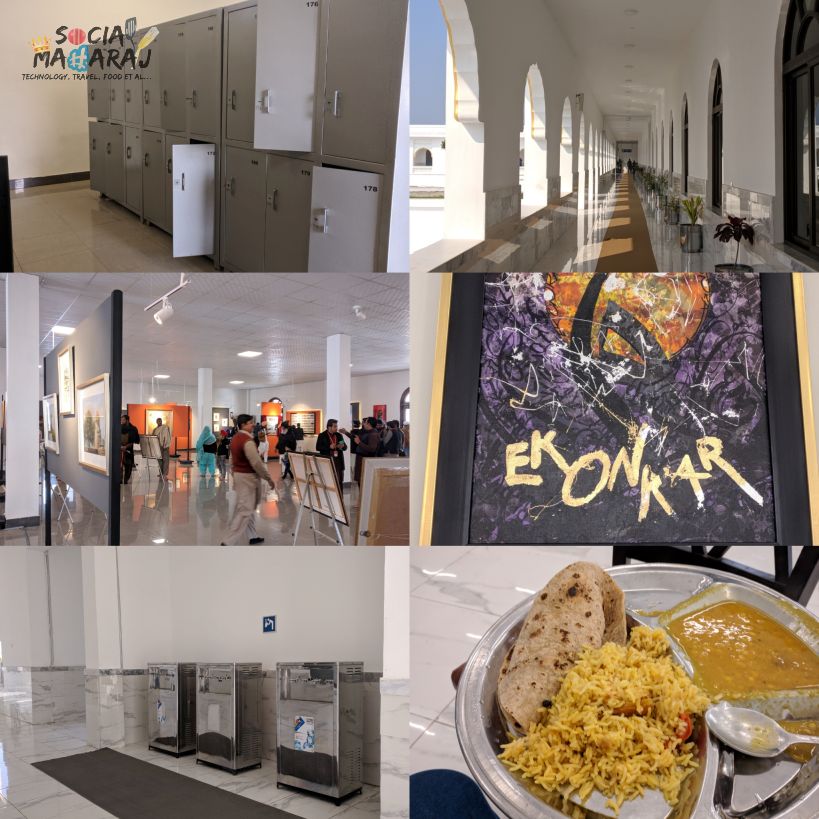 And how can one not have the Langar when at a Gurudwara ! And when you are visiting Kartarpur Corridor, you cannot miss out on the langar. There's a langar hall beside and it's extremely clean. Though it's not as big as the ones at Golden Temple or Hazur Sahib in Nanded, it can house quite a few people. On that day there was Masala Rice, Chana Dal and Roti and as always it was extremely delicious !
Meet and Greet Pakistanis at Gurudwara
Further, like we Indians are given a yellow tag, Pakistanis are given blue or red tags. Couldn't ask why it is so. I was looking for anyone with this tag and started talking with them. You start talking to one, and soon there's a group of people around you. You share your interests, work, life, food, cricket and everything else. Lots of selfies and photos taken, numbers exchanged and social media following starts. And yes people in Pakistan are PUBG addicts too ! And lastly everyone there felt the need for more such initiative where common people can meet and spread love and happiness. I met quite a few people and it was amazing to know their side of the story.
Shopping at Kartarpur Corrdior
When you have foreigners (read Indians) visiting Kartarpur Corridor, how can you not have shopping area . Right next to the Pakistani entrance is a small shopping complex. There are small shops selling everything from handicraft items, food, clothes et all. There's also a money exchange counter there. I did have some cash to spend and being a foodie, I bought eatables 😛 I visited the tuck shop there and bought chocolates, biscuits, chips and drinks. All of it not available in India. Apart from these, I also bought Hafiz Sohan Halwa from there. Below is my shopping loot after visiting Kartarpur Corridor.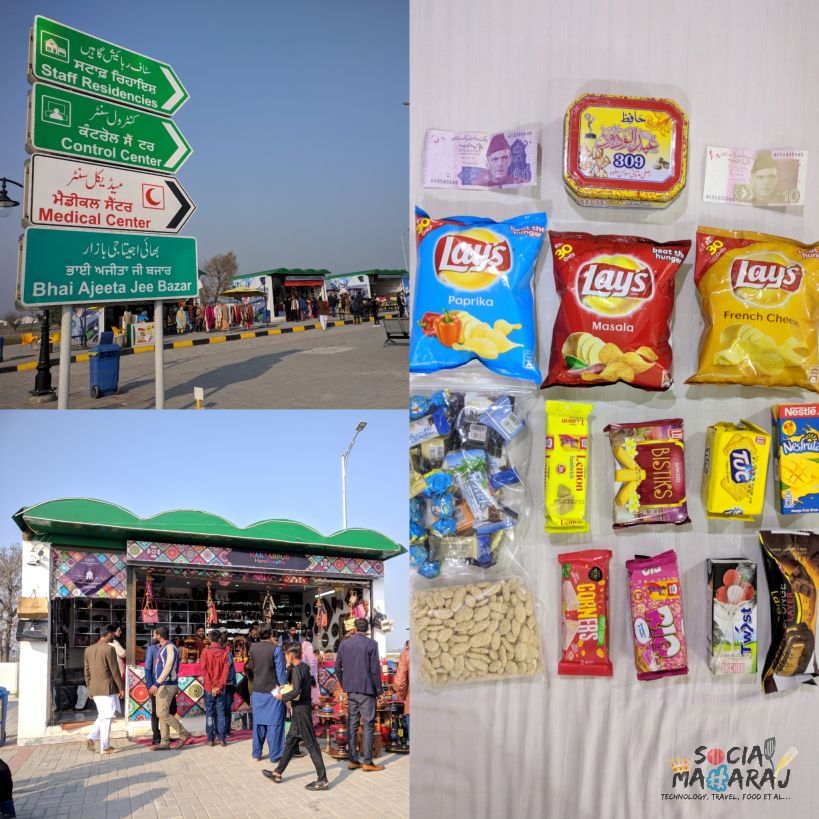 Kartarpur Corridor – Experience of a lifetime
I started this Kartarpur Corridor series by mentioning that it is a landmark step in the history of India and Pakistan relations. So before anything else, the Pakistan Prime Minister Imran Khan deserves an applause for this initiative. The entire facility was built for the Indian pilgrims and must say they've done an amazing work. The whole process is seamless and you get the utmost care, attention and affection. Mr Modi too deserves his share of applause too for this.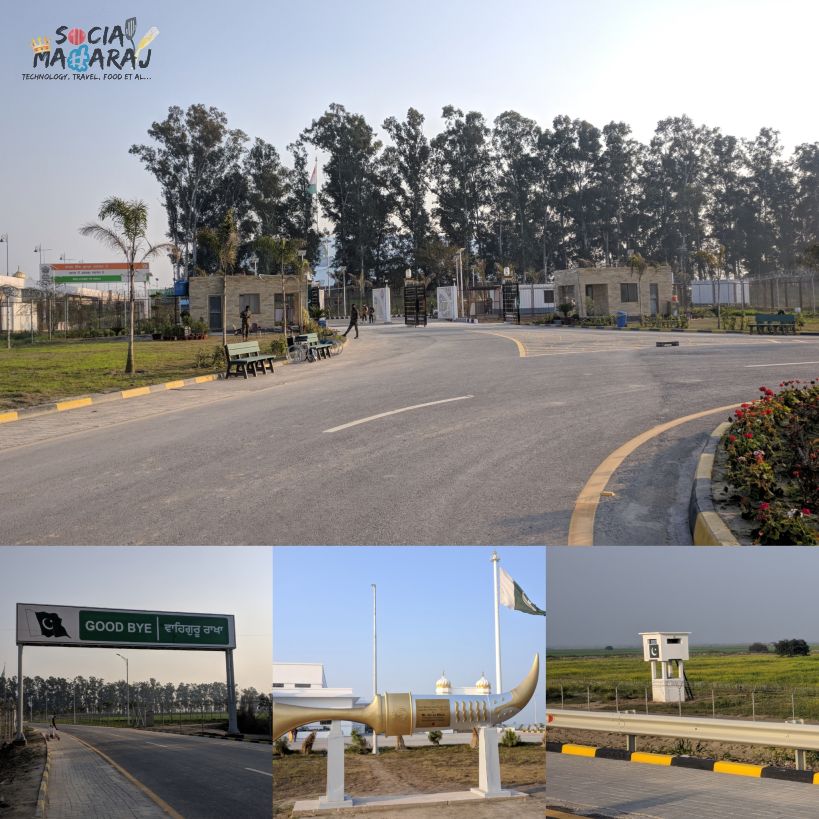 It's great that anyone and everyone is allowed to visit the Kartarpur Corridor irrespective of their religion. Further this is the only place where you can meet and greet Pakistani people. Because apparently getting a Pakistani Visa isn't easy. I would suggest you to plan a darshan to the Gurudwara and get an experience of a lifetime. Trust me doing darshan in a foreign country especially Pakistan, meeting like minded people and walking across the border and returning back to India is surreal. I made a lot of friends there and inshallah we will plan to meet again at the same place.
I hope you liked these Kartarpur Corridor blog posts and found them to be helpful. In case you have any question, doubt or need any information do mention in the comments below or tweet to me at @Atulmaharaj or DM me on Instagram.