"Gar Firdaus bar-rue zamin ast, hami asto, hamin asto, hamin ast" is THE famous lines said by the Mughal emperor Jehangir when he visited Kashmir for the first time. These lines translate to "If there's heaven on earth, it is here." Jehangir was moved by the sheer beauty of Kashmir and would often quote this. Your very own Maharaj was on an outing last weekend to Kartapur Sahib in Pakistan. And during that trip I happen to dine at the Kesar Da Dhaba. By reading the title of the post it is quite clear what I have to say. If there's heaven for vegetarians, it is Kesar Da Dhaba Amritsar. Like always this post is going to be my Kesar Da Dhaba Amritsar review.
Narrow Alleys leading to Kesar Da Dhaba Amritsar
The city of Amritsar doesn't boast of wide roads, except the highways. The holy city is thronged by millions every day to seek blessing and pay their respect at the Golden Temple. Which by the way has been transformed. The area leading to the Golden Temple gives you great vibes with beautiful buildings.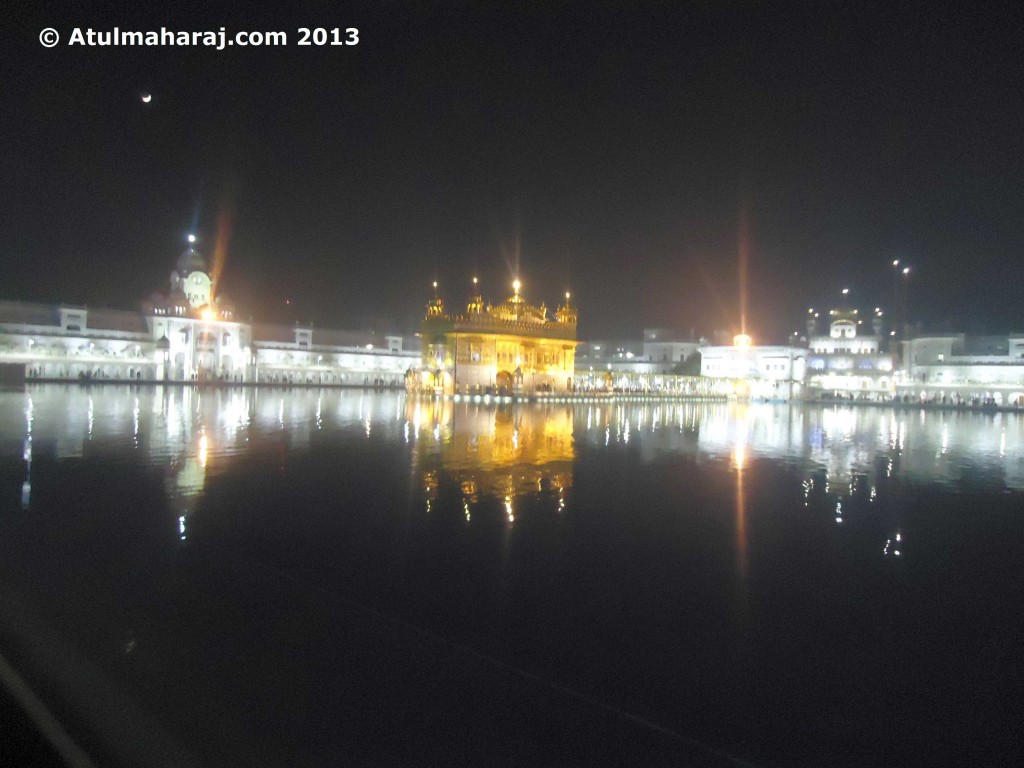 Walk a kilometer away from the Golden temple and you are in the narrow alleys of Amritsar. These roads are filled with bikes, scooters & e-rickshaws to an extent that even walking can be tough at times. But as they say, the road to heaven isn't easy. To reach Kesar Da Dhaba you need to take one of these narrow alley crossing the Shashtri Cloth market on the way. It's about a 2 km walk from the Golden Temple, and I strongly suggest you to walk there instead of talking a ride. You will get the essence of Amristar.
Kesar da Dhaba Amritsar – the old school Dhaba
Located in the one of thousands of narrow alley in Amristar is the Kesar da Daba. Founded in 1916, Kesar da Daba Amritsar is the epitome of vegetarian Punjabi Cuisine. The dhaba did evolve a lot since then sans much flashy banners or cozy interiors. Kesar da Dhaba is a group of 4-5 shops in a line with a distinct blue paint job done. One of them is where they prepare desserts, the other is a dedicated dessert shop, the next is the Kesar da Dhaba and one exactly opposite to this is the newly opened dining area.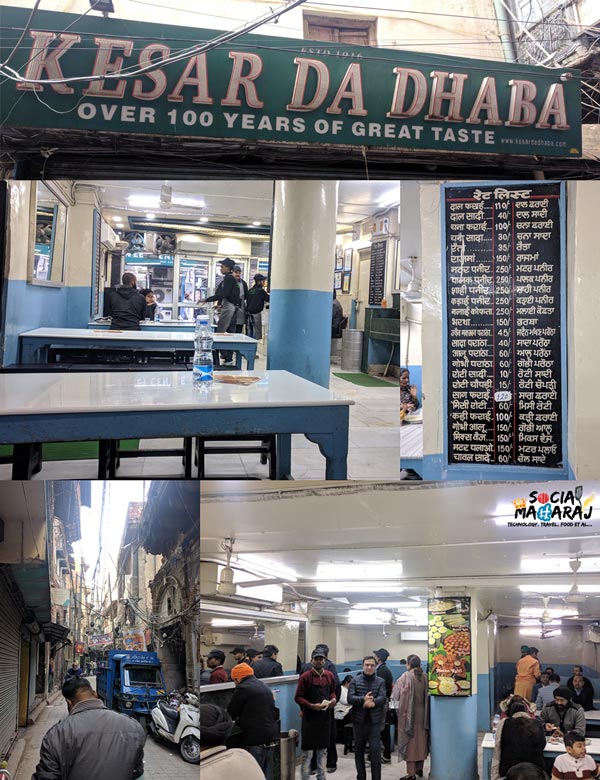 Like mentioned earlier, Kesar da Dhaba is all about the food and hence you have the bare minimum interiors. Low-level tables and stools with walls separating the tables. I realized that one cannot sit here for a long time since the table is quite low and the sitting space is quite congested. Moreover, the place can get so crowded that you might have to share your table with someone.
One good thing about Kesar da Dhaba is that the kitchen area is open. You can walk into the kitchen and see fresh rotis being dished out and dals being given the 'tadka'. The kitchen is full of aromas enough to put you in a state of gastronomical high. Though the hygiene might be a concern for some.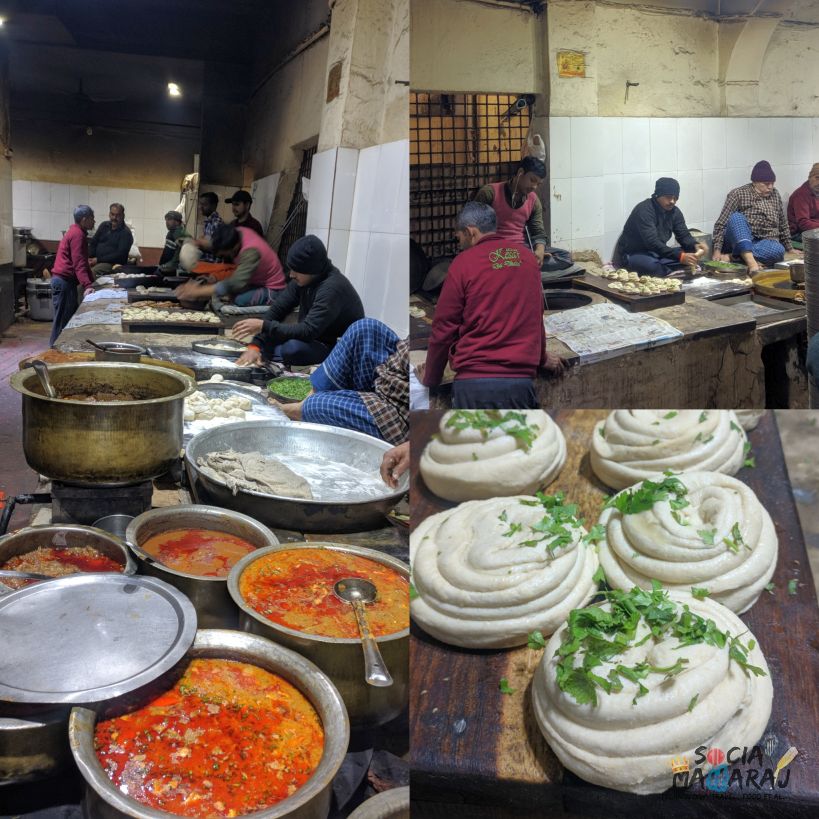 A Vegetarian's Paradise – Kesar da Dhaba Amritsar review
Quality above Quantity seems to be the motto at Kesar da Dhaba. Their menu barely has 40 items. (That after all the combinations of dishes) From their iconic Dal Makhni to Kadhai Paneer, Rajma and Baigan Bharta and Saag is what they serve. All of these except Dal Makhni are available as half plate also. For rotis they have regular roti, churian roti, lachcha paratha and naan. They do serve few variants of rice and have Ras Malai, Gulab Jamun and Phirni for desserts.
I had landed in Amritsar at 11, took a bus to my hotel near Golden Temple and walked almost 5 kms to reach Kesar da Dhaba. I need some delicious food ! Being the foodie that I am, the Maharaj decided to order everything ! Instead of ordering the Thali – which didn't have all the dishes I wanted – I went a'la carte. I had the Dal Makhni, Kadhai Paneer, Rajma, Laccha Paratha, Churian Roti and Phirni.
Best Punjabi curries you can get
The wait time isn't much since most of these dishes are already prepared. They just give the 'tadka' and serve it hot. The rotis however are made to order. I clicked a few photos as I waited for my food to arrive. And there it was, my food at Kesar da Dhaba Amritsar.
The first thing that you will notice on your plate is the Ghee. Be it the dal, curry or roti, it's laden with Ghee/Butter. Your gym trainer will surely kill you for this. If you've even the slightest of guilt looking at it, just leave. The food is not for the faint-hearted foodies.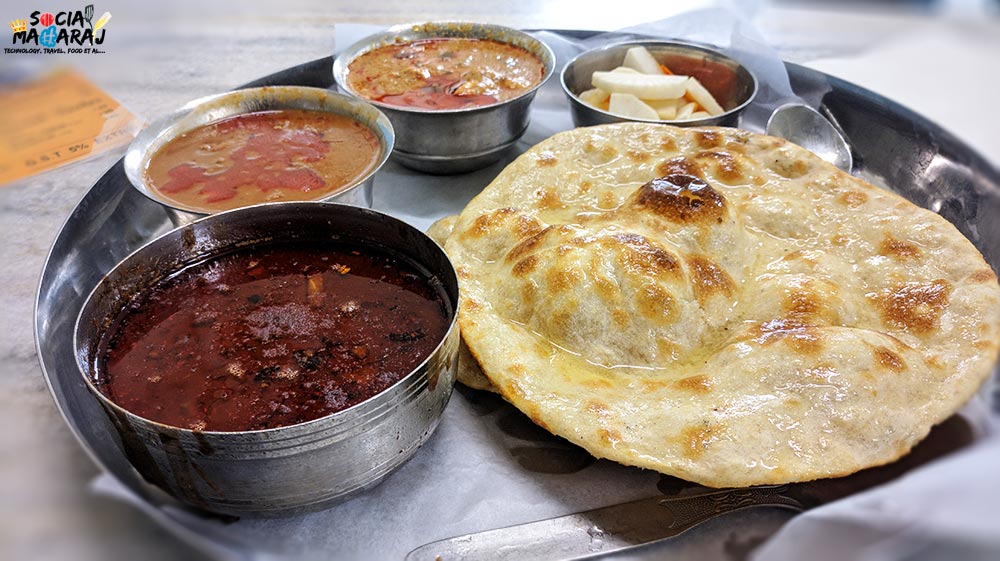 I started by tasting a spoon everything that I ordered. Kadhai Paneer was nicely done with big soft chunks of Paneer in it. The flavors were subdued by the cream however. The masalas were just enough and had a balanced taste. Moving to the Rajma, surely has to be the best I've had. Cooked to perfection, the Rajma beans weren't too hard, neither too soft. The gravy too was just perfect.
Lastly, coming to my favorite Dal Makhni. The Best Dal Makhni undoubtedly. Laced with ginger and Makhan, the Dal Makhni is a must try here. The butterylicious dal is a treat to your tastebuds. It extremely flavorful and the spices are balanced. The Laccha Paratha was cooked perfectly. The layers had come out nicely – crispy on the outside and soft on the inside. A must try here.
Delicious Desserts
The first time I had Phirni was in Amritsar in 2014. Post that I've had many and all of them were no where close to what I've had here. Priced at just Rs 25, the Phirni at Kesar da Dhaba Amritsar isn't to be missed. The mildly flavored Phirni served in an earthen pot is coated freshly with silver foil. The taste is just amazing. If you are fond of sweets, you will surely love this. The Ras Malai on the other had is slightly on the sweeter side. Unlike other places where the ras has got a liquid consistency, the one here is more like a Rabdi. 4 tiny little Rasgullas dipped in Rabri – pure bliss !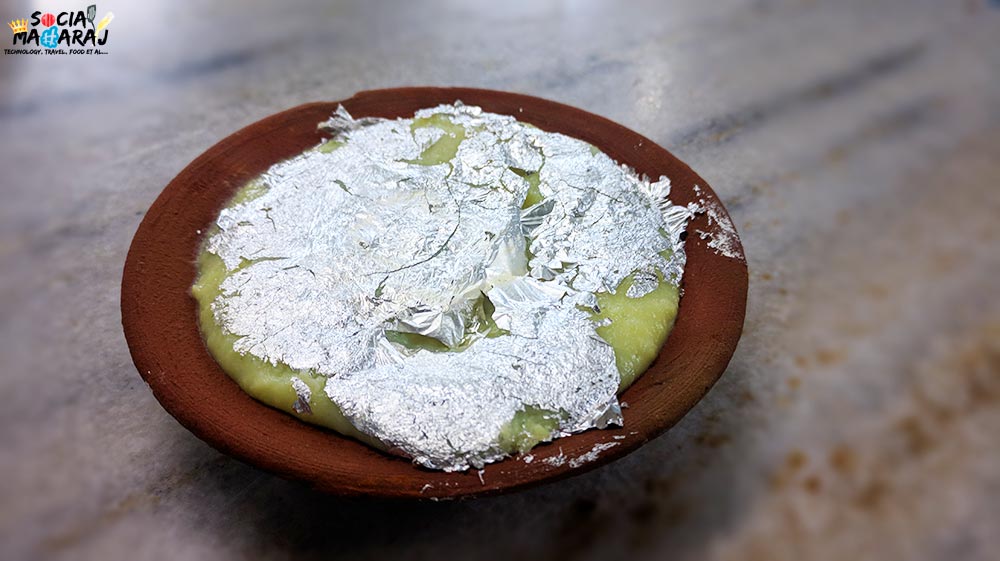 Must Visit – Kesar da Dhaba Amritsar
You would have surely read a lot, seen a lot of videos about Kesar da Dhaba in Amritsar. I can vouch the fact that Kesar da Dhaba is totally worth your time and money. All the times that I had above costed me about Rs 450 which is pretty good considering the quality. The service is quick and the serves are just waiting for you to finish that one roti so that they can get another one. The Dal Makhni is a must try and so is the Laccha Paratha and Phirni.
Forget your fitness/calorie goals when you are at Kesar da Dhaba and enjoy every bite. So after this scrumptious meal, I decided to walk back to my hotel ~5kms to counter the eat feast I just had. Have Kesar da Dhaba Amritsar in your Itinerary the next time you are there. Liked the post ? Leave your comments below or tweet to me at @Atulmaharaj or DM me on Instagram.