Hyderabad is a gastronomical fantasy that everyone wants to live in. A perfect mix of the Nizami cuisine along with the kiraak street food and the local Andhra/Telangana food. Being a Hyderabadi for close to 8 years now, I've fallen in love with the city. From the people to the language and the food.
Though I feel that Delhi and Lucknow have far better vegetarian options than Hyderabad has to offer. Nonetheless, being the only vegetarian Hyderabad Food Blogger, I've explored quite a few places when it comes to vegetarian food.
This blog post is the ultimate list of vegetarian food at Charminar that I've tried and tested over time. The reason this blog post is coming out now is that I was on a food walk at Charminar last night. It was my first time at the Charminar in the evening during Ramzan.
Was there to soak into the festive vibes of the city and admire the beauty of the Charminar. Further, I'll try my best to update the list as and when I visit Charminar with new additions. So all set to check out the ultimate list of vegetarian food at Charminar?
Tried & Tested Vegetarian Food at Charminar
Chai Biscuit at Nimrah Cafe
The first and foremost place that I recommend anyone to visit while at Charminar is Nimrah Cafe. Established a couple of decades ago, the cafe is an iconic spot right in front of Charminar. It's popular for bakery items like biscuits, cakes and bread along with the popular Irani Chai.
The chai at Nimrah is quite different from the rest. It's quite creamy sans any masala and a little on the sweeter side. There's no best time per se to visit Nimrah cafe, but I prefer visiting early in the day – around 6 am. Rote ka biscuit, Osmania biscuit and chai are a must-try here.
Tawa Idli, Masala Dosa at Govind ki Bandi
The second place on my tried and tested list of vegetarian food at Charminar is Govind ki Bandi. Govind Garu has been dishing out some yummylicious dosas and idlis for close to 4 decades now. Located a little further from Gulzar House, Govind Ki Bandi is a local favourite.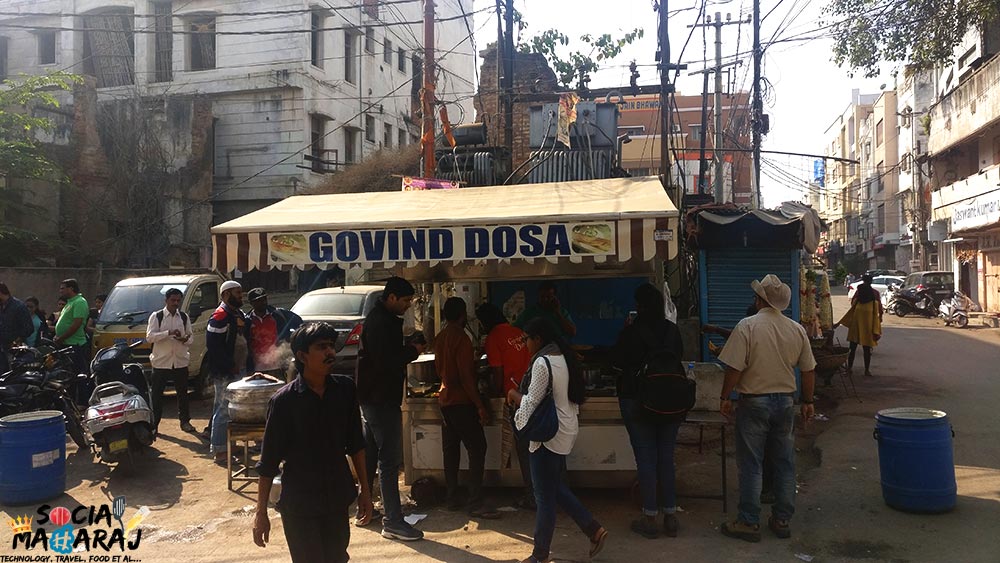 The stall opens at 6 in the morning and gets quite crowded as the day progresses. Viewing the dosa making process is a treat to the eyes. the butter-laden dosa is most loved followed by the Tawa idli. Like most other places, they don't serve Sambhar and things can get pretty spicy too.
Poori Subzi, Samosa at Agra Mitha Ghar
One thing that many people might not know is that a large area around the Charminar is occupied by Marwaris. They settled here almost a century ago. That's why there's a variety of vegetarian food around Charminar.
One such place that I tried recently is Agrawala Sweets. It's one of the oldest shops in the area selling some delicious sweets and snacks. The shop has a little seating area at the side and serves dishes like Samosa, Kachori, and Dhokla along with Poori Subzi, Lassi and buttermilk. The poori subzi is quite good and has a homely taste. It's a typical aloo subzi with lots of garam masalas. The samosa too is pretty good and unlike others, it isn't sour in taste. You should also try the buttermilk and ras malai here.
Mulberry Cream at Milan Juice
In one of my recent posts, I spoke about how Instagram has ruined my food. Eateries today focus on making food more Instaworthy. One dish that I came across on my feed was the Mulberry cream at Milan Juice at Charminar. I had a notion that it might not be good but people are just posting about it.
However, I was proved wrong when I actually had the Mulberry cream recently. It delicious! It's a rich, creamy and aptly sweetened dessert loaded with mulberries. It's a dessert worth trying when you're at Charminar. Apart from that, Milan Juice serves fresh fruit juices, milkshakes and falooda. The place isn't very grand or clean, so keep that in mind.
South Indian Thali at Anand Bhavan
Anand Bhavan is a lesser know place near Charminar. Located a little further from the Charminar, Anand Bhavan serves south Indian food. From breakfast to lunch and dinner, the place is surprisingly crowded. I've been there a couple of times and loved their South Indian Thali.
It's a simple and typical Kamat hotel-style thali with poori, rice, curries, sambhar, rasam, and curd. The flavours are decent and so is the price. It's my mom's favourite place, so whenever I go to Charminar with her, the thali is always on the card. There's also a softy ice cream right below Anand Bhavan that you could try.
Special Lassi at Matwale Doodh Ghar
Another place that I visited during my Ramzan food walk was Matwale Doodh Ghar. Located near the iconic Pista House, Matewala has been here for a few decades. As the name suggests, the place serves lassi and ice cream only. They have a variety of lassis – special, normal, with ice cream and salted to name a few.
I'm not a big fan of sweetened curd, hence I opted for the salted lassi. It was extremely creamy and rich. It's been a long time since I had such lassi. The special lassi on the other hand was loved by all, however, it wasn't as creamy as the salted one. Further, the flavours aren't great, but good for Hyderabad standard. It's quite crowded, however, the service is quick and fast.
Kacchi Kairi
If you are visiting Charminar during summers, you'll find plenty of folks on bicycles selling raw mangoes. Kacchi Kairi (raw mango) is a popular food across India, especially during summers. For about 80Rs you can get a huge mango, cut into slices and drizzled with a delicious salt mixture. It's this salt seasoning that does the trick. There's no specific place for this, but you'll find a lot of people on bicycles selling these. It's great for summers be it evenings or mornings.
Patti Samosa
Amidst the glitter of bangles, you'll find these golden samosas called Patti Samosa. These are predominantly meat-filled, but there's an onion filled variant that is quite delicious. You can find this at stores near Nimrah cafe or again at small food carts around Charminar.
These are smaller in size and crispier compared to regular samosas. The onion filled ones are quite popular and taste different. Again, not any specific shops, but you can find them all around. Just make sure to verify that the samosa is vegetarian because you don't want to eat meat. Do you?
Maharaj's list of Vegetarian Food At Charminar
As I've numerous times, Hyderabad is heaven for meat-eaters. Finding vegetarian restaurants in Hyderabad is difficult but not impossible. I've been to Charminar so many times and every time I visit, there's something new for me to try.
If you are a vegetarian in Hyderabad or someone looking for vegetarian food at Charminar, I hope you found this list helpful. If you think I've missed out on any places, please feel free to mention them in the comments below. I'll plan to visit them and update this post accordingly. You can also tweet me at @Atulmaharaj, DM me on Instagram or Get In Touch, to share your suggestions 🙂