Last Updated: Dec 04, 2022. It's the onset of the holiday season across the world. This is the time of the year when most of the world gets into the holiday groove. While that's not so true for India, thanks to the multinational companies (and movies, and web series from the west) for bringing festive vibes to India as well. Especially for hotels and cafes, this is the time when they gear up for the festivities. And the first activity to kick start the festive season is the cake mixing event.
Over the years that I've stayed in Hyderabad, the scale at which cake mixing events happen in Hyderabad has increased manifold. Earlier it was only up to the star hotels in the city to organize a cake mixing event. Off late I'm seeing a lot of cafes, and small eateries also joining in the festivities. I'm fortunate to be a part of many such events over the last two years. I'll admit that I'm invited to these events, but trust me it's a whole different experience.
In this blog post, I'll share some of the cake mixing events in Hyderabad that happen and that I've been a part of. The idea is to make this a one-stop list of cake mixing events in Hyderabad so that you are aware of the events and can also try to participate. Hence, the first cut of the list would be the ones that I've experienced personally, and as and when I got to newer places, I'll update this list. But before that what do we know about cake mixing?
History of Cake Mixing
Cake mixing or fruit mixing as it was known, is an age-old Christmas tradition that dates back to the 17th century. This event marked the onset of the harvest season and families would come together to celebrate the occasion. A lot of fruits, mostly dry fruits, and nuts were mixed and everyone was a part of this event. From raisins, almonds, cashew nuts to exotic dry fruits like plums, and other fruits were a part of it.
All of these dry fruits were mixed in rum, whiskey, or any other alcoholic drink. Post the mixing process, the mixture was allowed to rest for a few days. This was done to ensure that dry fruits soak the flavor of the alcohol completely. Once this mixture is ready this is added to a cake famously known as the Christmas cake. (Yes, a Christmas cake contains rum if you didn't know)
Today, cake mixing or fruit-mixing events are socializing events where people from all walks of life come together. They enjoy mixing sessions followed by good food, music, and drinks. For hotels, it's a great way to engage their guests and bring warmth to everyone whilst also getting a chance to be in the news.
List of Cake Mixing Events In Hyderabad
Novotel HICC, Hi-Tech City
My first and foremost experience of cake mixing was at Novotel HICC in HiTech City. The wonderful star property is the first one to organize the cake mixing event in Hyderabad every year. Their sprawling lawn is the venue for the mixing event. They have a special event for the kids who are in along with live music and a good brunch. PS: I love the food at FoodExchange and the property as I've done multiple staycations here with family.
They also have a Grape Stomping session post the cake mixing which is super fun. The yearly ritual is a trademark event of Novotel HICC and has become one of the most talked about cake-mixing events in the city. Since this was my first time, I also have a dedicated blog post on it.
Mercure KCP, Banjara Hills
Another star property in Hyderabad that I love for its hospitality and food is Mercure Hyderabad. I've been here multiple times and each time it has been an experience better than the previous one. From warm staff to friendly chefs, Mercure never fails to disappoint. Their cake mixing event too is one of a kind as it takes place on the rooftop. The views that the Terrace has got are unbeatable.
The mixing event is attended by guests and people from the food community of the city. The hi-tea followed by the event is top-notch. With small plates and desserts (especially cheesecake) along with drinks, this is a perfect way to get into the evening groove. Follow @mercure_hyderabad_kcp on Instagram to know about their next cake mixing event.
Hyatt Place, Banjara Hills
One of the additions to the list of cake mixing events in Hyderabad is Hyatt Place in Banjara Hills. Located in front of GVK Mall, Hyatt Place is an unmissable place. I've been here multiple times for various food festivals like Telugu Ruchulu, Turkish Food festival, etc. And their Zing Sky Bar is surely creating some noise. Another rooftop lounge with a swimming pool gives a wonderful view of Hyderabad.
The cake-mixing event at Hyatt Place is one of its kind with magic shows and other activities planned for the kids. They had props from Christmas hats to headbands and much more. Everyone from the guests to chefs and foodies joins in the celebrations. This is also followed by some delicious food, to sum up the festivities. Follow @hyattplacehyd on Instagram to know about their next cake mixing event.
Vijetha Super Store
Just yesterday I came to know about the cake mixing event at Vijetha Supermarket. Yes, your neighborhood supermarket was doing a cake mixing event. This one was at one of their biggest and swankiest super store located in Seshadri Marg (high tension road, Kondapur). One of the good things about this event was that, their customers were also a part of the festivities.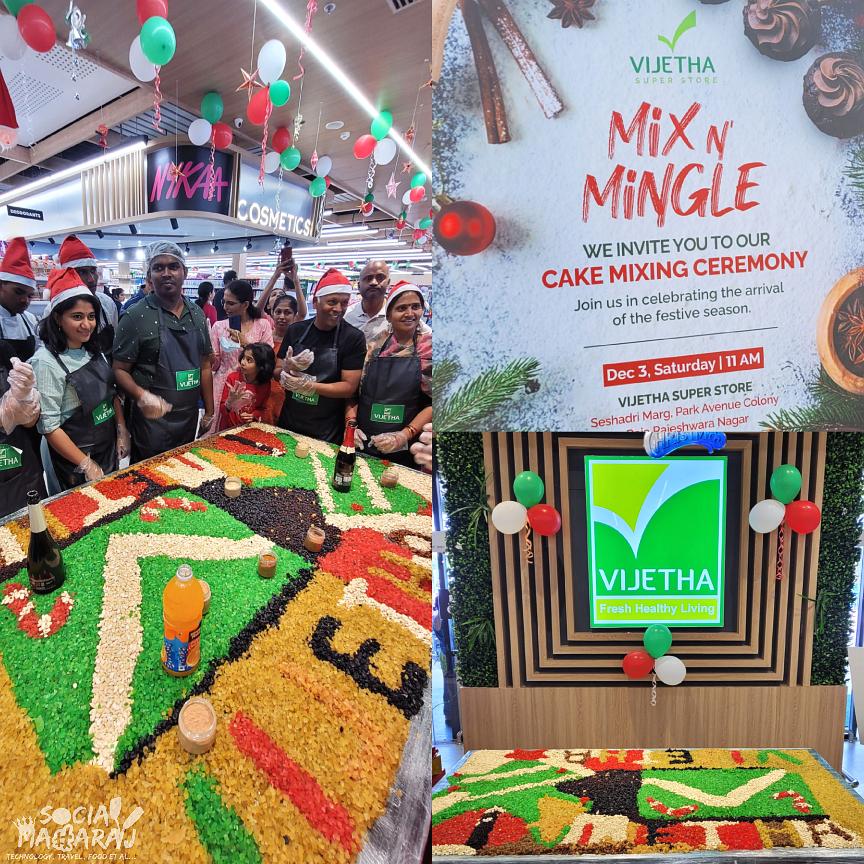 Moreover, being a supermarket, the cake had no alcohol. We used grape and orange juice as substitutes. Unlike the alcohol one that is left for almost a month for the nuts to soak in the flavor, this one would be rested only for a couple of weeks. There were more raisins and tutty-fruity than fancy nuts, but the flavour was amazing. I did had a morsel of the final mixture. Follow @vijethasupermarkets on Instagram to know about their next cake mixing event.
Other Cake Mixing Events In Hyderabad
While these are the events that I've personally attended when it comes to cake mixing, there are quite a few places that I know plan these events. Properties like Westin, Sheraton, Novotel Airport, Marriott, and The Park are some of the leading hotels in Hyderabad that organize cake mixing yearly. This year specifically I've seen some cafes also join in. Places like Roast 24 x 7 and Beluga were the recent entrants to join in the festivities. My source of information is obviously Instagram and the people who attend those. As most such activities are publicized a lot on Instagram (and why not)
Further, as I mentioned earlier, being a food blogger, I'm invited to these cake mixing events. And often people ask how can they be a part of this. Well, all I can say is reach out to the hotel and check if they are offering any reservations. Most hotels advertise this so keep an eye on their social media handles.
Have you ever experienced a cake mixing event? Think, I've missed any place? Let me know in the comments below, tweet to me at @Atulmaharaj, or DM me on Instagram. PS: If you're a hotel, restaurant, or cafe doing cake-mixing events and want to be on this list, get in touch with me 🙂