And finally, after almost a month and a half, I'm putting this complete 3-day Chikmagalur itinerary for you. If you've been following my blog posts, you already are aware of the places that I visited during my Chikmagalur trip.
Before I get into the itinerary, I need to mention that I spent 4 days in Chikmagalur with my family. However, since I was working for 3 days, I visited these places in a different order. Having said that, I'll share a Chikmagalur itinerary with all the places I visited that you can cover in 3 days and enjoy yourself.
So without much ado, here's the complete 3-day Chikmagalur itinerary.
3 Day Chikmagalur Itinerary
I visited Chikmagalur by road. I went on a road trip from Hyderabad to Chikmagalur which took about 14 hours. The roads are in good condition for most parts of it. So if you're planning to drive from Hyderabad too, read the blog post that I've linked above.
Day 1 – Visiting the Highest Peaks
Chikmagalur is home to Karnataka's highest mountain peaks – Mullayangiri and Kudremukh. And what better way to start your trip than visiting one of these places? Start your day with a road trip or trek to Mullarangiri Peak to witness a beautiful sunrise. There's also a Shiva temple at the top which you can visit.
On return, you can take a diversion and drive towards Baba Budhangiri Peak which is about 1hr from Mullayangiri Peak. This also is a sunrise destination, so you can visit either of them on different days or on the same day one after the other. There's the dargah that you can visit, and this is relatively crowded compared to Mullayangiri.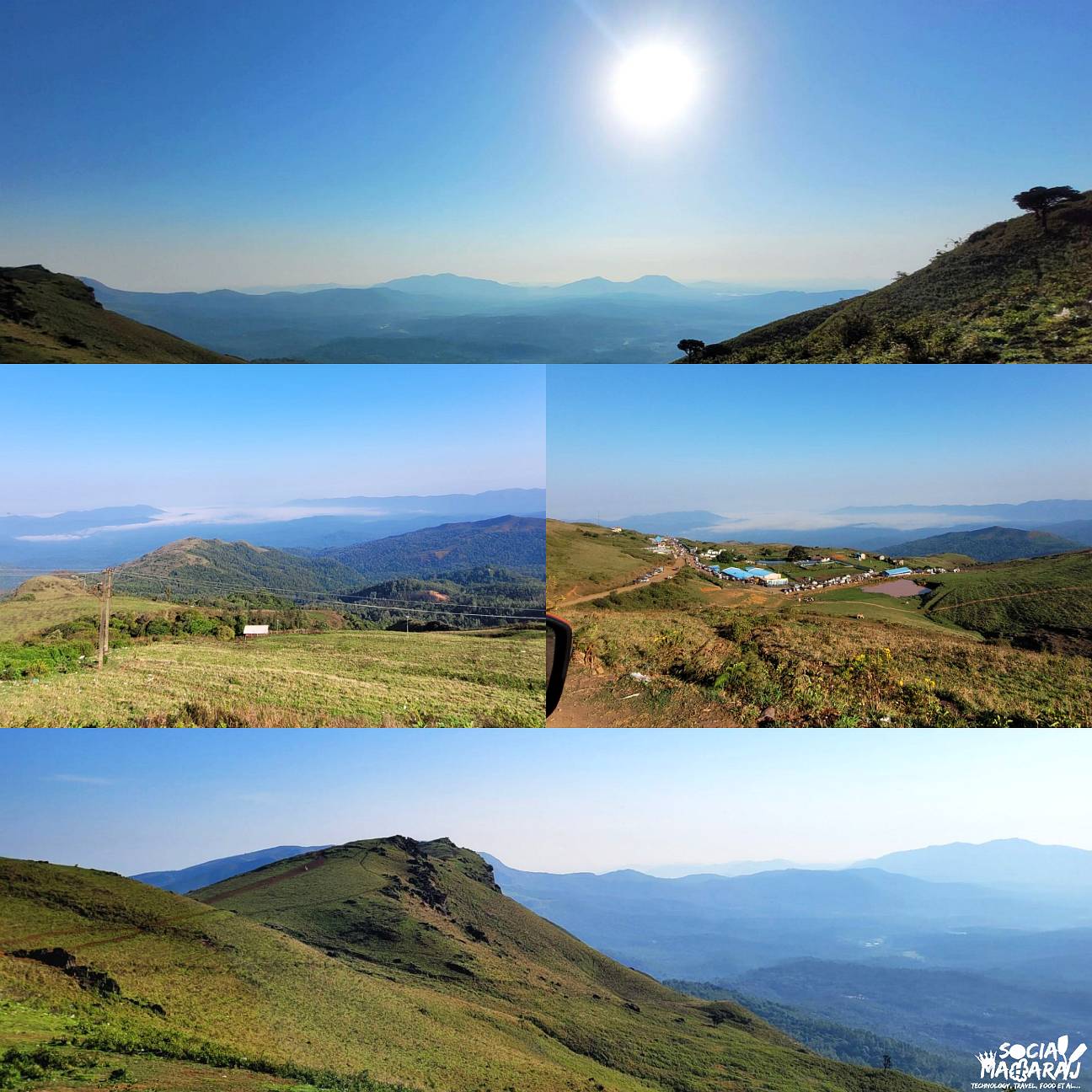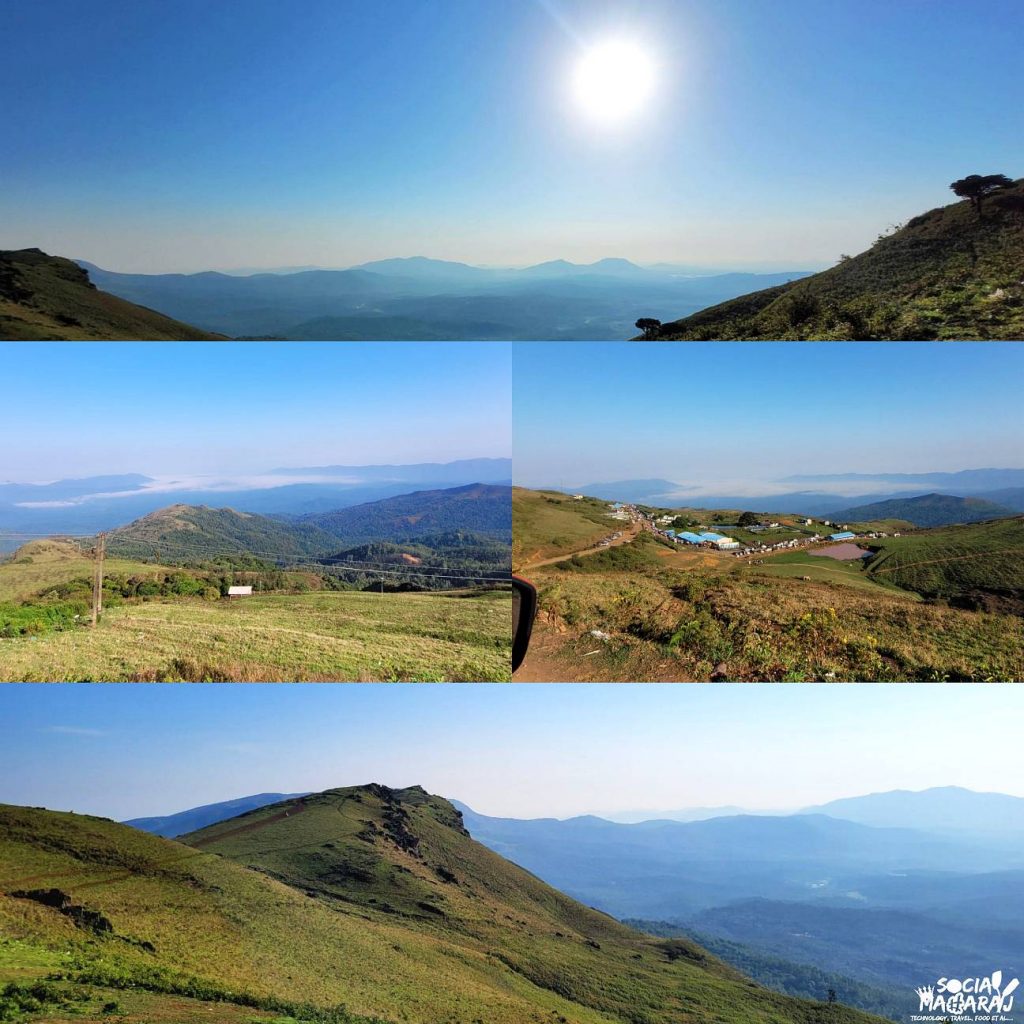 On the way, you can also stop by to click some amazing photos of the valley, mountains, and forest. There's also the famous Hebbe Falls on the way where you can stop. Not a spot that I loved, but it's famous if you want to stop.
Drive down from there to the town and you can take a break at 1952 Siri Coffee. It's a popular spot in Chikmagalur. You'll see a sculpture of a lady with lots of plants around it. There are shops from where you can buy coffee and other items. It reminded me of Mapro in Mahabaleshwar, but Mapro is much better than this.
After this, you can head to the market for shopping or have lunch. Read my blog post on places to eat in Chikmagalur for a list of places that you must visit.
Post lunch/shopping you can visit the Coffee museum. It's a govt museum that has some artifacts around coffee along with an audio/video show. While I visited, I'd suggest you can give this a miss if you have something else planned.
At the end of the day, visit the beautiful Hirekolale Lake to witness a beautiful sunset. Listen to the sound of water hitting the shore and the sight of the sun setting behind the mountains. End your day with a dinner at any place in the city.
Day 2 – Coffee And Sunset
The next day you can start with breakfast at the famous Town canteen with a plate of Benne Masala Dose and filter coffee.
Post that you can go for a Coffee estate tour that can be pre-booked. The tour is a good way to see the coffee plantations and learn about them whether you're a coffee lover or not. The tour takes about 2 hours. You can also opt for a Coffee experience where you can learn about how coffee is roasted, ground, and various techniques that are used to brew a cup of coffee. You can also get to taste a few varieties of coffee. Read more about how you can book your Coffee estate tour in Chikmagalur.
Note: I suggest taking the tour in the months of November to February because that's when coffee is harvested. This entire activity will take about half a day.
You can have lunch in the city and then head north. Stop by the famous Shri Deviramma Devi Devasthana temple and soak in the mystical ambiance of the temple surrounded by hills. From here, you can head to Kemmangundi Hills which is about 50km from here. You can time your trip in a way that you can reach here for witnessing the sunset. The last 20 km is extremely scenic as you'll drive through dense forests. On the way visit Shanti Falls.
Tip: If you want to skip the Coffee tour, you can. In that case, visit Kemmanagundi Hills and follow visit Ayyankere Lake to witness another beautiful sunset in Chikmagalur. This one is not visited by many which makes it worth a visit.
Day 3 – Explore Hoysala Temples in Belur
After having visited some of the top tourist destinations in Chikmagalur, let me suggest you some other places of historic importance in your Chikmagalur itinerary. Start your day early and drive to the nearby town of Belur which is about 30km from Chikmagalur.
Visit the Chennakeshava temple in Belur and experience the marvelous architecture of the Hoysala dynasty. Once the capital of the kingdom, this temple in Belur is a work of art that you must visit. Strongly recommend hiring a guide here for Rs 500. The guide will take you around the temple and the whole thing can take about an hour at least.
From here, you can drive to Halebeidu which was also the throne of the Hoysala dynasty after Belur. Visit the famous Hoysaleshwara temple which is bigger and grander than Chennakeshva. This one has even more intricate carvings and the ceilings inside the temple sanctorum are not to be missed.
You can have lunch at Itihakala restaurant which serves traditional Karnataka Oota (meals) on a banana leaf. The food is fresh and made from organic ingredients. The place also is very minimal with an aim toward sustainability.
Post lunch you can drive back to Chikmagalur. On the way visit the Tasty World Food factory located in the industrial estate. It's a company that manufactures namkeens and other food items. They have a visitor gallery where you can see the machines in action. There's also a cafe that has some items that you can order and eat.
After you're done with the visit, you can visit the town center, MG Road, and complete your pending shopping. You can shop for Coffee, fruits, and some fresh bakery items. End your day with a hearty meal and take a good nap, before starting your trip back to your home.
When are you visiting Chikmagalur?
Your answer should be Now! (especially with the awesome weather) I'm sure this is not the only Chikmagalur itinerary that you've read. There are a lot of other places, especially peaks and treks that you can do. Based on the time and my availability, I visited all these places and felt you must have it in your Chikmagalur itinerary.
I've visited almost all the places that I've mentioned so you can be sure of the information that I have here at the time of writing. If you think, there are some other must-visit places that need to be added to this list, please let me know.
With that, I finally (finally!) come to the end of my Chikmagalur blog posts. Below are all the posts that I've posted in this series that you can check out.
Let me know your thoughts on this series in the comments below, tweet to me at @Atulmaharaj, DM on Instagram, or Get In Touch.