If anyone asked me what my favourite food is, I'd probably answer Rajma Chawal, Vada Pav or something desi. I'm a dal-chawal-roti-subzi guy. However, thanks to my food blogging journey I've got opportunities to experience different cuisines. From Thai to Burmese, from Italian to Mediterranean. While I'm still developing my palate for some of these cuisines, there are some that I absolutely love now. One of them is Mediterranean or Middle Eastern.
Give Maharaj a plate of fresh Hummus and falafel and I'm the happiest person in the room. And to make me happy, good folks from Hummus House Hyderabad invited me over for dinner a few days ago.
A Mediterranean vegetarian dinner, I readily agreed a decide to visit along with another vegetarian friend of mine. (After all, I needed someone to help me try a lot of food and also some amazing conversations to go with!)
Ao, as a true food blogger, this blog post will be a review of Hummus House Hyderabad. And like always, though I was invited, my thoughts here are totally honest and unbiased. So without much ado let's get started.
Mediterranean Food – 101
Mediterranean cuisine is among the most popular cuisines in the world. Its roots aren't from any particular country but from the region surrounding the Mediterranean Sea. Regions like Greece, Turkey, Lebanon, UAE and surrounding regions contribute to the cuisine.
The cuisine is well known for the use of fresh ingredients, vibrant flavours and simplicity. This style of cooking uses a lot of fresh vegetables, herbs, Olive oil and meat as well. The cuisine emphasises grilling, roasting and steaming over deep-frying. The preparations are simple yet flavourful.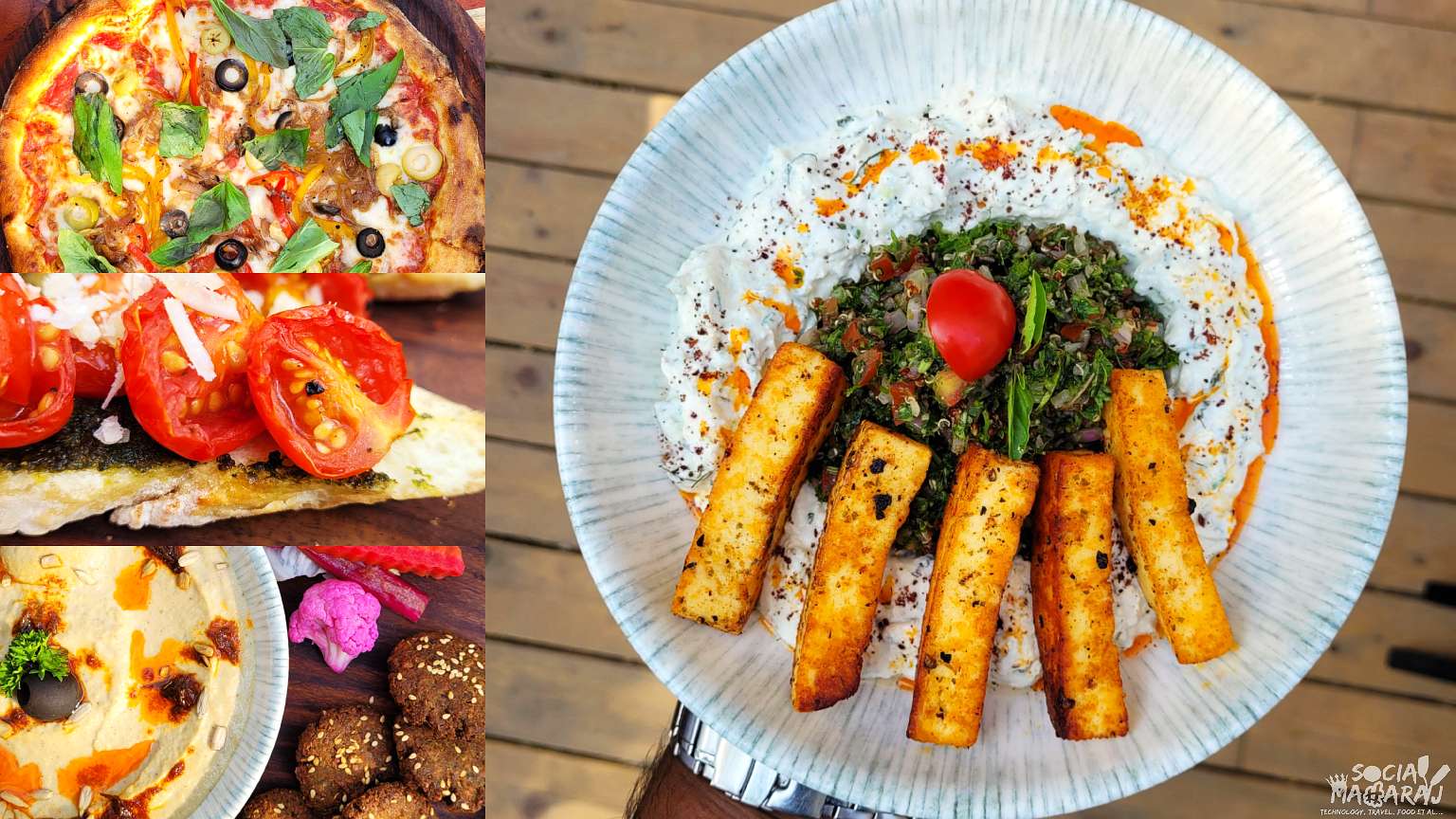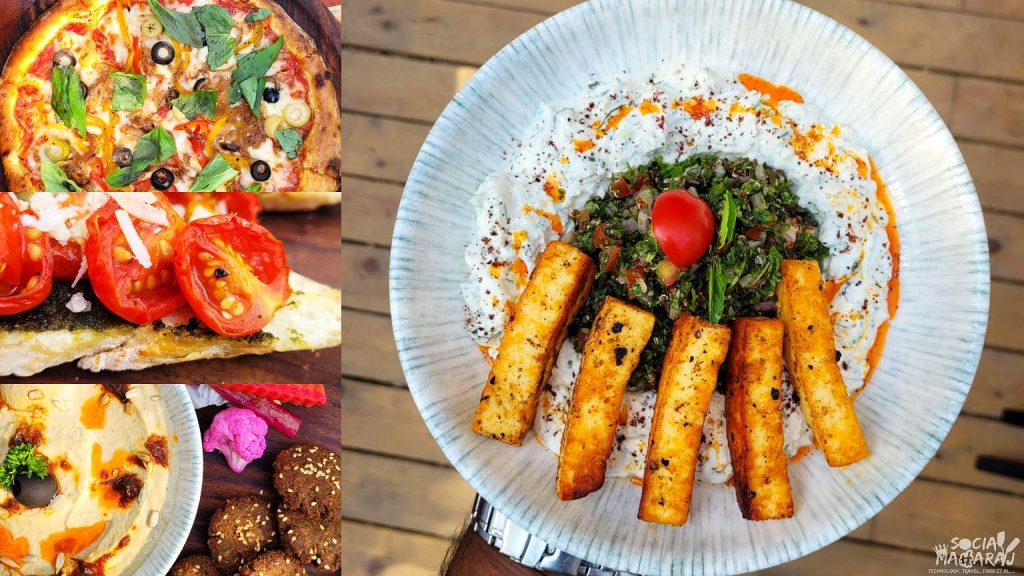 Some of the popular dishes that are part of the cuisine are Hummus & Falafel, Moussaka, Paella, Tabouleh and Baba Ganoush. While a lot of these dishes are available and many cafes in Hyderabad, Hummus House is focused only on these.
Classic, Minimal Ambience
Hummus House in Hyderabad is located in Banjara Hills. It's on road number 12 (the same one as Ohri's Uppu and Exotica), which is quite a busy street with bad traffic at peak hours. Though it is at a stone's throw distance from the main road, Hummus House is extremely quiet. Once you enter the place, you're transported to another world.
The suave yellow lighting with clean walls and minimal furniture is calming. And a dash of plants just adds to it. The cutlery too is chosen nicely to go with the setup. Further, they have a physical menu (Thank You!) which is your gateway to some delicious Mediterranean food. Lastly, there's no loud music like other cafés in Hyderabad, so that ensured we were able to hear each other. A big plus for that and glad to see that such places do exist.
Though I was here for dinner, I'm sure this place is different during the day. While I don't know if one can work from here, the setup is perfect for a work-from-cafe setup. Overall, I loved the classic, minimal yet refreshing ambience.
A Mediterranean Affaire
A vegetarian Mediterranean restaurant, plus a physical menu, I was already sold. Plus with the choicest of dishes on the menu, I decided to offload my cognitive load of choosing what to order to the restaurant staff. I asked them to bring in whatever they felt I should try. While I dedicated my focus towards my friend who accompanied me. Food tastes better with good conversations and even better people around. Don't you think so?
While we were weaving conversations, we had different dishes coming to the table one after the other. The order included Classic Hummus with Garlic Bread, Loaded Hummus with Za'atar bread, Falafel Sandwich, Stuffed Pita, Manakish, Lebanese Rice and Baklava.
We started with the two Hummus platters that were on the table. The loaded Hummus was laced with cherry tomatoes, and olives and infused with garlic while classic Hummus was, classic. I'd prefer the loaded Hummus for the added veggies and the garlic infusion. Also, both the Garlic Bread and Za'atar bread were on point. One of the best, (if not the best) that I've had off late. Also, the team confirmed that they bake their own bread, so you're guaranteed fresh bake always.
Coming to the Falafel Sandwich, it was a loaded sandwich that was oozing with veggies and Falafels. Dressed in Tahini sauce, the stuffing was on point with balanced flavours. Stuffed Pita also was a nice preparation. It was stuffed with sun-dried tomatoes and served with Labneh. This Labneh was one of the best I've had. It was creamy, rich and flavoursome. The stuffing was on the spicier side for me though, and the pairing with Labneh was spot on.
The next item in line was the Lebanese Manakish (a variation of Pizza). This one had roasted Aubergines, Za'atar Olive oil and cheese. In terms of taste, this could have been a little better. It was a little bitter and some tangy topping could have helped. There was also Lebanese Rice, which was cooked in Spinach Pepper sauce. The rice was loaded with herbs and veggies. The accompanying sauce, I feel could have been a different one. It tasted more Asian to me. Maybe a traditional Pilaf could have been a better choice here.
In terms of drinks and desserts, Hummus House has a few options. While the drinks are the standard mocktails and coffees, their desserts include fancier ones like Baklava. The Baklava that was served to us with topped with Vanilla ice cream and was nice. The cold coffee was like any other cold coffee. I felt that this was the area that can be improved. My friend suggested that having a Turkish/Arabic coffee could be a nice idea which I agree with too.
Must Visit For Hummus
It's very rare that an outlet boasts of something and isn't good at it, Hummus House is no exception. As the name suggests, Hummus House has a fine hand at Hummus. Be it their classic Hummus or Loaded Hummus, both are spot-on and flavoursome. And the fresh breads just elevate the dishes. Falafel Sandwiches and Stuffed Pita are also nice to try dishes. I think the only place they need to probably work a little is the drink and dessert department.
Apart from that, if you're looking for a beautiful place with good Hummus, look no further. Hummus House, Banjara Hills will satisfy your cravings. A big shout-out to everyone at Hummus House for making our experience a good one.
Also a special mention to my friend who not only helped me finish the food but also engaged in great conversations. No wonder, it was an evening to remember. That's about it for this blog post, let me know your thoughts in the comments below, tweet to me at @Atulmaharaj, DM on Instagram or Get In Touch.