About a year ago I got my first Amex credit card, the Membership Rewards Credit Card (MRCC as it's popularly called) and it's been one of the best when it comes to service. Not my first credit card though, I already have an Axis Magnus, Diners Club Privilege, Amex MRCC, and ICIC Coral, but this is my first charge card.
I got it last week after the Amex referrals started and got a good deal on it. (saved the first year fee plus got additional reward points too!) If you're also looking to get an Amex credit card, you can use my referral link and get the first year free (FYF) and also get bonus points.
Talking about bonus points and rewards, I'm sure you're already following the #ccgeek hashtag on Twitter (or X) and there's lots to learn there already. In this post, I'll share some practical tips based on my experience on how to maximize rewards with Amex MRCC and Gold cards.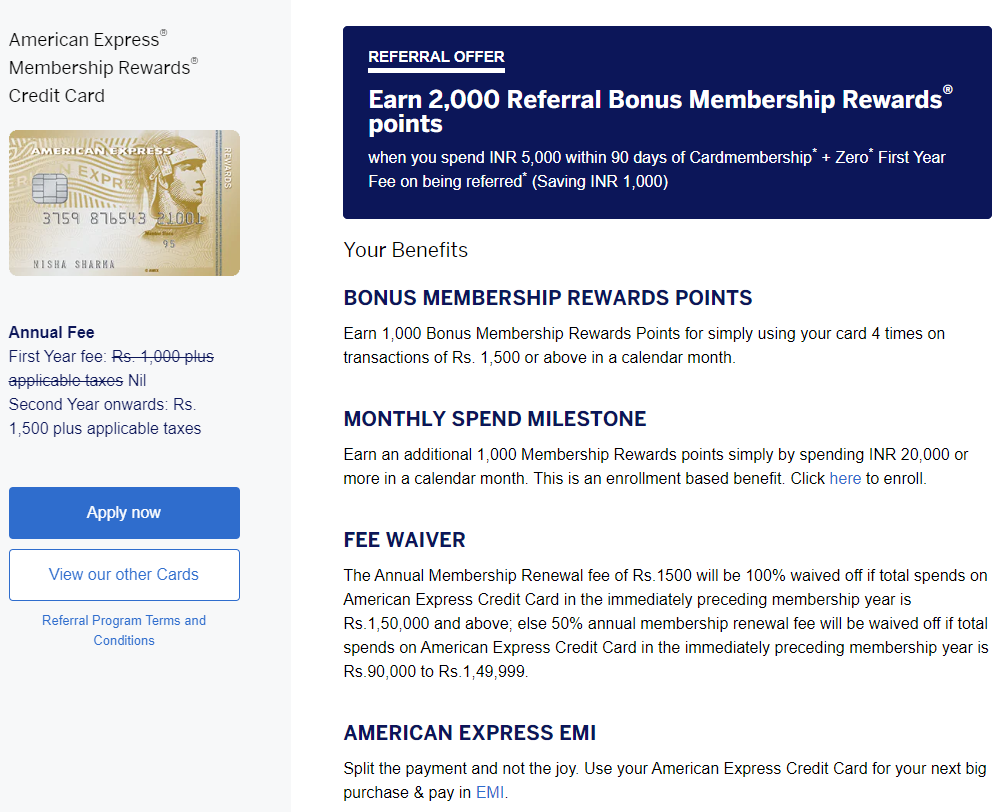 For the unaware, there's something called the Amex Trifecta, where you own the Amex MRCC, Gold and Platinum cards to pool rewards and utilize them. Yes, Amex allows you to pool rewards and the reward points never expire! Another reason why you should get an Amex credit card.
Why did I get the Amex Gold Charge Card?
For the unaware, I moved to the outskirts of Hyderabad and that meant that commuting to the city became difficult. That was one of the reasons why I bought a car – Tata Punch my first car – to help me commute easily. What that did was, it added to my monthly fuel expenses. What I usually spent on food delivery apps, I now spent on fuel. That's when I wanted a card that rewarded me for fuel. There's an HP petrol pump right across the road where I stay. So earlier it used to accept HP gift cards, so I purchased them from the Airtel App using Magnus and earn points. However, it stopped accepting gift cards.
That's when I started looking for a credit card that rewarded me with points on fuel. The HP co-branded cards are pathetic in my opinion. And I didn't want any other because I always refuel from HP. The Amex Gold Card provides 1 point for every 50 Rs spent on fuel and that's what enticed me to get this credit card. And with MRCC already in the wallet, I could pool the points as well and use them. So that explains why did I get the Gold Charge Card.
One thing you must note is that Gold is a charge card and not a credit card. The difference between a charge and a credit card is that you need to pay the full amount for the charge card every billing cycle, you don't have the option to pay a partial amount. So if you're someone who isn't regular with credit card payments, then the charge card might not be the right option. Also, it comes with virtually no limit as well.
With that out of the way, let me talk about how you can maximize reward points with Amex MRCC and Gold Card.
How to Maximize Reward Points with MRCC and Gold Card
Having the Amex trifecta of Gold, MRCC, and Platinum is good only if you spend that much compared to the yearly renewal fees of these cards. All of them renew at Rs 3500+ and to waive that fee, you need to hit a milestone of 4L for Platinum and 1.5L for MRCC. Refer to the updated T&C for more. Since my expenses aren't that much, I didn't go for the Amex Platinum card and Gold was perfect for my fuel expenses.
Let's now talk about how to maximize reward points by using MRCC and Gold Card together. Both MRCC and Gold provide 1 point for every 50 Rs spent. The only difference is that you can earn on fuel and utility when using the Gold card.
6 transactions of Rs 1000 and more on Gold
The first and foremost way is to do 6 transactions of Rs 1000 or more using the Amex Gold card. Doing so will give you additional 1000 points. So assuming you spend Rs 6000 per month, you'll earn 120 regular points along with 1000 additional bonus points which makes it 1120 points per month. This will translate to 13440 points yearly.
4 transactions of Rs 1500 and more on MRCC
The next thing is you need to do 4 transactions of Rs 1500 or more using the Amex MRCC card. Doing so will give also give you additional 1000 points. So assuming you spend Rs 6000 per month, you'll earn 120 regular points along with additional bonus points which makes it 1120 points per month. This translates to 13440 points yearly.
Hit the Rs 20,000 milestone for MRCC
If you have other expenses like utility, grocery, or anything else, spend Rs 20,000 on the MRCC card and get additional 1000 points as well. So assuming you spend Rs 20,000 per month, you'll earn 280 regular points (Rs 14,000 since the Rs 6000 is already spent earlier) plus additional 1000 bonus points which makes it 1280 points over the existing 1120 points per month. This makes it 28,800 points yearly.
Rewards Multiplier – the real deal!
The real deal is when you use the Amex Rewards Multiplier site that gives you accelerated points. When you purchase gift cards from the Rewards Multiplier site, you'll earn additional bonus points. With the MRCC, you'll earn 2x points, but with Gold, you'll earn 5x points.
So if you spend Rs 1000 on the rewards multiplier site, you'll earn 100 points with Gold and 20 points with MRCC. This is where things get interesting. When you're spending 6000 on Gold or MRCC, you can buy gift vouchers from the rewards multiplier site can earn bonus reward points.
So for instance, if you spend Rs 6000 using the Gold card on the Rewards Multiplier site, you'll earn 600 points plus the bonus points of 1000! So in a month, you'll earn 1600 points instead of 1120. This translates to 19,200 points yearly! That is a 42% increase in reward points just by buying gift cards.
What gift cards can you purchase? For example, if you use Amazon Pay, buy an Amazon Pay gift card and add it to your wallet. From here you can use the money to recharge mobiles, pay electricity bills, shop on Amazon, etc. If you're buying groceries, you can buy Bigbasket gift cards. Myntra, Flipkart, Zomato, Vistara, MakeMyTrip, and Yatra are just some of the options. Refer to Rewards Multiplier for the complete list.
What to do with the points earned?
Now that you've spent so much and earned so many points, what do you do with the points? Well, this is where things get interesting. I'll take the simplest case where you're doing 6 transactions of Rs 1000 on your Gold card and 4 transactions of Rs 1500 on your MRCC card. This means you're spending Rs 12,000 a month or Rs 1,44,000 yearly. In terms of points, you'll earn 26,440 points yearly. So what you can do with these points?
Amex has 18K and 24K gold collection. These are collections of coupons/gift cards that you can purchase in exchange for points. For example, using 24,000 points you can get a Taj Voucher worth Rs 14,000 that you can use to book luxury stays. Or you can get a Rs 10,000 voucher for Vistara, Tanishq or Rs 9000 voucher for Amazon, Flipkart etc.
However, if you are someone who travels a lot, then the best option is to transfer these points to an Amex Transfer partner which includes airlines like Emirates, British Airways, Singapore Airlines, and Vistara and hotels like Marriott, and Hilton. You can transfer points to these partners and use them to book flights or rooms! And because Amex points don't expire, you can spend and pool points to earn a large number of points and then transfer them to a partner in exchange for a luxury stay or business class flights! Read more about Amex Transfer Partners.
Using these tips, you can maximize your reward points for every spend that you do. For me, most of my payments have shifted to credit cards. It was Axis Magnus for most of the year, however, after its devaluation, I'm going to use my Amex quite a bit and earn reward points.
Moral of the story? Use a Credit Card For All Payments
Ever since I understood about credit cards and the whole reward points game, I always spend using my credit card. Most places accept credit cards. Some of you might argue that Amex cards are not widely accepted, and I'll agree with it. Not all places accept Amex. Luckily my HP pump does. However, if you shop mostly online, then this shouldn't be a problem since Amex is widely accepted on most websites. Plus if you use it to buy gift cards, there's no issue at all.
With the Amex Gold in my wallet now along with the MRCC, I'm looking forward to hitting the milestones and earning points. As I mentioned earlier, I just wanted a card that works at the HP petrol pump that's near my house and also rewards me well. With an MRCC already, getting a gold made total sense.
If this blog post helped you and if you're interested to get an Amex card, I'll be super happy if you can use my Amex Referral Link to enroll for an Amex card. It will not only give both of us bonus points but also waive/reduce the first-year fee for you which is ~Rs 3500 otherwise. So you save that amount plus get additional points.
That's about it for this blog post, I hope you found it insightful. While I'm hopeful the calculations are correct, in case you find any issues, let me know in the comments below and I'll try to correct them. For any other suggestions, feedback, or thoughts, mention in the comments below, tweet to me at @Atulmaharaj, DM on Instagram, or Get In Touch.