I'm no expert Blogger but there are a few things that I always say. First and foremost, never start Blogging with the sole intention of making money. Paise ki peehce mat bhaago, bhaagna hai toh content ke peeche bhaago, paise jhak maar ke peeche aayenge. Second Treat your blog as a plant. Keep watering it with fresh posts often to reap benefits in future. And lastly, blogging doesn't just happen online. Meeting and greeting people you meet online – in reality – is also important. It helps not only to network, but also make friends with some great people. And I never ever miss out on an opportunity to meet people. You might remember that last time around too I was a part of small group of bloggers. Here's the post I shared last time you might want to read. And by chance if you are not blogging, this might help.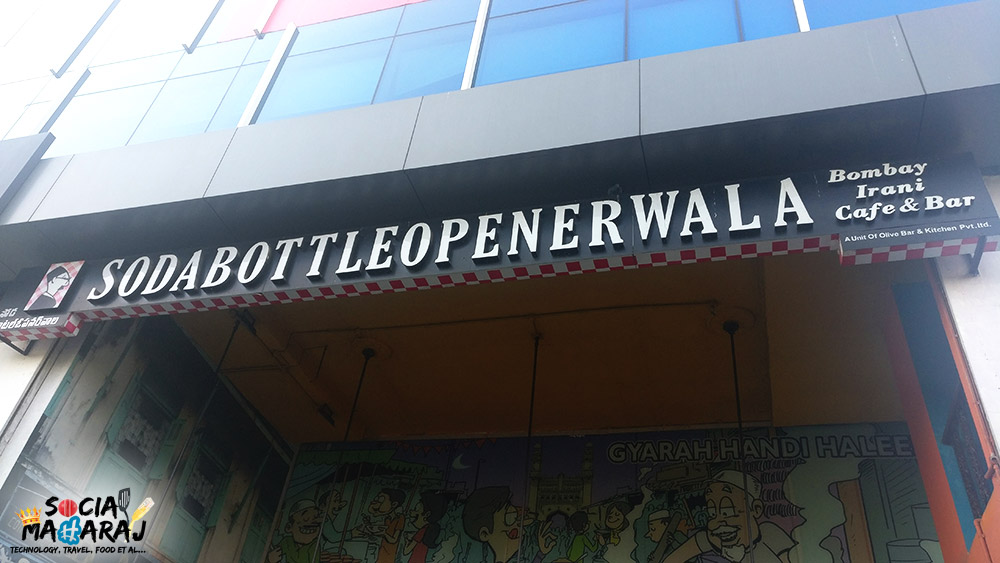 This time around, the group has grown. We had @Romspeaks and @Not_A_Sher from last meet. The new entrants were @sin_ruby @SwiftyDrifts and @Keerthi_Vydyula. These pretty ladies are great bloggers already but they are much fun to be around with. Today the destination for the Hyderabad Bloggers meet was SodaBottleOpenerWaala in Jubilee Hills. This post will be about the meeting and dining experience.
The Old-School style Ambiance
SodaBottleOpenerWala is a well established chain of restaurants in India known for their Parsi cuisine and ambiance. Their outlet in Hyderabad is in Jubilee Hills and next to the Apptronix store. The cafe is quite small and can house about 50-60 pax at full capacity. There's a seating area outside too where you can have a smoke and have your food along side watching the traffic. Since we were 6 members, we had our table reserved inside. The ambience is pretty good and a typical old-school style furniture. The quirky quotes and caption on the walls are pretty good. The washrooms too are labelled in typical Parsi language – Dikra and Dikri. Over all a good place to spend quality time.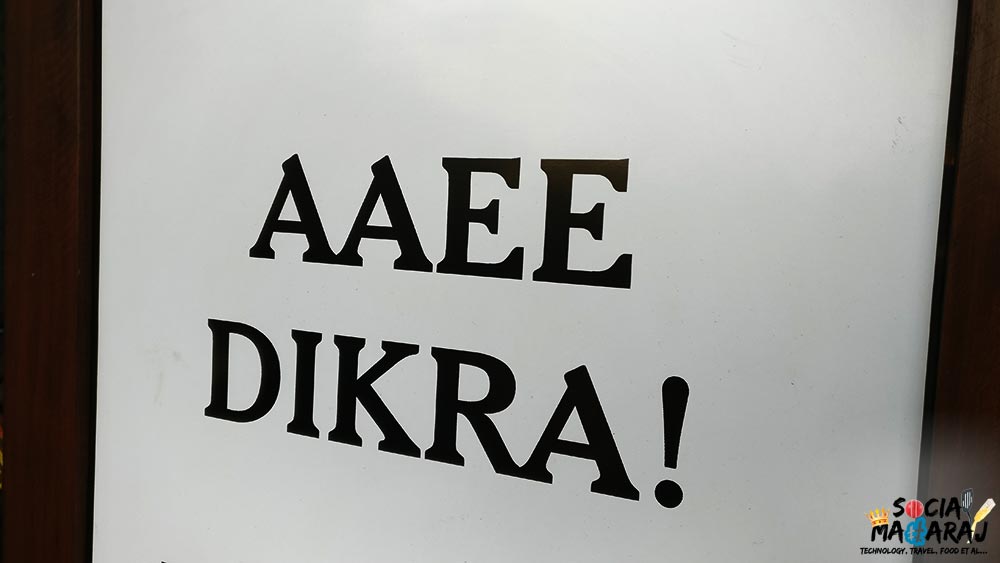 Food Review at SodaBottleOpenerWala
We were six people and since it was post lunch, there was not heavy / main course item on our list. For starters we had the Chicken Farcha, Corn Bhel and a couple of drinks to go with. Initially it was me and Romspeaks and then we had SwiftyDrifts joining in. The Corn Bhel is their kind of signature dish and I totally loved the way they served it and also the taste. A must have when you are at SBOW. Later we were joined by Thoughts Thru Lens and Ruby Singh followed by our very on NotASher.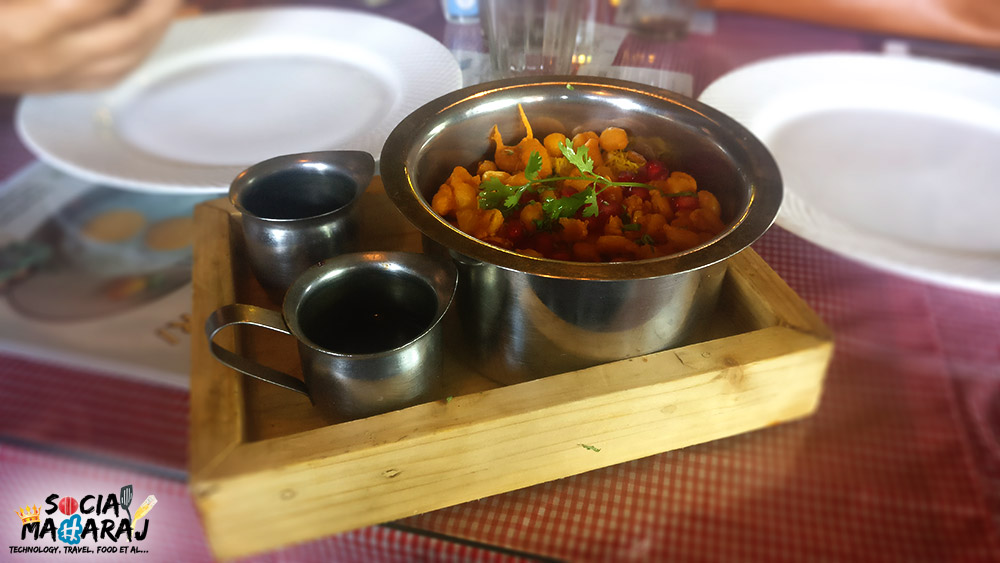 Now we had ordered Chicken Chilly Cheese Pav, Chilly Cheese Pav, Vada Pav, Bun Maska and Classic Akuri with Toast. I must say that all the dishes were plated nicely. The chicken was tender and fresh while the vegetarian items were okaish. I had high expectations from the Vada Pav but as they say Expectation is the mother of all sorrows, this was no where close to the original. The one at Chachaji in Sindhi Colony is the benchmark for Vada Pav in Hyderabad. The drinks included Nimbu soda, Shikanje and Parsi chai.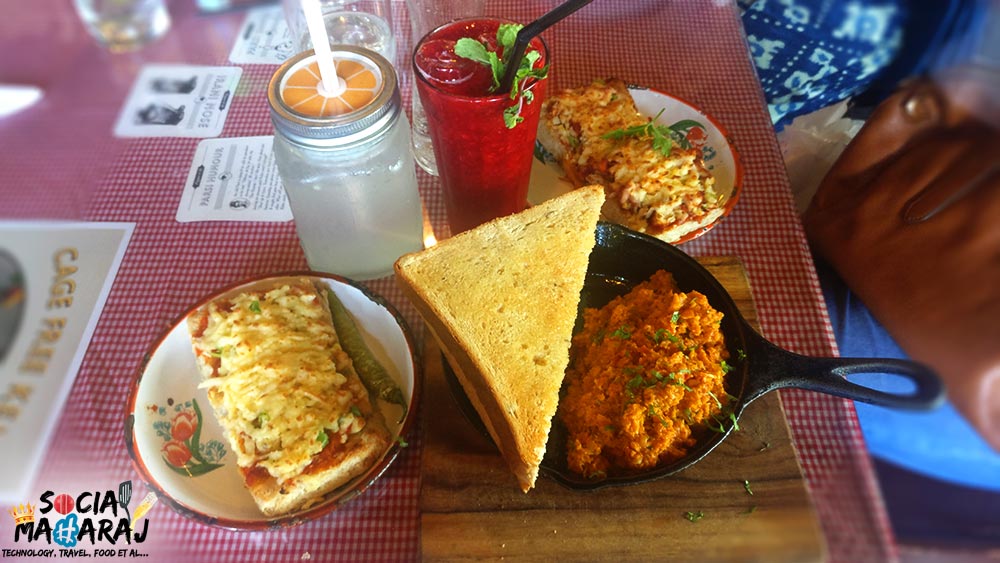 There were a couple of unique drinks we tried too. One was the Raspberry Soda and other was the Shikanji. The raspberry soda was different but was thik thak. The shikanji felt more like artificially flavoured than original lemon. But the drinks were quite refreshing. Overall we were quite content with the food here. However if you are a vegetarian there's not much choice for you. The menu is quite limited. Further I found the prices to be slightly on the higher side. With the quantity of items served, the costs are quite not justified.
Successful Bloggers Meet at SodaBottleOpenerWala
It was great meeting the Dikris of the Hyderbad Blogging community. All of them are wonderful bloggers and I'm now more keen on following their blogs since I know them personally. The excitement of meeting tweeple in real life was above the Foodie instinct today. I did take a lot of photos, but the focus was more on the meet. The food is okaish, couple of dishes like Corn Bhel is pretty good while other dishes are average.
Over all SodabottleOpenerWala in Jubilee hills a good place to hangout and share a beer. We had a good time there. Also if you want to join our next meet, do follow the #HyderabadBloggers on Twitter and follow me. If there's any plan coming up, I'll update on my TL. That's it from the Hyderabad Bloggers meet today. Hope you enjoyed reading it. See you on the other side. Further if you think that I missed out on anything, mention in the comments below or tweet to me @Atulmaharaj