Raghupati Raghav Raja Ram Patit Pawan Sita Ram
Utt kar karne hai kuch kaam, Raghupati Raghav Raja Ram…
These are the modified lines from the Gandhian Prayer "Raghupati Raghav Raja Ram.." which are used by Prakash Jha(ji) in his latest blockbuster Satyagraha – Democracy under fire.
There are very few movies that have the ability to drag me to a cinema hall, and this is one of them. This is probably the first movie that I have seen on the 3rd day of release, and saw a house full hall !  It was a great experience ! Booking a ticket online, getting the ticket from the kiosk installed, something that I am not familiar with at all. Nice to have tried all these things !
Jhaji is know to make films on political and social issues. After Gangajal, Aarakshan, Rajneeti Jhaji has come up again with a great star cast of Shri Amitabh Bachchan, Ajay Devgan, Arjun Rampal, Manoj Bajpayee, Kareena Kapoor, Amrita Rao and others. The film comes in just when corruption is on the verge of captivating the nation.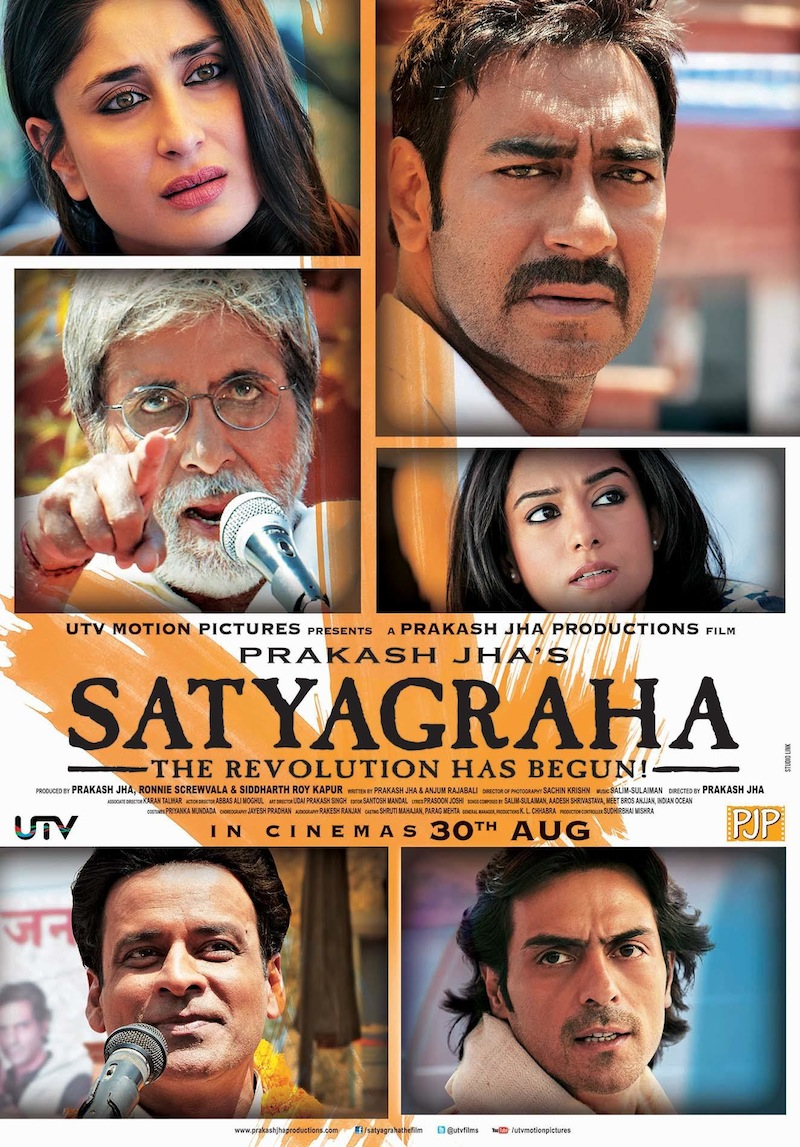 The plot is based in the small town of Ambikapur. The movie revolves around Mr. Dwarkanand (Amitabh Bachchan) who is a retired government school teacher and is doing his every bit to help his country. His son Akhilesh is a Civil Engineer in the government. Mr. Manav Raghvendra(Ajay Devgan) eyes to become the world's topmost telecom tycoon. Yasmeen(Kareena Kapoor) is a journalist in ABP news and Arjun(Arjun Rampal) is a local goonda lad who was thrown out of school by Dwarkanand due to goondagiri in school. Balram Singh (Manoj Bajpai) is a local and powerful politician depicting a real life babu who does knows all the wicked ways to gulp money. Manoj Bajpai is at his best in the movie as such roles suit him. A typical wicked politician !
The movie shows scenes describing the real life bribery cases that happen in the government departments. From getting compensation to getting a loan, everything is full of corruption. Dwarkanand is fed up of this and takes the law in his hands y slapping the Collector(Mind you, doing this is real life is no heroic deed !!) Manav leaves his multi-dollar company to join Dwarkanand to eradicate corruption from the place. He alongwith, Arjun, Yasmeen and Daduji sit for an indefinite hunger strike. This is the point were it reminds you of the Anna Andolan that took place in Ram Leela maidan. 
The movie is nice and shows the bitter reality of our nation. Many news dailies claimed that the movie is too realistic and that it has made a mockery of the politicians. To which Jhaji boldly said "This is what they do in real life ! " (Compiled from Aap ki Adalat). Film's music let me down. 🙁 After listening to some great songs from Rajneeti (Mora Piya..) this movie is no where close to it. Unnecessary songs at places, even an item number by a Russian model !! I feel only Raghupati Raghav Raja Ram is a good song from the movie.

I enjoyed the movie a lot as it was a genre that I prefer and because it was a Prakash Jha movie, you can't miss out on those ! But this is not close to his previous hits like Gangajal, Rajneeti. But nevertheless, its a good movie to watch.  Do let me know your views on it..