I had been all excited since last night for the release of iOS 7 foremost reason being that it was the first time Apple came up with something new and I had a device to use it ! After going through blogs and various websites, realised that it was scheduled to release at 22:30 hrs IST.
I switched on my laptop at 23:00hrs and found that the update is available. Even my mini showed that the latest version of iOS was available. I quickly backed up all the necessary stuff and started downloading the update. Being a newbie in Apple arena, I headed for iTunes as I thought it was an easy and safe option to update my mini
But guess it wasn't my day, the download reached 900 mb and stopped ! Giving an error saying the server cannot be contacted, it was around 00:00 hrs now. I decided to try again today morning. So started the same procedure at 5:00am and again faced the same issue. Now I decided to update it using my college's wifi. Soon after reaching the college, I started downloading. It did take a lot of time but finally iOS 7 was successfully installed on my mini ! I'm writing this post now from the WordPress app for iOS
Below I list my first impressions on some features I used immediately after installing iOS7.
Keyboard : I'm in love with the keyboard looks. Clean looks with white buttons matching with the overall view.
Air drop: This was one of the things I wanted to try. So sent a photo, a pdf(from Adobe reader) to one of my friend's ipad and works perfectly well. Will certainly help sharing stuff among iPads easier now.
Wallpaper : I always want my theme, wallpapers etc to change frequently. So this was the first thing I checked after installing iOS. Two types of wallpapers are supplied : Static and Dynamic. Static wallpapers have the parallax effect as in the icons and wallpaper move according to the movement of the device. Dynamic wallpapers are animated wallpapers(already present on android) which again move according to the movement of the device.
Notification Center: This contains a new look notifications. Initially shows the list of events for the day along with weather information along with any birthdays.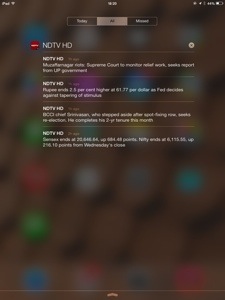 Initially I did face issues updating apps. Everytime I tried updating, nothing would happen and a blue dot would appear next to the app. Well it did take me some time to figure that out, but then discovered the Update Apps in background feature. So yes it's fine now.
There has been a flurry of app updates for the past two days as all of them were coming up iOS 7 support with minor UI changes. All in all, it has a nice UI,something that I see in any device. But will still take me sometime to completely figure out the functionality. If you know any feature that I might not be aware of, please comment below and let me know ! Thanks !