It's time for some winter foody outing !! The National Street Food Festival is taking place at the Jawahar Lal Nehru Stadium, New Delhi from December 20 – 22, 2013 and I'm glad to be experiencing it on the opening day. This is an annual affair and people come out in large numbers to eat the finger licking street foods from various parts of India.
This slideshow requires JavaScript.
The ticketing process was easy. One could buy the ticket from the counters at the location by paying in cash/ card. The single entry ticket costs 30₹ while one can buy the food coupons too. To ease the process, the tickets can be bought online from buzzintown website along with the food coupons. The scheduled time was 12pm but the gates were opened only at 12:30pm. The stalls weren't ready as yet though..and that's why I started writing now.. and there I see the MasterChef Kunal Kapoor on the stage and there comes the real foodie Vir Sanghvi..wow !! I'm lucky to be here…!! And speech on some drive by a government person…and Chef Kunal seems to be bored… 😛
Well, to begin with the National Street Food Festival, I decided to take a walk around the whole place and then decide what to eat. As said, things were still being setup, so not many stalls were functioning. The first stall that I came across was a Paan stall, then moving forward found a stall from Gujarat selling Gaanthia, Thelpas. Moving ahead I came across the Mysore stall which was still being setup. Next in line was the Punjab Dhaba that sold Sarson da Saag et Makke di Roti, Pulao etc. Then there was a series of Cholle Bhature, Rice Chole and Bhel Puri stalls. Then there were few stall from Odhisha selling prawns and chicken. There were also lots of stalls from Delhi selling the Dilli Chaat, Dahi Bhalla etc. 
Then there was this stall from Rajasthan, which I found was crowded, it served Mirchi Bhajji, Pyaaz Kachori, Gatte ki Subzi, Daal Baati. Apart from this there were stalls from Bengal selling Sondesh, Rolls. Many stalls selling Paneer Tikka, Chicken Tikka. Then I came across this stall from Tamil Nadu that sold some yummy Kesar Halwa. There were adaequate stalls selling water, soft drinks. There also was a stall that sold Rajasthani Kulfi. There were stalls from north-eastern part of India selling momos and other items. Other stalls sold Rabri Jalebi, Rolling Ice Cream, Palak Vada, Tea and lots of other stuff !
Just when I reached the other end of the ground, I saw a crowd at one of the stalls lots of cameras. I too rushed in to see what was going on. As I reached, I saw Masterchef Kunal Kapoor at this Pav Bhaaji stall in the National Street Food Festival. He was giving interview to the Aaj Tak TV guy, that I too shot 😛 After that he obliged his fans with photos. I too rushed to meet him. Finally when I got to him, I asked one of the guys to take a photo. While I stood beside him, I told him "Sir, aapne MasterChef Panchgani mein shoot kiya tha, main New Era High School ka alumni hoon and Head-Boy reh chuka hoon.." To which he replied, "Ohh Really ? badhiya hai, Panchgani bahut achichi jagah hai aur aapko school bahut achcha hai !!" Felt so proud after hearing those words about New Era High School, Panchgani !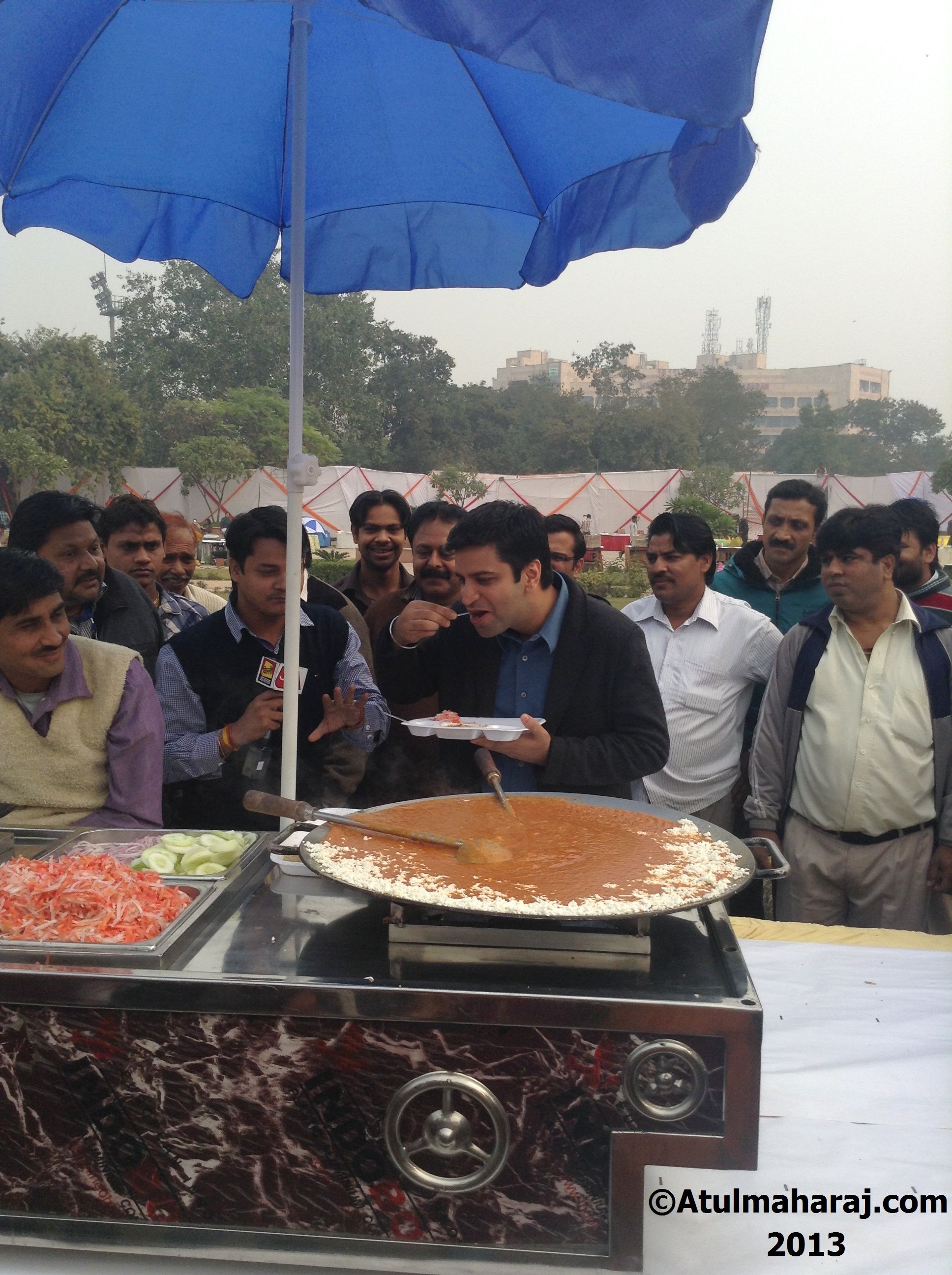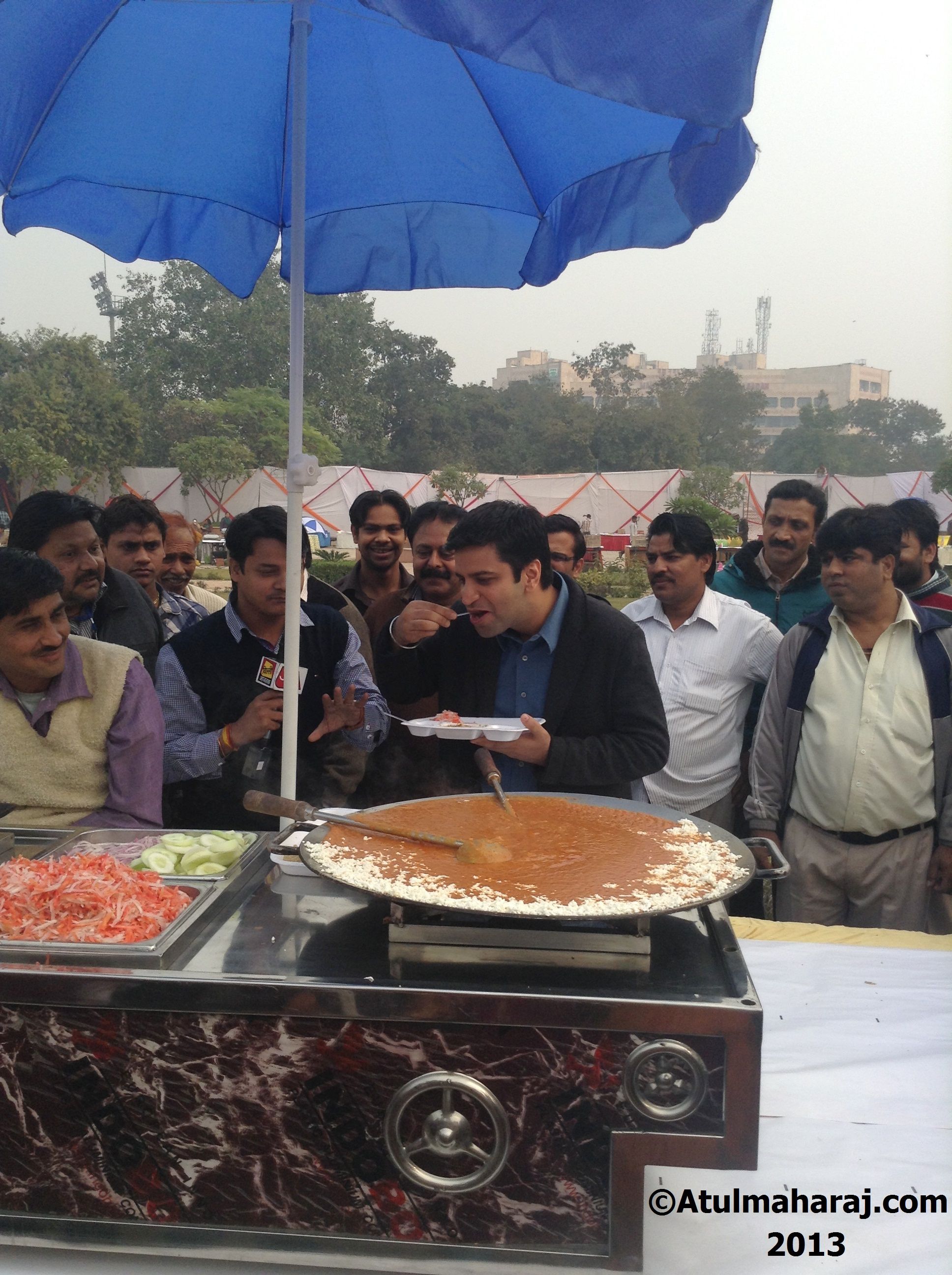 Anyways now moving on to the food review that was on offer at National Street Food Festival. First of all and most Importantly  – the Food is dead Cheap(reasonable) and not too overpriced. The first thing, I tried was the Tamarind Rice from Mysore. This was amazing and for 40bucks, this was an extra amazing preparation. It took me straight to Mysore ! Then I tried this great looking Kesar halwa from Tamil Nadu stall. And I was like wow ! This yummy halwa was for a mere 10Rs ! Then I tried the Bissibelle Bath (my all time loved dish) I move to this counter and say "Sir, Ondu Bissibelle" that guy was ecstatic and replied "Banni Sir" (and everyone was looking at me 😛)this tasty and authentic dish straight from Namma Karnataka costed a mere 30Rs. Then I moved to the Chef Kunal Pav Bhajji stall , was priced at 50bucks, was kindof overpriced and tasted okaish. Then I tried the Rajasthani, Mirchi vada and Pyaaz Kachori. Tasted nice, pretty close to the one I had in Jaipur. Then there was this Moong dal vada from Indore for 10bucks. There were a lot of non-veg dishes and were priced over 100Rs. I tried this amazing Sondesh which was for 30buck, tasted really good but felt slightly over priced. And lastly I tried the Rajasthani Kesar Kulfi for 40bucks. I was surprised not to see the Indian Burger Vada Pav, Dabeli in the festival. It was nice too. So I guess max 250bucks per head is all that you need + 30 bucks entry ticket to keep your tummy happy !
This was my First Food festival and I did really enjoy this. Lots of news people were there from TV24, Aaj Tak and media people from Times Limited. It was a great experience and a long lasting one as I got this golden opportunity to meet Chef Kunal.
My recommendation, Do visit this with your family and I bet you will have an amazing time !