"Happy Promise Day" people !! Yes today is the Promise Day of the week-long Valentine's festivities leading up to the Valentine's Day. This is the day which is meant to express your love for someone you care and Valentine's Day which is already popular in the west has now got a substantial presence in India as well. Valentine's day celebrations spread due to programs on Radios and TVs where love letter writing competitions were organized along side song dedication and other things. And today Valentine's day is celebrated all over the country. You have hotels and restaurants giving discounts for couples, shopping discounts and much more as India celebrates this festival of love.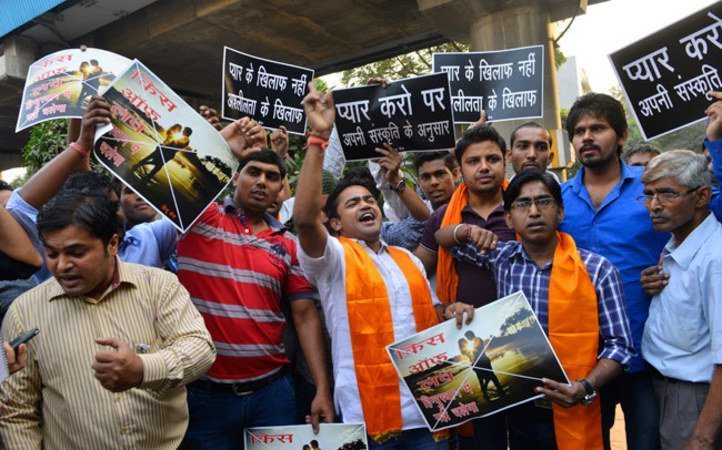 However there are few sections in the Indian society which feel that by celebrating Valentine's Day we are contaminating our culture and the West is to be blamed for this. With the increase in number of people having their "PDA" moment (Public display of Affection), there are some groups that have taken the law in their hands and decided to "purify" our culture by punishing the people who love each other. It's the Valentine's Week and it's time for the Shiv Sena, Bajrang Dal and Rashtriya Hindu Sena to get on the streets and gardens and possibly even houses to stop people from holding hands and expressing love ! I so feel like mimicking that Sansani guy right now " Chain se sona hai toh jaag jaaiye !" These moral policing groups have had a negative impact on the society which unfortunately they don't see.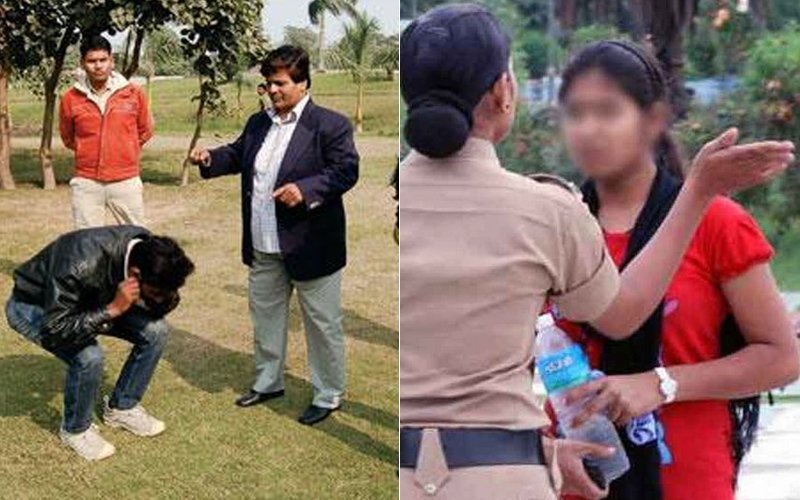 One of the prominent issues of Democracy is that anyone is free to do anything. So we have a group of people goons going to parks, malls and other public places to catch hold of couples and punishing them by defaming them in public or even beating them up. Earlier there were cases when these groups caught the couples and forced the girl to tie rakhi on the guy's hand ! Also. there have been videos going viral where we see these groups punishing and beating up the couples. I mean that's what they mean by "purifying" our culture from the "contamination" These are same people who slammed Aamir Khan for being intolerant ! Look who's intolerant now ?
In fact moral policing has always been there and has had adverse impact on the society. It's just that Valentine's Week is the season for it. remember the 2009 Mangalore incident where members of the Rashtriya Hindu Sena attacked a pub and beat up a group of young women and men, because "women should not be drinking in a public place"? The goons thought they did a commendable job but what happened next left them red-faced – the "Pink Chaddi" campaign. There are a lot of other instances of moral policing – fatwa against the all-girls band from Kashmir, or the Ghaziabad incident where the police were on the lookout for couples in public places to defame them. Such instances have had a negative impact not only on the people but the police as well.
However this time around the famous groups – Shiv Sena and the Bajrang Dal have issued notices to their members to "not to disturb love birds" this Valentine's Day. Bajrang Dal's convener Surendra Mishra said that the "acts that couples indulge in" on roads and at public places on Valentine's Day is "similar to nature of animals" and interfering with them is useless. Shiv Sena too has decided to stay away from misbehaving with any couple. "National head of Shiv Sena's youth wing, Aditya Thackeray, has issued strict directions to not misbehave with any boy or girl on Valentine's Day."
So as they say Cometh the moment, cometh the Man. This time around – for a change – that might not happen. Those in love can express their love without being in fear of any moral policing. So love everyone irrespective of their color, creed,size and gender. Spread Love this Valentine's Day !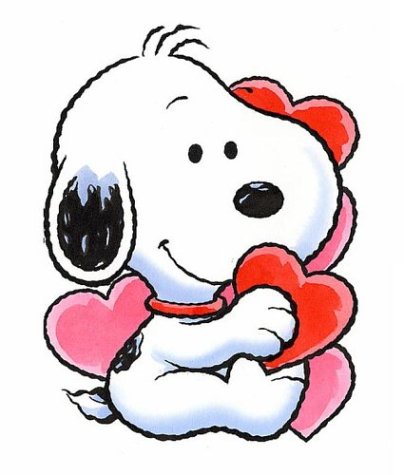 This blog post is inspired by the blogging marathon hosted on IndiBlogger for the launch of the #Fantastico Zica from Tata Motors. You can apply for a test drive of the hatchback Zica today.
The views opinions in this post are purely personal and have no intention of hurting any individual's or group's sentiments.