Thanks to platforms like WordPress and Blogger that coming up with a website has become a child's play. You no more have to run behind your IT guys or friends to help you get online. Be it a personal blog or a professional website, these are the probably the only tools you need. Both these services provide a free sub domain when you sign up. So let's say you signed up as myuser, your website address would be something like myuser.wordpress.com or myuser.blogspot.in. Well this is fine if it's a personal blog. However if you have an engaging blog/website and you interact with media houses, brands etc. then having a custom domain name is a must. In this post I'll talk about How you can get a custom domain name for your WordPress Blog. I've been asked many times, so here it is.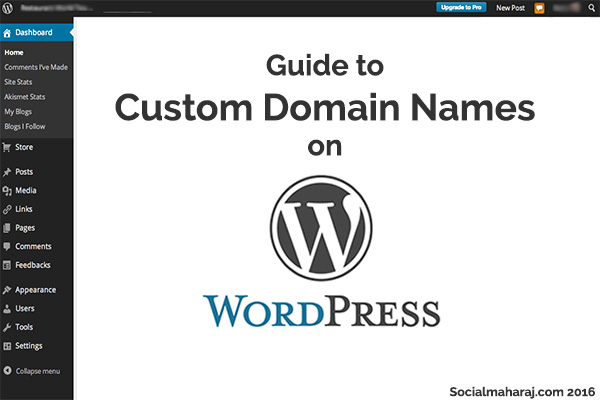 Before you being you need to have a custom domain name already registered. Well this isn't mandatory as the folks at WordPress do it for you. But having it is nice. Looking for discounts on Domain names ? Click here for coupons. Now once you have a domain name with you, there are two ways you can add a custom domain name for your WordPress blog:
Purchase a WordPress Upgrade pack which allows you to have a domain name associated with your blog for no extra cost. This means, everything remains the same, and the only thing that changes is the Domain Name along with some add on features. However the WordPress upgrades cost about 99$/year and that's about 7000Rs + 600(Domain Name) =~8000Rs/year
Pros:
You are still with WordPress and don't need to do anything except from buying the upgrade and domain name.
WordPress will still take care of your files, backups, security etc.
Cons:
Even after paying so much, you still don't have full control over your site.
Not many customization are available.
Who is this best for ?
If you are just looking for a WordPress blog with a custom domain name without getting into the messy work of shifting files, downtime etc. Then this is the best bet for you. Hassle free and easy as this is, all you need to do is pay !
Another option is for people who want full control of their website – from backups to security. If you belong to this category like me, then this is for you. Get a Custom Domain name and a web hosting service. Once these things ready, install WordPress on your current host and configure it by uploading the necessary media files, databases and any other schema required. Once ready, simply navigate to your url and you should see your website live ! Congrats ! For this you will have to shell out about 4000 (hosting) + 600(domain name) =~ 5000 Rs/year.
But Wait ? How do you tell your users about the name change ? Well WordPress has a solution for this, and it is called Site Redirect. All you need to do is buy this upgrade (charged $13 annually) and provide the URL of your new domain name. What this package does is, it sets up a permanent redirect from your old URL to the new URL. So any one visiting your old link (including search engines), will automatically be taken to the new URL. In the course of time, the search engines will update their records and will show your new URL. How long do you need to have this domain mapping package on ? Well, that actually depends on you. Maximum of two years should be fine.
Pros:
You get full control of your website, database, files, FTP etc.
Since you would be using WordPress.org, you will have access to all the files so you can customize them as per your needs.
Cons:
You need to maintain the backups and also take care of the security.
The biggest disadvantage would be losing your SEO. Previously since your domain was tagged with WordPress you would have had a high SEO score, but not you need to start from scratch.
Who is this for ?
If you are looking for customization and are ready to take utmost care of it – backups,security etc. then this is for you. Further if you are up for the challenge to rebuild you brand, this is perfect for you. Also if you are looking to monetize your blog/website with ads and affiliate marketing, then this is best bet for you.
So if you are looking to promote your brand and establish an online presence, then having a custom domain is a must. I see it as investment. Investing a small amount in buying a domain name, will reap higher benefits to you in future.
Still have issues ? Looking for dedicated support to move your blog ? No worries, fill up the contact form here and I would be glad to help you out. Prefer Twitter ? Tweet to me @Atulmaharaj
PS: Some of the sites that I've helped move to custom domains are rashminotes.com and sunitasriram.in. So you can check with them on my service 🙂