I am on a self-hosted WordPress blog for the last 7 years. More recently, I decided to use Digital Ocean for WordPress Hosting. It's been over a year since I'm using Digital Ocean WordPress hosting. And in this blog post, I'll share my experience with Digital Ocean for WordPress hosting.
Did you know that I've been creating content on the internet way before even Instagram was born! While my content is mostly textual as I found joy in writing, I am active on social media platforms as well. The first website that I set up way back in 2007 was hand-coded in PHP and HTML. However, as time passed I realized that there are a lot of good platforms where I can focus on content and forget about the rest. That's when WordPress came in.
WordPress, founded in 2003 has become one of the most widely used content management and blogging system. I recommend any newbie to start blogging with WordPress because of the ease of use. While WordPress.com is perfect for beginners, WordPress.org is for advanced users because of the benefits it gives. However, you need WordPress hosting to host WordPress.org sites.
Why I moved to Digital Ocean?
I've previously used shared hosting services like Hostgator and Siteground. I started out with Hostgator and was quite happy with their service except for the downtimes that I faced. Since those were my initial days in blogging I was fine with it.
However later on moved to Siteground for their better service. I would still recommend Siteground to anyone who has a high budget. I was extremely satisfied with Siteground's service, however, their steep hike in prices forced me to move out of them and look for alternatives.
After researching quite a bit, I decided to move to VPS hosting which is much better than shared hosting. You should read about the types of web hosting to know more. Finally zeroed in on Digital Ocean because they offered FREE $100 credits to start with. I thought it would be a great way to test the waters, and if I liked I'll continue. Fast forward to today, this blog is running on Digital Ocean 🙂
My Experience With Digital Ocean WordPress Hosting
Digital Ocean offers a lot of pre-cooked droplets that you can directly run with minimal configuration. They also have plain vanilla droplets without anything on them and you can choose everything that you want. I chose a vanilla server and added everything that I needed to run my WordPress blog on it. I started with the simplest 1 GB VPS server which is perfect for beginners. In fact, I wrote an article about performance improvements for 1GB VPS servers.
Quick Setup
The best thing I like about Digital Ocean's WordPress hosting is the quick setup. The droplets are ready and are all set to fire. All you need to do is choose a droplet and an image that you want and simply hit run. That's it! Within seconds you'll have the server up and running and you can access your brand new WordPress blog with the IP address. Get a domain name and map it and your blog is all set. The time taken to provision a VM by Digital Ocean is much lesser than what traditional shared web hosting service provides take.
Since I opted for an empty VM and installed everything one by one, it took some time and effort. You can read my blog post on Moving WordPress Blog from Siteground to Digital Ocean to know what exactly I did.
Full Control
The major reason why people opt for cloud / VPS hosting is for control. Unlike shared hosting servers where you cannot configure many things, VPS hosting and cloud hosting allow you to change every single thing on the server. For instance, many shared hosting providers have an upload limit set which may cause problems uploading large files in WordPress. With a VPS server, you can set that limit to virtually anything!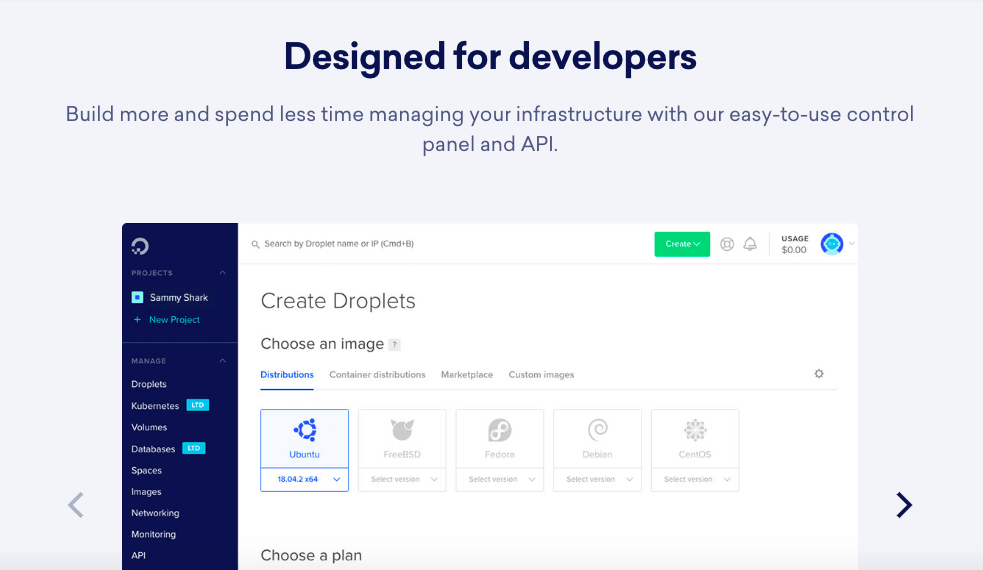 Apart from that you can control so many other aspects of the server itself and optimize it to best use. There are a lot of unnecessary things that are a part of the server which you don't need in real-time, you can discard these and make your server more efficient.
Fast Server
Lastly, the instant change I saw after moving to Digital Ocean was the speed. Even without doing anything, I could see much better speeds than my previous hosting provider. That is because of more resources available. Even without any caching plugin or CDN enabled, the website would load quickly.
When I checked the same on Lighthouse for website speed, it was all green and well scored 95 in all areas. I wasn't able to manage it on my previous hosting provider due to various limitations.
Give Digital Ocean a Try & You'll not regret
If you are a developer looking to host your application on the cloud Digital Ocean is perfect. With just $5 a month for their basic VM, you can test your app and scale it as required. While it does require one to be a little tech aware, there are services that can help you with it at an additional cost.
Irrespective of that, my experience with Digital Ocean WordPress hosting has been amazing. I've not experienced any downtime or loading issues with the blog. Their control panel is simple and provides only those details that are useful to you. Easily one of the easiest control panels I've come across.
What hosting service are you using? What are your thoughts on Digital Ocean? Let me know in the comments below, Tweet to me at @Atulmaharaj, DM on Instagram or Get In Touch.