Most of you who know me in person or are following me on Zomato are aware that I'm always on the lookout for budget vegetarian restaurants wherever I go. Having visited the likes of Ohri's Jiva Imperia, Shalimar Tiffins and Rajdhani Thali Restaurant to name a few, there were still many pure vegetarian restaurants that were unexplored. Once such restaurant that was always on my foodie bucket list was Chutneys. Chutneys is a chain of pure vegetarian restaurants in Hyderabad known for their authentic south Indian food. They have many outlets in the city and one of them is located on the 4th floor of Inorbit Mall, Madhapur.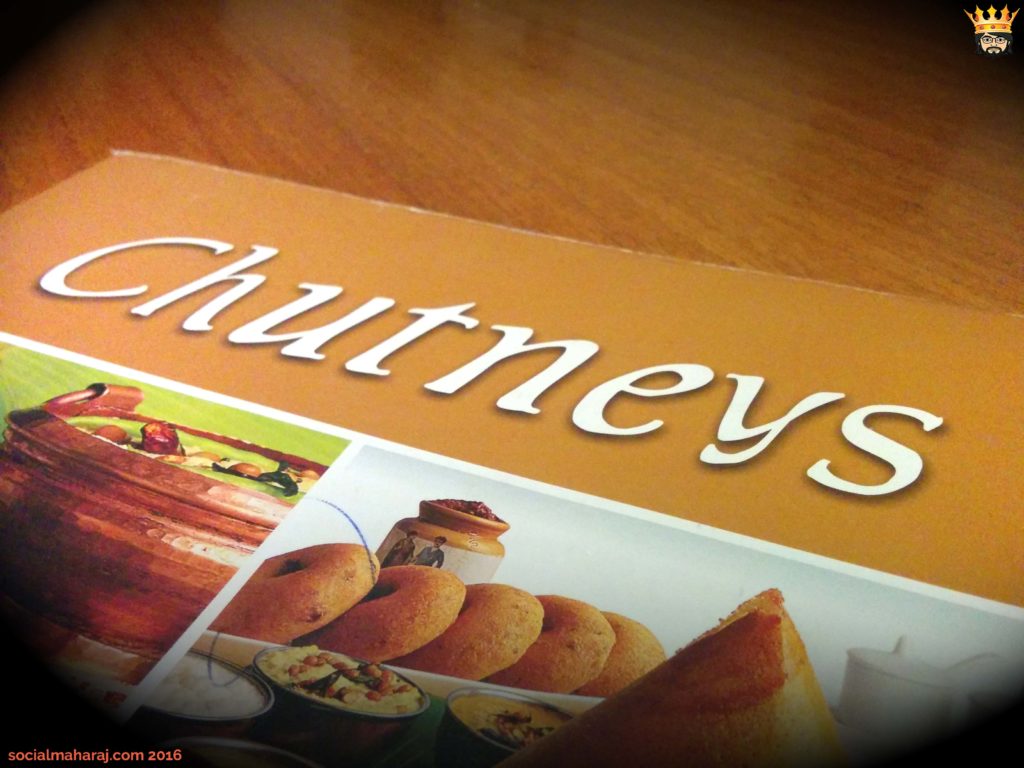 During my previous visits to the mall, I had always walked past the restaurant because I was never too interested in having a heavy lunch. Moreover the feedback I had got was that Chutneys was slightly on the higher side of the price bracket, so that held me back. But finally, yesterday while I was at Inorbit, I decided to visit Chutneys for lunch just because there was no seating place in the food court ! So here's a review of the famous south Indian restaurant Chutneys, read on !
One of the best things about Chutneys is their attention to ambiance. No matter whichever outlet you visit, you are surely going to love the ambiance and this one in Inorbit Mall was no different. The restaurant was spacious, it didn't however looked that big from outside. There was a seating area because during peak hours you need to wait for your turn. I was lucky to have waited for a few minutes before getting to the table.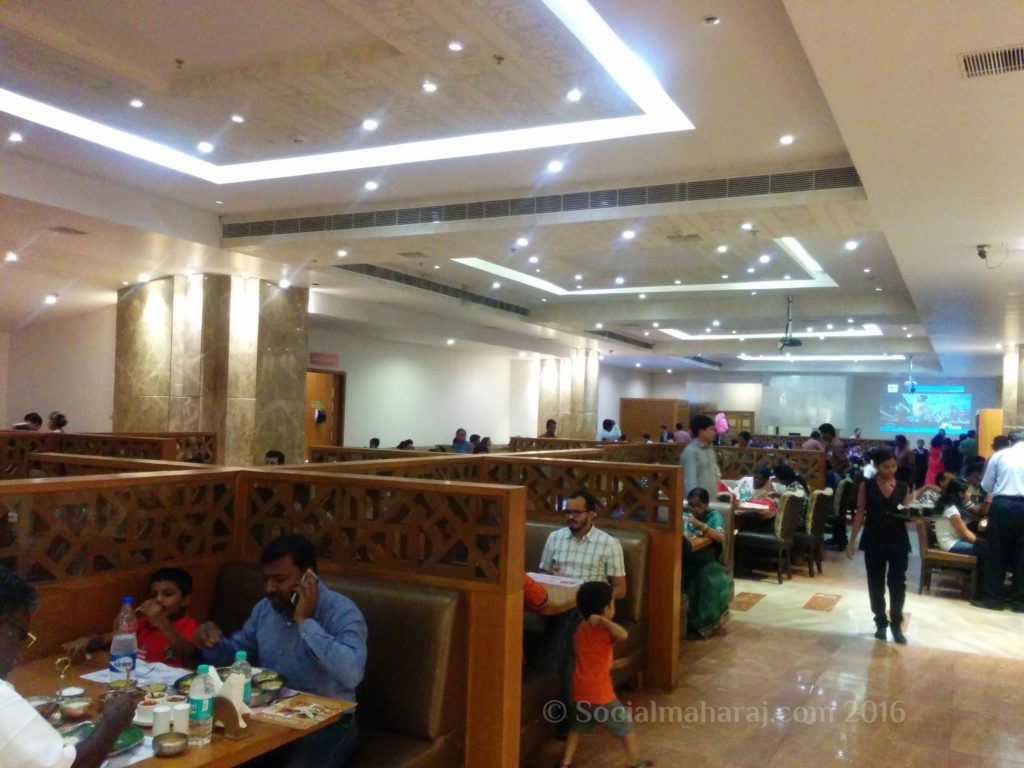 Without wasting much time, I ordered the South Indian thali while I glanced through the menu. The menu had a good mix of north Indian and south Indian delicacies, from typical Punjabi dishes to authentic south Indian dishes. The service I felt was slightly on the slower side. First we go the roti basket, which had
pooris
and the famous
papdam
. It took sometime for the thali to appear before us, but finally there it was.
The thali had a lot of items, and surely did justice to its name. The items in the thali included Bitter-gourd (Karela) fry, Snake-gourd, Pappu (dal), Soyabean Curry (my favorite), Chutney, Saagu (the typical, mild aloo curry served with poori), Lemon Rice, Plain Rice, Puranpoli (wasn't puranpoli, but tasted like it), Dahi Wada, Kadhi (I wonder how did this become a part of a south Indian thali), Curd and Paysam. The biggest let down was the fry which is the 'shaan' (pride) of meals in Hyderabad. While the best part was that everything in the thali had a very subtle taste and nothing was very spicy as you would expect from a typical south Indian thali. So even people who eat less spicy food can enjoy this thali. The Soyabean curry as mentioned earlier was my pick of all the items. Even the Paysam tasted superb, maybe because it was served hot.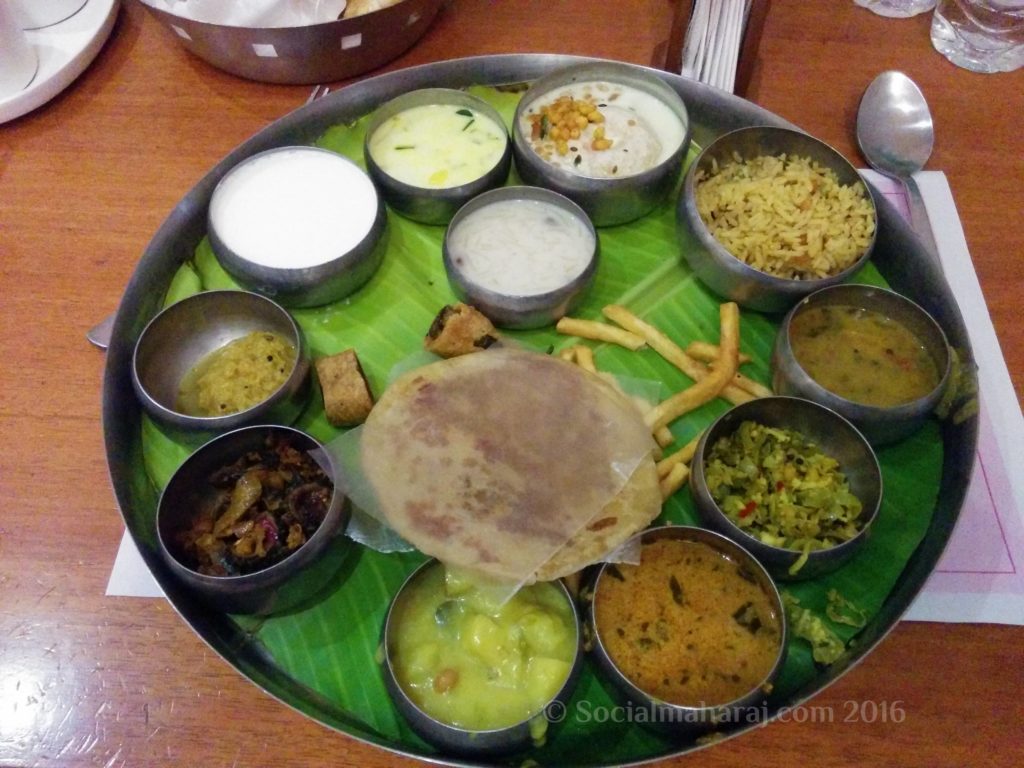 Overall it was a nice experience at Chutneys. Priced at 225Rs, the south Indian thali was priced higher compared to other restaurants (Abhiruchi) that serve it for anywhere around 100Rs. However with the number of items on the thali and the ambiance, I felt it was worth the price tag. If the service would be improved slightly, the entire dining experience would be enhanced.
So if you are looking for a good, authentic south Indian restaurant with an expansive menu and good ambiance, Chutneys should be the one that you should be visiting. Already visited Chutneys ? tell us about your experience.