"Oye Sharma, paise kab dega ?" is one line that I'm sure everyone reading this would have used at least a hundred times in their school, colleges or even today. Going for a movie or having a group lunch was fun, but when it came to paying, there was always this one generous guy/girl who would offer his/her card to make the payment. And more often than not, these people used to chase others for repayment.Trust me, nobody likes it, neither the person asking nor the person who has to pay. Many a times, this amount keeps increasing and one fine day it actually becomes so huge that one needs to pay it by card 😛 So for people who always pay during such events, it's a daunting task to keep a track of the cash flow. Small amounts can be ignored, but when the amount runs into hundreds and thousands, is when some planning is required. Steps in Mypoolin, a revolutionary app that helps you keep track of every penny.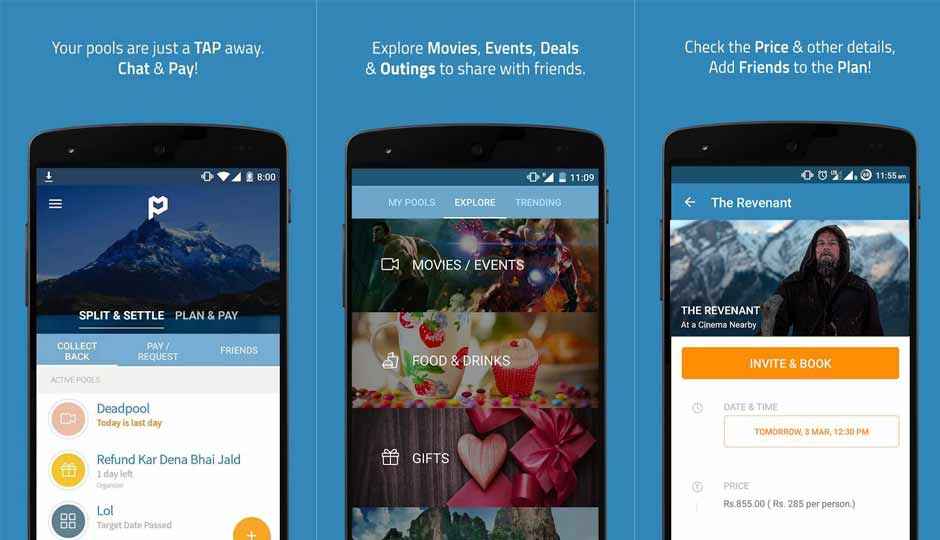 Mypoolin – Payments with Friends
Payments with Friends is what Mypoolin targets. The service allows you to split and share a bill among your friends. So be it a dinner party or a DJ Night, Mypoolin is the perfect app that will help you manage your cash flow. Without having you to maintain a cash register or an excel sheet (if you are a geek). This simple app keeps a track of all your cash flow with just a few taps. All you need to do is, enter the amount to be collected, set a target date (by when you need it) and enter the details of the people who should pay. Once done, Mypoolin will ensure that the money is back in your hands. Since the app has tied up with various payment gateways like Payu, PayTM and many other wallet services, it becomes very easy to send and receive payments.
Another highlight of the app is that it allows you to Plan & Pay with your friends. The app presents you with ideas – a buffet lunch, a movie etc. You can share this with your friends and keep a track a of people who are game for it and who are not. So now that you know who's in, simply make the payment directly and get the remaining amount transferred right in your bank account.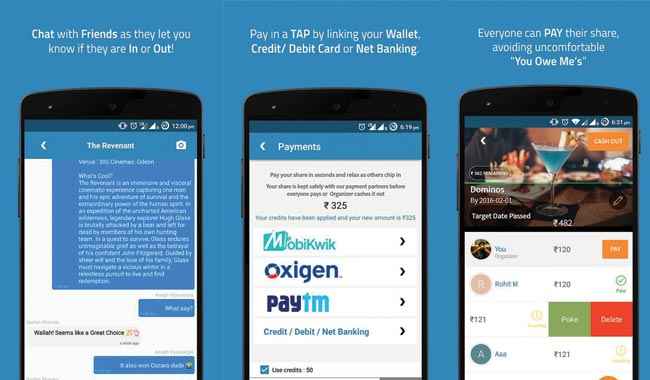 Support for UPI
If you have been following my blog, you would be aware of a post I wrote about Unified Payment Gateway or UPI. A quick recap here – UPI allows you to transfer money just with an address known as VPA or Virtual Private Address. It is something like [email protected] So it makes payments simple as all you need to remember is this VPA and no need to memorize those huge account numbers or weird IFSC codes. To know more about UPI, read my previous post.
Mypoolin supports instant payments via UPI. So the first thing you need to do is to get a VPA from your bank. Once you have that you can transfer money using the 1 to 1 UPI option present in the Mypoolin app along with the MPIN. So you see, sending and receiving money is as simple as A,B,C ! Finding it difficult to remember the VPA ? Don't worry Mypoolin has a solution for that too ! Mypoolin remembers your VPA associated with mobile numbers so you don't have to ask. With so many features, I too decided to give it a try. Since I'm planning a trip soon with a couple of my friends, and as usual we were splitting the bills, I thought to try this. I was amazed by the simplicity and ease of setup. Even my friends found it easy to pay because Mypoolin has wallet support.
Share and pay with friends on Mypoolin
With the bunch of features like along with UPI, Mypoolin is worth checking out. Services like Split & Share and Plan & Pay, Mypoolin ensures that you and your friends spend quality time rather than asking each other for the money. The neat web app and mobile app – available for both Android and iOS – (without UPI for iOS) provides a consistent interface. You can have a look at the service here. So if you no more want to run behind Sharmaji asking for money, install Mypoolin and let it do this for you !