"Cricket is religion in India and Sachin is God" is the one line that perfectly sums up the cricketing scenario of India. From playing in classrooms with notebooks as bat, to playing at the MCG, India has produced players of great caliber. And the one name that took the world by storm with his composed captaincy and the power batting is Mahendra Singh Dhoni. MS Dhoni has been one of the best players in the cricketing world alongside being one of the most successful captains India has every had along side the likes of Dada. Dubbed to do a business of what the Khans do, MS Dhoni the untold story is already opening to packed theaters. Here's a post – not review – on the movie and why it's more than just cricket !
Bollywood and Sports
Whenever Bollywood has come up with a sports based film, it has been a hit. Be it Iqbal, Chak De India, Bhaag Milkha Bhaag or the recent blockbuster Sultan, sports based movies have ruled the box office. MS Dhoni the untold story is surely en route to shatter some (read many) Box-office records. The entire world was fascinated to see this man reach the pinnacle coming from a small town of Ranchi and hence everyone was interested to know how it all happened. MS Dhoni the untold story does exactly. Starts from 7 July 1981 and ends at 2nd May 2011 with India winning the ICC World Cup 2011. The movie showcases some the most important part of Mahi's life that most of us aren't aware of. But if you are thinking that the movie is all about Cricket, then you are wrong ! MS Dhoni – the untold story is much more than just Cricket.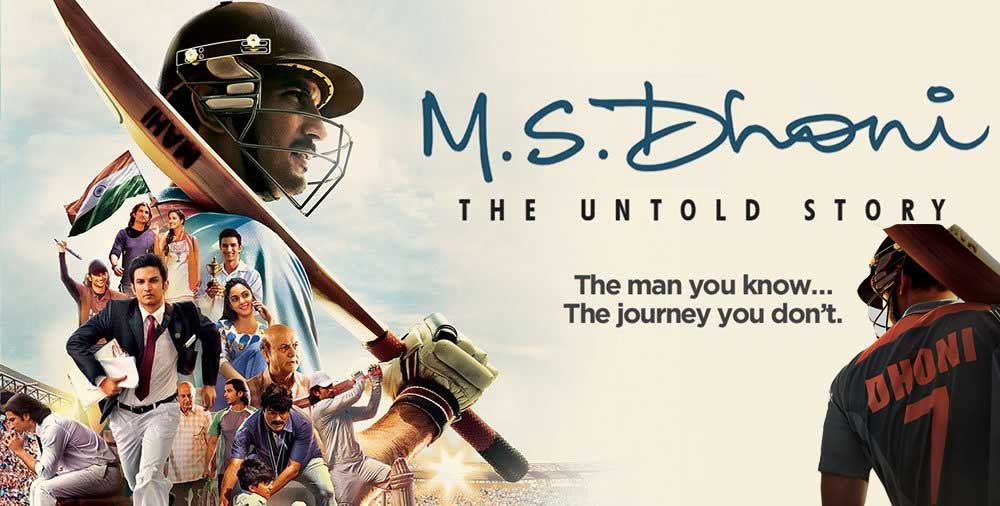 Why you should watch MS Dhoni – the untold story
No Shortcut to success
There might be players who would 'get into' the team for every reason but cricket. But after watching the movie, you would know that it wasn't the case of Dhoni. The movie showcases all that you need to do right to chase your dreams, and the most important of it is not taking any shortcuts in life. Many people like Dhoni would be or are doing something that they don't enjoy. A passionate singer might be shuffling between the lines of code or an HR manager would be managing people rather than spending time with food which is her passion. Everybody needs to work hard to ensure they are successful, be it their work or their passion. You will need to go the extra mile if you are doing something that is not your passion to achieve your dreams. So you need to watch the movie to see how Dhoni juggled between the job of a ticket collector and his passion for cricket.
Learning from Failures
Failure is the one thing which nobody prepares for and is often caught off guard when anything wrong happens. Nobody enjoys failure, and want to get over it as soon as possible. For whatever reason, you might have failed, you should keep calm and analyse what went wrong. Once that is done, prepare a road map and stick to it. It's time to put in more efforts to ensure that you achieve the thing you failed at once. There are many instances in the movie where you realize that getting back to the drawing board, preparing even harder ensured Dhoni became the Dhoni who we know. So always remember, that failure is the best way to learn !
[Must Read: Dhoni the Fanstastico Finisher]
Friends are Family
This is the one thing that I always believe in. The movie apart from cricket showcases the special bond that friends share. From studying in the same class to helping Dhoni concentrate on his game, his friends had done everything to ensure that their friend achieved his dream. This is a great movie that celebrates Friendship and life. And it's great to see that even today how Dhoni shares the same bond with his friends. So remember friends, no matter what you achieve, never ever leave your friends and family.
I'm a huge cricket fan, but this movie is not only about cricket. MS Dhoni the untold story celebrates friendship, life, love, heartbreak and cricket. Dhoni rightly said in an interview, "Cricket is a part of my life, it is not my life. Similarly Cricket is a part of the movie, and not the movie itself." So whether you are a cricket fan or not, you should watch this movie for the life lessons you will learn that will help you cross all hurdles of life. Remember life is a cricket match, you will never get full toss and half volleys, so it's best to duck the full tosses and wait for the half volleys…