People who love travelling may or may not love driving. However I belong to the camp that loves to drive. Be it a long road trip or simply a casual drive sans commuting to work is fun. Again, there are few who love to take their bikes and other who are passionate about their car. Well, I don't drive a car too often, but a two-wheeler is my daily companion. I first drove when I was in class 7th, it was a Maruti 800 back then. And most of us know Maruti 800 is a toy, but great for beginners. Later I drove the Tata Indigo which was smooth as we travelled a lot on the highways because I studied in a boarding school.
So as time passed, the cars kept getting bigger. And after being invited to review the Tata HEXA, my love for SUVs grew even more. So when the team from Ford asked me to experience the Ford Endeavour, I was on cloud 9 ! Bigger the better, yes I screamed and off I went 😛
The Great Ford Endeavour Drive
It was yesterday, Ford India held the "Great Ford Endeavour Drive" in the city of Nizams. After a roaring success in Gurugram and Bengaluru, it was time for Hyderabadis to witness the power of  Ford Endeavour. This was a completely off-road driving experience which showcased the power and manoeuvring capability of the car. The event was held at Area 56 motorsports in Keesara, Hyderabad.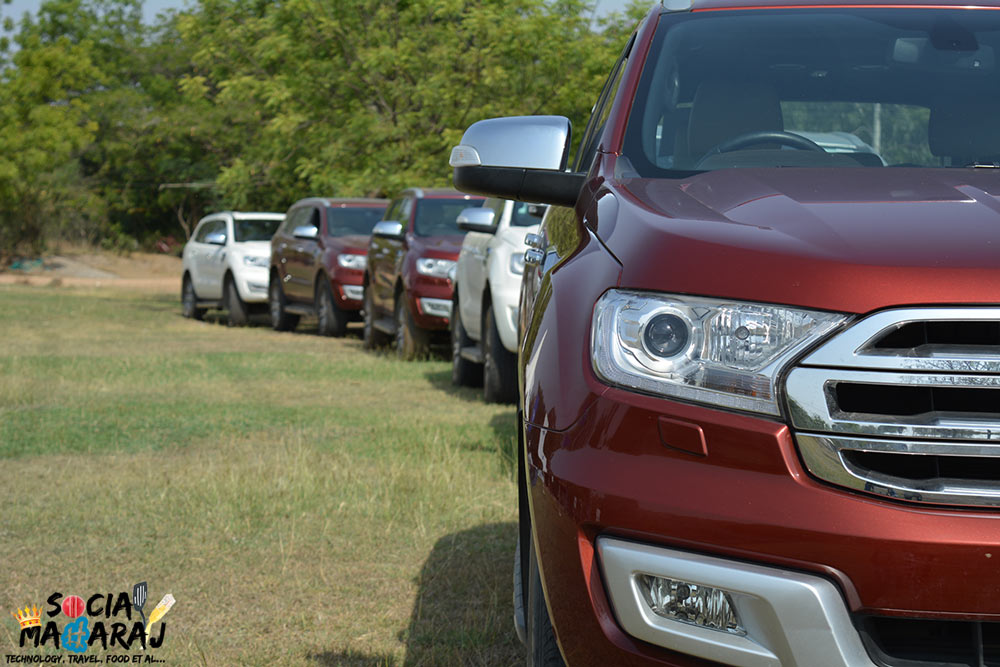 There were custom-made tracks to push the car to the limits and excite us. It was a half day event where people from both Print and TV media along with a handful of bloggers were present. So before I talk you through my experience of the Great Ford Endeavour Drive, I'll first talk about the tech specs of Ford Endeavour.
Ford Endeavour – the mean machine
This muscular SUV is the perfect blend of power and luxury. Under the hood, Ford Endeavour comes in two variants, a 2.2L and 3.2L Diesel Engine. The 2.2L has an option for 6 speed manual as well as auto transmission while the 3.2L variant is only available in auto shift. We were provided with the 3.2L variant. The 3.2L engine is capable of generating a torque of 470NM that gives the power to the Ford Endeavour and is 4 wheel drive.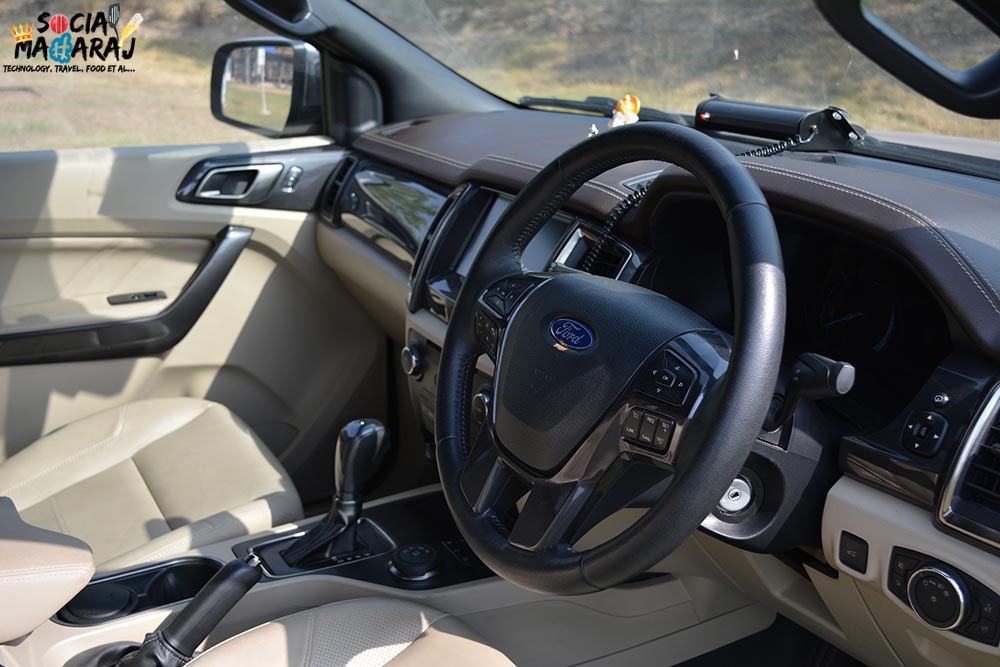 The car comes with an Advanced Terrain Management system which has four modes – Normal, Rock, Sand and Snow – that helps the car drive through any terrain. At 800mm, the Endeavour is great at keeping water at bay. The infotainment system is backed by world-renowned SYNC 3 with touch screen. Overall, I loved the feel of the car.
The Great Ford Endeavour Drive
The experiential drive, set amidst natural terrain on the outskirts of Hyderabad, simulated challenging off-roading conditions including sharp turns, steep hill climbs & hill descent, wading through slush, uneven surfaces, driving at a 30-degree tilt among others. There were a total of 13 obstacles of which the experts would drive 2 while we had an option to do the remaining. Since I had zero experience off-roading, I told the team that I would simply experience the ride. Each person was provided a car along with an expert.
The experts for off roading were from Wanderers Adventure. They are a group of highly enthusiastic "offroaders" who not only give the thrill but ensure your safety too. I've been told that they also organize Road-Trip to Ladakh too. I unfortunately didn't get the leaves to be a part of this, but will surely try to join them whenever possible. If you want to know more about them, follow them on Instagram and Facebook.
My companion was this amazing young guy Vikas. When I told him that I haven't done off-road before, he simply asked whether I could drive or not. I told yes, and he asked me to get behind the wheel ! So I did 3-4 obstacles which were rated as easy to moderate difficulty. A slightly easy nose dive, driving through sand, a ride through forest terrain and a slight tilt. The video showcases my entire ride experience. The tilt and the mountain descent were the most scariest and thrilling. I was scared of the car toppling over, but thanks to Vikas for avoiding obstacles at ease. He was a great companion who not only drove my back safe, but also explained the various settings – 4×4 low, Diff lock – while driving.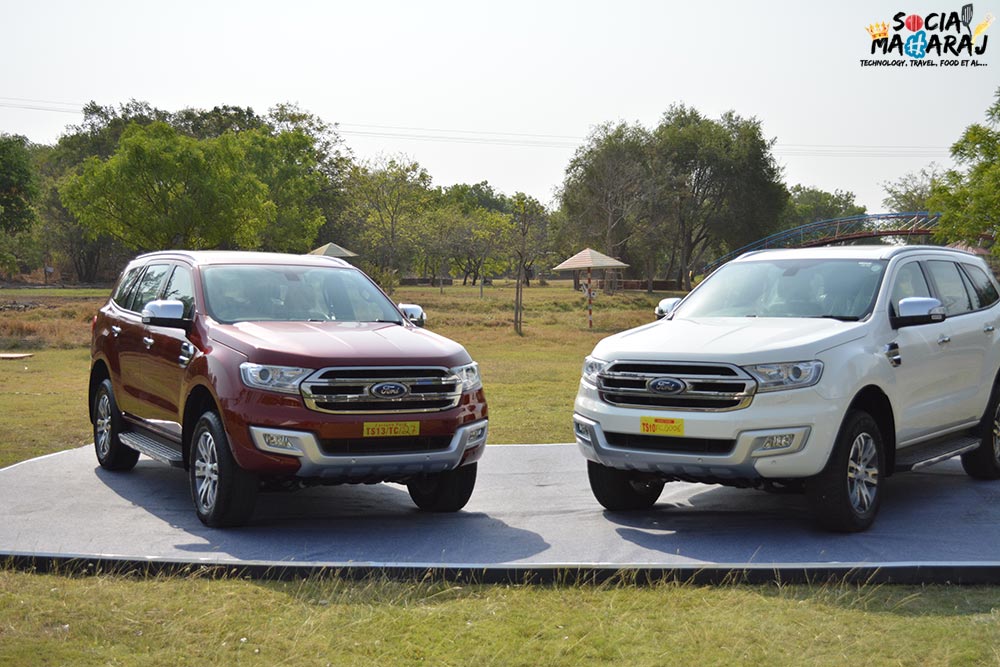 Endeavour the Endeavour
This was my first time driving the Ford Endeavour and it was amazing. The car is muscular and the front chrome grill adds to the look. Driving the car was butterly smooth as it made its way past the rough terrain. However, I still wonder how many people in India actually take their SUV for an off-road spin ? I mean most the SUVs like this one are capable of handling almost any terrain, but the average Indian doesn't even take the car to the highway. Not endorsing the brand, but if you have the moolah and looking for a powerful machine with great interiors, the Ford Endeavour is a great choice. From city's bumper-to-bumper traffic to highway to mountains, the Endeavour can ace it all !