"Life is either a great adventure or nothing." – Helen Keller
When life gives you a lemon, squeeze it, drink the lime and head for an adventure to forget the petty worries. Travel opens your mind, but adventure opens your heart! All of you who are bored with the mundane life and want something exciting, we have just the right activity for you. Check out these seven places which only the most daring of you can think of visiting:
Most daring Trek Places in India
Kang Yazte, Ladakh
Kang Yazte, standing tall at 6400 m, lies in Markha Valley in Ladakh region. There are two summits, Kang Yazte I & Kang Yazte II. Kang Yazte II is relatively easier and hence more trekked than Kang Yazte I.
Height wise there's not much of a difference (just 200m) but the first summit is very hard to climb, and it also requires technical mountaineering skills. It takes around 6-8 hours to reach the second summit while the first summit would require you to camp overnight. If you're a certified mountaineer, don't miss out the first one. Else, head for the second.
Shrikhand Mahadev, Himachal Pradesh
Situated at 5227 m, Srikhand Mahadev peak is one of the most difficult peaks to trek to. It is the abode of Lord Shiva and holds a special value for devotees. The route to Srikhand Mahadev peak opens only for 15-20 days every year due to critical weather.
The trek starts from Jaon village in Kullu district, and it can take up to 7 days to complete the journey because of highly unpredictable weather. The trek opens in mid-July, and total distance which you'll have to cover is around 70 kms. You would forget everything once you reach its top as it offers the most beautiful view that you've ever seen.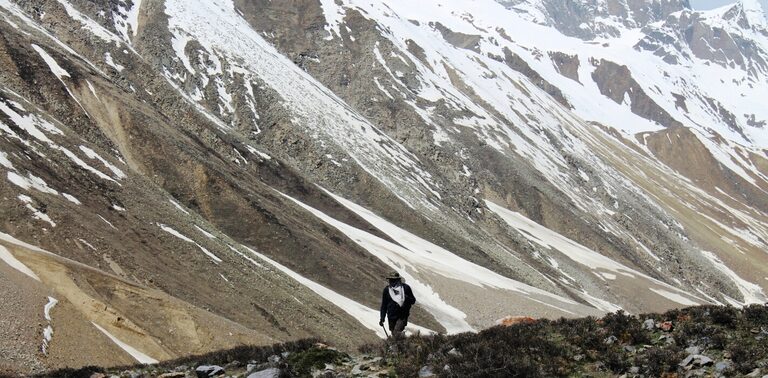 Lamkhaga Pass, Himachal Pradesh/ Uttarakhand
Special government permission is required if you want to trek Lamkhaga Pass. Situated at 5282 m height, it is one of the toughest passes which connect Himachal Pradesh to Uttarakhand. This trek is quite remote, and it takes around seven days to complete it.
You can visit it from mid-May to June and early September to mid-October. The trek is around 70 km, and it crosses dense forests on its way. It is certainly not for immature trekkers.
Goechala, Sikkim
The best part about this trip is, once you reach the top, you would get to see 14 big summits. Goechala offers a wide view of different mountains as it is situated at 4940 m. Even Mt. Kanchenjunga can be viewed from this high mountain pass.
It takes around 11 days to cover this trek, but it's totally worth it because of the peace and views it offers from the top. Not only this, but you also see the Samiti Lake on your way which holds the reflection of Mt. Pandim during early hours. If you're looking for peace, this is just the place.
Pin Parvati, Himachal Pradesh
Considered to be one of the most pious valleys, Pin Parvati lies at 5300 m from sea level. Mid-June to September is the best time to visit, and it is an energy draining trek of 10-11 days.
You would be crossing meadows, forests, snow fields and glaciers on your way. Trek starts from Manikaran, Kullu and ends in Kaza, Lahaul-Spiti. You would be mesmerised by the beauty that this trek offers.
Chadar Trek – Zanskar Valley, J&K
Chadar Trek is one of the most exhilarating treks of India. However, it's not that easy as you would have to walk on a river, literally! As the name suggests, you would be walking on a frozen river situated at 3390 m.
It takes nine days to complete the trek, and it is considered exceptionally tough as temperature drops to -10 to -15 degrees in the area. Walking on the ice would be a dangerously exciting experience of your life. If you're done with ordinary treks, go for this one!
Harishchandragad Trek, Maharashtra
It is hard to believe that a trek which is just 250 km away from the sea could be this difficult. Situated in Ahmednagar, Maharashtra, the peak is merely at 1422 m from sea level. Harishchandragad is basically a fort which can be reached from many routes, but the toughest one is from Nalichi Vaat, meaning,passage through a garage.
It involves a steep 80-degree climb and has many rock patches. The most popular attraction of this trek is Konkan cliff which is shaped like cobra's hood. It takes around 9 hours to complete the trek and is one of the most tiresome treks of Western Ghats.
These are the 7 Places in India Only the Most Daring Would Think of Visiting. But ensure your health and pack all essentials before heading out for the thrill and adventure which you won't be forgetting for the rest of your life.
While you are thinking of going on an adventure trip, let's not forget to gear for the adventure called 'Life'. Since life is full of twist and turns, it becomes essential to financially secure your family in your absence. What if we tell you – "The amount you need to spend annually to secure the future of your loved ones will be much less than the amount you spend on an adventure trip".
This financial security can be gained with the help of life term insurance. Life term insurance is one of the cheapest and most affordable ways of financially shielding your loved ones in case the worst happens to you. These plans are available online and can be purchased with a single click from the comfort of your home. However, before purchasing any plan, ensure that you perform a thorough term life insurance comparison to make a sound decision. Have you been on a trek ? Which one according to you is the toughest one ? Mention in the comments below or tweet to me at @Atulmaharaj