"Kochi is not a city, it's a feeling" read a wall as I walked past the famous Chinese Fishing nets at Fort Kochi. This part of the city is completely different from the rest. You would be reminded of being in a European country as you cross every lane. The buildings, the cafe, the people. There's something in the air which makes Fort a Kochi a different place all together. I stayed in Fort Kochi for a night and explored the places around. I titled this post as Cafe Hopping in Fort Kochi – Best cafes in Fort Kochi.
There are numerous of restaurants and cafe on Fort Kochi, so does that mean that the cafe mentioned in this post are the best ? All the cafe that I'm listing in this post are budget cafes with amazing ambiance. If you go in for a beverage and a side dish, you wont be spending more than 400₹ incl taxes. So here are the Best cafes in Fort Kochi.
Best Cafes in Fort Kochi
Kashi Art Cafe
Located in the by lanes of Fort Kochi, Kashi Art Cafe finds itself in the Rose lane. This lane is right opposite to the sit out cafe and next to the Delta study center. The Cafe on entrance does look like an art gallery. Only when you walk in you realize that it's here where food and art meet. You'll find art in every corner of the cafe and it's unique. There isn't plenty of seating space but it's just enough. The ambiance is amazing and the music playlist makes it even better.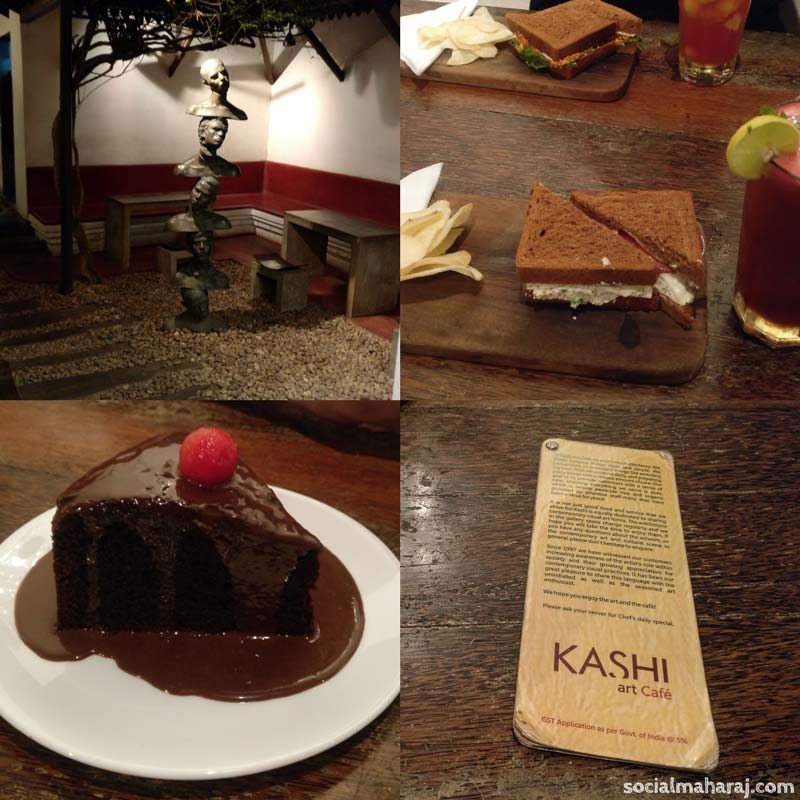 I ordered a Grilled Tomato Cheese Sandwich along with a Watermelon Iced Tea. The Sandwich was served with Tapioca chips which were fresh and crisp and complimented the sandwich perfectly. There was lots of cheese in the sandwich but it wasn't the normal cheese. The iced tea was slightly on the sweeter side, but was refreshing as it was served chilled. For this I paid about ₹300 incl taxes. So for the ambiance as well as the food, 300 isn't a huge amount to pay !
Loafers Cafe
Loafers cafe is another happening place that overlooks the colorful streets of Fort Kochi. The cafe is located right at the end of the Princess Street and is opposite to Cafe Kochi. Loafers Cafe is located on the first floor and has some really amazing interiors. The best part I liked about Loafers Cafe was the window seating that allowed you see the life outside and build thoughts in your mind. And that's were I wrote 3 of the blog posts. I came here just after I completed my Kochi to Alleppey ride on Activa.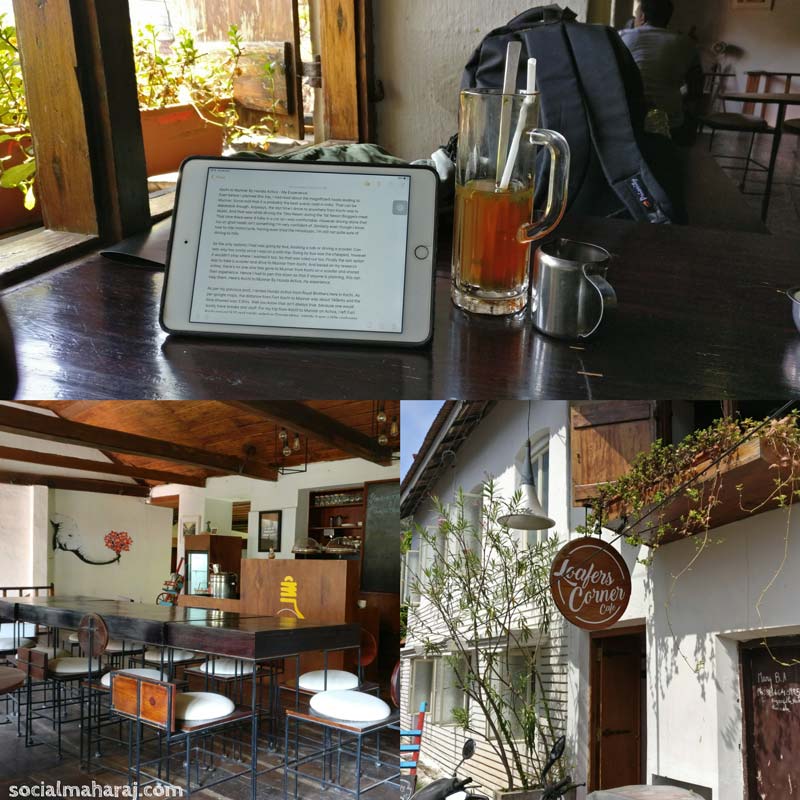 I ordered just a Lemon Iced Tea. The way these cafes here serve Iced tea is different. It's not a premix that you find at most of the places. Rather they serve you black tea in a glass and give sugar syrup and lemons separately. With this you can make it according to your taste ! For this I paid Rs 80 only. This for the view, I can spend hours there writing and sipping Iced tea !
Bench RestoCafe
The next cafe that I'll talk about is the Bench RestoCafe which is located on the Princess Street too. If you see a big hut with large windows you know it's Bench RestoCafe. I found this place on Zomato and headed here because it accepted Zomato Gold. However upon reaching the person told that they aren't accepting it any more 🙁 Anyways, I went during the sunny hours of noon and not many people were there. The ambiance is pretty amazing with the bamboo theme. Moreover the lighting done would look amazing during evenings/night.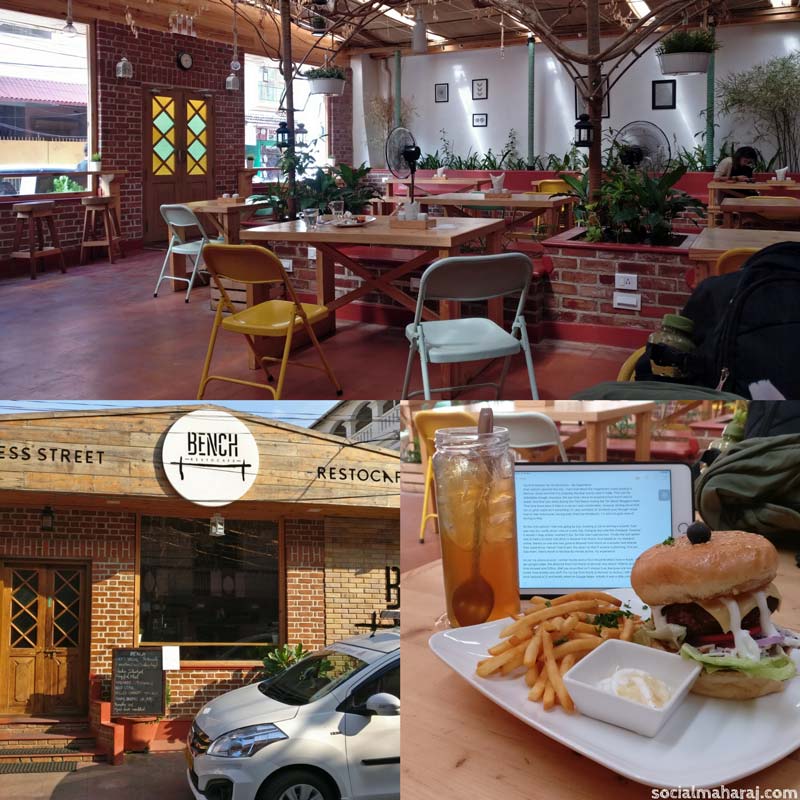 I didn't have anything particular in mind so I asked the person to serve me the best they have good. And the first thing he says is Beef and Bacon. And I'm like I'm pure vegetarian, he takes a deep breath and says, Veg Burger you can try. He served that along with Iced Tea. It did take a little while to get it, but I enjoyed the lively music and completing the blog posts. The burger was huge (you can guess that from the image itself) It did get a little messy by the time I finished it, but it tasted good. The patty was perfectly spiced and was crisp on the outside and succulent on the inside. For all this, I paid about 350Rs which again is pretty good. I was here till evening before leaving for airport via the Kochi Aiport Bus service whose bus station is at a walking distance from here.
Best Cafes in Fort Kochi – which one is your favorite ?
That was my list of Best Cafes in Fort Kochi with Kashi Art Cafe, Loafers Cafe and the Bench Resto Bar cafe. There are quite other cafes too but I chose to go to these because of their proximity from the airport bus stop. Since I had a bag and I had already returned my Activa, I didn't want to walk much. Overall I loved my short and sweet stay in Kochi and loved exploring Fort Kochi. Next time perhaps I'd spend some more time to explore Fort Kochi alone. Have you been to Fort Kochi ever ? What are the places that you'll suggest me ? Mention in the comments below or tweet to me at @Atulmaharaj