Going out on a Saturday for dinner has kind of become a weekly affair for me. And as I'm writing this, I've also planned my upcoming weekend dinner. Yes, I'm that planned. If you've been following my food journey either here or on Instagram, you probably know how much I've been eating out. Last weekend I was at Cyberabad Pub Exchange at Smaaash. Prior to that me and my friends dined at Bidri by Marriott Hyderabad. Having dined at Okra by Marriott already, we always wanted to dine at Bidri which was right across Okra. So here's the review of Bidri by Marriott Hyderabad. The post is coming in a little late, but as they say better late than never ! 
Royal Ambiance at Bidri by Marriott
One of the great things I like about Marriott Hyderabad is that no matter how it is outside, once you enter the lobby you are hypnotized by the fresh lemony fragrance. I always take a deep breath the moment I enter the property. Since this was our second visit, we knew where we had to go. Walk straight, cross the elevator – Turn left for Okra, Right for Bidri. Both the restaurants are quite different not only in terms of food but ambiance also. Okra is more bright and urbane, while Bidri is has that royal touch to it. Also since Okra offers buffet, it is bigger when compared to Bidri.
Warm Hospitality
We tried booking the restaurant on Zomato and Dineout but weren't successful and simply walked in. To our surprise, there were no tables ! Though nobody was there, all the tables were reserved. My mind started to think of other restaurants we could go to. And just in time, the chef Mr Pavan jumped in and arranged a table for 3 of us. Dressed in the typical black chef coat, Pavan ensured we had a ball of a time. I'd also like to thank the entire team right from Ravindra, Anju and Ritu for taking care of us.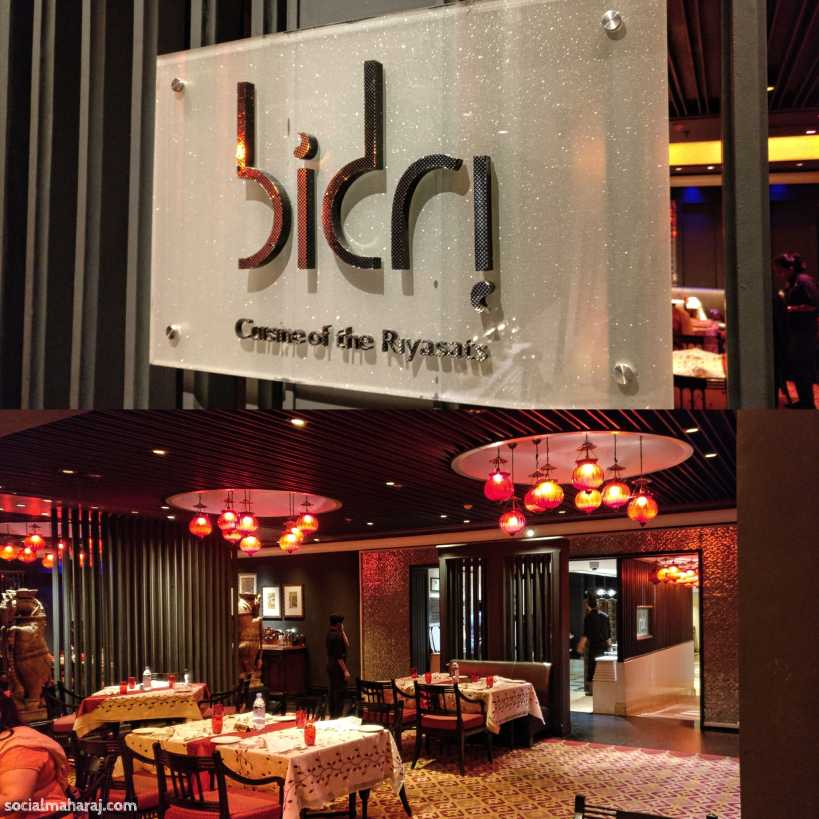 Bidri by Marriott has a distinctive ambiance which sets it apart. The royal decor, the intricate chandeliers and the cutlery, everything is just perfect. I remember seeing a live singer the last time I was at Okra however this time around it was a music player that took over. Team Bidri, do let me know once the singer is back. One thing I'd definitely mention is that don't opt for the round table. Those tables are huge, for three of us it was becoming difficult to pass food also. Overall Bidri by Marriott has a wonderful ambiance and lives up to its name. After all it is one of the best Indian specialty restaurants in Hyderabad.
Dinner Review of Bidri by Marriott
Bidri provides you with two options – a set menu and a la carte. Though we were provided the set menu first, we were inclined to have the a la carte. The menu isn't that expansive especially when you are a vegetarian. So without wasting much time we ordered Ajwaini Tarkari Seekh for starters, Kadhai Paneer and Dal Bidri for main course along with Kulcha and Rotis. For drinks we had a Virgin Mojito cousin, a fruit punch cousin and a watermelon based refreshing juice. One of the things that Bidri talks about is – Personally Handcrafted – each dish is carefully crafted right from choosing the ingredients to serving. Well, this does take time and you need patience. But the wait is definitely worth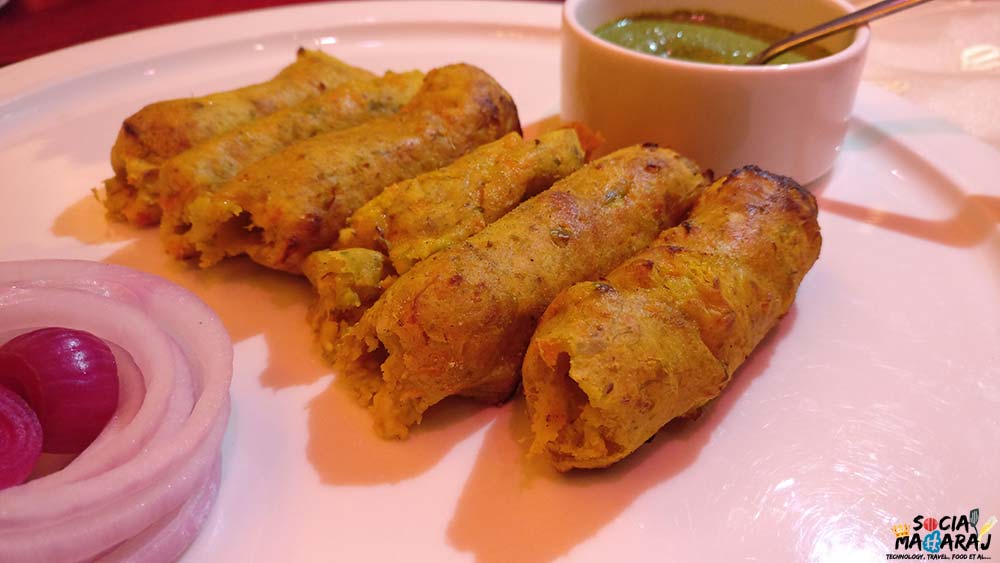 Ajwaini Tarkari Seekh was wonderfully done. Usually the seekh preparations that other places have usually had a lot of cardamom which ruins the taste. But this one was adequately spiced and tasted to perfection. The mix of veggies ensured the kebabs were chewy enough yet succulent. Kadhai Paneer was again nicely done. Not too much oil and spice with soft Paneer cubes. Dal Bidri is their variant of Dal Makhni. The dal at first didn't look appealing and I was skeptical about it. However, it proved me wrong with the first spoon itself. As they say don't judge the book by its cover, Dal Bidri has got to be one of the finest Dal Makhni preparations I've had in the city.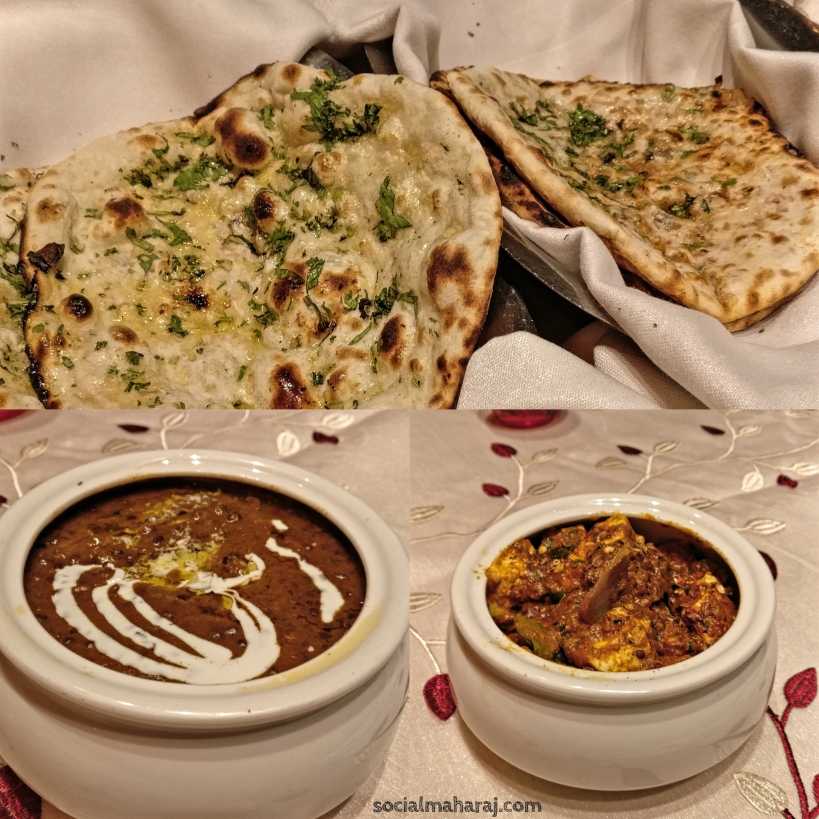 Final Verdict: Must experience Bidri
Bidri by Marriott is one of the best Indian specialty restaurants in Hyderabad. Inspired by Afghani and Persian cooking, Bidri serves some of the best dishes. Being a vegetarian I was expecting a tad more. I know Afghans aren't vegetarian, but would love to see some more exclusive vegetarian options. However no complaints with the food I had. Everything was bang on – balanced and subtle taste. I'll surely go back soon.
We ended our dinner with few drinks and a long chat with Pavan. The Gurdaspur chef told us what all they plan for a restaurant and the various preparations he has in mind. We paid about Rs 3500 for 3 people which I feel is decent. This was possible due to the Gourmet Passport offer that we claimed. That was my dining experience at Bidri by Marriott Hyderabad. If you've been there, how was your experience ? Being a vegetarian, what dishes would you recommend me ? Mention in the comments below or tweet to me at @Atulmaharaj