I've been mentioning that there aren't many pure vegetarian restaurants in Hyderabad. Fortunately I've been to most of them and there aren't many where I'm yet to visit. Whenever I'm out for dinner with family we prefer a pure vegetarian restaurant, else I'm fine with any place that serves good vegetarian food.If you've been following Socialmaharaj, you'd know that I dine out quite frequently. Last Saturday was one such day when I went out dinning, with family this time around. [Went to Masquerade the week earlier 😉] The pure vegetarian restaurant we visited was Bleu Basil in Banjara Hills. Like always, here's the review of a Bleu Basil, Banjara Hills.
Lively Restaurant in a not so lively mall
A Bleu Basil is the re-branded version of the earlier restaurant, Basil (which was again a pure vegetarian restaurant). It is located on the fourth floor of Lumbini mall in Banjara Hills. The mall is almost defunct from what I saw and A Bleu Basil, Nanking and a few jewellery outlets are functional. The entrance to the restaurant isn't quite grand, but once you are in, you don't feel what's outside. The restaurant is well lit and has good lighting. They do have a big screen on one wall so cricket fans can enjoy the world cup matches. Apart from that the restaurant is quite spacious with dedicated spaces for large gatherings. However the seating arrangement could have been better. There's a separate buffet area which can get crowded during peak hours. Overall, I liked the place.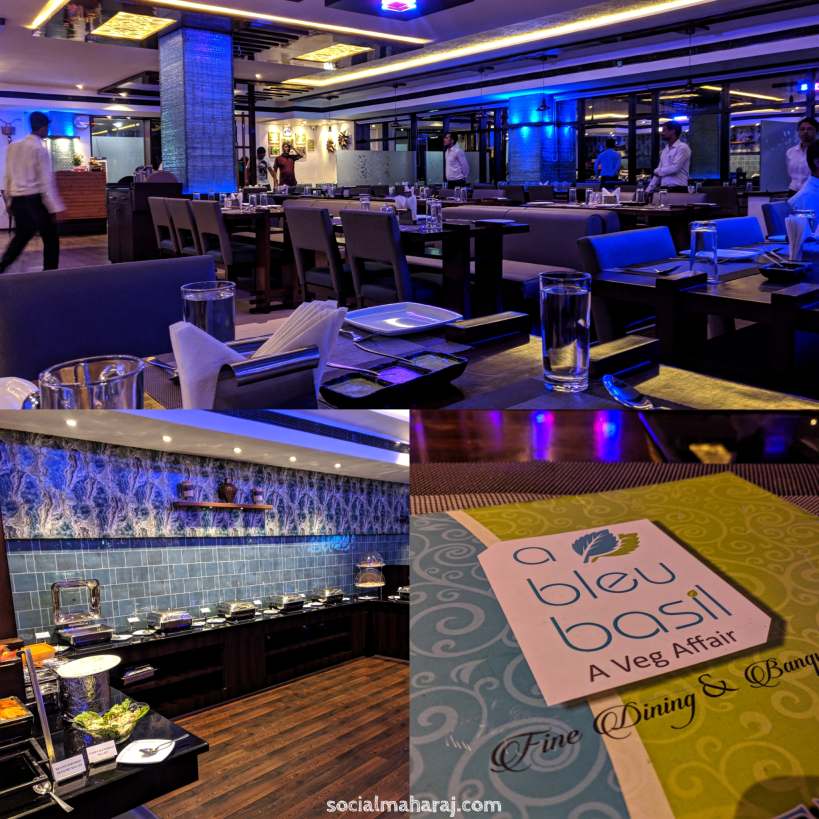 The Vegetarian Affair – A Bleu Basil Review
Like I said earlier, this restaurant is a pure vegetarian one. The menu is pretty vast for a vegetarian restaurant and they have a lot of items on offer. Moreover they serve both a la carte and buffet (for lunch as well as dinner). I had gone to try out the a la carte since I read that they don't serve buffet for dinner. However I was wrong, I was actually given a guided tour of all the items in the buffet. Below are the details
Welcome Drinks & Starters
One of the very few restaurants that serve a welcome drink is this one. They have a couple of variants and both are delicious – one was more like a fruit punch and other one was a mix of fruit juices with soda. There were four starters that day – Paneer ThaiPai, Dragon Rolls, Patiala Seekh Kebab and Broccoli Potato Croquettes. Paneer ThaiPai wasn't that great, it tasted average. Dragon Rolls were too hot to handle for me. The Croquettes were outstanding, soft and delicious with balanced taste. Patiala Seekh had the perfect texture and taste. This was my favorite. On the whole starters were good.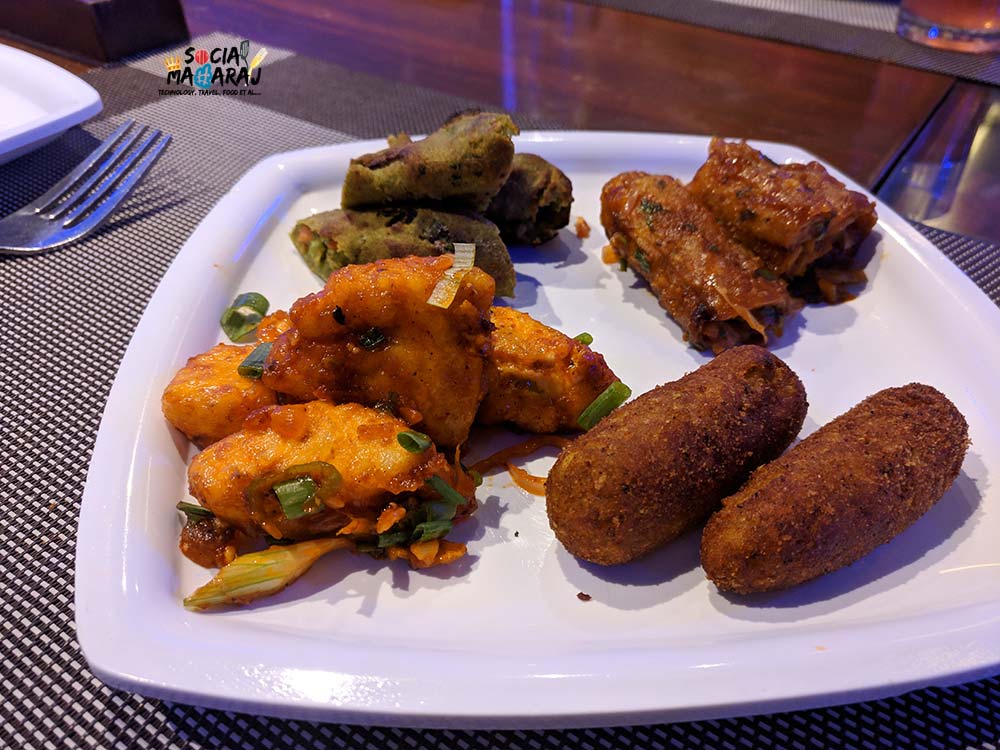 Main Course – Could have been better
There was an array of dishes for this one. Chole Kulche isn't a regular for buffets especially in Hyderabad, however a Bleu Basil served it. Paneer Do Pyaza, Kofta, Nizami Handi, Dal Fry, Soft Noodles and oriental curry, Mexican rice, Rice, Sambhar, Rasam and Biryani. The spread was definitely a good one. Chole Kulche were pretty good and simple. Rest all the dishes were average. The Kofta and Dal could have been done better. Rotis are served on the table so that's a good thing. Overall the main course dishes were ok.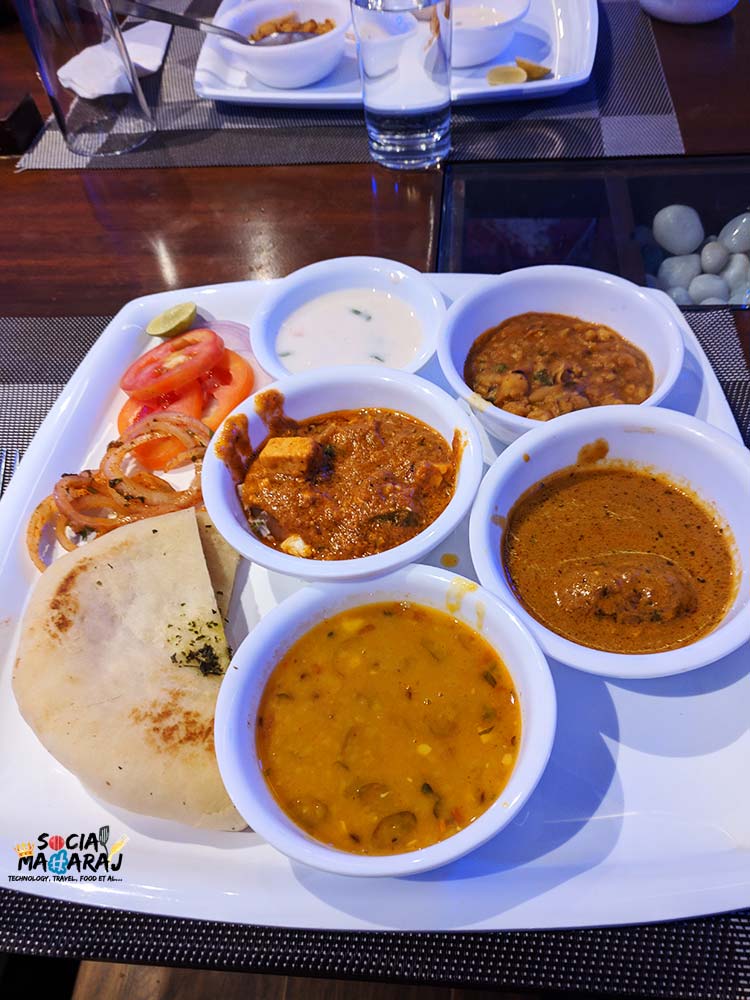 Chat and Desserts
They have a separate counter for desserts and chat. For Chat they serve Pani Puri, Sev Puri, Dahi Puri and Dahi Bhalla. The chat items were lip-smacking and tasted great. I loved the Dahi Puri, just amazing. You can order at the counter and it will be served at your table. Desserts were a let down (like they often are at buffets) Pastry was pretty bad. Gulab Jamun, Ice Creams and Kalakand were just ok. So nothing great about the desserts, but chat is a must try.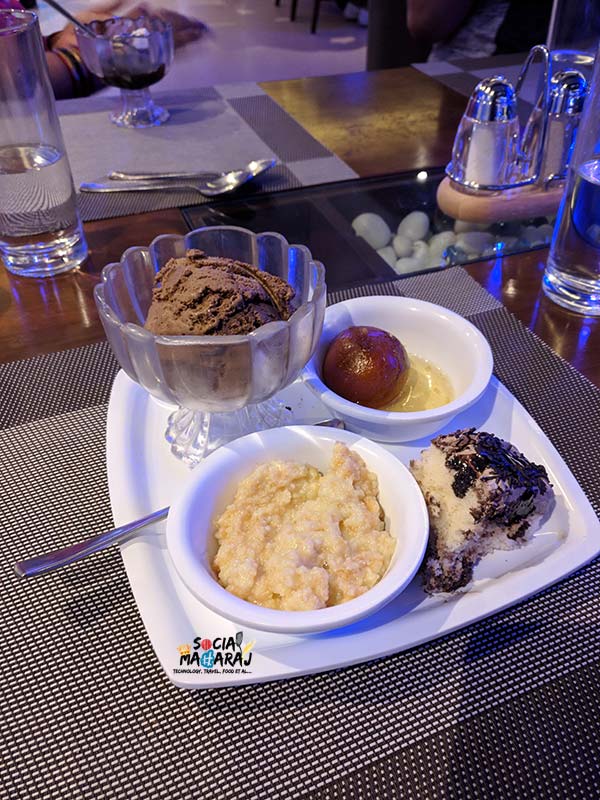 Final Verdict – A Bleu Basil, could be better
I wanted to have their a la carte offering (which I will try sometime later) but had buffet instead. For about Rs 600, the buffet was average. The variety was pretty good. Some items like a couple of starters and chat items were delicious while others weren't quite there. There's definitely room for improvement on this front. A la carte may be better and I'll update this review as and when I actually go there. Overall, a Bleu Basil is a good place to enjoy some decent pure vegetarian food. Service is good and people are warm and welcoming. More over the restaurant accepts Zomato Gold and Dineout Passport, so you should opt for it too. Have you been there already ? How was your experience ? Mention in the comments below or tweet to me at @Atulmaharaj