Jubilee Hills in Hyderabad is that one destination for foodies and party animals which has everything for everyone. You can find a lot of cafes, lounges, pubs and restaurants in Jubilee Hills, Hyderabad. Last weekend, me and my friends decided to meet for a breakfast/brunch. Since it was on a very short notice and we were 15 people, getting a place wasn't quite easy. In the end, we reserved our tables at Aura Cafe Jubilee Hills. Couple of reasons we decided to visit Aura Cafe were, a place I hadn't already been to, so a new post. Secondly Aura Cafe accepts Zomato Gold on food, so that did help bring down the bill. Anyways, here's the Aura Cafe Review.
Cafe cum Shop – Ambiance of Aura Cafe
Aura Cafe is located off Road number 10C in Jubilee Hills and not the regular Road Number 36 for a change. It is locate a little further from Giani's Ice Cream outlet I visited some time back. The restaurant is easy to spot and has 2 other restaurants in the same building.
The cafe is well lit up and you're first greeted with a shop. The shop at Aura Cafe has some of the most exquisite items on sale. Special vegetables, fine drinks and gourmet foods is what you will find here.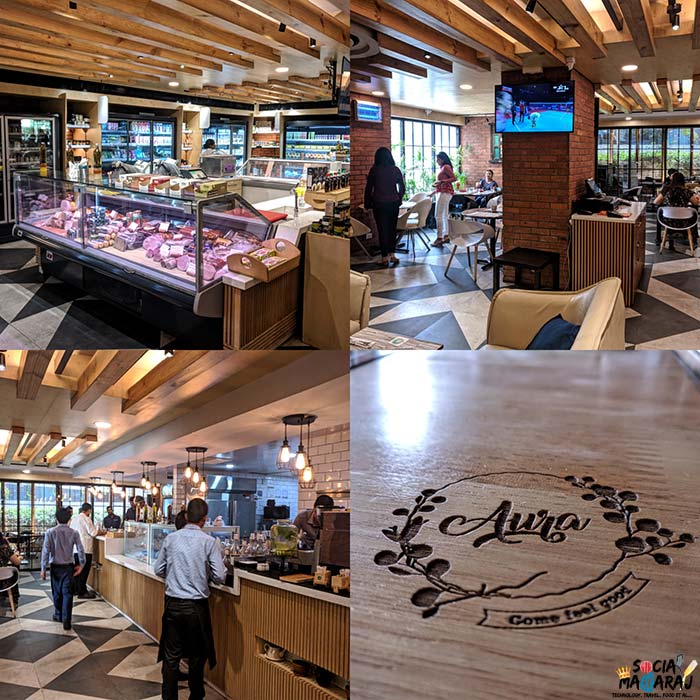 The cafe is relatively small and can get crowded during peak times. Since we were 15 of us, we were seated at the outside area. The kitchen is an open one, so you can kind of see what is happening. Aura Cafe is well lit and the seating is quite comfortable. Overall a good place to spend some good time.
Aura Cafe Jubilee Hills Food Review
Starters and Pizzas – Good, could be better
We visited Aura Cafe just when the breakfast was over. So we had to order the other items on the menu. It was around lunch time, and since we were many, we decided to go with a few items. Our first round of orders included Mozzarella Cigars, Arabian Platter, Chicken Croquette, along with Tandoori Paneer Quesadilla, Contadina Pizza, Mexican Corn and Pepper Pizza
Mozzarella Cigars were a good take on the old cigar with a cheesy twist. Served with Beetroot based dip, the cigars were bland. Full marks for the presentation, but I expected a lot more from the filling. It was plain cheese with nothing else. I hope they can be more creative on that front. Arabian Platter was served in a unique way with pita bread and a few non vegetarian servings.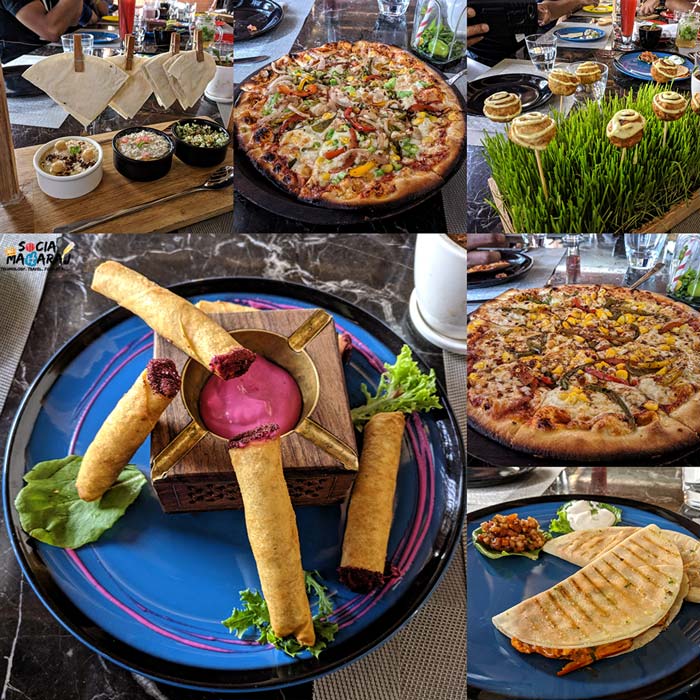 Pizzas were served fresh and had 9 slices each. Since some of us don't have mushrooms, we opted for Contadina and Mexican Corn variants. The Pizzas are thin crust and taste good. The base was crisp and the veggies were fresh. Paneer Quesadilla were good on taste, but I was expecting a rather meatier crust.
Beverages Review at Aura Cafe
Coming to the drinks, we had a quite few of them thanks to the humid day. We had a long list of drinks orders. Virgin Mojito, Cranberry Citrus, Aura Fizz, Creamy Oreo and a lot of Chocolate Milk Shake. The drinks are quite unique and the serving style is good too.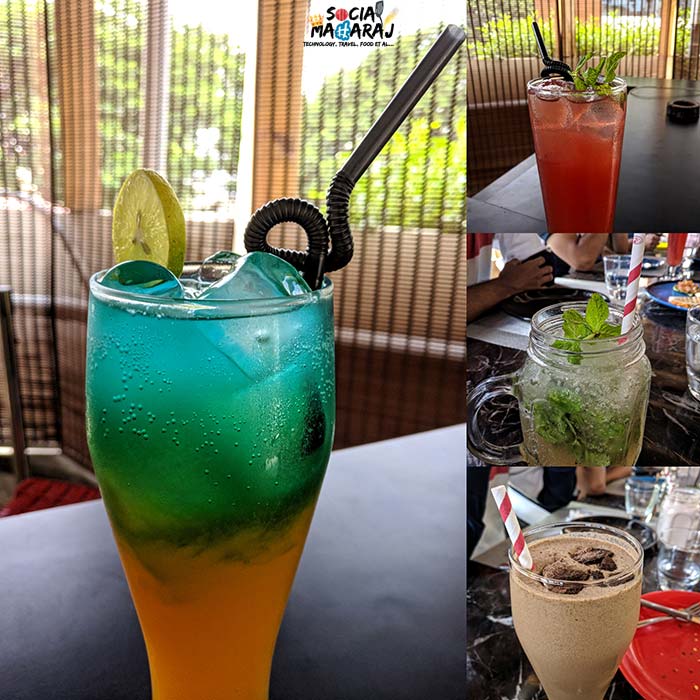 For instance Aura Fizz is a unique blend of Mango juice along with Soda. The bright yellow and blue colored drink is appealing. On the taste front it was too sweet and reminded me of drinking Frooti. The Virgin Mojito was nicely done and the fresh mint leaves packed a punch. Cranberry Citrus was also on the sweeter side.
The milkshakes were loved by all, in fact we ordered like 5-6 milk shakes. I ordered an Oreo Shake and it was frankly not what I had expected. A glass of milk shake with a broken Oreo cookie. Rather I was expecting something more voluptuous and deadly. On a whole, they have got variety on the drinks menu.
Final Verdict: Aura Cafe is a good hangout cafe
If you've got time and want to just relax sipping your coffee, Aura Cafe is a good place. The cafe can get crowded at time, but is lively at all times. The staff is warm but service can be slow during peak hours. We paid about Rs 7000 for 13 people which I feel is good enough. The cigars could have been better. Pizzas were nice and so were the drinks. Overall, quite a good place to spend some time. Have you already been to Aura Cafe ? How was your experience ? Mention in the comments below or tweet to me at @Atulmaharaj