Finding a pure vegetarian restaurant in Hyderabad is an uphill task. And I feel that's the case with most of the cities now a days. There are only a few good pure vegetarian restaurant in any city. (I do still feel that there are a lot of choices when we move towards the western & northern part of India) Nonetheless, last Sunday when I was invited to a special brunch at Ice n Spice restaurant at Inner Circle Hotel, I was surprised to find another pure vegetarian restaurant. You guessed it right ! This is going to be my review of Ice n Spice, Inner Circle Hotel, Hyderabad.
Ice n Spice Review
Petite Restaurant
Hotel Inner Circle is located in Somajiguda right behind Yashodha Hospital. Thanks to the big signage, it's quite easy to locate. The entrance to the hotel is jam-packed supposedly because it's a business hotel.The reception area and the lobby isn't quite spacious and so is the case with the restaurant. Located on the first floor, the elevator opens right inside the restaurant. The place is dimly lit (we went for lunch) and is quite small. However, the buffet area has well lit and spacious. The restaurant gets quite busy during these lunch hours, so it's better to have a prior reservation.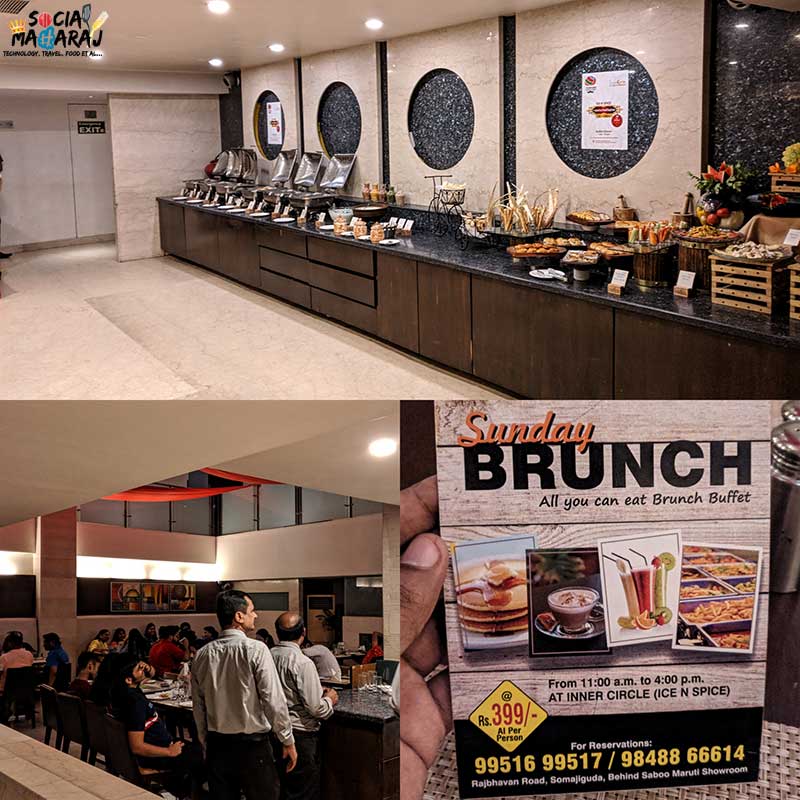 Affordable Pure Vegetarian Sunday Brunch
Soups and Starters
Ice n Spice restaurant like I said is a pure vegetarian restaurant and serve a special brunch on Sunday. The buffet costs Rs 399 AI and has quite a few options. They start with two welcome drinks – loved the strawberry one too much – along with 2 variety of soups – Thai Clear Soup & Creme of Broccoli soup. Both the soups were good. We had Chilly Cheese Roll, Mexican Paneer, Manchurian and Tandoori Aloo for starters.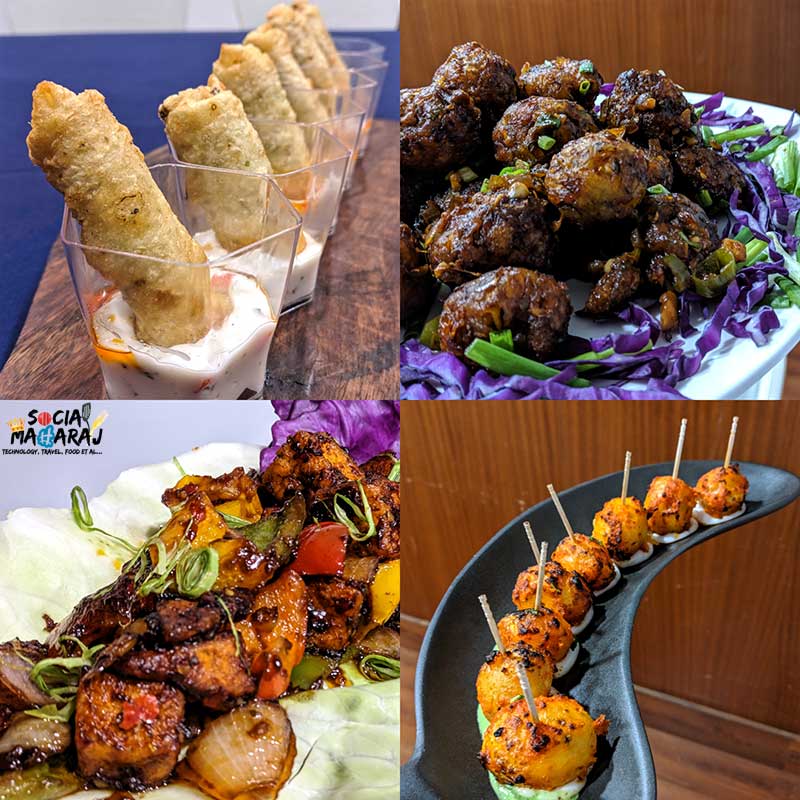 Chilly Cheese roll was nicely done and it had a strong pepper flavor that I liked. Mexican Paneer was subtle with fresh cubes of Paneer coated in soy sauce. Manchurian and Tandoori Aloo were also good.
Live Counter and Main Course
Pani Puri and Pasta are two live counters at Ice n Spice restaurant. Pani Puri was pretty average and could have been better. So was the case with White sauce pasta. Red sauce pasta still had the taste, the white counterpart was virtually tasteless.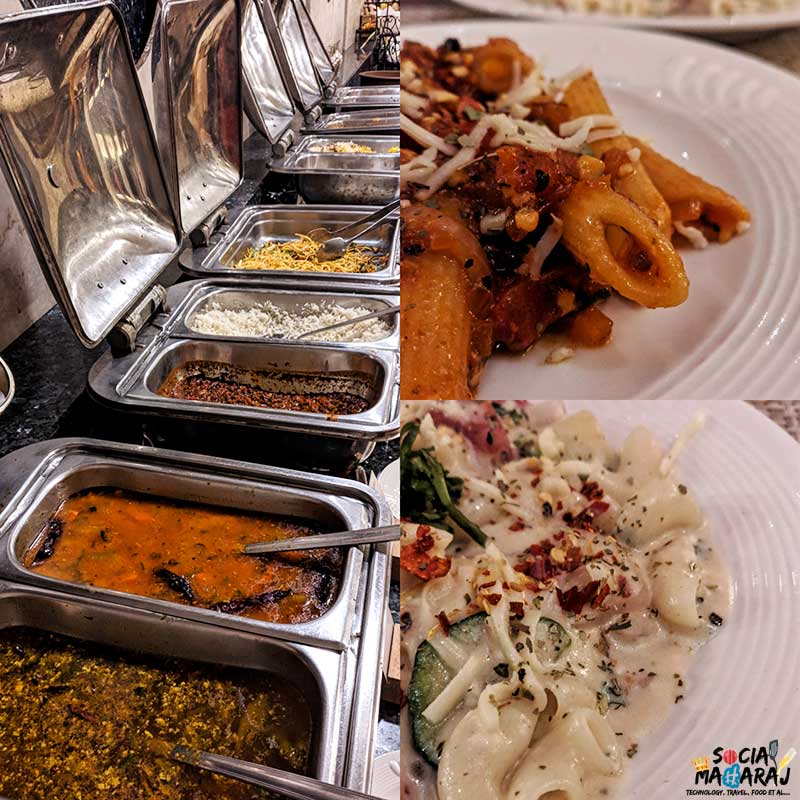 For main course, there are a quite a few options. Ranging from the regulars Rasam, Sambhar, rice, veg biryani. We had Khushrang Paneer, Veg Saagwala, Kaju Drumstick and Bul Bul Kofta along with Dal Makhni. Khushrang Paneer was slightly on the spicier side but tasted different for good. The gravy was coarse and Paneer was smooth. The kofta was done nicely too. Saagwala and the drumstick preparation was average. Dal Makhni was off beat and could have been done better. They also had Singapore Noodles on offer which I decided to miss.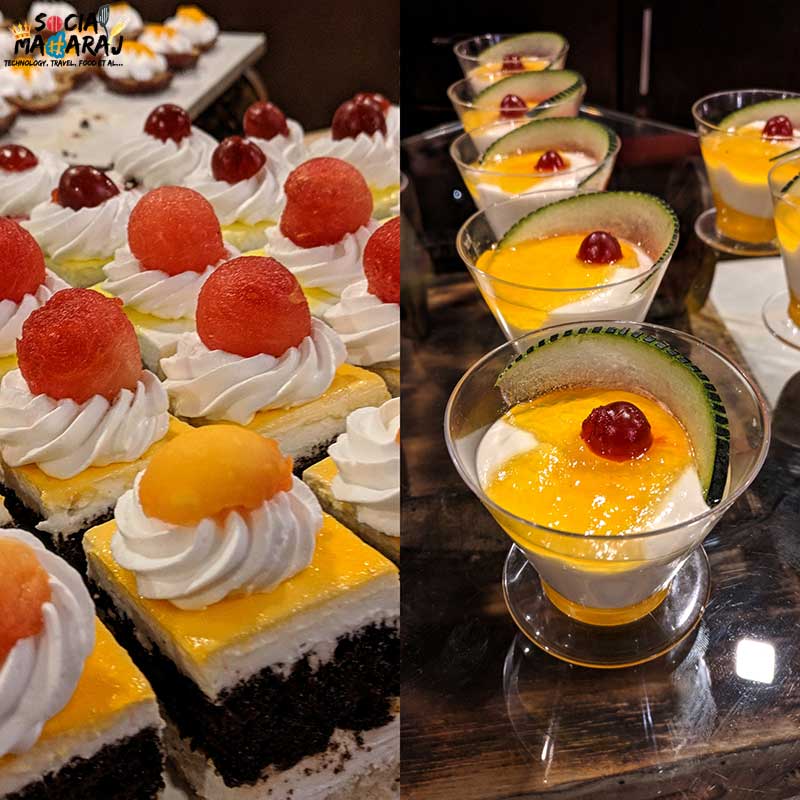 Customary Desserts – could be better
Coming to the end of the meal, we tried the customary desserts. They had a few types of pastries along with Mango Mousse and Oreo Cheesecake. The pastries were average and so was the Mango Mouse. The Oreo Cheesecake was nicely done and I liked it. Wasn't too sweet.They also had vanilla ice cream along with a array of sauces to top it up. One thing that did caught our attention was the Palak ka Halwa. Strangely it looked exactly like the Palak Paneer gravy until unless tasted. And frankly there was no taste of palak in it. It was extremely sweet and guess that masked the flavor of palak. I suggest Ice n Spice to rework on this. I'm sure this halwa can be a show stopper if done correctly.
Final Verdict: Quite a good Buffet at Ice n Spice Restaurant
Like I mentioned earlier, finding a pure vegetarian restaurant in Hyderabad isn't easy. Ice n Spice at Inner circle Hotel is a good place for a good buffet on budget. At Rs 399 all inclusive for the Sunday brunch, I believe it's a good deal. At that price, the food is quite good and the spread is decent. They could work a little on their live counters and desserts. The restaurant gets busy and one needs to have reservations in place. You might find the restaurant to be quite dark at times. Overall it's a good place and I don't mind going back again considering it's a pure vegetarian restaurant. Thanks team for hosting me. Have you been there already ? How was your experience ? Mention in the comments below or tweet to me at @Atulmaharaj