This has got to be one of the quickest post I've ever written. Ohri's Mehfil is one of the good multi-cuisines restaurant in the city. It keeps the Ohri's brand image alive with its lively ambiance and warm hospitality. I've been to Mehfil earlier too and had a good time. This time around, it is the Pan Asian food festival at Ohri's Mehfil which will go on till 2nd September. So as a part of their food blogger connect initiative, I also with other esteemed foodies were invited to experience the food and their hospitality. Since it was a Friday evening, how could I say no ? Me along with my friend literally drove for close to 2 hours amidst the crazy Hyderabad traffic to meet other foodies and experience the Pan Asian Food Festival and Ohri's Mehfil.
Why Pan Asian Food Festival at Mehfil ?
Ohri's Mehfil – like I said – is a multi-cuisine restaurant. Its specialty lies in North Indian based on my previous experiences. Also the soulful ghazals with the ambiance and drinks make for a perfect evening. I had a word with Mr. Ali who takes care of the restaurant. He said that they often have various food festivals to bring in a variety and showcase their expertise. And hence the Pan Asian Food festival at Ohri's Mehfil.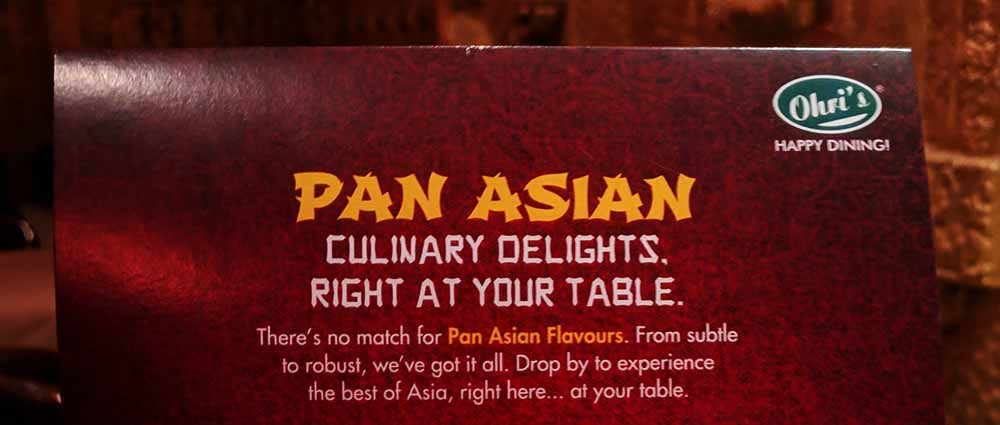 Pan Asian Food Festival at Ohri's Mehfil
Exquisite & Novel Starters
As a part of the food festival, Mehfil was serving a variety of starters. For vegetarians we had Chilli Apricot Glazed Crispy Baby Corn, Corn and Green Onion Fritters, Crispy Water Chestnut and Bamboo Shoots. For Non vegetarians they had Thai Chilli Garlic Chicken along with Prawns with Thai Roasted Chilli Paste.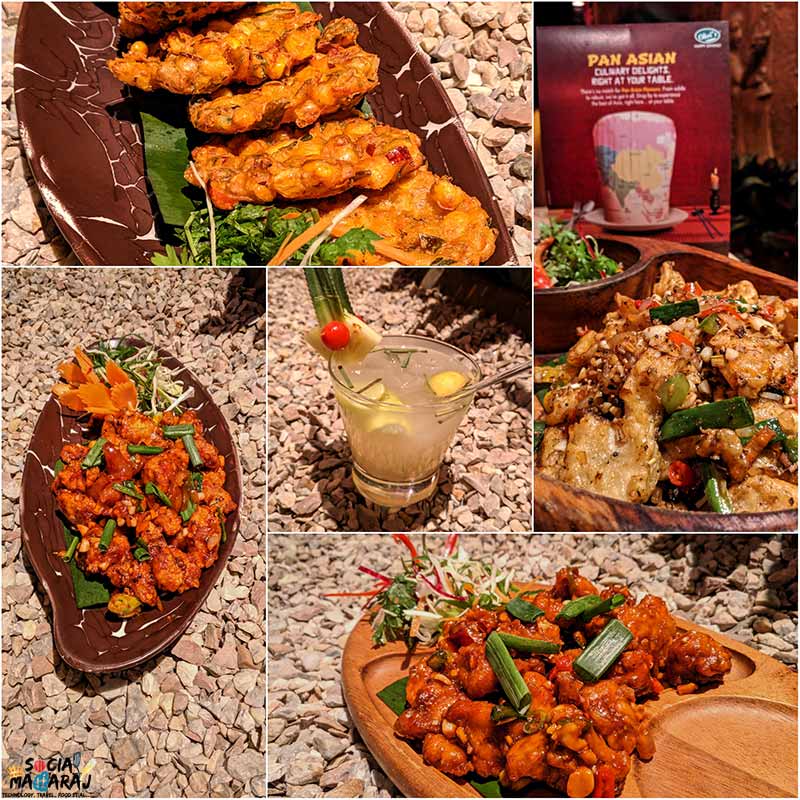 Baby Corn with Chilli Apricot sauce was quite delicious. The medley of the Apricot sauce and the crispy baby corn was pretty good. The Corn and Green Onion fritters were quite different, thanks to the Kaffir Lime leaves in it. It was surely the highlight of the evening. Lastly, the Crispy Water Chestnut and Bamboo shoots was a novel preparation that I hadn't had before. Loved the subtle and balanced taste. Overall, their starters were pretty good and full marks for the presentation.
Thai Main Course
Main Course dishes for the Pan Asian Food Festival at Ohri's Mehfil included a mix of noodles, rice and curries. For vegetarian, we ordered Malaysian style spicy braised green beans, Thai Green Curry and Cambodian Vegetable Curry along with Pineapple Fried Rice and Thai Chilli Basil Noodles. On the non vegetarian front we had Nyonya Style Chicken Sambal.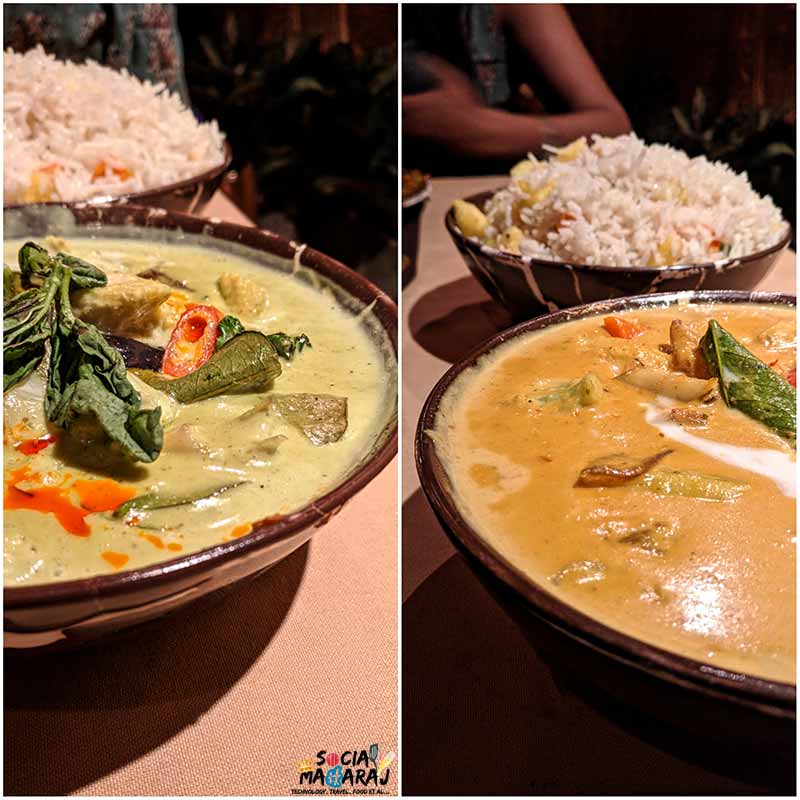 The order did take a while to come and we were quite ok with it. The music, the people everything gelled so well that we were soaked in the Friday 'chill waala' feeling. Being a fan of beans, I was excited to see fresh beans served. It looked delicious, but was okaish on taste. Thai Green Curry and the Cambodian Vegetable Curry were on similar lines expect the look – one was green and the other was yellow. However, the combination of both with Pineapple Fried rice was good. Though I'm not a big fan of pineapples in food, I like this one. The noodles could definitely be made better.
Dessert Storm
We were still busy with our main course and we had a flurry of desserts arriving at the table. The Pan Asian food festival at Ohri's Mefhil has three dessert dishes. Banana Spring Roll with Chocolate Sauce, Ginger Lemongrass Brulee and Apple Fritters with Blueberry Compote and ice cream. Thanks to Mr Ali who was humble and provided us with Motichoor Parfait along with Dragon Fruit drink and Litchee Lemongrass Mojito.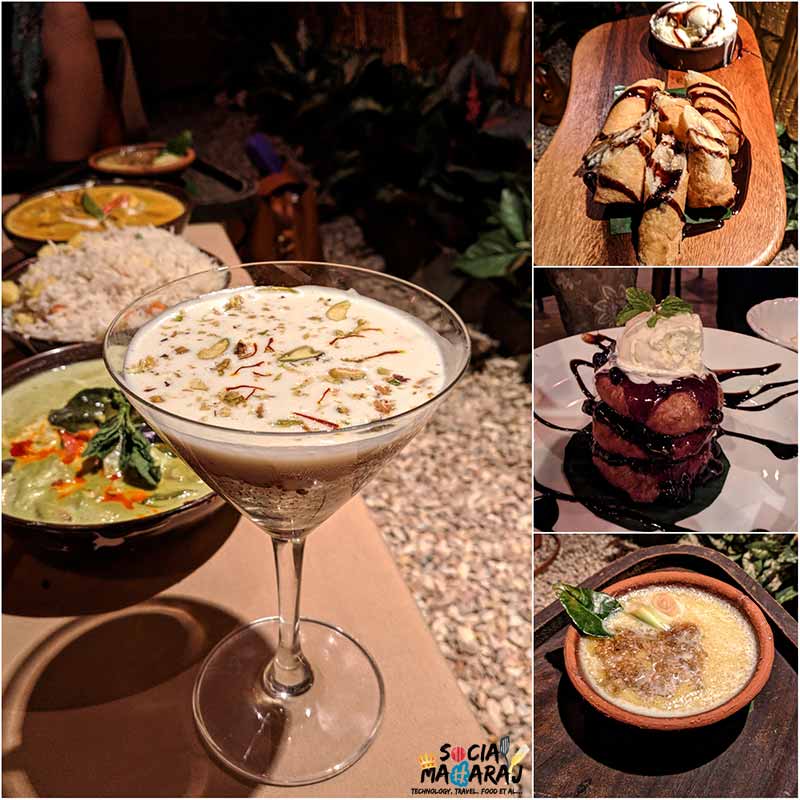 We started with the Banana Spring Roll. It looked quite good, anyone whole loves banana might appreciate the dish. I was interested in the Ginger Lemongrass Brulee. Not many would like the taste in the first go, like I did. But if you love tasting new flavors, this is the one you should definitely try. The brulee preparation could be better though. Apple Fritters were a good take on our regular apples and vanilla ice cream. Liked the marriage of the flavors here and of course the presentation. Motichoor Parfait was on the sweeter side and so were the drinks. But I did love the Lemongrass Mojito and requested for a refill 😛
Enjoy Pan Asian Food Festival till 2 September
The Pan Asian Food Festival at Ohri's Mehfil is on till September 2nd and it's a good one to try some Asian food. There are hits and few misses, but overall the change in flavors and the ambiance of the restaurant was welcome. Ohri's have once again proven their expertise in the flavors and their extremely warm hospitality. A big shout out to Mr. Ali, Mr. Krishna and Rinku for a memorable experience. Do visit the food festival and let us know your feedback in the comments below or tweet to me at @Atulmaharaj