The longest I've traveled by road is from New Delhi to Bangalore that too by bus. From taking an RTDC bus from New Delhi to Jaipur and then another one from Jaipur to Ahmedabad, another one from Ahmedabad to Mumbai and finally one from Mumbai to Bangalore. That was a hell of a journey. And by this you know how much I love traveling by road. Recently I did road trip from Kochi to Munnar on Activa. Though I don't own a car, I love driving one. Have done many trips – from Mumbai to Panchgani with friends, Kochi to Idukki by Tata Nexon etc.
Last weekend I wanted to drive one and hence made this random road trip plan to Anantagiri Hills. Was looking for a self drive car rental company. Checked Drivezy – since I used them earlier in Mumbai – but they were out of cars. Hence finally landed up with Zoomcar. So this post is about my experience of Zoomcar and Zoomcar Hyderabad Review.
Zoomcar Hyderabad Review
Zoomcar is possibly the first name that would come to your mind when you talk about self drive cars. Thanks to their digital marketing campaigns and TV advertisements. I hadn't used their service earlier and when I was looking for a self drive option in Hyderabad, Zoomcar is what popped up. I'll categorize this post into sections – SignUp & License Approval Process, Car Pickup & Drive Experience and Post Ride Refund Process.
SignUp & License Approval Process
They have a website and mobile app which you can use to register. Regular signup process using email ids and mobile number. The signup process is easy and just like signing up for any other service. The first thing I suggest doing is uploading the copy of your driving license as it usually takes some time to approve it. One thing I noticed with Zoomcar is that you can book a car without having the license approved. That's what happened in my case. I signed up at around 8am, uploaded the license around the same time. Booked a car at around 11 and license was approved by 1. The process is simple, just upload the driving license and wait for them to update you about the approval process.
Zoomcar Car Booking experience
I had booked Tata Tiago for my trip to Anantagiri Hills initially for about Rs 4000 with fuel for 24 hours and free 235 kms. This was sufficient for the trip. The booking process was smooth and they did take the complete payment upfront and the security deposit of Rs 2999. They do waive off this if you drive at least 400 kms or book Zoomcar twice. So that was about Rs 7000 upfront payment. They mentioned that the car details would be shared 4 hours before the booking. My booking time was 23:30 hrs so technically I should have received the details by 20:00, but that didn't happen.
I thought that I'd have to pickup the car from a parking facility like Drivezy had one in Hiranandai, Powai. However with Zoomcar it's totally different. Without any location details, I called up the customer service at 21:00 and asked about the details. I was told that the details would be shared shortly. By 22:00 I got a call saying that Tiago isn't available so they would upgrade me to a Maruti Suzuki Brezza at no cost and was immediately allocated the car. I was told to pick it up from Parade Ground Metro Station parking. Remember seeing Zoomcar at Lifestyle building in Begumpet so had 'assumed' that I'd have to pickup the car from there.
But that wasn't the case. Though the executive told me Parade Ground Metro station parking, the app told me something else. Their app pointed me to Jamia Masjid in Bowenpally while the website to the parking location. That created a confusion and hence I called up the customer service again. I was given the exact location of the car and that was in Bowenpally which is almost 8-10kms from my place. I wished I had opted from doorstep delivery after receiving the location 🙁 Nonetheless, did an Uber to reach the destination.
Zoomcar Pickup Experience – narrow alley far far away
Upon reaching the location, I found the car parked in the narrow alley right in-front of the masjid gate. Looking at the way it was parked, I was worried about parking it like that when I returned it. I'm no expert driver hence that parking was tricky. Anyways, I opened the app and started with the pre trip check list. It showed few boxes with damage condition. I liked the way things were classified – driver side door, rear, front etc. I proceeded to unlock the car.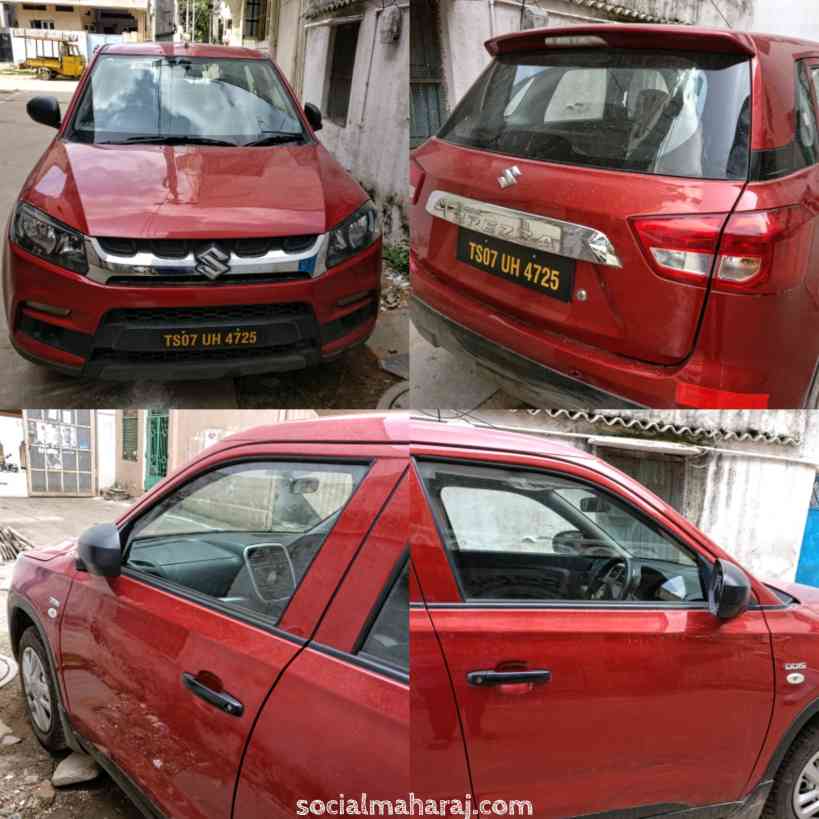 This was a key less entry process, and the car automatically unlocked after hitting the unlock button on the app. It was mentioned that the key would be in the glove box, but it wasn't. Shock 1. I looked around and it was placed near the parking brake. Next step was to check the odometer and fuel reading. Since I opted for 'with fuel' package, I expected full tank – like my previous Drivezy experience. However it was only 30% and showed a range of only 125 kms. Shock 2.
Anyways, maneuvered the car from that tricky parking spot. The car was dusty and wished it was cleaned. Also the fuel tank could have been full, which wouldn't require me to refuel during the day. I hope Zoomcar improves this. Read on about my Zoomcar Hyderabad Review.
Zoomcar Drive Experience – smooth, niggle free drive
The car I was allotted was the Maruti Brezza, diesel variant. It was the base variant from what I could understand along with a manual transmission. I had driven the Nexon earlier which is a direct rival to this. Again, I'm no expert driver so couldn't pickup if there were any niggles in the car. I put on Google maps till Anantgiri Hills and started off. The drive experience was pretty good. The car was responsive and did give the boost when required when overtaking other vehicles. The AC was powerful as you would expect and so was the music system. The car was quite spacious and the entire drive was smooth. I wouldn't mind considering the Maruti Brezza if I decide to purchase one. (Maruti guys, I hope you are reading this 😉)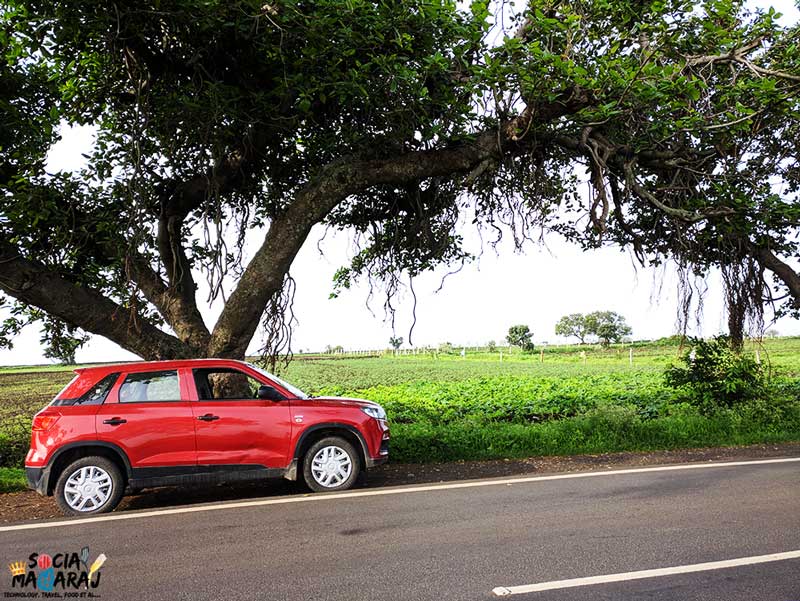 Zoomcar Drop off Experience – uncalled for damage charges
As per Zoomcar policy, you need to drop the car at the same place from where it was picked up. And I was worried how I would park that car in that narrow alley.I was so scared that I even booked an Uber prior to reaching the spot so that just in case if I wasn't able to park, the Uber driver could have helped. But that situation didn't arrive 🙂 I updated the post trip details with the photos of the car, odometer and fuel gauge readings. I also uploaded the fuel bill on the app, put the keys in the glove box and locked the car through the app and ended the trip.
Soon got a SMS saying that the refund would be process in a couple of days. I reach home and get a SMS saying that "We've waived a Rs 500 damage charged as a good-will gesture" Shock 3. I was like WTH ? What did I damage ? Their app, website have absolutely no details about the same and that's sad. Had they actually charged me, I would have had to spend ages with the customer car folks to understand the issue.
However by the time it was late evening, I got an SMS saying that the refund is processed and they asked for bank account details to transfer the payment. I did that and within 10 mins received the complete amount of Rs 4000 – Rs 3000 towards security deposit and Rs 1000 for fuel. That was quick !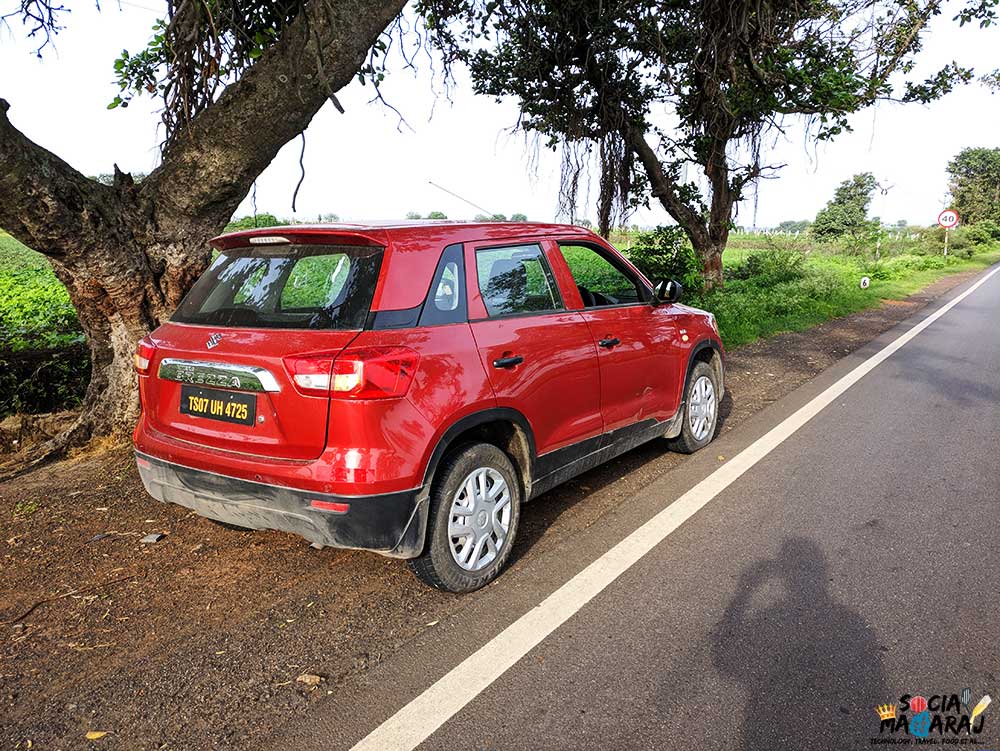 Final Words on Zoomcar – can improve the experience
Like I said, this was my first time with Zoomcar and as they say "First impression is the last impression"  so is my Zoomcar Hyderabad review. I was impressed by their entire signup and the booking process which was smooth and effortless. The car pickup was free of humans and automated using their app. Also the pickup location was way too far – though they informed that "the car would be allotted within 4.5kms of Secunderabad" I still feel having a person physically present would enhance the customer experience. With no human interaction, it's tough if something isn't right at the start. Also their personnel & apps aren't in sync as each of them gave me a different address. The car could be in a better condition – washed and refueled.
Overall, I'd still recommend Zoomcar [30% off on your booking – use code: atulprjugwk]  to anyone who is looking for a Self drive car. However I'd definitely caution them of the poor customer service based on my experience. That was about my Zoomcar Hyderabad Review. Have you used their service earlier ? How was your experience ? Mention in the comments below or tweet to me at @Atulmaharaj